Minor Happenings: Mills Making Case For MVP
"Minor Happenings" covers the important developments and news in the Indians farm system. While most of the information in this report is from my own research and through interviews I have conducted with organizational personnel, some information in this report is collected and summarized from the various news outlets that cover each team.


Things get back to normal today as Happenings posts in its regular time slot. In case you missed it, there were three different editions posted last week with one centered on my visit to Winter Haven to see the GCL squad, one centered on my visit to Myrtle Beach to see Kinston, and the other a quick update on the important news and notes over the weekend. I was also able to post one of my player articles in queue on Mike Pontius this past Tuesday, and there are still many more to come.

Also, as a reminder, Paul Cousineau and I will take another crack at radio tonight when our show Smoke Signals airs on The Cleveland Fan Live from 9:00pm to 10:00pm EST. The show name and some ideas are still being tested out, but if you were around last week you'll see a lot of changes and additions that hopefully help bring the broadcast up a level or two. More importantly, I should be a lot healthier tonight although I still have a nasty cold.

These shows are still in a test phase, but please check them out. Once they end, they are immediately archived so you can listen right there on-line or download the show as an MP3. I'll be heading out to Lake County this evening to do some interviews with some players and coaches, so I may even air one tonight.


Indians Minor League Player Of The Week
(for games from August 14th to August 20th)


Beau Mills (First Baseman - Kinston)

.392 AVG (11-for-28), 5 R, 2 2B, 1 3B, 3 HR, 8 RBI, 3 BB, 9 K


Kinston first baseman is putting the finishing touches on what looks like will be an MVP season for him this year in the Carolina League. So far this month, Mills is hitting .357 with 4 HR, 16 RBI and a 1.073 OPS in 16 games, and has all but locked up the league MVP award. Mills hit .268 with 9 HR, 47 RBI and an .821 OPS before the All-Star break, but in the second half he has been red hot hitting .337 with 12 HR, 42 RBI, and a .995 OPS. He is currently 1st in the Carolina League in home runs (21) and RBI (89), 3rd in doubles (34) and slugging percentage (.515) and hits (139), 4th in OPS (.891), 5th in runs (78), and 7th in hitting (.296) and on-base percentage (.376).

Mills' outstanding season puts to rest any questions there may have been about his ability as a hitter coming out of little know Lewis-Clark State as a first round pick of the Indians last year. He now is clearly part of what has become a crowded group of gifted hitters at the top of the Indians prospect list. While things can always change, Mills is expected to finish the season in Kinston and participate in their playoffs (if they make it) and then start the year next season in Akron.

Honorable Mentions:

J.D. Martin (RHP - Akron): 2-0, 0.00 ERA, 10.2 IP, 7 H, 3 BB, 7 K
Shawn Nottingham (LHP - Kinston): 1-1, 1.93 ERA, 14 IP, 7 H, 1 BB, 16 K
Lucas Montero (OF - Kinston): .500 AVG (13-for 26), 8 R, 1 2B, 1 3B, 0 HR, 7 RBI, 4 SB
Matt Brown (OF - Lake County): .524 AVG (11-for-21), 3 R, 1 2B, 0 HR, 3 RBI
Cord Phelps (2B - Mahoning Valley): .500 AVG (9-for-18), 8 R, 3 2B, 2 3B, 0 HR, 3 RBI
Lonnie Chisenhall (SS - Mahoning Valley): .600 AVG (12-for-20), 5 R, 3 2B, 0 HR, 7 RBI

Previous Winners:

08/07 to 08/13: John Drennen (OF - Kinston)
07/31 to 08/06: Carlos Santana (C - Kinston)
07/24 to 07/30: Matt Brown (OF - Lake County)
07/17 to 07/23: Michael Aubrey (1B - Buffalo)
07/10 to 07/16: Niuman Romero (3B - Kinston)
07/03 to 07/09: Nick Weglarz (OF - Kinston)
06/26 to 07/02: Stephen Head (1B/OF - Akron)
06/19 to 06/25: Trevor Crowe (OF - Akron)
06/12 to 06/18: Chris Gimenez (C - Akron)
06/05 to 06/11: Jim Deters (RHP - Kinston)
05/29 to 06/04: Steven Wright (RHP - Kinston)
05/22 to 05/28: Chris Archer (RHP - Lake County)
05/15 to 05/21: David Huff (LHP - Akron)
05/08 to 05/14: Steven Wright (RHP - Kinston)
05/01 to 05/07: Jeremy Sowers (LHP - Buffalo)
04/24 to 04/30: Jose Constanza (OF - Akron)
04/17 to 04/23: Hector Rondon (RHP - Kinston)
04/10 to 04/16: Wes Hodges (3B - Akron)
04/03 to 04/09: Kelvin De La Cruz (LHP - Lake County)


Down The Stretch They Come
With a about a week and a half left in the regular season, both Double-A Akron and advanced Single-A Kinston are in the thick of a playoff race to get in the playoffs for each of their respective leagues. Akron can qualify for the playoffs by either winning the
Eastern League's Southern Division or finishing second in the division. Currently at 74-57, Akron is in second place three games in back of division leading Bowie, but has a commanding six game lead over third place Harrisburg. Even though they have lost seven of their last nine games they would still need a complete collapse to blow a playoff spot with 11 games to go. Their magic number to clinch a playoff spot is six.

Unlike Akron, Kinston is in a dogfight for the final playoff spot in the Carolina League and is in danger of breaking their league record seven straight postseason appearances that they had coming into this season. Currently Kinston is 33-25 and in third place in the Carolina League's Southern Division and sit 5.5 games behind Myrtle Beach for the division lead, and are just a half game behind second place Winston-Salem.


Single-A leagues are broken up into two halves where the winner of the division in each half gets a playoff bid. In the event a team wins both halves (like Kinston did last year) then the team in the division with the best second half record qualifies for the playoffs. Since Myrtle Beach won the first half crown, the playoff bid will go to the second place finisher which will be Winston-Salem or Kinston. With 11 games left Kinston has very little chance of overtaking Myrtle Beach for the division crown, but they have an important four game set with Winston-Salem coming up at the beginning of next week which should determine the playoff fate for both teams. Kinston has never reached the playoffs via the wild card, and their magic number to clinch a playoff spot is 12.


Weglarz To Return Soon
Kinston
outfielder Nick Weglarz has had a good year growing not only physically but as a hitter as well. Before leaving the Indians organization for the Olympics on July 27th, Weglarz was hitting .273 with 10 HR, 38 RBI and an .839 OPS in 99 games for Kinston.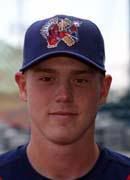 While he has become a popular favorite among prospect experts, he still feels like he could be putting up better numbers this year.

"The numbers I was hoping to get to this year could be a little better," said Weglarz in a recent interview. "I haven't walked that much lately, but I am still taking a good approach into each at bat. There are a couple things with my swing I need to iron out. Once I get more consistent with that I will be fine."

Weglarz has unbelievable power, but his home runs are down a little more than where they were expected to be at this point in the season. Part of that is the result of the pitching dominated Carolina League and pitchers working around him in walking him 67 times.

"It took a little getting used to [with the change in leagues]," said Weglarz. "I drew a bunch of walks at the beginning of the season. They were pitching away a lot and once I showed them I could go away then they started coming back in. It's tough as going from Low-A to High-A is a big jump. Here all the pitchers are experienced pro ballplayers and they don't really miss as much here as in Low-A. You almost need to stay one step ahead of the team and pitcher you are playing. Each team has their different styles on how to attack hitters, and you just try to change your plan accordingly. It takes a little getting used to, but in the big leagues and Triple-A they are going to know exactly how to pitch you, so when I get that far I have to know how to do that."

Weglarz just finished up pool play with Team Canada in the Olympics. He put on an impressive power display against gold medal favorite Cuba going 4-for-4 with two home runs and three RBI, and in the Olympics hit .400/.483/.720 in seven games. His first home run against Cuba was just to the left of dead-center and hit the top of a flag pole traveling an estimated 470 feet. Canada did not advance to the medal round, so Weglarz is expected to return to Kinston sometime in the next few days although there is an outside shot he could go directly to Akron. The Indians did not tell him what to expect when he comes back, so he knows just as much about his roster situation as the fans.


Beam Me Up Scotty
Left-hander Scott Lewis finally moved on from Double-A Akron to Triple-A Buffalo last Thursday. It was a well deserved callup, as in 13 starts at Akron he was 6-2 with a 2.33 ERA. Prior to his callup, Lewis was named Bank of America Eastern League Pitcher of the Week for the week ending August 10th. Lewis was unbeatable in two starts for the week working 13.1 innings and allowing just

one unearned run. In his outing on August 4th he went 5.2 shutout innings and allowed just one hit, two walks and struckout an Akron season-high ten batters. He followed that up on August 9th and threw 7.2 shutout innings and allowed four hits, no walks and struck out five. With his two spectacular starts, Lewis continued a seven-start string of dominance over Eastern League hitters in which he allowed just two earned runs. In that stretch that spanned 44.1 innings, Lewis went 3-0 with a 0.41 ERA, 41 strikeouts and just five walks.

Now in Buffalo, Lewis hasn't really skipped a beat. He struggled in his first outing mostly because he was a little too amped up making his Triple-A debut and only lasted four innings and allowed four runs on eight hits, three walks and had three strikeouts. In his first two innings he had three walks, which was more than in any start in Akron this year. Lewis was just over-excited and could not settle into a groove. He was rushing his delivery, his pitches were elevated, and just did not have any command of his fastball. He bounced back in his second start on Tuesday night to go six innings and allow one run on three hits, one walk and had four strikeouts.

Lewis is expected to remain in Buffalo until their season concludes Labor Day weekend, and after that he likely will go back to Akron for the Eastern League playoffs. Once Akron's season concludes, since Lewis is on the 40-man roster he should be activated and make his big league debut in Cleveland sometime in September.


Where Art Thou Chisenhall?


With Mahoning Valley shortstop Lonnie Chisenhall missing the NY-Penn All Star, there has been some speculation he has been promoted and is on his way to Lake County. However, in Lake County's first game of their final homestand of the season last night

Chisenhall was not in the lineup. Mahoning Valley's three day break ends today as they get back into action, and I will actually be in Lake County this evening, so this mystery should be solved by the end of the night.

In any case, the Indians 2008 first round pick is deserving of a callup to Lake County. The 19-year old has simply been on fire at Mahoning Valley hitting .426 with 1 HR, 16 RBI and a 1.140 OPS in 14 games this month. Overall he is hitting .301 with 4 HR, 40 RBI and has an .806 OPS in 52 games. Chisenhall is currently third in the league in RBI and doubles (15).

Chisenhall has done a great job of making adjustments this year at the plate and has shown his advanced approach at the plate that made the Indians take him in the first round this year. He touched up opposing hitters who tried to work him inside, so they started pitching him away and he has countered by making the proper adjustment of going with what they were giving him and going the other way.


August Not Kind To Hodges


Akron third baseman Wes Hodges probably can't wait for the dog days of August to end. After putting up consistent numbers all year from April through July, Hodges has hit a wall in August and seen his production crash. Check out his month-by-month numbers this year:


April: .265 AVG, 6 HR, 20 RBI, .822 OPS, 25 games
May: .347 AVG, 1 HR, 21 RBI, .860 OPS, 28 games
June: .314 AVG, 2 HR, 21 RBI, .823 OPS, 27 games
July: .273 AVG, 4 HR, 18 RBI, .849 OPS, 26 games
August: .162 AVG, 0 HR, 7 RBI, .391 OPS, 17 games

The average has fluctuated some over the course of the year, but his run production and OPS had been very consistent up until this month. Another thing of note is after racing out to a quick start in April with six home runs in 25 games, Hodges has hit only seven home runs since then in 98 games.

So why the struggles? There is no definitive answer other than he is tired. He has logged a lot of games this year virtually playing everyday. Also, while his Akron teammates recharged their batteries over the All-Star break he was in New York participating in the Futures Game. So, Hodges has been pretty much has not had much of a break since spring training started way back in early March. Hopefully he can catch a second wind here over the next few days as Akron will need his bat in the playoffs.

Hodges is second in the Eastern League in RBI, and has not driven in multiple runs in a game since August 2nd. On the year, Hodges is hitting .280 with 13 HR, 87 RBI and a .775 OPS. His 87 RBI are the fifth most in a single-season at Akron, which surpassed Victor Martinez's 85 RBI total in his MVP season in 2002. Hodges is one hot streak away of eclipsing the club record of 96 RBI in a season set by Chan Perry in 1997. This was a record that halfway through the season he looked like he would smash, but with his cold August now looks like he will fall short of breaking.


Better Late Than Never With Gomez


Kinston right-hander Jeanmar Gomez is part of the Latin Trifecta that includes right-hander Hector Rondon and left-hander Kelvin De
La Cruz. But while Rondon and De La Cruz have made huge strides this year, Gomez sort of lagged behind for much of this year. Not anymore. The 20-year old Gomez is finishing up his season strong and has been sensational in August going 1-0 with a 1.50 ERA in three starts. The highlight of the month was on August 10th where he pitched seven outstanding shutout innings and allowed four hits, no walks and struck out six. His stellar outing dropped his ERA below the 5.00 threshold for the first time since his first start of the season back in April. On the year, Gomez is now 4-8 with a 4.81 ERA in 24 starts.

Gomez's success this month stems from him being able to command his fastball to both sides of the plate and being able to consistently throw his secondary pitches for strikes which has allowed him to throw off-speed pitches in fastball counts. Gomez has also worked a lot in bullpen sessions with pitching coach Greg Hibbard to improve the velocity of his slider by improving his mechanics. As a result, his slider is now much sharper and has much better late break. Prior to the adjustments, Gomez would fly open and expose his arm slot which caused problems in getting proper velocity on his pitches and in turn he ended up overthrowing a lot. Now that he is throwing with his arm more out front he is throwing much easier and getting much more life on all his pitches. Gomez also continues to improve in some of the mental aspects of pitching such as reading swings.


Role Reversals


Akron left-hander Chuck Lofgren's transition to the bullpen seems to be just what the doctor ordered. While he was hardly excited about being moved from a starter to the bullpen, he may find his new role to his liking if he keeps on pitching the way he has pitched lately. In ten appearances as a reliever, Lofgren is 1-1 with a 2.42 ERA and in 22.1 innings has allowed 16 hits, four walks and
struck out 16 batters. When you compare that to his numbers as a starter where in 14 starts he went 1-4 with a 6.29 ERA (58.2 IP, 67 H, 42 BB, 54 K) there is no question that the bullpen experiment will continue at least through the end of the season.

Since his return from a 25-day "leave of absence" in June, Lofgren has pitched out of the bullpen and credits his success to being more focused and having some mechanical issues with his delivery corrected. The most telling sign of his returned focus is the command of his fastball where he has only walked four batters as a reliever in 22.1 innings while as a starter he walked 42 batters in 58.2 innings.

It remains to be seen if the move to the bullpen for Lofgren was only temporary for him in order to allow him to salvage what was a lost season up until the move. Considering that he is still considered one of the top left-handed pitching prospects in baseball there is a very good chance he will open the season next year in the Triple-A Columbus starting rotation. Lofgren is also up for roster protection from the Rule 5 Draft this offseason, so the Indians need to accurately assess his value.

While Lofgren has enjoyed success going from starter to reliever, right-hander J.D. Martin has been putting up big numbers in his recent transition from reliever to starter. With the promotion of Scott Lewis to Buffalo last week Martin was inserted into the Akron starting rotation for the remainder of the season. Martin has been quick to impress in his new role throwing 10.2 shutout innings in his two starts since being inserted into the rotation. In 33 combined appearances between Akron and Buffalo this season Martin is 11-3 with a 2.53 ERA, and in 81.2 innings has allowed 74 hits, 18 walks and has 73 strikeouts.

Coming into this season Martin had been a starter his entire career, but the Indians moved him to the bullpen to reduce his innings workload on his surgically repaired right elbow. With his outstanding season, the Indians will need to do everything they can to protect Martin this offseason from being taken in the Rule 5 Draft or leaving the organization as a six year free agent.
Huff Is Finishing Up Strong



Left-hander David Huff continues to breeze along this season. With what looks like just two starts left in his season he is now 5-4 with a 2.83 ERA in 14 starts at Buffalo and is averaging a strikeout an inning with 73 strikeouts in 70 innings. In 11 of his 14 starts he has held the opposition to two runs or less, and in the other three did not allow more than four runs. In 25 combined starts between Akron and Buffalo, Huff is 10-5 with a 2.39 ERA and has 135 strikeouts in 135.2 innings pitched. He also has only walked 27 batters and has held the opposition to a .202 batting average.

Huff is currently at 135.2 innings, which with two starts remaining he is right in line to hit his target innings pitched threshold of 145-150 innings. Huff aired it out for the first time in awhile on Monday night when he went 5.2 innings and threw 96 pitches, easily the most pitches and the the longest he has gone in a game since July 6th. The Indians have carefully monitored his innings in order not to overwork him this year after he only threw 59.2 innings for Kinston last year. Sorry Tribe fans, but once his season in Buffalo concludes, he will not be in Cleveland in September. He'll be shutdown, put in bubble wrap until next year, and be a strong favorite to win the fifth starter sport out of spring training next year.

An Olympic Scare

Indians outfield prospect Matt LaPorta was involved in a scary incident on Tuesday when he was struck in the head with a pitch during their 9-1 win over China. LaPorta was allegedly hit intentionally after he and teammate Nate Schierholtz were involved in collisions at the plate in consecutive innings. LaPorta bowled over catcher Wang Wei in the fifth inning and Wang suffered a torn

ACL to his left knee on the play, so LaPorta was drilled while leading off the bottom of the seventh.

When LaPorta was beaned, he laid crumpled on the ground for several minutes before walking off on his own power and left the game to go to the hospital and have tests done. All tests came back negative, and he was diagnosed with a mild concussion. He took batting practice on the field yesterday and is listed as day-to-day. He likely will be back in the lineup for the game against Cuba.

After finishing up pool play at 5-2, Team USA has advanced to the medal round and earned a #3 seed. They will face off with #2 seed Cuba tomorrow morning at 6:00 am ET. If USA wins, they would advance to the gold medal game and play at 6:00 am ET on Saturday, but if they lose they would play in the bronze medal game at 10:30 pm ET tomorrow night.

Mr. Cooper Now Mr. Bison

Buffalo outfielder Jason Cooper has now played in 401 games as a Buffalo Bison which is the most in the Modern Era of the
franchise. Cooper passed the record set by Buffalo Baseball Hall of Fame catcher Tom Prince who had played in 400 games with the team from 1988-1992. In his five-year career with Buffalo, Cooper also ranks 2nd in RBI (218) and doubles (81), 3rd in walks (167), tied for 3rd in triples (18), 4th in runs (202) and 6th in hits (322) and home runs (49). On the season he is hitting .241 with 9 HR, 42 RBI and a .783 OPS.

Cooper has had a hard time getting everyday at bats in Buffalo this year. As a six year free agent this offseason he likely will try and find greener pastures elsewhere because of the crowded outfield situation in the upper levels in Cleveland. In a twisted way, Cooper could end up back in Buffalo next year even though he would not be with the Indians. With the Indians all but set to move to Columbus next year, there has been talk that the Toronto Blue Jays and New York Mets may be the top candidates to scoop up Buffalo as their Triple-A affiliate. If Cooper was to sign with one of those teams, he could be back in his familiar confines at Dunn Tire Park for yet another season.

Affiliate Notebook
Buffalo Notes (62-69, 5th place, 17.0 GB): First baseman Jordan Brown has really heated up since the All-Star break. In 27 games since the break he is hitting .316 with 1 HR, 16 RBI and an .826 OPS with eight multi-hit games during that span. On the season, Brown is now hitting .280 with 5 HR, 43 RBI and a .740 OPS in 101 games. ... Catcher Chris Gimenez is another player who has started to find his groove. After making his Triple-A debut in June and only hitting .167 for the month, Gimenez has batted .301 since then in 35 combined games in July and August. In 100 combined games at Akron and Buffalo, Gimenez is hitting .307 with 7 HR, 38 RBI and an .876 OPS. ... All-Star left-hander Rich Rundles has not allowed a run in 11 consecutive outings. Since July 26, in those 11 appearances he has thrown 8.1 innings and allowed only two hits, no walks and struck out ten. On the season he is 5-4 with 4 saves and a 2.94 ERA in 50 appearances. ... Since the All-Star break, outfielder Brad Snyder has hit .292 with 5 HR, 23 RBI, and an .843 OPS in 27 games. On the season, he is hitting .249 with 12 HR, 59 RBI and a .733 OPS, and he leads the team in extra-base hits (40), home runs, and RBI. ... On Sunday, infielder Morgan Ensberg was activated off the temporary inactive and infielder Jared Head (2-for-7, HR, 2 RBI) was transferred back to Kinston. ... Right-hander Jeff Weaver has been transitioned to the bullpen.


Akron Notes (74-57, 2nd place, 3.0 GB): Right-handed reliever Erik Stiller's overall numbers at Akron of a 6-5 record and 4.44 ERA in 31 games may not show much, but a deeper look into his numbers shows a budding quality reliever who often goes unnoticed. Only four of his 22 inherited runners have scored, of which two of them scored way back in his first Akron appearance on May 9th. Also, he is racking up a strikeout an inning with 50 strikeouts in his 52.2 innings pitched at Akron. After putting up a 5.02 ERA in 21 first half appearances, Stiller has started to settle in the second half with a 3.00 ERA in 10 appearances. ... While his won-loss record may not be spectacular, right-hander Frank Herrmann has not gotten much support from his offense. Herrmann is pitching as good as he ever has in the Indians organization and has gotten stronger down the stretch going 1-5 with a 1.91 ERA in his last eight starts (six at Akron and two at Buffalo). In 47.1 innings he has allowed 40 hits, 16 walks and has 43 strikeouts. In 24 combined starts between Kinston, Akron and Buffalo this year, Herrmann is 9-8 with a 4.21 ERA. ... Outfielder Jose Constanza has quietly put together a solid year, hitting .278 with 0 HR, 34 RBI, and a .683 OPS. While he hits for little power, the scrappy outfielder is one of the most exciting players in the system to watch because of his ability to put the bat on the ball with only 42 strikeouts in 338 at bats, and also his speed on the bases (23 stolen bases). Constanza was moved off the roster and utility man Jared Head was activated from Kinston yesterday. No official word yet on why Constanza was taken off the roster, but a lingering shoulder issue is said to be the cause. ... When hard throwing right-hander Neil Wagner was promoted from Kinston to Akron last week, he took Scott Lewis' spot on the roster and J.D. Martin's spot in the bullpen. In three appearances at Akron he is 0-0 with a 4.91 ERA. ... Akron made a few moves on Wednesday, activating catcher Doug Pickens to fill the backup catching void left open when Armando Camacaro was assigned to Buffalo on Tuesday night. Wyatt Toregas was expected to be activated off the disabled list, but he still was having some problems with the inflammation in his elbow.


Kinston Notes (33-25, 3rd place, 5.5 GB): Catcher Carlos Santana has been tearing it up since coming over in a trade from the Dodgers for third baseman Casey Blake. In 20 games he is hitting .377 with 4 HR, 13 RBI and a 1.071 OPS. Santana is the only player in minor league baseball with 100 RBI and 100 runs scored, and is first in runs scored (114) and second in RBI in all of minor league baseball. Santana was hit by a foul ball in the throat areas while he was catching on Tuesday night and had to leave the game in the 7th inning, but was back in the lineup on Wednesday night. ... Left-hander Kelvin De la Cruz had a rough outing on Monday going just 2.2 innings and allowing eight hits, seven runs, five walks and had three strikeouts. It was his worst outing of the year by far, and spiked his numbers at Kinston to where after six starts there he is now 3-2 with a 6.35 ERA. ... Prior to his callup earlier this week to Kinston, right-hander Josh Judy was on a tear at Lake County. In his last eight appearances covering 15.1 innings Judy was 4-0 with a 1.17 ERA, eight hits, four walks, and 19 strikeouts. He finishes the year 12-1 with a 3.51 ERA in 31 appearances at Lake County. In two appearances at Kinston he has thrown 4.1 shutout innings and allowed three hits, no walks, and struck out five. ... Here is a quick update on how some of the other Kinston newcomers are doing: Outfielder Lucas Montero (21 games, .261 AVG, 1 HR, 12 RBI, 12 stolen bases, .670 OPS), outfielder Roman Pena (8 games, .143 AVG, 1 HR, 4 RBI, .558 OPS), and right-handed reliever Kyle Landis (3 games, 0-0, 11.25 ERA, 4 IP, 6 H, 5 R, 3 BB, 5 K). ... After winning just eight games in April, Kinston has won 60 games since, the second most in the Carolina League behind Myrtle Beach. ... Kinston's recent eight game win streak was their longest winning streak since the beginning of the 2004 season.

Lake County (27-30, 4th place, 11.0 GB): Outfielder Matt Brown has reached base safely in 19 of his last 20 games and is on a tear in August hitting .415 with 1 HR, 5 RBI and a .975 OPS in 14 games. On the season Brown is now hitting .309 with 8 HR, 69 RBI and a .796 OPS. ... Tough luck lefty Ryan Miller can't catch a break. Last Monday he went five innings allowing just one run on six hits, one walk and had one strikeout, but victory eluded him as the bullpen blew a three run lead in the eighth inning. In his follow up start this past Saturday he got 12 runs of run support from his offense, but he lacked the command to get through five innings to qualify for the win and went just 4.1 innings allowing four runs on seven hits, three walks and had three strikeouts. After winnings seven of his first eight starts, Miller is now winless in his last 15 starts. ... On Sunday, right-hander Eric Berger made his Lake County debut but had to leave the game in the second inning with an oblique injury. He injured himself in the early stages of the game while trying to field a bunt. Given our experience with this injury to players on the major league roster, I'd say that since there are only about three weeks left in the season (including playoffs) his season is over. ... On Monday right-hander Joey Mahalic struggled through his worst outing of the season going 4.1 innings and allowing five runs on eight hits, two walks and two strikeouts. Prior to the start, he had not allowed more than four runs in his 17 previous starts. On the season Mahalic is 7-5 with a 3.80 ERA in 18 starts. ... Shortstop Ron Rivas had a 16-game hitting streak snapped last Friday, which tied the longest hitting streak at Lake County with outfielder Roman Pena who also had a 16 game hitting steak earlier in the season. On the season Rivas is hitting .295 with 0 HR, 22 RBI and a .708 OPS in 71 games. ... Catcher Matt McBride has been assigned to Lake County.
Mahoning Valley Notes (26-33, 5th place, 9.5 GB): Five Scrappers were named to the NY-Penn League All Star team: left-hander Eric Berger, first baseman Brock Simpson, second baseman Isaias Velasquez, shortstop Lonnie Chisenhall, and catcher Robbie Alcombrack. The All Star game was played on Tuesday night in Troy, NY. In the game, Alcombrack went 0-for-1, Simpson went 0-for-2, and Velasquez went 0-for-1 with a walk and strikeout. Berger did not participate as he was promoted to Lake County, and Chisenhall was not there as well as it is believed he has been promoted to Lake County as well (unconfirmed). ... Last Friday right-hander P.J. Zocchi was the best he has been this season going five innings and allowing just one run on five hits, no walks and had seven strikeouts. In 12 starts he is 3-3 with a 4.42 ERA. ... Outfielder Juan Valdes was recently promoted to Lake County, and was replaced on the roster with outfielder Tim Fedroff. Fedroff is out of North Carolina and was taken in the 7th round of the 2008 June Draft, and in seven games is hitting .414 with 0 HR, 2 RBI and a .986 OPS. ... Infielder Isaias Velasquez recently had a 17-game hitting streak snapped. On the season he is hitting .294 with 1 HR, 16 RBI, 7 stolen bases, and a .751 OPS. ... Right-handed reliever Brad Hinkle has been a standout this season on the pitching staff. Literally. At 6'10" the 220-pounder towers over opposing hitters, and he has used that height to his advantage where he can stay on top of the ball and get it on a downward plane. In 14 appearances (6 starts) Hinkle is 0-0 with 1 save and a 3.66 ERA. In 39.1 innings he has allowed 38 hits, 12 walks, and piled up 41 strikeouts. ... The Scrappers lead the NY-Penn League in walks with 246. Vermont is second in the league with 223 free passes.
GCL Indians Notes (25-28, 5th place, 7.0 GB) and DSL Indians Notes (36-31, 6th place, 8.0 GB): Left-hander Heath Taylor has been absent almost the entire season with elbow problems, but just started a rehab assignment with the GCL club on Wednesday and threw a scoreless inning. Prior to going on the disabled list in early May, Taylor was 2-2 with a 4.79 ERA in 10 relief appearances for Kinston earlier this year. ... 2008 2nd round pick right-hander Trey Haley made his professional debut with the GCL club on Wednesday throwing a scoreless inning. ... Third baseman Abner Abreu is in a funk offensively, hitting just .162 with 2 HR and 4 RBI in his last ten games (6-for-37). He is now hitting .255 with 10 HR, 34 RBI and an .829 OPS. ... There will be some movement in the system soon since the GCL club wraps up play next week (8/27). Several players on the GCL roster will likely go to Mahoning Valley or Lake County to take part in the final week of the season for each team. ... On the DSL side, third baseman Kelvin Diaz is hitting .306 with 5 HR, 44 RBI, and an .873 OPS. ... Outfielder Darling Read is hitting .276 with 12 HR, 43 RBI, and an .878 OPS. ... 17-year old lefty Elvis Araujo is 4-2 with a 1.89 ERA in 14 starts. ... The DSL Indians wrap up play on Saturday.

All photos courtesy of Ken Carr, Cleveland Indians, Mahoning Valley Scrappers, Lake County Captains, Kinston Indians, Akron Aeros, and Buffalo Bisons.
User Comments
No comments currently. Be the first to comment!