Minor Happenings: New Players From Trades Make Debuts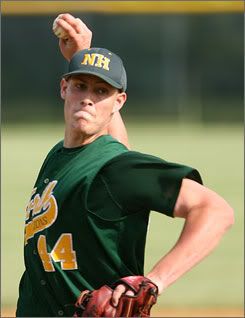 "Minor Happenings" covers the important developments and news in the Indians farm system. While most of the information in this report is from my own research and through interviews I have conducted with organizational personnel, some information in this report is collected and summarized from the various news outlets that cover each team.
Lots to cover here in the next few days since I have been away the past two weeks in Kinston and Myrtle Beach. Today's piece is the first of three planned Minor Happening articles between now and the end of the weekend, so be sure to check back for more updates.
In today's piece, I will rundown the debuts of all nine prospects the Indians received in the past two weeks. The Indians added a lot of intriguing talent and really gave a boost to their already strong farm system with some real big impact arms.
In the next piece I'll provide a recap of a long conversation I had with Kinston Pitching Coach Greg Hibbard on many of his pitchers, and also cover a lot of the recent major developments that occurred in the Indians system the past two weeks while I was away. In the third and final piece it will be a mixed bag of news and notes covering mostly the second level guys in the system who have some potential but often get overshadowed by the higher level prospects in the system. On top of that, I have a slew of feature player articles that should post over the course of the next two months until the season wraps up.
Oh, and don't forget, Paul Cousineau and I are back on the air tonight from 9:30-10:30pm for our weekly Smoke Signals radio show. We will surely recap and talk about all the trades and all the players the Indians received in their recent deals and where the Indians go from here.
Anyway, onto the Happenings....
Indians Minor League Player Of The Week
(for games from July 23 through July 29)
Carlos Santana (Catcher - Akron)
.480 AVG (12-for-25), 7 R, 2 2B, 0 3B, 4 HR, 12 RBI, 0 BB, 3 K
Since there was no Happenings last week, we need to catch up and announce the Player of the Week for that week. That was Double-A hot-hitting catcher Carlos Santana. What a week he had over a week ago, highlighted by him hitting home runs in four

straight games which tied a club record he now shares with former Akron third baseman Kevin Kouzmanoff who accomplished the feat in 2006. He is currently in the midst of a career-high 13 game hitting streak dating back to July 22nd, of which during the streak he is hitting .413 (19-for-46) with 4 HR and 15 RBI.
While the Victor Martinez trade was mostly about money and adding some high level pitching talent to the organization, it was also about clearing the way for Santana. With Martinez now gone, Santana is the everyday catcher in waiting. He has a major league ready bat, hitting .282 with 19 HR, 78 RBI, and a .931 OPS in 101 games with Double-A Akron this year. He also has an impressive walk to strikeout ratio of 69 walks to just 64 strikeouts in 330 at bats.
While his offense is ready to come topside now, the Indians will delay that callup a little while as they shore up his defense behind the plate and further work with him on some of the nuances to catching. He has an incredible arm behind the plate, but he still needs some polish with his defense. His biggest area of focus at the moment is becoming better working with the pitchers on his staff, calling games, and improving his leadership abilities. He needs a little more work in communicating with and handling a pitching staff and knowing when to visit the mound to settle his pitcher down. He also needs some additional work with his game-calling and situational pitching.
At the outset of the season, the Indians planned to have Santana catch at Akron all year. Partly for develop reasons, and partly because of the catching in front of him with Martinez and Kelly Shoppach in Cleveland and Wyatt Toregas and Chris Gimenez in Triple-A Columbus. Even with Martinez now traded, and Toregas and Gimenez now in Cleveland, the Indians still plan to have Santana finish the season in Akron rather than push him up to Columbus. A lot of this has to do with the playoff environment he will play in the rest of the season since Akron is in a pennant race and will likely make the playoffs while Columbus is going nowhere and is just playing out the string. The Indians like exposing their young players to a playoff environment because of the increased intensity of the games and unique chance to evaluate players in how they respond in that kind of game atmosphere. How they play and perform on that stage often can say a lot about the player.
In any case, once Akron's season is finished, Santana is expected to be called up to Cleveland for a cup of coffee since rosters will be expanded in September. He'll get a taste of the big league atmosphere and get a few games under his belt to set him up for the 2010 season where he will likely spend most of the season in Cleveland. He probably won't be the catcher right out of the gate when the season starts next year as he will likely open the season in Triple-A Columbus to get some time there, but he is expected if all goes well to be the regular catcher in Cleveland by midseason next year.
Honorable Mentions:
Jordan Brown (OF - Columbus): .391 AVG (9-for-23), 4 R, 3 2B, 0 3B, 2 HR, 8 RBI, 3 BB, 1 K
Beau Mills (1B - Akron): .333 AVG (8-for-24), 5 R, 1 2B, 0 3B, 3 HR, 4 RBI, 3 BB, 4K
Russell Young (LHP - Kinston): 1-0, 1 game, 1.04 ERA, 8.2 IP, 7 H, 1 ER, 0 BB, 6 K
Adam Abraham (C - Lake County): .409 AVG (9-for-22), 3 R, 3 2B, 1 3B, 1 HR, 3 RBI, 3 BB, 3K
Preston Guilmet (RHP - Mahoning): 1-0, 2 games, 1.69 ERA, 10.2 IP, 11 H, 2 ER, 1 BB, 8 K
Kyle Bellows (3B - Mahoning): .370 AVG (10-for-27), 4 R, 2 2B, 0 3B, 1 HR, 3 RBI, 1 BB, 2 K
Jesus Brito (3B - AZL Indians): .524 AVG (11-for-21), 7 R, 3 2B, 2 3B, 0 HR, 4 RBI, 2 BB, 3 K
Jose Camargo (SS - AZL Indians): .478 AVG (11-for-23), 7 R, 2 2B, 1 3B, 1 HR, 9 RBI, 3 BB, 4 K
Previous Winners:
07/16 to 07/22: Nate Recknagel (1B - Lake County)
07/09 to 07/15: Matt McBride (OF - Akron)
07/02 to 07/08: Marty Popham (RHP - Mahoning Valley)
06/25 to 07/01: Andy Marte (3B - Columbus)
06/18 to 06/24: Nick Weglarz (OF - Akron)
06/11 to 06/17: Trey Haley (RHP - (Lake County)
06/04 to 06/10: Michael Brantley (OF - Columbus)
05/28 to 06/03: Donnie Webb (OF - Lake County)
05/21 to 05/27: Jordan Brown (1B/OF - Columbus)
05/14 to 05/20: Paolo Espino (RHP - Kinston)
05/07 to 05/13: Lonnie Chisenhall (3B - Kinston)
04/30 to 05/06: Nick Weglarz (OF - Akron)
04/23 to 04/29: Matt McBride (1B - Kinston)
04/16 to 04/22: Eric Berger (LHP - Kinston)
04/08 to 04/15: Kelvin De La Cruz (LHP - Kinston)
Todd Lights Out So Far With Indians
Of the ten players the Indians received in trades over the past week and a half, the first player called up to Cleveland was right-handed reliever Jess Todd who the Indians received from the St. Louis Cardinals as the player to be named later in the Mark DeRosa deal. He got the call to Cleveland before yesterday's game and made his Indians debut with the big league club

throwing a scoreless inning in the ninth allowing one hit, no walks, and had a strikeout. He made just three relief appearances at Triple-A Columbus (debuted on Wed July 29th) and retired 12 of the 13 batters he faced in his four scoreless innings of work. He did not walk a batter, allowed just one hit, and had seven strikeouts. Including time with the Cardinals, in his last 25 outings he has not allowed a run in 22 of them.
At Triple-A Memphis this year playing in the St. Louis organization, Todd was 4-2 with 24 saves and a 2.20 ERA (49.0 IP, 39 H, 13 BB, 59 K, .214 AVG) in 41 appearances out of the bullpen. At the time of the trade, his 24 saves lead the Pacific Coast League and ranked tied for 4th most in all of Minor League Baseball. He was named the Cardinals Minor League Pitcher of the Year in 2008 after he went 8-6 with a save and a 2.88 ERA (153.0 IP, 116 H, 42 BB, 136 K) in 28 games (24 starts) between three different levels at Single-A Palm Beach, Double-A Springfield, and Triple-A Memphis.
Todd has a four-pitch mix lead by a four-seam cut fastball that sits at 90-92 MPH and has topped out as high as 94 MPH. His hard slider is filthy and sits in the mid-80s with good late break. It is his out pitch and the best offering in his arsenal, one that he has very good command of and is confident throwing in any count. He also throws a two-seamer that sits 88-90 MPH that has some decent sinking action. His circle changeup is an average offering at best that he has a good feel for and gets good downward movement, but his command is inconsistent.
He is kind of a maximum effort guy as he goes through his motion nice and easy but then as he brings his glove down his windup hits another gear and he just explodes through the rest of his delivery. He has a long step in his stride and very quick rotation in his hips which help him get a little extra behind the ball when he throws it. The quick arm action at the end of the delivery creates some good deception for his fastball and offspeed pitches. He repeats his delivery well, and is a mechanically sound pitcher. He does not back down, attacks, and has a bulldog mentality, which is why many feel he is destined to be a very good major league setup man down the road. In a conversation with Kevin Goldstein of Baseball Prospectus a week ago, he mentioned that he compares a lot to a right-handed version of Randy Myers. He'll get every chance to lock down a bullpen spot in Cleveland over the course of the next two seasons as they eye a return to contention in 2011.
Mixed Bag So Far For Graham
In his debut on Wednesday July 29th after being acquired from Colorado for Rafael Betancourt, Double-A Akron newcomer Connor Graham showed some flashes of brilliance before having to leave early because a recurring blister on his pitching hand.

The 6'7" right-hander was over-amped for his debut pitching at the Double-A level for the first time and with the Indians as he needed 34 pitches to get through the first inning. He walked three of the first four batters he faced, but he settled down after that and only needed 26 pitches to get through his next 2.1 innings of work. He finished the game going 3.1 innings and allowed one run on two hits, three walks, and had five strikeouts. He retired nine of the last 11 batters he faced.
While he was a bit wild in the first inning, what Graham showed in that first outing and in his follow up appearance this past Tuesday (3.0 IP, 4 H, 2 ER, 4 BB, 2 K) is that he has the stuff to dominate and overmatch hitters. His command still comes and goes, so he is a big of a project still. He is a power pitcher, and his success will largely be determined by how well he can command both sides of the plate with his mid-90s fastball and throw consistent, quality strikes with it. With a fastball that sits around 92-95 MPH and has topped out at 97 MPH, the ability to command and control it would be a big key in helping play up the effectiveness of his plus slider and changeup. The slider has hard, biting action and sits in the low 80s, and he does a good job of keeping it underneath the hands of lefties and away from righties. The changeup is still a work in progress, but has shown some promise to become an average pitch in his arsenal.
Prior to joining the Indians, Graham was having a good season in the Colorado Rockies system and was 7-4 with a 3.14 ERA in 16 starts for High-A Modesto in the California League, a league often considered one friendly to hitters. In 80.1 innings he was holding the opposition to just a .225 batting average and had 87 strikeouts, but he did have 41 walks. The trade is also sort of a homecoming for Graham as he grew up in Bowling Green, OH and played college baseball for Miami, OH. His wife is also from the Dayton, so with the Indians Double-A, Triple-A and big league teams all in Ohio, his family will surely be at many of his games going forward.
Barnes Makes Solid Debut
High-A Kinston got a nice boost to their starting rotation with the addition of left-hander Scott Barnes who the Indians received from San Francisco for Ryan Garko. He made his Indians debut on Wednesday July 29th and put forth an okay effort from a box score perspective going five innings and allowed three runs on eight hits, two walks and had three strikeouts. In his follow up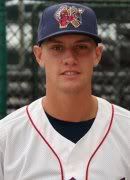 outing this past Monday he was much better though had to be removed in the fifth inning after reaching his pitch limit because he had thrown 92 pitches. Still, it was a good showing as he went 4.2 scoreless innings and allowed four hits, two walks and had three strikeouts.
As is often the case, the box score doesn't tell the whole story for his first outing as he was just coming off a wild cross-country trip having been traded just two days earlier and was still getting to know his teammates and new organization. Most importantly he did not know anything about the hitters he was facing since he did not have much of a chance to go over scouting reports or come up with a detailed game plan with Kinston Pitching Coach Greg Hibbard before the game.
Barnes attacks hitters with all three of his offerings, a fastball, curveball and changeup. His fastball is an average pitch in that it sits at 88-90 MPH and touches 92 MPH, but he commands it well. His changeup might be his best pitch, and his slurvy curveball is coming along. His athleticism is a big part of his success as it allows him to repeat his delivery well, and in turn he is able to effectively change speeds on his pitches. At 21-years of age and 6'4" and 185-pounds he has the body to handle the rigors as a starting pitcher, and he projects as a middle of the rotation starter in the big leagues. I'll have more on Barnes in a report from his new pitching coach Greg Hibbard in tomorrow's piece.
Barnes was 12-3 with a 2.85 ERA in 18 starts for High-A San Jose in the California League, numbers that are quite impressive for that league. At the time of the trade, he was leading the California League in wins, was 2nd in ERA, and was 9th with 99 strikeouts. Before joining the Indians, he won his last seven decisions since June 11th going 7-0 with a 1.50 ERA (48.0 IP, 36 H, 8 ER, 58 K).
Marson, Donald Offer Depth
There were probably some puzzled looks the faces of Indians fans after the Cliff Lee trade when the Indians opted to acquire catcher Lou Marson and shortstop Jason Donald, players who did not exactly fill two positions of need at the major league and Triple-A level. But, as evidenced two days later Marson was picked up to fill the catching depth with the departure of Victor

Martinez and Donald becomes a good backup option to the keystone combo in Cleveland of Asdrubal Cabrera and Luis Valbuena.
Marson made his Indians debut on Thursday July 30th for Triple-A Columbus going 1-for-3, and in four games with Columbus he is hitting .231 (3-for-13) with 0 HR, 0 RBI and a .564 OPS. At the time of the trade, in 63 games for Triple-A Lehigh Valley he was hitting .294 with 1 HR, 24 RBI and a .751 OPS. He is a good hitting catcher who won't hit a lot of home runs, but is a very polished hitter who has a good ability to hit for average and put the bat on the ball consistently. He is a solid-average defender with excellent leadership skills. While he does not have a laser of an arm, his very quick exchange and transfer of the ball and accurate throws allow him to get the ball down to second base in about 1.9 seconds which is major league average. He is very poised, handles a pitching staff well, and knows how to execute a game plan effectively. He is widely viewed by many in the game as a major league starting catcher, and he could soon get that chance in Cleveland next season while Carlos Santana gets more seasoning and Kelly Shoppach is likely traded.

In Donald's debut as an Indian at Triple-A Columbus on July 30th he went 1-for-3, and in five games with Columbus is hitting .188 (3-for-16) with 0 HR, 0 RBI and a .566 OPS. At the time of the trade in 51 games for Triple-A Lehigh Valley he was hitting .236 with 1 HR, 16 RBI, and a .629 OPS. He is a versatile infielder who can play shortstop, second base, and third base. He profiles as a very good utility player, and may be the eventual replacement in that role later this season if Jamey Carroll is dealt before the August 31st waiver deadline. While he may profile and be best suited as a utility player in the long run, some scouts still believe he has the ability to be a quality everyday player at shortstop or second base. He should be a callup to Cleveland anytime between now and the end of the season, and will likely be on the bench but play regularly next year in Cleveland.
Inconsistency Is Carrasco's Weakness
The headliner for the Indians in the Cliff Lee trade to Philadelphia was the acquisition of Triple-A right-hander Carlos Carrasco. Well, a headliner in a sense that he is a near major league ready starting pitcher who has great potential as a #2 starter though

is still battling through some inconsistency issues. The true headliner of the Lee deal was 18-year old right-hander Jason Knapp because of his talent and projection, but he is a few years away from sniffing the majors. More on Knapp later.
Carrasco made his Indians debut for Triple-A Columbus on Friday July 31st going 5.1 innings and allowing four runs on eight hits, one walk and had six strikeouts on 99 pitches. He will make his second start tonight. Prior to joining the Indians he was 6-9 with a 5.18 ERA in 20 starts for Triple-A Lehigh Valley. His 118 strikeouts on the year between Columbus and Lehigh Valley are the most in the International League.
Carrasco was widely viewed as the Phillies #1 prospect at the outset of this season, and while that has changed somewhat since then he was still one of their top prospects and has loads of potential. The problem with him is getting him to be more consistent outing to outing, inning to inning, and pitch to pitch. He also has a tendency to implode and allow big innings, so he needs to better learn how to be able to limit the damage and battle though that kind of an inning. His fastball shows good late life and consistently comes in at 92-94 MPH and has topped out at 96 MPH, and he complements it with a very good changeup and an average curveball.
He displays very good mound presence and executes his pitches well, but it all comes back to the consistency aspect and his inability to avoid the big inning. If the Indians can get him to harness that, they have a potential top of the rotation starter for the next 5-7 years.
Price Is Right
The third player from Boston the Indians received in the deal for Victor Martinez was right-hander Bryan Price. While Justin Masterson and Nick Hagedone have tons of ability and are nice headliners to the trade, if Price turns out to be something special the return on Martinez could end up excellent for the Indians.

Price made his Indians debut on Tuesday night pitching for High-A Kinston and was very impressive going six strong innings and allowed no earned runs on six hits, one walk and had three strikeouts. Prior to the trade, the 6'4" 210-pounder was 3-2 with a 2.45 ERA in eight starts for Low-A Greenville and was 1-6 with a 6.54 ERA in 11 starts for High-A Salem. In 102.1 combined innings this year he has 100 strikeouts and just 32 walks, though has allowed 105 hits (.260 AVG).
Price was a 1st round pick in the 2008 Draft by the Red Sox, and signed for $850K. He has some great stuff, but he is still in the early stages of learning how to command and control his three pitch mix of a fastball, slider and changeup. His fastball sits at 91-94 MPH and tops out at 95 MPH, though if he can get his mechanics and delivery straight he could see an up-tick in the velocity. His slider is a major league offering with good tilt, and like many pitchers fresh out of college his changeup is a work in progress with the chance to be at least an average pitch for him. He will continue to work in the starting rotation and could be a major league starting option down the road, though with his fastball-slider combination and the ability he has with them he could be a relief option down the road.
Hagedone, Knapp Set For Debuts
The last two prospects acquired in deals in the past two weeks yet to be discussed are left-hander Nick Hagadone from the Red Sox and right-hander Jason Knapp from the Phillies. These two pitchers have yet to make their organizational debuts, but that

will change very quickly as Hagadone is scheduled to pitch for Low-A Lake County tonight and Knapp is scheduled to pitch next Wednesday August 12th for Lake County. Both of these players are considered the top two prospects the Indians received in all the deals they have made over the course of the last two months. They are a ways from the majors, but they have unbelievable stuff and ability that at this point the sky is the limit for both of them.
Hagadone is still making his way back from Tommy John surgery he had in June 2008, and since being activated by the Red Sox on June 6th he made ten appearances with Low-A Greenville going 0-2 with a 2.52 ERA (25.0 IP, 13 H, 14 BB, 32 K). When healthy, he features an incredible fastball which sits at 95-97 MPH and tops out at 98 MPH with an ability to go even higher as he matures. His slider and changeup are good secondary offerings, with the slider showing good depth and the changeup nice downward movement.
Since he was coming back from surgery, Hagadone was on a strict pitch count of 50 pitches or three innings - whichever came first - in those outings. Now that he is with the Indians he will continue to pitch under those restrictions for the time being as a starter. His velocity is all the way back, but as with any pitcher recovering from Tommy John his command will take some time to return. He projects as a frontline starter, and the Indians will give him every chance to come back strong and healthy from his surgery and live up to that projection. Provided he is healthy, he could move fast next year and be in Cleveland sometime in 2011.
Provided there are no setbacks, Knapp is set for that August 12th return after being sidelined for the past month with right bicep tendonitis. He is the key to the Indians deal with the Phillies for Lee becoming a good trade or an outright disaster. Only 18-years of age, he is dripping with big league potential, but as often is the case though with very young pitchers, projection can often not meet reality as time progresses.
In any case, Knapp showcases a fastball that sits in the mid-90s topping out at 97 MPH. He has incredible arm strength, and as he matures he could hit a few MPH higher and maybe eventually touch 100 MPH. He complements his blazing fastball with a curveball and changeup, both having plus potential. He's got front of the rotation stuff and ability, now it is all about building his execution and command of all his pitches. He's a few years away, and if all works out for him likely won't be an option in Cleveland until at least sometime in 2012.
User Comments
No comments currently. Be the first to comment!