Minor Happenings: Phelps An On-Base Machine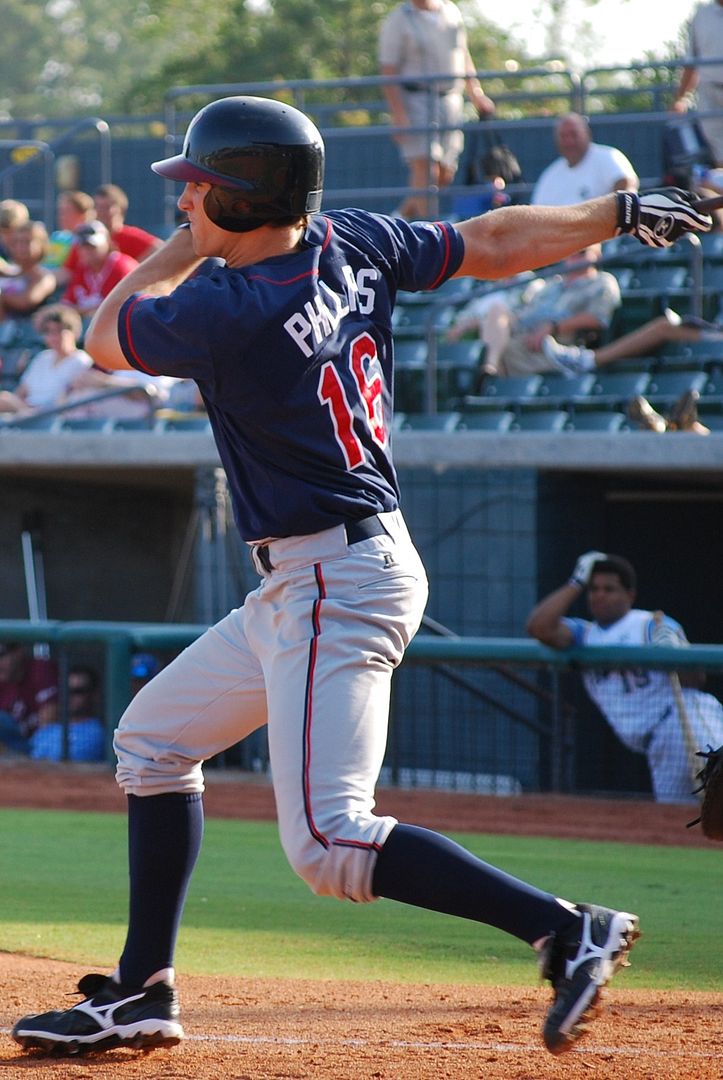 "Minor Happenings" covers the important developments and news in the Indians farm system. While most of the information in this report is from my own research and through interviews I have conducted with organizational personnel, some information in this report is collected and summarized from the various news outlets that cover each team.
Today is a special edition of Minor Happenings recapping some conversations I had with several Kinston players in my recent visits to see them in Kinston, Wilmington, and Myrtle Beach. I'll have a regular edition of Minor Happenings tomorrow or sometime this weekend.
Also, a quick note, Paul Cousineau and I will not be airing our Smoke Signals radio show tonight because of a last minute schedule change that prevents us from airing the show tonight. Paul and I are both going to be out of town and unable to coordinate the time to do the show. We will be back next week!
Phelps An On-Base Machine
At first glance, High-A second baseman Cord Phelps' numbers are very ordinary this year where in 124 games he is hitting .254 with 4 HR, 51 RBI and has a .732 OPS. However, a deeper look into his numbers reveal that he also has 87 walks on the year, which makes him the runaway leader in the Carolina League as the next closest person in the league has 71 walks on the season. With the help of such a large amount of walks, his on-base percentage is a very good .379 which ranks fourth in the league.
Phelps of course would like to hit for a better average, but even with the struggles at the plate his has maintained a consistent, patient approach and it has paid off with a very solid season this year in his first full season as a professional.
"Hitting has been a little bit of a struggle at times trying to figure out what I need to do to be a little bit more consistent," said Phelps in a recent interview in Myrtle Beach. "But that comes with kind of learning the game. If you are going to play baseball you are going to have to go through it. You try not to push the panic button and try to come out with a good attitude every day."
Even though his approach at the plate is sound, Phelps has worked all season with Kinston Hitting Coach Rouglas Odor and Kinston Manager Chris Tremie to make some adjustments and be a little more consistent at the plate.
"Me, Rouglas and Tremie have been talking about a couple things like being short to the ball and to just get through it," said Phelps. "That's about it. Just try and keep it simple. Hitting is like one of those things where if you complicate it too much then you can tie yourself up a little bit. So I try to simplify it as much as I can."
With his first full season almost in the books Phelps feels that he has finally made the adjustment to professional baseball, though understands he has a lot to learn still.
"Yeah, it is a little bit different because you have a little bit more of an idea what it is all about," said Phelps about this season compared to last season at short season Single-A Mahoning Valley where he hit .312 with 2 HR, 21 RBI and an .830 OPS. "Obviously I am still relatively inexperienced compared to a lot of the other players who have been here for awhile. But I feel like I know the ropes a little bit more and that just makes it a little bit easier to know what to expect. At the same time I have a long way to go."
In addition to his ability to be a table-setter and get on base, Phelps has also shown himself to be a very good defensive second baseman. He leads all second basemen in the Carolina League with a .993 fielding percentage, and has found a home at a position of need in the organization.
"Well, it's nice as I get to play one spot and get to learn it," said Phelps. "Obviously it is a bit more difficult if you are moving around from position to position. I have been lucky because I have been just staying right there and been able to work on getting better."
In the final days of the season Phelps wants to continue to focus on being a more consistent hitter. He also feels it is very important to keep that competitive edge, which is why the late season run for the playoffs by him and his teammates means a lot to him. While the organization may be indifferent if Kinston makes the playoffs or not, the Kinston players have that competitive fire to win and are focusing on getting to the playoffs.
"The minor leagues are about development, but also at the same time you have to cultivate your competitive nature," said Phelps. "You can't let that slip, so I think everybody out there is focused on winning because if you are not focused on that then you can lose it. So that is just as important as individual development."
Holt Remains Positive Even After Struggles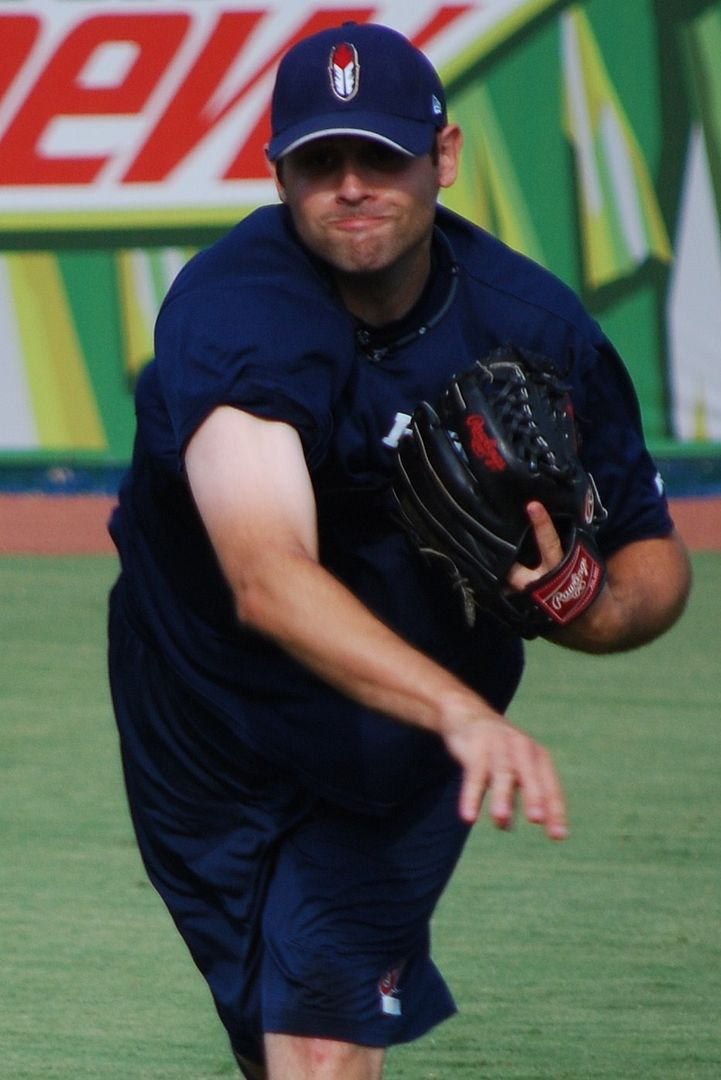 There is a fine line that High-A Kinston right-handed reliever Jonathan Holt has to walk in order to be successful. Since he is not blessed with a fastball that he can blow by hitters or a plus secondary offering to fool them, he instead has to rely on his exceptional command and control to paint corners and make quality pitches to consistently get hitters out.
When you lack top shelf stuff, your margin for error is much smaller. This season, Holt has seen what happens when you are off your game just a little and that small margin for error shows itself as his command has been off almost the entire season. His out of character command issues have led to some sub par numbers out of the Kinston pen this year where in 41 appearances he is 4-5 with a 5.15 ERA. In 78.2 innings he has allowed 85 hits, 29 walks, and recorded 51 strikeouts. The numbers are much different from his numbers at Low-A Lake County last year where in 41 appearances he went 4-6 with a 3.20 ERA and in 76.0 innings allowed 80 hits, 7 walks, and had 68 strikeouts.
"It has kind of been an up and down season so far," said Holt in a recent interview in Wilmington, DE. "I've been kind of just struggling keeping my mechanics in line. It has definitely been a learning experience trying to handle the ups and downs and just trying to work on things and going out and trying to do as best as you can each time out. It has been frustrating at points during the season, but you just try to keep it as positive as you can and just go out there and try to get guys out."
One of the more alarming changes in his numbers has been a substantial increase in his walk rate. While all of his other peripheral stats have remained somewhat constant, his increase from just 7 walks all of last season (0.82 BB/9) to 29 walks this season (3.3 BB/9) has been the biggest reason for his struggles. His walk rate is still good, but for a guy who has such impeccable command and will pitch to contact and allow hits, the significant increase in walks work has been detrimental to his performance. On top of that, with increased walks it also means he has not been as sharp with his pitches, which lead to a smaller zone to work with and hitters able to be more selective.
"Right now I am just trying to really clear my head and just go out and attack hitters and get back to throwing strikes," said Holt. "That was one of the things I did really well last year is throwing strikes and not walking people. In the first two months this year I was really working on a bunch of different stuff and the walks came in bunches. That's probably the most frustrating part because that was something the organization really liked. I didn't walk people and filled up the zone. That's what I have really tried to do, and the last month and a half I have gotten better and thrown more strikes."
Of late Holt seems to have gotten things going. After he seemingly bottomed out in July where in eight appearances he was 0-3 with a 12.10 ERA (9.2 IP, 17 H, 3 BB, 6 K), he bounced back with a strong August and September where in ten appearances he was 2-0 with a 3.63 ERA (17.1 IP, 19 H, 3 BB, 15 K).
"The numbers might not show it, but in my last couple of outings I have felt really good," said Holt. "It comes down to execution really. I was not executing my pitches early on and I feel like I have done a better job of that the last few outings. Again it is all a learning experience and you kind of go through struggles. It is not always the greatest of times but you just kind of keep working through it. Hopefully I will finish up strong."
With less than a week remaining in the season, Holt's offseason plans are already coming into focus. He will not be participating in Instructional League this fall, and instead will go home to his hometown of Fruitland Park, FL and take two to three weeks off before getting back to work to get ready for the 2010 season. He plans to train even harder this offseason to come into next spring training in the best shape in career.
After Christmas his voluntary throwing program will begin and he will get right into it pitching and working out about five miles from his home at Lake Sumter Community College, a junior college in Leesburg, Florida where his older brother Josh Holt happens to be the pitching coach.
"My brother is a pitching coach at a junior college, so I will work out at his facility," said Holt. "I get to lift, run, and throw there and use his catchers to throw bullpens. The Indians send out [our throwing program] right before Christmas and then we start that right up right after Christmas. That gets us into spring training."
Having his brother's facility will come in handy this offseason, especially considering the costs involved to go out to the Indians Player Development complex in Goodyear, AZ. In the offseason, players are welcome and encouraged to use the Goodyear facility on a voluntary basis, but the Indians do not pay for their airfare to get there, pay for any of their accommodations while out there, or for any other expenses like gas, food and utilities. Aside from food being provided in the clubhouse twice a day, players are responsible for paying for everything else while they are out there on their own except when they are there for Instructional League, spring training, or rehab during the season.
"They give you the option of coming out to Goodyear I think starting in the middle of January," said Holt. "You have to pay your own way, or you can come out in spring training whenever that starts up. That's the thing though as with most minor leaguers the money is already scarce as it is, so you kind of try and conserve that."
Montero Shows Improved Approach
High-A Kinston outfielder Lucas Montero is in his sixth season in the Indians organization. To date he is hitting .258 with 4 HR,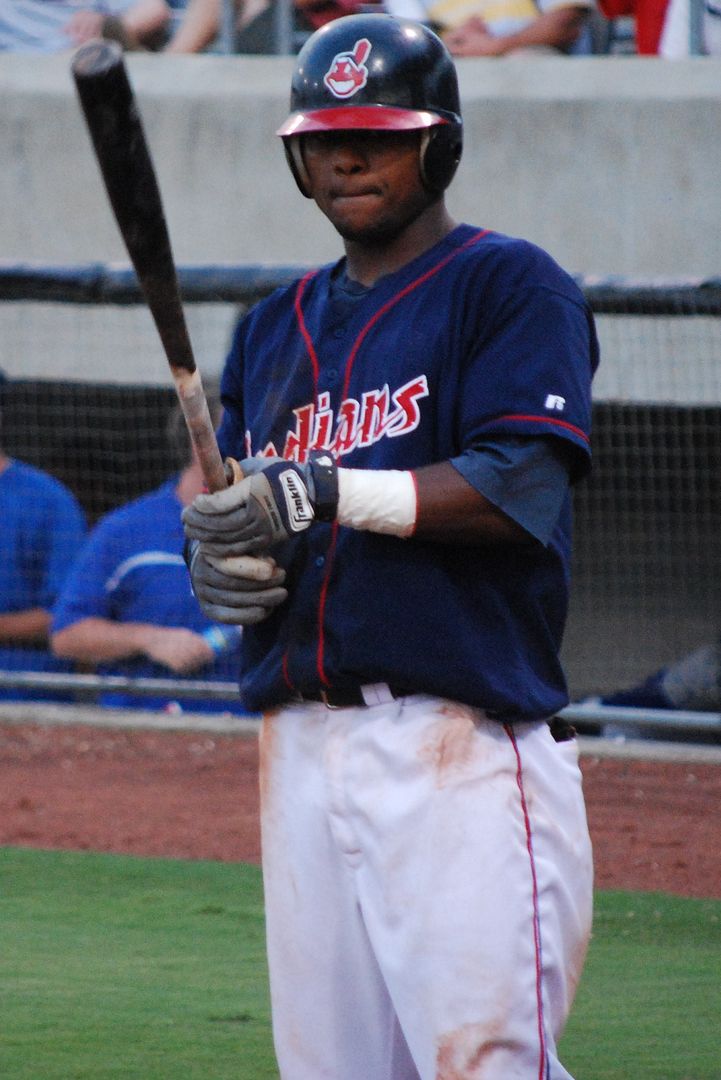 37 RBI and a .721 OPS in 124 games this year. Even though he has played virtually every day this season, he has remained injury free and proven to be a real iron man in the Kinston outfield.
While Montero is still only at the advanced Single-A level and his numbers do not stand out, his progress this season as a hitter has not gone without notice. His batting average in 215 at bats the first half of the season was .260, which is not much different than the .256 in 227 at bats so far in the second half. His progress has been more behind the numbers with his approach at the plate where he is seeing more pitches, working counts, and drawing walks from the leadoff spot in the lineup. This is demonstrated by the 24 walks and 48 strikeouts he had in the first half compared to 44 walks and 43 strikeouts in the second half.
"The first month the pitchers threw me a lot more breaking balls," said Montero in a recent interview. "So I think I started to use my hands [better] and not try to do too much and just stay back. I think that is why I have played better. Things have gone very good because I have learned a lot more of what I need to do at the plate. Sometimes it is [easier] to get the base hit because they don't know how to play you. If they play back I can bunt, so it is easier, and I have stayed more focused hitting more groundballs."
The 24-year old switch-hitter brings with him a rare combination of power and speed. He is lightning fast having swiped 60 bases last season and this year has 34 stolen bases. He is also not your typical speedy leadoff hitter as he has some thunder in his bat to hit the ball a long way and pound the gaps, which keeps the defense honest.
In the offseason Montero will return to his home in the Dominican Republic to spend time with his family that he is away from for eight months out of the year. Unlike many of the Indians minor leaguers from Latin countries, he has a good handle on the English language
"I learned it here [in the United States] with the team as the Indians taught me," said Montero. "We take the English classes along with other Latin guys. [Speaking English] makes it is easier to talk with other teammates. You can talk with a person as sometimes they may want to ask me about something and I can answer them."
Cawiezell Durable & Versatile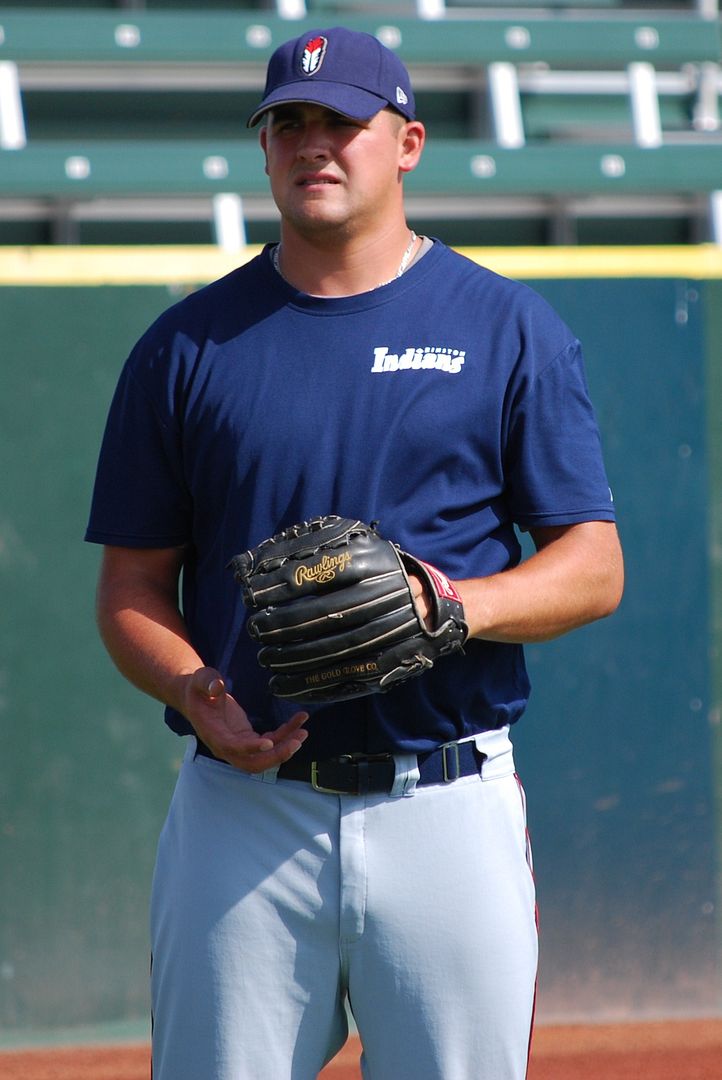 One of the mainstays of the High-A Kinston bullpen all year has been right-hander Dallas Cawiezell. He has never started a game as a professional as the Indians had the intention right out of the gates of developing him as a reliever since drafting and signing him in 2007 as a 40th round draft pick out of Valparaiso. On the season he is 1-4 with 8 saves and a 3.36 ERA, and in 64.1 innings has allowed 63 hits, 31 walks, and has 54 strikeouts. He is first in the Carolina League in appearances (47) and fourth in games finished (33).
Much like his 6'6" 255-pound frame, Cawiezell has been a rock in the bullpen all year contributing in any role as needed. When right-hander Josh Jody was called up to Double-A Akron in late April he moved into the closer's role for a few months. Since then he has pitched some middle relief and is currently in a late inning role primarily pitching the 7th and 8th inning every second or third night.
"It's been an adjustment this year, but I certainly expected there to be some rocks along the road," said Cawiezell in a recent interview in Wilmington, DE. "All of my secondary stuff is there, but it needs work. I'm just sticking with the stuff that works and working on locating the fastball. I'm definitely shoring up the offspeed stuff and it has been a priority of mine this year."
Kinston Pitching Coach Greg Hibbard has worked with Cawiezell this season to get him to lower his arm slot a little bit in order to create some more movement on a fastball which has sat around 91-92 MPH this year. He throws a hard slider and his split-fingered fastball may be his best pitch. He has worked a lot to try and get his delivery down in order to deceive hitters so that it is hard to distinguish between the fastball and splitter until the ball leaves his hand.
"Baseball-wise I would say repeating my delivery would be huge for me," said Cawiezell. "It seems like my command is always the first thing to go. When I get tired my command goes. I think if I shored that up that would be a huge thing for me and make everything better."
Cawiezell has really improved with keeping his emotions in check on the mound, which was something that he had some trouble with last year at Low-A Lake County. If things began to unravel on him over the course of an inning last year he would often lose his focus and composure. This year he is much calmer and under control even in the toughest of situations or when the results over the course of an inning have not been positive.
With just a few days left before the end of the season and a long five month offseason looming, Cawiezell along with many of his minor league brethren are looking forward to some time off.
"I have felt good all year and it has been a grind," said Cawiezell. "There have definitely been some sore days, but it has been a good season for me. I wouldn't say I will shut it down this offseason, but I'll definitely get some rest. More than anything [I'll look to add some more strength] as you can always be stronger."
Fedroff Toughs It Out
High-A Kinston outfielder Tim Fedroff has been battling through a nagging hamstring injury that has left him at less than 100%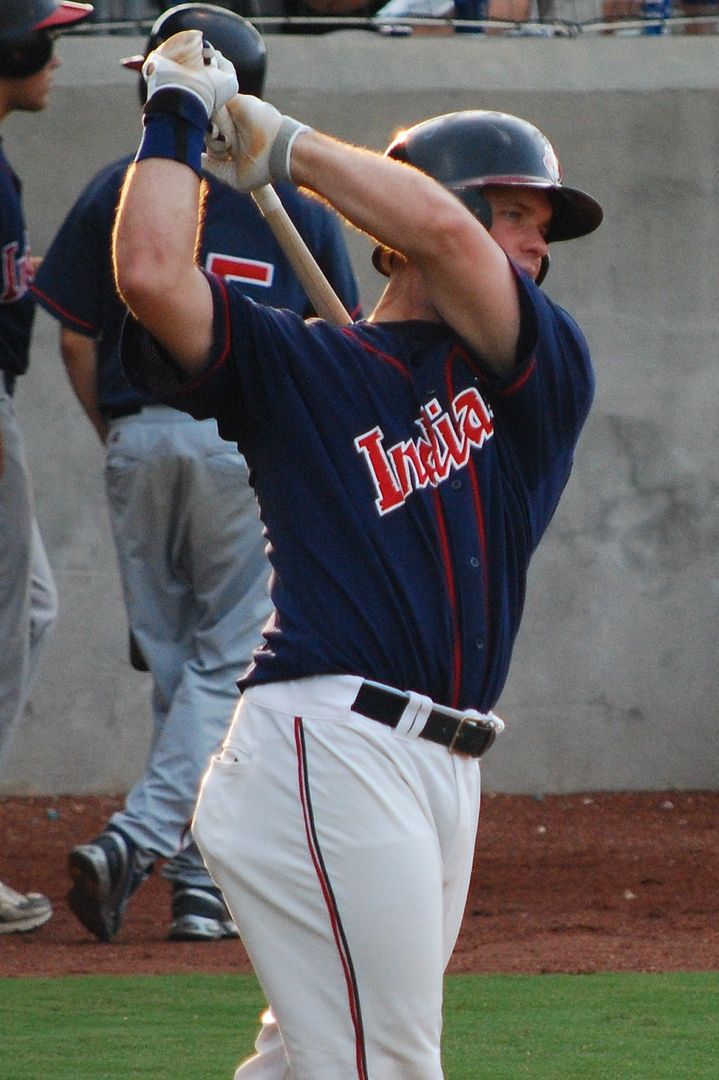 for most of the season. Since early May he has been in and out of the lineup missing a few weeks at a time before finally came back for good in late July even though he was still not 100% recovered.
"It's been a little frustrating as I wanted to be out there every day this year and play as much as I could, but the hamstring [has] just not cooperated with me," said Fedroff in a recent interview at Grainger Stadium. "But I have definitely learned a lot more this season than I have in any other season I have played, and I am going to take it as a positive and use it to my advantage in the future."
Often playing with the pedal to the metal and pushing himself to his physical limits, Fedroff injured the hamstring during a game while running hard on the bases. A hamstring injury is one of those things where you could just be walking around the house and you are still not resting, so it never completely heals. It kept progressively worsening and got to the point where he could not run normal and he couldn't do anything he was usually able to do, so the Indians had him take some time off to help it heal. While he was out he was able to sit back and reflect on the game, his mental preparation, and his approach at the plate.
Since returning in late July, he has been one of the key components to Kinston's second half surge. In 26 games in August he hit .343 with 0 HR, 17 RBI and an .869 OPS, and served as a catalyst near the top of the lineup helping Kinston go a red-hot 19-9 in August. Overall this season in 94 games he is hitting .279 with 4 HR, 38 RBI, 13 stolen bases and a .767 OPS. He credits a lot of the late season success to developing a better pre-game routine.
"A big part of what I have learned this year has been developing a pre-game routine," said Fedroff. "That involves some cage work and different things before the game to help me get ready. I have been doing that and I am trying to improve as best as I can."
Fedroff is from New Jersey, but has spent the past couple years playing baseball in North Carolina. He played collegiately at the University of North Carolina, where the campus in Chapel Hill is a short hour and a half drive away from Kinston.
"As soon as I graduated from high school I came down to North Carolina and played summer baseball after my freshman year in Wilmington," said Fedroff. "And then obviously I played here in school at Chapel Hill, so I have been in North Carolina pretty much the past few years."
With just a few days left before the end of the season and hopefully a playoff berth in the Carolina League playoffs, Fedroff wants to have a good finish to provide him with something to build upon for next year.
"I want to finish the year as strong as I possibly can," said Fedroff. "I want to end up on a good note hitting-wise and maybe get all the numbers up a little bit."
User Comments
No comments currently. Be the first to comment!