Minor Happenings: Santana Looks Like #1
"Minor Happenings" covers the important developments and news in the Indians farm system. While most of the information in this report is from my own research and through interviews I have conducted with organizational personnel, some information in this report is collected and summarized from the various news outlets that cover each team.

And then there was one. With Mahoning Valley and Lake County finishing up their seasons this past weekend, the only Indians affiliate still playing is Akron who is still alive in the Eastern League playoffs (more on this below).

I was able to make my final visits this past week to Mahoning Valley, Lake County, and Akron. Next week Happenings will cover my visit to Mahoning Valley last Thursday where I had a chance to speak to Cord Phelps, Trey Haley, Tim Fedroff, Heath Taylor and hitting coach Anthony Medrano. On Friday I finally had a chance to talk to Josh Judy in Lake County and will have a feature on him later this month. And last night I was in Akron for Game 2 of the Eastern League Championship Series and was able to talk to Frank Herrmann and Neil Wagner, both of which will be featured before the end of the month as well.

In addition to all that, I still have pieces on Chris Jones, Jonathan Holt, Brian Juhl, and Kevin Dixon to get out. It is going to be a busy final three weeks! And in case you missed them this past week, I posted player features on Bo Greenwell and Stephen Head.

Also, as a reminder, tonight is episode #5 of my radio show. The hour long show can be heard live from 9:30-10:30 PM (EST), but can be downloaded at anytime after the show since it is archived. We'll still focus a lot on the major league side of things with the Indians, but we will also talk about Scott Lewis and his incredible debut last night in Baltimore as well as feature Jeff Stevens the final ten minutes of the show with an audio interview and discussion about him. We are still working on things and it is a work in progress, but would appreciate a few phone calls.

Indians Minor League Player Of The Month
(for August)

Carlos Santana (Catcher - Kinston)
.362 AVG (34-94), 33 R, 4 2B, 0 3B, 7 HR, 20 RBI, 20 BB, 21 K, 3 SB, 1.088 OPS

What else is there to really say about Santana? I've run out of superlatives to describe his play and his unlimited potential as a future major leaguer. Santana was a prospect on the rise coming into the season and took the California League by storm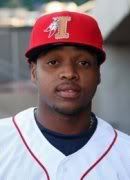 hitting .323 with 14 HR, 96 RBI, and a .993 OPS in just 99 games before being traded to the Indians on July 26th for Casey Blake. Santana did not skip a beat moving to a new organization and league as in 31 games at Kinston and Akron he hit .336 with 7 HR, 21 RBI, and a 1.063 OPS. His overall numbers on the season: .326 AVG, 125 runs, 39 2B, 5 3B, 21 HR, 117 RBI, 89 BB, 10 stolen bases, and a .999 OPS. Wow.

In addition to the high batting average and the eye-popping run producing numbers he put up this year, one of the things that really caught my eye is how many runs he has scored and also his stolen base total. Santana may be a catcher, but he is built a Greek god and is very athletic. Unlike most first basemen and catchers, he has a good motor and can steal a base from time to time and is not a liability on the basepaths. To score 33 runs in a month and 125 runs overall in a five month season is ridiculous.

I'll say it right now: Santana is the Indians #1 prospect. That statement is subject to change this offseason once I start ranking the players in the system and talk to various people around baseball, but right now, today, I believe there is not question about it. He is the #1 guy. He may not have the light tower power outfielder Matt LaPorta has (but has good power nonetheless), but he plays a premium position and is better at everything else than LaPorta from bat-to-ball ability, plate discipline, clutch hitting, speed, defense....you name it.

Santana will be rostered this offseason, and looks like he will make his major league debut sometime late next year most likely as a September callup. He is an impact bat that is about a year away, and is an acquisition that is going to rank right next to the Bartolo Colon trade as GM Mark Shapiro's signature move.

Honorable Mentions:

Carlos Rivero (SS - Kinston): .356 (37-104), 15 R, 8 2B, 1 3B, 4 HR, 21 RBI, .981 OPS
Scott Lewis (LHP - Akron): 3-2, 1.69 ERA, 6 starts, 37.1 IP, 24 H, 7 ER, 6 BB, 36 K
Jeanmar Gomez (RHP - Kinston): 2-1, 1.74 ERA, 6 starts, 31 IP, 27 H, 6 ER, 4 BB, 21 K
Lonnie Chisenhall (SS - Mahoning Valley): .341 (31-91), 13 R, 10 2B, 1 3B, 2 HR, 20 RBI, .938 OPS
Beau Mills (1B - Kinston): .329 (27-82), 14 R, 6 2B, 1 3B, 4 HR, 17 RBI, .982 OPS
Matt Brown (OF - Lake County): .372 (35-94), 17 R, 6 2B, 1 HR, 11 RBI, .884 OPS
Ron Rivas (SS - Lake County): .370 (30-81), 10 R, 4 2B, 3 3B, 0 HR, 9 RBI, .914 OPS
Cord Phelps (2B - Mahoning Valley): .347 (35-101), 18 R, 9 2B, 2 3B, 0 HR, 15 RBI, .888 OPS
Darling Read (OF - DSL Indians): .359 (23-64), 15 R, 8 2B, 3 3B, 6 HR, 18 RBI, 7 SB, 1.268 OPS

Previous Winners:

July: Wyatt Toregas (C - Akron)
June: Trevor Crowe (OF - Akron)
May: Kelvin De La Cruz (LHP - Lake County)
April: Ryan Miller (LHP - Lake County)

Director's Cuts

Indians Farm Director had some comments this week about a myriad of Indians minor leaguers:


On Josh Rodriguez: "Sometimes you see somewhat of a blip just from a bump in a level, but Josh in our eyes had a very promising year. We still saw him drive the ball out over the right field wall a long way out. The raw power is there, sometimes it doesn't always come out in the numbers. Josh had a very strong year and showed us he is probably an above average defender at second base and an average defender at shortstop with power and the ability to steal a base. He plays the game the right way."

On Niuman Romero: "He is an interesting player with versatility. He can play shortstop, can play third base and can probably play anywhere on the diamond because he is a great athlete. This year he came on offensively, and is the type of player who could become a solid everyday player at third base, second base or shortstop. But really he is a great story as last year he did not even close to what he did at a higher level this year. We have always projected him to be what he is today, and really what it comes down to is these players have to make adjustments and sometimes on their own and I think he has made them. He has put himself on the radar."

On Lonnie Chisenhall: "We are certainly not eliminating [shortstop]. You talk to a guy like Travis Fryman who was a shortstop who ended up at third base and his conviction on just the person and dedication Lonnie has on baseball. Also, his innate ability to hit and how quiet he is in the box, and Travis' confidence in him to be a shortstop definitely gives us confidence that he can play third base if needed."

On Beau Mills: "He was pretty much the best in the league. He had the highest hard hit percentage in our entire organization in the minor leagues, and the hard contact is what it is all about. With his strength that hard contact ends up going over the wall and off the walls. He made a nice transition to first base as well."

On Wes Hodges: "Wes is someone who just really enjoys playing the game. Offensively he is very gifted and is a guy who has always hit and always had high expectations and standards. He just continues to answer the call."

On Abner Abreu: "I mean you can double his numbers because it was just a half season. Just turning 18 and hitting 22 home runs and at a premium position, he is really promising and probably has some of the best raw power we have. We'll talk about where he ends up from a defensive standpoint."

On Carlos Santana: "It is really, really fun to watch him play. He has a lightning bolt for an arm. He swings hard and swings hard at strikes and hits the ball a long way, and he really loves to compete."

On Wyatt Toregas: "He had a great year offensively, and we knew he was capable of doing those things. I think what it does is solidify our conviction that he is a major league player."

On Matt Brown: "He loves to play. He makes consistent contact, swings hard, and is very aggressive in the outfield. He will have to learn to pull back as he is that type of fiery player where we need to help him reel things in a little bit."

On Hector Rondon: "Hector was incredible this year. He was 19 and just turned 20 and was up to 96 MPH near the end of the year. He pitched deep into games and when he took the ball we knew we were going to win."

On Adam Miller: "I think for him [the injuries] have been more frustrating to him than anybody else. At this point we are looking for him to be a healthy pitcher coming into 2009. He is excited about and he is going to pitch winter ball and we will know more in a month and a half."

On David Huff: "I'd say he certainly warrants [a chance to win a starting spot in Cleveland next year]. He had a really incredible year. He commands three pitches and has the best delivery in our system pretty much."

Chisenhall's First Season A Success

It was a very successful first year for 2008 first round pick Lonnie Chisenhall. Chisenhall struggled initially to adjust to the professional game as he hit only .158 (6-for-38) through Mahoning Valley's first nine games, but from that point until the end of the

season he finally settled in to hit .311 (74-for-238) in 59 games. Chisenhall had a blazing August where he hit .341 with 2 HR, 20 RBI and a .938 OPS and finished the year hitting .290 with 5 HR, 45 RBI, and a .794 OPS in 68 games overall. Chisenhall finished 2nd in the NY-Penn League in doubles (20) and 6th in RBI.

During his time at Mahoning Valley, Chisenhall showed good command of the strike zone and for a 19-year old he put up some quality at bats against left-handed pitchers. As he continues to adjust to wood bats and grows into his body the Indians really believe the home runs will come especially once he learns to stay inside the ball a little more. He has unbelievable poise for his age, and is likely to be named the best hitting prospect in the NY-Penn League once announced by Baseball America later this fall.

A lot of the focus with Chisenhall going forward will be what to do with him from a position standpoint. When the Indians drafted him, they selected him with the idea that he would continue to play shortstop this year and then move to third base next year. But, when listening to comments from manager Travis Fryman and Farm Director Ross Atkins it now looks like there is a strong possibility that Chisenhall could stay at shortstop next year because of how impressed they were with his defense at the position this year. Whether or not Chisenhall stays at shortstop or slides to third base, he still has to work on his throwing as he tends to be erratic at times, mostly because of a bad habit of double pumping before he throws the ball.

Coaches Corner: Ruben Niebla

I had a chance to sit down with Lake County pitching coach Ruben Niebla on Friday to talk about some of his pitchers we had not had a discussion about over the course of the season:


On Josh Judy: "Judy has the makings of a plus slider that hitters just have a tough time picking up. He has been able to use it as a weapon this year. He came in and was not throwing a changeup and we started to introduce it to him and throwing it in games this year, and I think it is a pitch he can develop. He has two plus pitches for this league that he has gone to so the development of the changeup has taken a backseat. We want him to solidify that slider first before we move forward with those offspeed pitches."

On John Gaub: "He has good life to his fastball and just gets on hitters and they have not been able to catch up with it. Also one of his other strengths is his ability to pitch inside against righties so he uses both sides and keeps hitters honest. He has been as high as 94 MPH, but sat around 90 MPH most of the time. He has made a lot of adjustments with his delivery and arm slot which has paid big dividends with his ability to throw strikes. A lot of times we see college guys settle into a velocity where it becomes comfortable and I think that is what we are seeing now."

On Jonathan Holt: "I like the ability to be able to call upon him out of the bullpen and know he is going to compete in the strike zone. He does a great job disrupting timing, he throws all three pitches in any count, and he uses his fastball well. At times when he needs to he goes out of the zone with his fastball as well, which is another trait that some of these guys at this level might not have yet and he has the ability to do that. It is something that people don't often hear about with a player having the ability to command the fastball outside of the zone. He does that to keep guys off the plate."

Akron Moves On

Akron meanwhile took both games at home on Friday and Saturday and defeated the Bowie Baysox 3-games-to-1 in the first round. Indians designated hitter Travis Hafner was a huge reason for Akron moving forward as in a controversial move he played with
Akron to get some at bats while he continued to work his way back from a shoulder issue that has plagued him all season. In Game 2 on Friday night he had the deciding hit in the game with a grand slam home run in a 6-2 Akron win, and then on Saturday he homered again in a 5-1 Akron win. Lost among the Hafner controversy were two excellent starts by Game 3 starter Ryan Edell (7.1 IP, 1 R, 4 H, 1 BB, 7 K) and Game 4 starter Frank Herrmann (7 IP, 1 R, 3 H, 0 BB, 1 K) who were the true heroes of both wins. Outfielder Matt LaPorta helped pace the Akron offense in the win over Bowie, hitting .462 (6-for-13) with 3 HR, 5 RBI, five runs scored and a .588 on-base percentage. Second baseman Josh Rodriguez also played a key role, as the former Rice University standout batted .353 (6-for-17) from the leadoff spot with a pair of triples and five runs scored.

Akron moved on to the Eastern League Championship Series and play kicked off against the Trenton Thunder on Tuesday night with Akron losing at home 3-1. Right-hander Kevin Dixon, who was pitching for the first time since September 1st, suffered the loss allowing three runs on five hits in 5.2 innings while walking four and striking out four. Stephen Head led the offense with a 3-for-4 effort, while infielder Josh Rodriguez was 1-for-3 with a walk and RBI double.

Akron tied things up last night in a nine inning game that lasted well over four hours by winning the marathon 13-10. Outfielder Bronson Sardinha was the star of the game going 4-for-5 with a double, inside the park home run, and four RBI. Today is a travel day, and the final three games of the best-of-five series are in Trenton on Friday, Saturday and Sunday (all games at 6:05 PM). Here are the pitching probables for the remainder of the series:

Game 3 (Friday, September 12): AKR LHP Ryan Edell at TRE RHP George Kontos
Game 4 (Saturday, September 13): AKR RHP Frank Herrmann at TRE RHP Jeff Marquez
Game 5 (Sunday, September 14): AKR TBA at TRE RHP Jason Jones

Also, Akron made a pair of roster moves on Tuesday activating right-handed reliever Scott Roehl from the inactive list and receiving right-hander Josh Tomlin from Class-A Kinston. Left-hander Chuck Lofgren and infielder Jared Head were removed from the roster.

A Quick Exit For Lake County

Lake County's season came to an unexpected halt on Saturday when they lost the deciding Game 3 of the South Atlantic League Northern Division Series. After putting up ten runs in a Game 1 road win last Wednesday, Lake County came home on Friday and Saturday and managed to put up just one run in the two games combined and played horrific defense in Game 2. The hitting woes

and inconsistent defensive play was something that plagued the Captains all year, and unfortunately was on full display at the most inopportune time.

Even with the quick exit and end of their season, Lake County finished off their second most successful season since becoming the Single-A affiliate for the Indians in 2003. Next season looks very promising with young pitchers like T.J. McFarland, Chris Jones, Danny Salazar and Alexander Perez likely headlining the rotation, and some exciting young hitting prospects like Abner Abreu, Delvi Cid, Tim Fedroff, Lonnie Chisenhall, and Jeremie Tice in the lineup. (No, I did not forget Cord Phelps....he likely starts the year in Kinston)

English 101

I had a unique opportunity this past week to speak with a former English instructor at the Indians spring training complex in Winter Haven. The Indians are one of the few teams in baseball that have an organized English program. Almost all of the Latin players come to spring training with a basic or beginner level of English, some are even better, and the average player who attends classes is very good at communicating in English. Many of the Latin players attend one of the Indians baseball academies in Venezuela or the Dominican Republic where they also have to attend English classes before coming stateside to spring training.

English classes start in spring training for any player that needs to learn the language and the classes continue throughout the year for those that remain in extended spring training. Classes are held three to four times a week and for two hours in the evening. Players take the classes seriously and the instructors keep them interesting by making them fun since players are attending these classes after playing baseball all day. Instructors know that the players would get bored easily if they were just presented with grammar rules or they made them listen and repeat. The main goal is for the players to be able to communicate and understand the other players and coaches on the team who speak English. In addition, the players also have seminars in cultural issues and how the United States government works, etc since the Indians want to develop the players as more well rounded people than just baseball players.

Scrappers 10th Anniversary Team

Late last week Mahoning Valley released their all-time Scrapper team based on voting from fans at Eastwood Field and online at www.mvscrappers.com. Fans voted all season, and the following players were voted as the top former Scrapper players since their affiliation with the Indians began in 1999:

P- Fausto Carmona-
User Comments
No comments currently. Be the first to comment!