Minor Happenings: Santana Shines In AAA Debut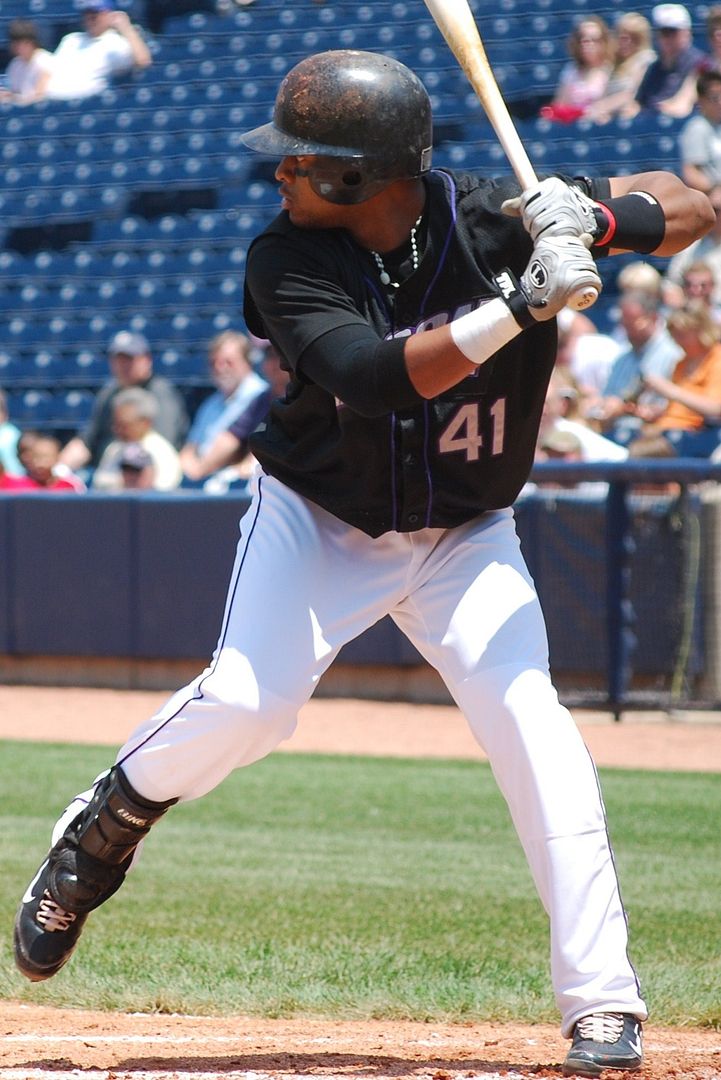 "Minor Happenings" is a weekly column which covers the important developments and news in the Indians farm system. While most of the information in this report is from my own research and through interviews I have conducted with organizational personnel, some information in this report is collected and summarized from the various news outlets that cover each team.
The 2010 season officially got underway last Thursday, and with that it is time for another season of Minor Happenings to get you all caught up on the news and developments in the Indians farm system. Things were a bit hectic this week, and with so much happening I have decided to split the report into two this week with the first half posting today and the second half tomorrow (Friday). As you will see, the
Happenings
this week is very much focused on the Triple-A Columbus team, which should be much of no surprise considering I spent last weekend in Columbus watching the team as well as talking to players, coaches, etc.
Also, be sure to listen into our
Smoke Signals radio broadcast tonight
as Paul Cousineau and I recap the week that was for the Cleveland Indians from the big leagues all the way down to Single-A. You also have a chance to win two free tickets to a Lake County Captains game, so be sure to listen in!
For those interested, I will be in Akron this Saturday and Lake County next Tuesday. Hope to see you there!
Onto the
Happenings
...
Indians Minor League Player Of The Week
(for games from April 8 through April 14)
Carlos Santana (Catcher - Columbus)
.423 AVG (11-for-26), 8 R, 2 2B, 4 HR, 8 RBI, 5 BB, 2 K, 1.478 OPS
Indians catcher and top prospect Carlos Santana wasted little time in getting his season off to a hot start with a sensational opening night performance last Thursday - on his 24th birthday no less - where he went 4-for-5 with a 2B, 2 HR, and 4 RBI. Since

then he has continued to roll and has been one of the early stars of the minor league season as not only are people in Cleveland talking about him, but just about any national publication or site that follows the minor leagues has already made mention to his hot start. For his efforts in the first week of the season the International League on Monday named him their Batter of the Week.
In the first week of the season Santana has demonstrated everything to Columbus fans that his scouting report said coming in. He has very good power, has an exceptional feel for hitting, is a smart hitter and patient (5 BB, 2 K), and can pull the ball or go opposite field. In fact, one of the early positive signs besides the numbers has been the opposite field home run he hit last Thursday night, which is something the Indians really want to see more of since last year he really got into more of a pull mode at the plate. He is just a rare commodity at the plate in that it is rare to find someone like him who is so aggressive yet at the same time is so patient and exhibits outstanding strike zone discipline.
The question everyone is asking now, is when will Santana be in Cleveland? If big league starter Lou Marson continues to struggle and Santana continues to rake in Columbus, is there a chance Indians fans will see Santana sooner than later?
In a nutshell, no. Right now, regardless of the hitting numbers for Santana, the Indians are in no hurry to call Santana up. In a contending year it would be another story, but one advantage to a rebuilding/retooling year (whatever you want to call it) is they can be patient and let Santana work on some of the nuances to the catching game in Columbus like his communication skills with his pitchers, calling a game, and shoring up his defense, things that are much harder to do at the big league level since everything is so focused on winning and losing whereas the focus in the minors is mostly on development.
Plus, the Indians want to get an extended look at Marson to see what they have and determine if he can be a suitable backup for Santana, or if they can increase his value where a team may want him as an everyday starting catcher. Once these next two to three months are up, the Indians won't have such an opportunity to get an extended look at Marson since Santana should be up sometime in June or July and is expected to be the everyday catcher for the next half dozen decade or so.
It is important to remember that Santana is entering just his fourth season as a catcher. He was signed by the Los Angeles Dodgers in 2004 as a third baseman and outfielder, but they moved him to catcher at the start of the 2007 season. So while he has a rocket arm and does a good job receiving and blocking balls, he is still picking up on a lot of the nuances to the position with game calling, handling his staff, and taking control of the team as the leader on the field. He will be in Cleveland at some point this season, likely just before or after the All Star break, but the Indians are doing the right thing with keeping him in Columbus to finish off his development, control his service clock, and also at the same time get an extended look at Marson.
Honorable Mentions:
Brian Buscher (3B - COL): .444 (8-18), 4 R, 2 2B, 1 HR, 5 RBI, 4 BB, 0 K, 1.222 OPS
Jose Constanza (OF - COL): .389 (7-18), 7 R, 2 2B, 1 HR, 5 RBI, 0 BB, 1 K, 1 SB, 1.056 OPS
Jason Donald (2B - COL): .391 (9-23), 5 R, 3 2B, 0 HR, 2 RBI, 3 BB, 4 K, 1.003 OPS
Wes Hodges (1B - COL): .370 (10-27), 6 R, 5 2B, 1 HR, 5 RBI, 4 BB, 4 K, 1.118 OPS
Cord Phelps (2B - AKR): .368 (7-19), 5 R, 1 2B, 1 HR, 5 RBI, 3 BB, 5 K, 1.033 OPS
Nick Weglarz (OF - AKR): .320 (8-25), 3 R, 1 2B, 2 HR, 6 RBI, 7 BB, 9 K, 1.069 OPS
Nick Hagadone (LHP - KIN): 0-1, 2 G, 0.00 ERA, 9.1 IP, 7 H, 0 ER, 3 BB, 10 K
Greg Folgia (OF - LC): .375 (9-24), 3 R, 0 2B, 2 HR, 6 RBI, 3 BB, 3 K, 1.054 OPS
Bo Greenwell (OF - LC): .440 (11-25), 8 R, 2 2B, 0 HR, 7 RBI, 4 BB, 1 K, 5 SB, 1.037 OPS
Jeremie Tice (3B - LC): .360 (9-25), 3 R, 4 2B, 0 HR, 8 RBI, 1 BB, 6 K, .890 OPS
Joe Gardner (RHP - LC): 1-0, 2 G, 2.00 ERA, 9.0 IP, 5 H, 2 ER, 4 BB, 18 K
Director
User Comments
No comments currently. Be the first to comment!