Minor Happenings: Several Affiliates In Payoff Hunt
"Minor Happenings" covers the important developments and news in the Indians farm system. While most of the information in this report is from my own research and through interviews I have conducted with organizational personnel, some information in this report is collected and summarized from the various news outlets that cover each team.
In case you missed the abbreviated part one to Happenings this week, it posted yesterday and can be found by clicking here. In it I provided a smorgasbord of updates from Indians Farm Director Ross Atkins.
Also, for those interested, here is a quick programming note for this week. I will be on the Kendall Lewis (The BSK) radio show on Monday afternoon on SportsTalkCleveland.com. No idea on the time yet, but sometime between 4:00-6:00pm. I will also be on SportsTime Ohio this Tuesday appearing on the "Minor League Magazine" show for a segment talking about some of the prospects and my recent trips to see them. I also plan to attend the game in Akron this Tuesday or Wednesday night.
Onto the Happenings...
Coaches Corner: Chris Tremie
I recently had a chance to sit down and talk to High-A Kinston Manager Chris Tremie about a few players on his roster, and here is what he had to say:
On Lonnie Chisenhall: "He has gotten better as the year has gone on. His approach at the plate offensively is very good, especially for a kid at his age and his developmental experience. He is well on his way to a good career. Defensively he shows good range at third base, and has really adapted well moving over from shortstop to third base and gotten better as the season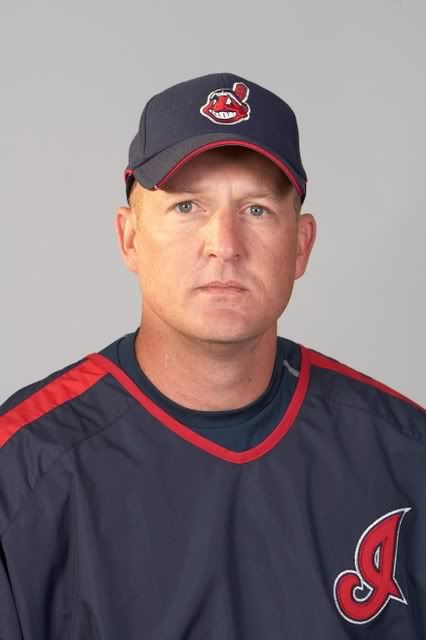 has gone on. His hands and everything have always been good. I would say there are two things that contributed to [his early errors]. One, with the position change early, and also the angles in which he had to play probably produced a few more errors. But the fact that he gets to a lot more balls than some guys don't get to, which played a part early on. He has just been solid since that first month."
On Tim Fedroff: "He has done a good job of dealing with some issues with the hamstring and learning to play everyday and been hampered a little bit by it. He has still been able to get things done and get better at the same time even though he has missed quite a few games. His progress is good. He is just battling through that hamstring and looks to be healthy again now and hopefully can finish out the year playing everyday and getting a lot of at bats."
On Ole Sheldon: "He is a big first baseman, and has some power. He has come in here and actually done well helping out with the guys in the clubhouse as he has a little more experience than these guys have. He swings the bat well. He has a little bit of an unorthodox style, but it seems to be working for him."
On Cord Phelps: "I think he has a good idea of the strike zone. He obviously has drawn quite a few walks, so his on-base percentage is very good. I know he would like for his average to be higher, and I think that will come as he continues to play. He will also I think start to produce more power numbers. It is just a transition he is making, and he is going to continue to get better. Right now his on-base percentage is good, and I think he can only get better in every other category because of his ability."
On Matt Brown: "He started off swinging the bat very well. He started to come down a little bit, but from .480 you are going to come down some. He ended up getting a little bit of an injury issue which affected his hitting a little bit and his overall game, and tried to play through it for awhile and eventually he just couldn't do it anymore. So that is where he is at right now, getting back healthy. I would think once he is healthy again we would expect him to produce and play well again."
Coaches Corner: Aaron Holbert
This past week I was in Lake County to see left-hander Nick Hagadone pitch. Prior to his start I had a chance to sit down for a few minutes with manager Aaron Holbert to talk about Hagadone as well as a few other players.
On Jason Knapp's return coming back from injury: "We just want to start off slow with Jason to make sure as he had not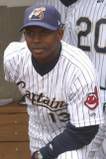 pitched in a while competitively. He was just three innings or 50 pitches [in his Tuesday start]. His next start he will be five innings or something like 60 to 75 pitches, and then hopefully get him to the point he is set at 85 pitches [his next start after that]. So it is just a progression for him to take it slow and just to make sure he is going to stay healthy and not break down. I know it is an important and exciting time in his life, so you hate to hurt him going out there to try and impress us. It is important for the kid and the fans to understand that the most important thing is his career. It is not smart of us to run him out there to try and throw 75-90 pitches when he has not thrown in two weeks or so. That is taking a chance of injury, and that is the last thing we want. It is just important that he is healthy throughout this whole experience, he comes in and gets familiar with the organization, and we have a chance to get familiar with him. So just to take him slow is the most important thing."
First impressions of Knapp: "Jason is a very confident kid, and he commanded his fastball extremely well. I know he only went 46 or 48 pitches and two innings, but he came out aggressive. He is a competitor and he thrives on the competition and the excitement of being out on the mound. Everything I saw was positive, and it was refreshing to see him go out there and have the confidence he had and compete the way he did. Unfortunately, we could only get that much out of him, but when we get to the end of the season hopefully he will be out there for the seven innings and dominating. That's what we are hoping for."
On Nick Hagadone's plan returning from injury and first impression: "His plan coming off of Tommy John, the Red Sox had him at three innings or 50 pitches and we are going to leave him there for the rest of the season. So we will have somebody that will constantly piggyback him. He has looked good. He is a strong kid with a good live arm. He commanded the strike zone, threw his fastball for strikes, and put the guys away with a nice slider down and away to left-handed hitters. He got out there and was very confident and sure of himself and had a nice downhill plane to his fastball."
On Francisco Jimenez: "The most important thing is he is not scared. He came in one ball game in Lakewood recently with the bases loaded and nobody out and faced the first batter and struck him out with three pitches, the next guy in three pitches, and the next guy with I think five pitches. For me he does not get intimidated. I know he is a young pitcher and just over to the states this year, and you would never know it by his demeanor on the mound and his confidence out there. He mixes up a slurvy curveball with some changeups, but really he is coming after guys with his fastball. His fastball jumps a little bit, but it is actually high 80s to low 90s, it is not like he is overpowering but the swings that are being taken it looks like there is some deception in there. He is basically saying 'if you can hit, hit it' and I like his enthusiasm and confidence out there. It is paying off for him not being tentative or afraid of getting hit and afraid of contact."
Nuno Pitching Like Numero Uno
Just about every year at least one late round pick sparkles in his professional debut and starts to open some eyes. This year that player may be short-season Single-A Mahoning Valley left-handed pitcher Vidal Nuno. The Indians took him in the 48th

round of the draft this year out of Baker Univserity (KS). The 5'11" 195-pounder is now 3-0 with a 1.30 ERA in nine appearances (four starts) for Mahoning Valley, and in 13 combined appearances between Mahoning Valley and rookie-level Arizona he is 3-0 with a 1.94 ERA (41.2 IP, 33 H, 10 BB, 41 K).
In Nuno's last two seasons at Baker he piled up 15 wins and a 1.98 ERA and was named the HAAC Pitcher of the Year this past season. While his college resume was impressive, it was also at a minor college program. That all said, to date he has shown to be one of those late round picks the Indians seem to specialize in finding. His emergence has come as a starter, which really was not planned as he filled in for his first start and pitched so well that the Indians kept him in the role. As a starter he is 2-0 with a 1.29 ERA (21.0 IP, 12 H, 3 BB, 15 K) and he recently had a string of 15.2 consecutive scoreless innings come to an end. The Indians feel that down the road his true value will be as a lefty in the bullpen, but for now he will continue to fill a role in the Mahoning Valley starting rotation.
Nuno isn't a power pitcher by any means as he is a command and control left-handed pitcher who has a very advanced ability to throw strikes. He has a four pitch mix led by an average fastball and a curveball, changeup and splitter. His fastball has some sinking action and he has shown the ability to pile up groundball outs in college and now professionally. He repeats his delivery and changes speeds well which helps him create deception with all of his pitches and makes his fastball much more effective. His curveball is sharp with good tilt and 11/5 action, he has a good feel for his changeup with good late fade, and his splitter has good downward action. He is a fearless competitor with outstanding work ethic with pitchability and plus makeup. He has the ability to handle any role, and that versatility has already been put to the test this year and will likely continue to be tested in the years to come with the Indians.
Brown Not Down For Long
Last Saturday, Triple-A first baseman/outfielder Jordan Brown was placed on the seven-day disabled list with inflammation of his right shoulder. The shoulder had been bothering him for several weeks, though you would never know it with his performance, but he finally landed on the disabled list after he tweaked it pretty good taking batting practice before a recent game.
Brown's injury is not considered to be a serious injury at this time and is more a nagging thing as it only hurts when he extends his swing, so with rest it is expected to get better. He and the Indians would rather not push it and potentially make it worse which would end up being an injury he would carry into what will be a huge offseason for him. On Thursday he took some dry swings in batting practice and shagged fly balls, hit balls off a tee yesterday, and is expected to take live batting practice soon (maybe today). If all goes well, he could return within the week.
Brown's injury puts a damper on his chances for a callup to Cleveland in September. Had he not gotten hurt, there was a good chance that when Columbus' season ended that he and outfielder/first baseman Matt LaPorta would be promoted and called up to Cleveland together, but now it may just be LaPorta. Regardless, he is virtually certain to find his way onto a major league roster this offseason, be it the Indians rostering him, the Indians trading him to a team who rosters him, or another team plucking him in the Rule 5 Draft if he is not rostered. Unlike last year where there were some questions about his health and dip in performance going into the Rule 5 Draft, he'd seem to be a sure-fire selection this year if left exposed.
Brown is also in the mix for the International League batting title as of those qualified he leads everyone with a .331 batting average. If something were to happen where he did not play the rest of the year, he has enough plate appearances to qualify regardless and would likely finish with the batting title unless someone below him got ridiculously hot the final three weeks of the season. On the year he is hitting .331 with 12 HR, 58 RBI and a .902 OPS.
Judy In, Pestano Out
Double-A Akron right-handed closer Josh Judy has had a quick jump up the Indians minor league ladder, both in the level he is playing at and in his standing within the organization. As a 34th round pick in the 2007 Draft out of Indiana Institute of

Technology, he came into the organization with very little fanfare but has since put up a couple of strong seasons and paved the way for him to be included among the Indians top relief prospects.
Judy opened the season in High-A Kinston as the closer and in five appearances was 0-0 with three saves and 0.00 ERA (4.2 IP, 4 H, 0 BB, 7 K). But his stay in Kinston was short as he was called up to Akron on April 24th, a mere two weeks into the season. Upon joining Akron he pitched mostly in middle relief and performed well, but he struggled some in June as he battled through a sore bicep where in eight appearances he was 3-2 with a 5.25 ERA (12.0 IP, 9 H, 3 BB, 9 K).
Judy has since taken over the closer duties from right-hander Vinnie Pestano, and he has done a great job in the new role. In seven July games he was 1-0 with two saves and a 1.59 ERA with 20 strikeouts and just two walks in 11.1 innings, and so far in four August games he is 0-0 with two saves and a 1.80 ERA. He is still adapting to the higher level of play and gaining more confidence on the mound, but his recent run of success is a result of him keeping the ball down in the zone at a good angle. He also has avoided a tendency he has at times to get under his pitches, and the results have been more groundball outs.
Judy moved into the closer's role because Pestano was sidelined just before the All Star break with an elbow injury. Pestano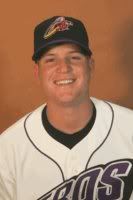 hung around in Akron for about a month rehabbing his elbow and getting additional tests on the arm. Finally, a recent MRI concluded that he needed to be shutdown and that his season was over, and he left the team earlier this month to go out to the new Arizona complex to rehab and continue to get treatment on the elbow.
Pestano had a league leading 24 saves before the All Star break and was named to the Eastern League All Star team, and in 34 appearances was 2-3 with a 2.86 ERA (34.2 IP, 30 H, 13 BB, 31 K). He looked primed to smash former right-handed closer Randy Newsom's club record of 29 saves in a season he set just last year, but that will obviously not happen now. There is no word at this time if any surgery will be needed, but having just had Tommy John surgery in 2006, it will be interesting to see what comes of his career going forward.
Signing Deadline Nears
The 2009 signing deadline for players taken in the 2009 First-Year Player Draft is this Monday night August 17th. Earlier this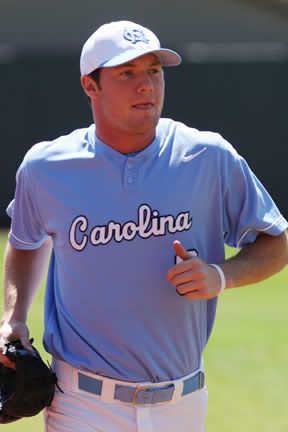 week, the Indians inked one of their summer draft-and-follows to a deal, signing 32nd round pick Matt Packer, a left-handed pitcher they selected out of the University of Virginia. As a sophomore two years ago he led the NCAA with a 1.14 ERA, and as a junior this past season he went 3-5 with a 4.13 ERA (61.0 IP, 59 H, 28 ER, 59 K). The Indians observed his performance in the Cape Cod League this summer and he pitched very well for Orleans (2-0, 1.90 ERA, 11 G, 23.2 IP, 16 H, 5 ER, 29 K). With this signing the Indians have now signed 27 of their 50 picks.
The Indians may slip in another signing or two from the later rounds of the draft before the signing deadline, but it seems unlikely. All resources will likely be used to ink 1st round pick right-hander Alex White out of the University of North Carolina. As has been mentioned all along, his signing like so many other first round picks this year is expected to go right down to the wire. That said, it is my understanding that both parties want to reach a deal and that come 12:01 a.m. Tuesday morning he should be an Indian.
Fedroff An On-Base Machine
High-A Kinston outfielder Tim Fedroff is still in the midst of a month long hot streak and been one of the major catalysts to Kinston's recent late season surge. Last night he extended his league high on-base streak to 33 games with a 2-for-5 effort at the plate, and during the streak he is hitting .328 (42-128) with 1 HR, 15 RBI and a .419 on-base percentage. His current on-base streak is the longest by a Kinston player since first baseman Stephen Head put together a 37-game streak in 2006. He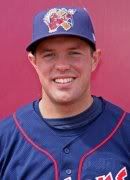 also has a 13-game hitting streak going, and to date is hitting .291 with 4 HR, 32 RBI, and a .789 OPS.
Fedroff had struggled through most of the first four months of the season with a nagging hamstring injury. He missed about a week and a half of time in mid-July because of the injury, but since returning to action on July 21st he has been on fire at the plate getting hits in 17 of the 19 games he has played and is hitting 30-for-72 (.417) since his return. With his recent tear his batting average has increased by 41 points from the .250 it was on July 21st to the .291 it is currently. He currently ranks 3rd in the Carolina League in hitting (.291) and on-base percentage (.387).
For the most part, nothing has really changed for Fedroff other than him being a little more patient swinging at better pitches, his swing path being much better, and just some better luck as he is starting to find some holes. He generally sprays the ball to the opposite field, but in batting sessions with Kinston Hitting Coach Rouglas Odor the one thing he has changed is working on using his top hand to better pull pitches that are on the inner half of the plate that he should pull.
Fedroff splits his time in left field and center field, though he may be better suited in left field defensively because of his average arm. That said, he is a reliable defender in center field using a lot of hustle, instincts and a hardnosed, fearless approach to play up his range. With limited pop in his bat and that average arm, he will need to continue to show he can play center field in order to be classified as a potential big league starting outfielder or at least a fourth outfielder. The Indians have been very encouraged with his play this year, especially his first full season in professional baseball, and he more than likely will be the opening day starting center fielder for Double-A Akron next season.
Davis Toughs It Out
High-A Kinston super utility man Adam Davis can thank his lucky stars for his versatility. His ability to play virtually everywhere on the diamond, be it in the outfield, anywhere in the infield, and even at catcher is what has saved him this season in the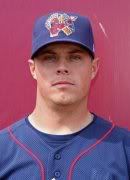 organization. As a third round pick out of Florida in the 2006 Draft, the Indians obviously will give Davis enough rope to prove himself, but earlier this season it looked like they had given him enough rope to hang himself and end his days in the organization as through June 1st he was hitting a paltry .125 with 0 HR, 5 RBI and a .389 OPS in 28 games.
But Davis was able to hang on long enough to get things going in a much more positive direction offensively. With outfielder Tim Fedroff being in and out of the lineup throughout June and July he filled in as the center fielder. He also filled in much more regularly at second base, shortstop and third base. Currently, with third baseman Lonnie Chisenhall being promoted to Double-A Akron, Davis is now considered the regular third baseman. In all, he has played in 64 games since June 1st and the increased playing time has been a big part of his resurgence where he is now hitting .231 with 8 HR, 33 RBI and a .688 OPS in 92 total games this season.
Of course, the overall numbers don't tell the true story. Since June 1st he has raised his batting average 106 points and his OPS 299 points. Since June 2nd he has hit safely in 42 of 64 games. For the month of June he hit .289, in July he struggled again and hit .208, and in August so far he is hitting .357. In the first half he hit .196 with a .587 OPS, and in the second half he is hitting .261 with a much more healthy .774 OPS. His eight home runs to date are a new career high for him, eclipsing the six he hit in 2007 at Low-A Lake County. At this point Davis is very much an organizational player, but it's good to see him play better down the stretch.
Scrappers Honored
Earlier this week short-season Single-A Mahoning Valley right-handed pitcher Preston Guilmet was named the New York Penn League Pitcher of the Week for the period of August 3rd to August 9th. For the week, Guilmet made two starts going 2-0 with a

0.90 ERA and in 10.0 innings allowed seven hits, one earned run, one walk, and had 13 strikeouts. Last Saturday, he struck out a career high ten batter in just five innings of work. To date, in ten starts he is 5-2 with a 2.72 ERA and in 49.2 innings has allowed 39 hits, 12 walks, and has 45 strikeouts. He is holding opposing hitters to a .212 batting average. He was the Indians 9th round pick this year out of the University of Arizona.
Several other Mahoning Valley players were honored this week as they were named to the New York Penn League All Star Game. Five Scrappers in all were selected, and they were: shortstop Kyle Smith, outfielder Jordan Henry, right-handed reliever Cory Burns, right-handed starter Marty Popham, and right-handed starter Clayton Cook. Guilmet was a surprising no show on the list, though with two Scrappers starting pitchers on the list it just shows how strong their rotation has been all year. The game will be played this coming Tuesday night on August 18th at the State College Spikes ballpark located on the campus of Penn State University.
Playoff Outlook
While Triple-A Columbus has no shot of making the playoffs, every other Indians affiliate has a decent to great chance to make it. Here is where each affiliates stands in their league playoff races with just over three weeks to go: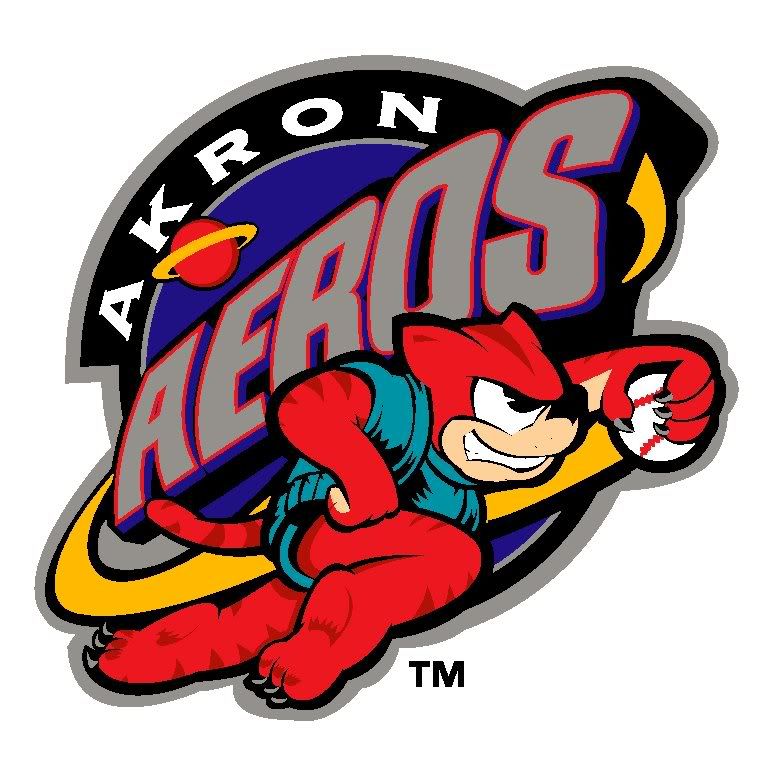 Akron (73-46, 1st place, 9.0 GU): Akron has all but clinched the division, holding nine game lead with three weeks left in the season. With 23 games remaining, their magic number to clinch is 16.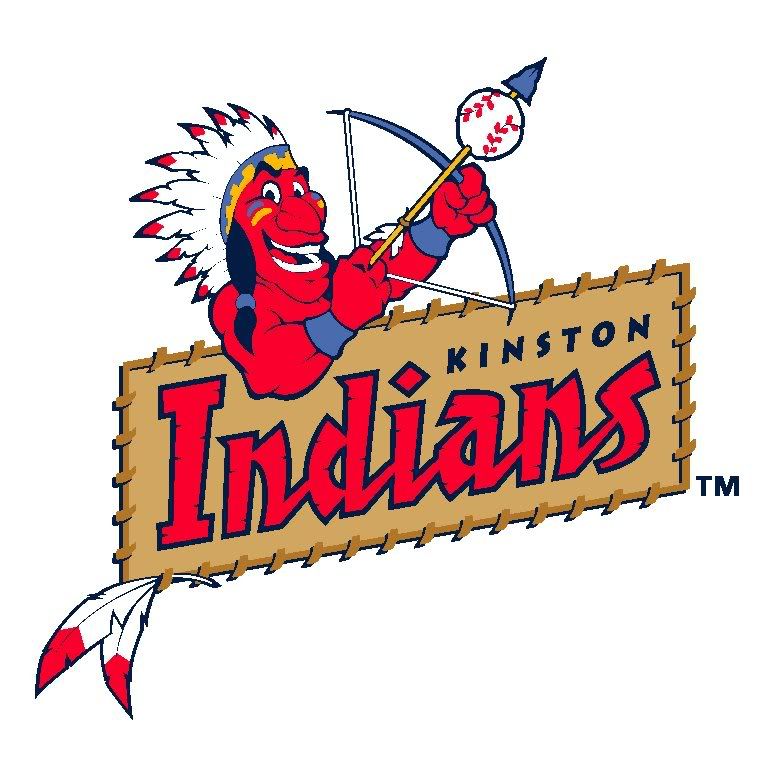 Kinston (21-26, 3rd place, 1.5 GB): Because current first place team Winston-Salem won the first half title, the second place finisher in the Carolina League Southern Division will be awarded the second half title. Kinston is 1.5 games in back of Salem, of which they opened up a huge three game series with last night. The won game one of the series last night, and wins over the next two days would put them in "first" and in control of their playoff destiny.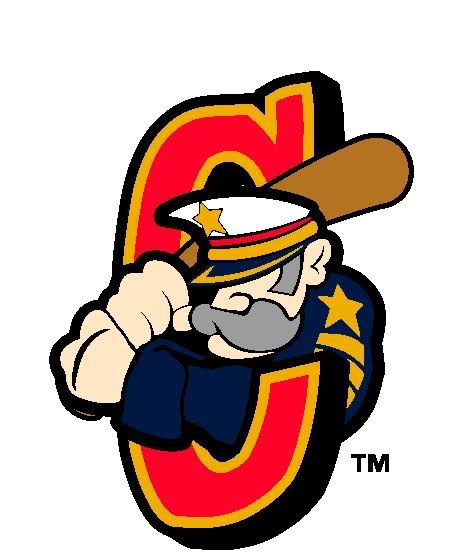 Lake County (26-21, 3rd place, 2.5 GB): Lake County has the tough task of not only catching one team, but two. They don't play first place Kannapolis or second place West Virginia the rest of the season so they will need to rely on a ton of help from others to catch them.

Mahoning Valley (34-21, 1st place, 2.0 GU): After a week things remain somewhat unchanged as the Scrappers still hold a two game lead in the division. They only have one two-game set left with second place Williamsport later this month, which could be what ultimately determines the division winner.

Arizona Indians (8-8, 2nd place, 1.5 GU): Because first place Seattle won the first half title, the second place winner of the Arizona League's West Division will be awarded the title. Currently the Indians sit in that spot, holding a tenuous 1.5 game lead with 12 games to play.
Transactions Rundown
Here is a quick recap of the noteworthy transactions for the past week in the Indians minor league system:
August 13: Andy Cannizaro traded to Chicago White Sox.
August 12: RJ Swindle claimed on outright waivers from Tampa Bay and optioned to Columbus.
August 11: Outrighted Josh Barfield off the 40-man roster to AAA Columbus roster; Outrighted Jose Veras to AAA Columbus (DFA'd on 8/5); Bobby Livingston transferred to Columbus from Akron; Scott Barnes transferred to Akron from Kinston.
August 8: Matt Willard transferred to Kinston from Mahoning Valley; Lonnie Chisenhall transferred to Akron from Kinston; Jesus Merchan transferred to Columbus from Akron; Adam White transferred to Kinston from Lake County.
August 7: Rafael Perez recalled from Columbus active on ML roster; Ryan Edell transferred to Columbus from Akron.
August 6: Justin Toole transferred to AZL from Mahoning Valley; Jordan Brown placed on 7-day DL with right shoulder inflammation.
August 5: Eric Berger transferred to Akron from Kinston; Jess Todd recalled and active on ML roster; Michael Gosling outright to Columbus; Scott Lewis placed on rehab assignment in AZL.
Random Updates
No notebook this week because playoff outlooks for each team are provided above. With that, here is a rundown of news and notes for a bunch of players in the system:
- Last night, Triple-A left-hander Chuck Lofgren missed a start due to an injury for the first time in his five year professional career. Last Sunday he sprained his left thumb while fielding a ball in the third inning and had to be taken out of the game. He

tried long tossing earlier in the week but had to quickly stop because he was still experiencing discomfort in the thumb when he threw. However, he had a good bullpen session yesterday and is slated to start on Monday. The injury puts a slight damper on things, but it is good that it wasn't as bad as it could have been. It also doesn't take away from his very good season to date where in 21 combined starts between Double-A Akron and Columbus he was 8-8 with a 3.24 ERA (119.1 IP, 93 H, 40 BB, 79 K).
- Low-A Lake County left-handed starter Nick Hagadone continues to progress well in his return from Tommy John surgery. In two outings so far with Lake County the 6'5" 230-pounder is 0-0 with a 4.76 ERA having thrown just 5.2 innings allowing four hits, two walks and striking out eight. Several of the Indians top brass were in attendance to see him pitch on Wednesday, and overall they were very pleased with what they saw. He was dominant in the first inning, but struggled with his command in the second inning, before coming back out and dominating in the third before reaching his pitch count and having to be removed with two outs.
- Third baseman Lonnie Chisenhall has had a rough first week at Double-A Akron. He was called up from High-A Kinston last Saturday, and in six games for Akron is hitting .125 (3-for-24) with 1 HR, 3 RBI, and a .484 OPS. The Indians want to get his feet wet at Double-A this season and also expose him to the playoff environment Akron will be in for the last month of the season. It has been a quick rise up the minor league ladder for him as at this time last year he was in his debut season playing for short-season Single-A Mahoning Valley. He will likely start the season next year at Akron as the regular third baseman and the focal point of the lineup, and could figure into the plans at third base in Cleveland by the end of the season.
- On Tuesday night, Double-A Akron catcher Carlos Santana went 3-for-5 and fell a home run short of hitting for the cycle. He

is now hitting .294 with 20 HR, 84 RBI and a .961 OPS in 108 games this year. He is on pace to shatter the club record for RBI in a season, set just last year when third baseman Wes Hodges had 97 RBI. He has been red hot since the All Star break hitting .366 with 6 HR, 26 RBI and a 1.187 OPS in 25 games.
- Triple-A outfielder/first baseman Matt LaPorta has been battling a minor hamstring injury the past week or so. It has resulted in him sitting out a game here and there, which when he sits has lead to rampant speculation by Indians fans he is on the verge of being called up. Even though he is banged up, he is still hitting well and in 89 games for Columbus this year is hitting .306 with 17 HR, 60 RBI, and a .931 OPS.
- Left-handed starter Scott Barnes was removed from his start early last Saturday because he was on a strict pitch count as it was learned shortly before the game he would be promoted to Double-A Akron after the game. He made his Double-A debut in Akron on Wednesday night and went five innings allowing two runs on four hits, no walks, and had six strikeouts. In 22 combined starts between High-A San Jose, Kinston and Akron he is now 13-3 with a 2.80 ERA (115.2 IP, 100 H, 35 BB, 115 K).
- Double-A Akron left-hander Eric Berger looked much more comfortable in his second start for Akron on Thursday night. He went six innings and allowed two runs on two hits, three walks, and had four strikeouts. It was his first quality start for Akron, and after a rocky start he settled down and did not allow a hit to the final 21 batters he faced, and retired 13 of his final 14 hitters. It was a far cry from his Akron debut last Saturday in which he was roughed up for eight runs (five earned) and 13 hits in 5.2 innings.
- Triple-A third baseman Wes Hodges has had a season to forget as he missed much of it with a hand and shoulder injury. He

has struggled at the plate hitting .262 with 5 HR, 30 RBI and a .715 OPS in 63 games for Columbus this year. While he has struggled at the plate, he has shown some progress defensively at third base this year.
- Double-A Akron outfielder Jose Constanza has a good chance to break the club record for stolen bases in a season, set previously by Eider Torres who swiped 41 bases in 2006. To date he has 33 stolen bases, good for 2nd in the Eastern League, and is hitting .281 with 0 HR, 38 RBI, and a .709 OPS.
- Triple-A Columbus outfielder Michael Brantley sat out last night's game with a sore ankle. He banged the ankle up when sliding into third base earlier in the week. The injury is not considered serious, and he should be back in the lineup over the weekend. He is hitting .260 with 5 HR, 32 RBI, 39 stolen bases and a .685 OPS.
- Triple-A Columbus Shortstop Jason Donald has also been in and out of the lineup because of a serious bout with the flu. He is hitting .257 with 1 HR, 1 RBI and a .750 OPS in ten games with Columbus.
- Low-A Lake County left-hander T.J. McFarland was outstanding on Thursday night tossing six shutout innings allowing only three hits, one walk and had two strikeouts. The 6'3" 190-pounder used all of his pitches well, threw a lot of strikes, and as usual was a groundball machine recording 11 outs on groundballs (five fly ball outs, two strikeouts). On the season, in 21 games (19 starts) he is now 7-4 with a 3.75 ERA (100.2 IP, 109 H, 35 BB, 65 K).
- Low-A Lake County catcher Michael Valadez is being converted into a pitcher. He hit just .207 with 4 HR, 24 RBI and a .543

OPS in 52 games this year in his second go around with Lake County. He is off to Arizona at the Indians new Player Development Complex to get started with the conversion, and is something that will take place mostly during Instructional League this September/October. Catcher Roberto Perez was summoned from rookie-level Arizona to replace him on the roster.
- High-A Kinston catcher Doug Pickens has been hot of late. In his last six games he has four multi-hit games and is 9-for-23 with a home run and nine RBI. On the season he is now hitting .279 with 4 HR, 16 RBI and a .745 OPS in 30 games with Kinston.
- Right-hander Jose Veras and newly acquired left-hander R.J. Swindle (waivers) are expected to be activated this weekend at Triple-A Columbus. No word on what the two roster moves may be to remove a player from the active roster. Another reliever right-hander Vinnie Chulk threw a bullpen earlier in the week to test his sprained ankle, but is not expected to be activated anytime soon.
- Low-A Lake County right-handed reliever Eddie Burns' season is over. He was put on the disabled list since on July 8th and recently learned he will have surgery to repair a torn labrum in his pitching shoulder. In 16 appearances he was 2-1 with a 2.38 ERA (34.0 IP, 36 H, 7 BB, 44 K).
- Triple-A Columbus' new home Huntington Park was honored as Ballpark of the Year by BaseballParks.com earlier this week. Huntington Park was one of 11 new or renovated ballparks reviewed by the site, three of which were major league ballparks for the Yankees, Royals and Mets. Joe Mock, webmaster of the site, visited Huntington Park in April and said "it had innovative designs that I had never seen before" and said the "park is perfect". I very much agree with Joe, and highly recommend all Indians or even just baseball fans go check out Huntington Park. You will not be disappointed.
User Comments
No comments currently. Be the first to comment!