Minor Happenings: Sipp On The Mend
"Minor Happenings" covers the important developments and news in the Indians farm system. While most of the information in this report is from my own research and through interviews I have conducted with organizational personnel, some information in this report is collected and summarized from the various news outlets that cover each team.

A little smaller version of Minor Happenings this week, mostly because a big chunk of it was already posted on Wednesday. On Wednesday, I recapped the Matt LaPorta press conference, provided some quotes from Farm Director Ross Atkins that he made this week, talked about the player to be named later in the deal, and even scouted the trade and gave my opinion on it.

I was in Akron on Tuesday for the LaPorta press conference and also on Thursday night to finally see him in action since Tuesday night's game was rained out. During my visit, I was able to talk to C Wyatt Toregas, OF/1B Stephen Head, LHP Ryan Edell, and OF Trevor Crowe. Features of each of them should be posted sometime by the end of the month. I also have interviews with several Lake County and Kinston guys in the queue, but they got pushed aside this week because of all the C.C. Sabathia trade coverage. A couple player articles should post this weekend.

I'll be doing a double dip on Sunday where I will be in Lake County in the morning to see them play at 1pm before jetting around 2pm to get to Mahoning Valley by 3:30 so I can see them take batting practice and talk to a bunch of guys for the first time and then see the game. I'm looking forward to the first trip to The Valley this year. As always, if anyone will be at either one of these games, feel free to track me down and say hi. I love to sit down at these games and talk baseball with fellow fans.

Indians Minor League Player Of The Week
(for games from July 3rd through July 9th)

Nick Weglarz - (Outfielder - Kinston)
.500 AVG (9-for-18), 5 R, 2 2B, 3 HR, 4 RBI, 2 BB, 4 K, 1 SB

Outfielder Nick Weglarz has been on a tear since the 4th of July. On the fourth, the Canadian went 2-for-4 with a home run and then followed that up the next day to go 4-for-4 with two home runs. Weglarz is the only Kinston player besides first baseman Beau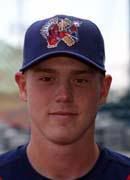 Mills to have a multi-home run game this season (Mills has done it twice). Weglarz is set to leave Kinston later this month on July 28th and join the Canadian National Team and travel to the Olympics at the end of this month. On the season he is hitting .268 with 10 HR, 35 RBI and an .837 OPS.

Baseball Prospectus recently ran a blurb on Weglarz mentioning how he has handled the transition to advanced Single-A well. Per the report, a scout "saw an exaggerated trigger in Weglarz' swing early in the year, and that trigger has slowly been reduced of late." This has resulted in the recent return of his power stroke that had been missing most of the year. Weglarz has tremendous power, and often is compared to Jim Thome because of that left-handed power and plate discipline. As a note, the 20-year old Weglarz is 6'3" 245 pounds now, which is about thirty pounds bigger than Thome was at the same age. Thome is currently listed at 6'4" 250 pounds, which shows just how big Weglarz is and how big he could become.

Honorable Mentions:
Beau Mills (1B - Kinston): .421 AVG (8-for-19), 4 R, 3 2B, 2 HR, 7 RBI, 1 BB, 6 K
Wyatt Toregas (C - Akron): .357 AVG (5-for-14), 3 R, 2 2B, 3 HR, 9 RBI, 4 BB, 2 K
Asdrubal Cabrera (SS - Buffalo): .343 AVG (12-for-35), 6 R, 2 2B, 2 HR, 5 RBI, 1 BB, 8 K
Scott Lewis (LHP - Akron): 1-1, 1.64 ERA, 2 games, 11 IP, 2 R, 8 H, 2 BB, 9 K
Eric Berger (LHP - Mahoning Valley): 0-0, 1.13 ERA, 2 games, 8 IP, 5 H, 1 R, 2 BB, 9 K

Previous Winners:

6/26 to 7/2: Stephen Head (1B/OF - Akron)
6/19 to 6/25: Trevor Crowe (OF - Akron)
6/12 to 6/18: Chris Gimenez (C - Akron)
6/5 to 6/11: Jim Deters (RHP - Kinston)
5/29 to 6/4: Steven Wright (RHP - Kinston)
5/22 to 5/28: Chris Archer (RHP - Lake County)
5/15 to 5/21: David Huff (LHP - Akron)
5/8 to 5/14: Steven Wright (RHP - Kinston)
5/1 to 5/7: Jeremy Sowers (LHP - Buffalo)
4/24 to 4/30: Jose Constanza (OF - Akron)
4/17 to 4/23: Hector Rondon (RHP - Kinston)
4/10 to 4/16: Wes Hodges (3B - Akron)
4/3 to 4/9: Kelvin De La Cruz (LHP - Lake County)

Coaches Corner: Mike Sarbaugh

I had a chance to catch up with Double-A Akron manager Mike Sarbaugh on Tuesday shortly after the game was cancelled due to severe thunderstorms.


On Trevor Crowe: "The [intercostal muscle] injury is kind of still the same where it has been the last couple of days. It is just kind of still gradually keeps getting better and bothering him a little bit. On Monday (last week) he came out and said it was bothering him so we took him out on Monday in Erie, and then he played Tuesday and went 3-for-3 and then it was still bothering him so we just are trying to treat it and get him back. He was awesome. He was really hot, and was seeing the ball and swinging the bat well. His confidence was at an all time high. It is a shame, but he will be back."

On Chuck Lofgren: "We are going to gradually ease him back in. He is going to be in the bullpen to start off and just try to get him stretched out again. He took a break and cleared his mind. He was putting a lot of pressure on himself, and I think it was good for him. He went down to extended and really worked hard and did what he needed to do, and seeing him today (Tuesday) he looks like he is in the right mind frame."

On Scott Lewis: "His first two or three outings back were awesome. He was really throwing the ball well. He hit a little stretch where he was struggling with his command a little bit, and then his last outing was outstanding again. He has just gotta pitch the way we know he can pitch. You are gonna have some games where you just don't have your best stuff, but overall he has pitched very well."

On Stephen Head: "I think with Steve, he has matured as a player and he knows what he needs to do with early work to just how to approach the game. I have really seen a lot of maturity out of him the last few years, and I think that has played into it. He has the ability, and has done the job for us in right field and first base so he has some versatility there. He has been swinging the bat really well and using the whole field."

On Wyatt Toregas: "When he first came down, [hitting coach] Lee [May] had him all last year and I had him for three years before from rookie ball up through Kinston. We noticed a little something in his setup in his stance that we had not seen before. Lee has been working with him trying to get him to spread out more and use the whole field. I just think he started to hit a few balls well early on, and now his confidence is really good and he feels good at the plate. So hopefully it can continue.

On hot streak: "I think early on guys were pressing a little bit. When you looked around the club we had a lot of first year Double-A guys from Hodges to Rodriguez to Constanza and even Whitney. They just put a lot of pressure on themselves, and it seemed to start clicking in late May into early June. I think the bats really have come around as we are really swinging them well. Hitting is contagious. It helped getting Trevor back, and then when Bronson Sardinha came in it kind of gave us a mature player from a higher level who came in and has been solid in the clubhouse and on the field."

Sipp On The Mend

It has been a long road back for left-hander Tony Sipp. He spent a lot of time in big league camp during spring training last year, impressed Indians officials, and was supposed to be one of the bullpen arms the Indians would lean on when a need surfaced. As roster cuts came the Indians reassigned him to minor league camp late in spring training only to have him come up lame shortly
after his reassignment when he overthrew a pitch in a Triple-A spring training game. The injury was initially diagnosed as an ulnar collateral ligament (UCL) strain and the Indians shut him down until late June last year before he started a throwing program, but shortly after starting his throwing program he felt pain in the elbow again. When the Indians had another MRI done of the elbow, they found the UCL was no longer strained or even torn, but that he had a fracture near his UCL. Supposedly, the UCL pulled at the bone in his elbow that it was attached to until it eventually fractured, which happens when the ligament is too strong or the bone too weak.
Sipp underwent successful Tommy John surgery on his left elbow last July, and since then it has been a grueling rehab for him where he spent almost all of his time confined to what may be better termed as a prison sentence rehabbing in Winter Haven, FL. Sipp spent all of last season in Winter Haven in extended spring training rehabbing first from the UCL sprain and then later from the Tommy John surgery, and then spent from February to June this year in Winter Haven continuing that rehab. But, finally, Sipp is starting to see the light at the end of the tunnel.
Since he returned to game action on June 20th throwing for the rookie-level GCL Indians club in Winter Haven, Sipp has been near 100%. His fastball velocity is back up in the low 90s and touching 94 MPH, and he has not had any setbacks or felt any pain. So far, Sipp has thrown well in his return. In three outings with Kinston, Sipp has not yielded a run in four innings, and overall in six combined games between Kinston and the GCL Indians he has yet to yield a run in eight innings. He has allowed just one hit, walked three, and struck out ten. His stuff looks crisp, and his excellent slider and aggressiveness have been on full display. Before moving up to Akron or Buffalo the Indians want to see Sipp throw on back-to-back days to see how his arm handles it. If he checks out, he could be on the move to his next stop in his rehab in the next week, likely to Akron sometime later this coming week when they return for a long homestand.

Bryson Debuts In Lake County

Right-hander Rob Bryson, one of four players received from Milwaukee in the C.C. Sabathia trade, made his debut in Single-A Lake County on Wednesday night. After reporting to the team on Tuesday, but having the game washed away by rain, he made his
much anticipated debut the next day during Game Two of the double-header going two scoreless innings. He breezed through his first inning of work with ease by retiring all three batters on groundball outs. He encountered trouble quickly in his second inning of work giving up a leadoff double and then a single to put runners on first and third with nobody out. But, he battled out of it without allowing a run by retiring the next three batters on a short fly to right field, a caught stealing at second base, and a ground out. Bryson showed good life on his fastball and kept it down in the zone, which helped induce the high amount of groundouts.

Bryson features a two-pitch mix with a plus-plus fastball that touches 96 MPH and a plus slider. The effectiveness of both pitches has many believing he can be a dominant backend reliever down the road, and where he may be the sleeper of the deal. The key with Bryson will be how he grows into his 20-year old body and if he can refine his command. For now, the Indians will work Bryson in at the backend of the bullpen to where he could get a majority of the save opportunities since the role has yet to be defined since right-hander Vinnie Pestano was promoted to Kinston two weeks ago. Before joining the Indians organization, in 22 appearances for Milwaukee's Single-A affiliate West Virginia (same league as Lake County) Bryson was 3-2 with a 4.25 ERA and 73 strikeouts in 55 innings pitched.

No Milling Around

Kinston first baseman Beau Mills is having a very good season in Kinston so far this year. In 83 games he is hitting .276 with 13
HR, 57 RBI, and an .853 OPS. The batting average may not be impressive, but he has rebounded well from a rough start when he hit just .222 in April. Also, the low average is deceiving because of the league he is playing in since the Carolina League is a reputed pitcher's league, so hitting numbers typically suffer. His .276 batting average actually ranks him 21st in the league in hitting, and he is also 7th in home runs, 2nd in RBI, 8th in slugging percentage, and 8th in OPS.

On Monday, Mills went 4-for-5 with five RBI in the game and fell a triple short of the cycle hitting two doubles, a single and a three-run home run. It was Mills second five+ RBI game of the season, as he earlier racked up six RBI in an April game at Salem. No other Kinston player has more than five RBI in a game this season. While the hitting has been good, more impressively he has made significant improvement defensively at first base. He is quickly becoming comfortable at the position, one that was foreign to him when he was drafted, but now has shown the ability at first base to be at worst an average defender and with the potential to be even better.

Hodges And Roehl Honored

On Thursday, third baseman Wes Hodges was added to the roster for the XM Satellite Radio Futures Game which will take place Sunday, July 13th at Yankee Stadium in New York. Hodges is one of eight players to participate in both the Futures Game and the
Eastern League All-Star Game. On the season, Hodges is hitting .315 with 10 HR, 72 RBI, and an .861 OPS in 90 games, and is 6th in the league in hitting and 1st in RBI. He currently is on pace for 112 RBI this year, which would shatter Akron's single-season franchise record of 96 (set by Chan Perry in 1997). Hodges is also one of 60 players currently being considered for the 24-man United States Olympic team that will be selected July 16th. The Olympics begin in Beijing, China on August 9th.

Also last Thursday, Akron reliever Scott Roehl was named to the Eastern League Southern Division All-Star team. Roehl replaced Akron All-Star reliever Randy Newsom who was promoted to Buffalo on Wednesday, and is ready to attend the game next Wednesday in Manchester, NH on July 16th. Roehl is 1-2 with a 2.68 ERA in 25 relief appearances, and in 37 innings pitched has allowed 25 hits, 16 walks, and struck out 38. He has been lights out in his last nine appearances where he has not allowed a run in 14 innings pitched and allowed just four hits, eight walks, and 16 strikeouts. A 10th-round pick from the University of Arkansas in 2003, Roehl was named to the Carolina League post-season All-Star team last year after pacing the circuit with 24 saves. He also led the Indians Player Development System with a 1.71 ERA in 2005.

Rondon Dominates

Kinston right-handed pitcher Hector Rondon is the hottest pitcher in the Indians system, and in the Carolina League for that matter.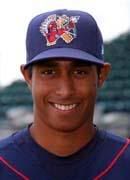 On Friday night, Rondon once again dominated the opposition going 6.2 shutout innings allowing just two hits, walking four and had eight strikeouts. The 20-year-old Venezuelan routinely set up hitters all night by coming in high and inside to batters with a 92-93 MPH fastball and then coming back with a nasty slider low and away that he was able to throw for strikes. Both hits he allowed were not hit hard at all, one a blooper to center in the fourth inning and the other an infield single on a swinging bunt in the seventh. At one point in the game he struck out five straight over the course of the second and third inning. It was the fifth consecutive start Rondon has won and seventh in his last eight. He has only allowed one earned run in his last four starts (24.2 innings), and in his last ten starts he is 7-0 with a 2.08 ERA and 67 strikeouts in 56.1 innings pitched.

For his efforts, Rondon was named Carolina League Pitcher of the Week for the week ending July 6th. This is the second straight week a Kinston pitcher has won the award as right-hander Josh Tomlin took home the award last week. Last week, Rondon was named to the World Roster to pitch in the Future's Game at Yankee Stadium on July 13th. On the season, Rondon is now 7-3 with a 3.06 ERA in 17 starts, and in 88.1 innings has allowed 80 hits, 29 walks and struck out 97. Rondon is 2nd in the Carolina League in strikeouts, 9th in the league in ERA, and has not lost a game since May 9th.

Akron Piles Up More Awards

Akron players have piled up the awards the past month the Eastern League. This week, they added two more awards to hang above the mantle with outfielder Trevor Crowe being named the Eastern League Player of the Month for June and catcher Wyatt Toregas winning the Eastern League Player of the Week Award for the week ending July 6th.


As has already been mentioned here several times the last month, Crowe was unbelievable in June. Crowe hit .400 (42-105) in June to lead the Eastern League, and his 24 RBI tied for the most in the league with teammate Bronson Sardinha. Crowe also pounded four home runs and stole five bases. With his hot month of play, Crowe saw his batting average of .155 when June started climb 158 points to .313 when June ended. On the season, Crowe is hitting .325 with four HR, 26 RBI and a .921 OPS, but has been sidelined for about the past week with a strained left intercostal muscle that put him on the disabled list on Tuesday (retroactive to July 3rd).

Toregas is the fourth straight Akron player to take home the Player of the Week hardware. For the week, Toregas hit .421 (8-for-19) with three doubles, five home runs, 13 RBI and six runs scored for Akron. All eight of his hits were for extra bases and he slugged 1.368 for the week with an OPS of 1.888. His week was highlighted by a three home run outburst last Wednesday which tied the franchise record for home runs in a game. On the year, Toregas is hitting xx at Akron, and xx in xx combined with Akron and Buffalo. His nine home runs this year have set a new career-high for him, surpassing the eight home runs he hit with Kinston and Akron in 2006.

Transactions Log

Lots of transactions this week. Here is the rundown:

Last Thursday, outfielder Jose Costanza was placed on the disabled list with a strained left shoulder. In 74 games with Akron, Constanza is hitting .293 with nine doubles, four triples, 15 stolen bases, and 27 RBI. Outfielder Nate Panther was activated from the disabled list to fill Constanza's spot on the roster. Also, right-hander T.J. Burton was activated to take the spot left vacant by the promotion of Randy Newsom to Buffalo last Wednesday.

On Friday, the Indians signed right-handed pitcher Preston Larrison to a free agent minor league contract and assigned him to Buffalo. This year he pitched out of the bullpen at Triple-A Toledo (Tigers) where he went 2-2 with a 3.31 ERA in 29 games (35.1IP, 29H, 13ER, 15BB, 19K, .240avg against) and recently exercised a free agent opt-out clause in his contact.

On Saturday, right-handed starter Frank Herrmann was promoted from Double-A Akron to Triple-A Buffalo. In two starts, Herrmann has combined to throw 13 innings, allow 2 runs, 11 hits, 6 walks and strikeout 14. To make room, infielder Chris De La Cruz was reassigned to Akron.

On Sunday, right-hander Dallas Cawiezell was placed on the disabled list with right shoulder inflammation and infielder Ron Rivas was activated from the disabled list.

On Monday, newcomer left-handed pitcher Zach Jackson was activated and right-handed pitcher Jeff Harris was put on the disabled list (retroactive to July 3).

On Tuesday, Akron placed outfielder Trevor Crowe on the disabled list with a strained left intercostal muscle (retroactive to July 2nd) and activated outfielder Matt LaPorta. Also, newly acquired right-handed pitcher Rob Bryson was activated in Lake County. To make room for Bryson, infielder Jansy Infante was promoted to Kinston.

On Wednesday, Buffalo activated veteran infielder Tony Graffanino. Also, the Indians promoted right-handed pitcher J.D. Martin to Triple-A Buffalo. Martin was an Eastern League All-Star going 7-3 with a 3.40 ERA in 22 appearances (three starts) for Akron. Left-hander Chuck Lofgren was activated and took Martin's spot on the roster and in the bullpen.

On Thursday, the Indians claimed right-handed pitcher Bryan Bullington off waivers from the Pittsburgh Pirates and optioned him to Buffalo. Bullington, 27, has pitched at AAA Indianapolis the entire season, going 4-6 w/a 5.52 ERA in 15 starts (75.0IP, 90H, 46ER, 25BB, 60K, 8HR).

Affiliate Notebook


Buffalo Notes (43-53, 5th place, 16.5 GB): Yesterday the Indians traded Buffalo first baseman Ryan Mulhern and right-handed pitcher Dan Reichert to the Pittsburgh Pirates for a player to be named later or cash considerations. ... Buffalo has been a pitcher short on the roster and going with a six-man bullpen while they waited to find out if former closer Rick Bauer would rejoin the team. Bauer was designated for assignment by the Indians last Friday, but even though he cleared waivers he elected to become a free agent yesterday rather than accept an assignment back to Buffalo. ... Infielder Asdrubal Cabrera is on another tear with four straight multi-hit games through Wednesday night. In 30 games at Buffalo, Cabrera now has 15 multi-hit games and is hitting .333 with 3 HR, 11 RBI, and an .846 OPS. ... In his organizational debut on Tuesday, lefty Zach Jackson picked up the win in relief throwing two shutout innings. ... Buffalo's recent seven game losing streak is the longest such streak since May of 2003. Anyone notice the correlations between the Cleveland and Buffalo clubs? ... In the past week, Buffalo was shutout in back-to-back games for the first time since April 2004 and scored just one run over three games for the first time since August 2003. Did I mention those correlations between this team and the parent club? ... With their loss on Sunday, it dropped Buffalo to 11 games under .500 for the first time since partnering with Cleveland in 1995.


Akron Notes (58-34, 1st place, 5.5 GU): First baseman Stephen Head had an 11-game hitting streak snapped on Saturday, which is the longest streak in his professional career. He has 22 multi-hit games out of his 61 games at Akron this season, and on the year is hitting .311 with 7 HR, 32 RBI and an .829 OPS. ... Akron is a perfect 48-0 when leading after eight innings, and are one of only three teams in the Eastern League still perfect (Altoona at 32-0 and New Britain at 26-0 are the others). On the flip side, Akron has rebounded to win three times when trailing after eight innings which ties them with two other teams in the league for the most late-inning comebacks (Bowie and Harrisburg). ... Shortstop Josh Rodriguez is hitting .264 with 5 HR, 39 RBI, 8 stolen bases and a .746 OPS. ... First baseman Matt Whitney is hitting .252 with 6 HR, 43 RBI, and a .726 OPS. ... Right-hander Kevin Dixon is 7-5 with a 4.28 ERA in 17 starts. ... Left-hander Ryan Edell is 5-5 with a 4.53 ERA in 17 starts. ... Right-handed closer Luis Perdomo is 1-0 with 1 save and a 1.13 ERA in five appearances at Akron so far.


Kinston Notes (11-9, 3rd place, 1.0 GB, 46-43 overall): Lefty Dan Cevette has retired. I had just talked to him almost two weeks ago when I was in Frederick. MD and he seemed in good spirits, but I guess he finally had enough after his last outing on June 30th when he gave up seven runs in two thirds of an inning. He started experiencing pain in his arm again and his velocity had dropped some. Good luck to Dan in his future endeavors. ... Infielder Niuman Romero is in the midst of a 15-game hitting streak. The Carolina League All-Star leads the Kinston team in batting average and has already hit a career high six home runs on the year. His streak is the longest for a Kinston player this year, and on the season he is hitting .298 with 6 HR, 26 RBI, and an .816 OPS. ... Infielder Jared Goedert is hitting .269 with 8 HR, 47 RBI, and a .735 OPS. ... Outfielder John Drennen is hitting .248 with 0 HR, 23 RBI, and a .630 OPS. ... Outfielder Cirilo Cumberbatch is hitting .236 with 2 HR, 32 RBI and a .572 OPS. ... Right-hander Jeanmar Gomez is 3-7 with a 5.74 ERA in 17 starts. ... Left-handed reliever Matt Meyer is 3-0 with a 2.64 ERA in 23 appearances. ... Right-handed reliever Mike Pontius is 4-1 with a 7.16 ERA in 17 appearances.



Lake County Notes (10-11, 5th place, 6.0 GB, 51-40 overall): Last Thursday, left-hander Ryan Miller suffered his third loss of the year going five innings and allowing five runs on a season high eight hits while walking three and striking our four batters. Miller has not won a game since May 18th when on that date he was 7-0 with a 1.02 ERA in eight start. Since that date he is 0-3 with a 3.99 ERA in eight starts. ... On Sunday, right-hander Chris Archer pitched five scoreless innings and allowed only two hits. He is 2-8 with a 3.88 ERA in 17 starts. ... Outfielder Adam White leads the league in runs scored with 65. On the season, White is hitting .226 with 3 HR, 28 RBI, and a .639 OPS. ... On Monday, left-hander Kelvin De La Cruz threw five shutout innings allowing just four hits and no walks while striking out seven. On the season, De La Cruz is 7-3 with a 1.74 ERA in 16 starts. ... When Lake County was rained out on Tuesday night it marked the ninth time this year that they have had a game rained out. As a result, Lake County has played nine double-headers this year, and have played two games in a day 12 times because of three other games that were suspended because of rain. Last year, Lake County had just five rainouts. ... Left-hander Ryan Morris is 7-2 with a 3.18 ERA in 17 starts. ... Outfielder Roman Pena is hitting .299 with 9 HR, 57 RBI and an .809 OPS.


Mahoning Valley Notes (10-13, 4th place, 6.0 GB): Left-hander Eric Berger made a very nice professional debut this week. The 8th round draft pick out of the University of Arizona went three shutout innings allowing only one hit and one walk while striking out three hitters last Thursday. In his follow up Wednesday night he was just as good, going five innings and allowing one run on four hits, a walk and had six strikeouts. ... On Monday, right-hander P.J. Zocchi went five innings and picked up his first win of the season. He allowed just one run on five hits, three walks and did not strike out a batter. On the season, Zocchi is 1-1 with a 4.76 ERA in five starts. ... On Sunday, left-hander Russell Young put forth another strong effort going five innings and allowing just one run on four hits, no walks and had five strikeouts. He is now 1-0 with a 2.25 ERA in four starts. ... On Saturday night, outfielder Ramon Hernandez came through big in extra innings with a pinch hit grand slam home run. Hernandez is hitting .200 with 2 HR, 6 RBI and a .726 OPS. ... Did you know that there is a mandatory 30-day break period from lifting weights for players in Mahoning Valley when they join the team? ... Third baseman Jeremie Tice is hitting .322 with 1 HR, 8 RBI and a .910 OPS.


GCL Indians Notes (8-9, 3rd place, 6.0 GB) and DSL Indians Notes (20-15, 4th place, 5.5 GB) and Draft Notes: On Thursday, the Indians signed 3rd round pick infielder Cord Phelps. The junior second baseman hit .351 (91-259) this season for Stanford University with 16 2B, 3 3B, 13 HR and 58 RBI in 63 games for the Cardinal (76RS, 41BB, 38K). He will report to the Gulf Coast League in Winter Haven to rehab a sprained ankle he suffered prior to the College World Series before moving on to Mahoning Valley. ... Last Thursday, right-hander Brendan Donnelly made his first appearance on his rehab assignment, going just .2 innings and allowing 2 runs on 4 hits while recording 1 strikeout. ... Catcher Matt McBride is still DHing and playing about every other day. Once McBride is able to resume normal catching duties, which hopefully comes in the next week or two, he will be moved up to Lake County or Kinston. McBride is hitting .231 with 1 HR, 10 RBI and a .739 OPS in 26 at bats with the GCL team. ... Fast rising infield prospect Abner Abreu is solidifying his status as a young Latin prospect to watch. The tall and lanky 18-year old is hitting infielder is hitting .296 with 3 HR, 9 RBI and a .986 OPS on the season. ... In the DSL, infielder Kelvin Diaz is hitting .331 with 4 HR, 28 RBI, and a .941 OPS.
Photos courtesy of Ken Carr, Carl Kline, Lake County Captains, Kinston Indians, Akron Aeros, and Buffalo Bisons.

User Comments
No comments currently. Be the first to comment!