Minor Happenings: Stevens Closing In On Callup
"Minor Happenings" covers the important developments and news in the Indians farm system. While most of the information in this report is from my own research and through interviews I have conducted with organizational personnel, some information in this report is collected and summarized from the various news outlets that cover each team.

I am heading to Frederick, MD tomorrow for the weekend to see Kinston play, and then also enjoy a little R&R in Washington D.C. to do some sightseeing. This will be my second look at Kinston this year so I am excited to go. I have not seen them since the first week of the season almost three months ago....my has this season flown by.

In case you missed them, as promised here last week, I pumped out several player articles over the past week. On Friday I did a feature on Adam Davis' transition to catcher, Saturday I wrote about Akron closer Randy Newsom's success on the diamond and in the business world, on Sunday I wrote about Akron reliever Erik Stiller's success as an undrafted Princeton grad, and on Tuesday I wrote about up-and-coming starting pitching prospect Ryan Morris.

Also, I was in Lake County (again) this past Tuesday. I go there often because of all the affiliates it is the most accessible team for me since it is only 15 minutes or so from my house, but also because everyone, from the gameday staff to the coaches to the players are phenomenal there and easy to work with. Anyway, I have a previous conversation with Dustin Realini from my last visit hopefully set to post sometime this weekend, and during my visit on Tuesday I talked to right-hander starter Joey Mahalic and right-handed reliever Dallas Cawiezell. So look for those. Mahalic is an interesting kid, as his dad is a former NFL linebacker and wore #45 at Notre Dame the year before the famed Rudy Ruettiger wore it.

Indians Minor League Player Of The Week
(for games from June 19th through June 25th)

Trevor Crowe (Outfielder - Akron)
.514 AVG (19-for-37), 11 R, 5 2B, 2 HR, 12 RBI, 2 BB, 1 K, 1 SB

Talk about a hot week. Crowe was not only sensational this past week hitting .514 and piling up six multi-hit games in the seven games played, but for the month of June he is hitting a .407 with 2 HR, 18 RBI and a 1.038 OPS. During his seven game tear,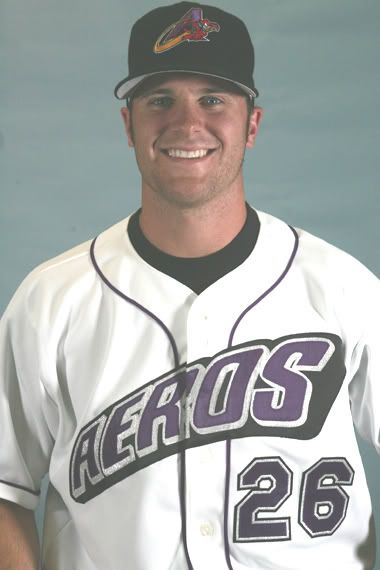 Crowe has raised his batting average 75 points from .234 to .309. Crowe had an 11-game streak of scoring a run and an impressive string of five consecutive multi-hit games snapped on Tuesday night when he went 0-for-3 at the plate, which he promptly bounced back from the next night scoring two runs and going 4-for-5 at the plate. On the year, Crowe is hitting .309 with 2 HR, 20 RBI, 7 stolen bases, and an .840 OPS.

Crowe was limited in the early going this season as he missed 35 games in April and May with a back strain. After being put on the disabled list just two games into the season, Crowe finally returned on May 16th and essentially had to use the rest of the month as his spring training after being out so long. Now that he is healthy, this month he has been able to do a lot more work in the cages which is something he could not do while he was hurt. He has also been able to apply instruction from coaches as well as get into a routine.

Crowe has been a hot and cold player during his time with the Indians. Last year, he hit .212 with a .566 OPS up until the start of July, and then from July 1st on .310 and .838 OPS. In 2006, after a sensational Kinston campaign the first half of the season where he hit .330 with a .924 OPS in 60 games, he only hit .234 with a .643 in 39 games with Akron the second half of the season. Crowe has yet to put it together for a full season, although injuries have been most to blame. An ankle injury shortly after his callup to Akron in 2006 cooled him off, and the back strain two days into the start of this season quickly fizzled the start of his season.

Crowe was also named Bank of America Eastern League Player of the Week on Monday for the week ending June 22nd. Crowe hit .464 (13-28) last week with two home runs, eight RBI, four doubles, and nine runs scored in six games. With Crowe winning player of the week honors, it is the second straight week an Akron player has won the award as third baseman Wes Hodges won the award last week. Pitchers David Huff and Randy Newsom have also earned weekly awards this season.

Honorable Mentions: Jared Goedert, 3B, Kinston (.400 AVG, 2 HR, 8 RBI); Lucas Montero, OF, Lake County (.353 AVG, 2 HR, 5 RBI, 4 SB); Adam Abraham, 3B, GCL Indians (.313 AVG, 1 HR, 5 RBI); Brock Simpson, OF, Mahoning Valley (.367 AVG, 0 HR, 4 RBI); Hector Rondon, RHP, Kinston (1-0, 0.00 ERA, 7 IP, 3 H, 2 BB, 9 K); David Huff, LHP, Buffalo (1-0, 0.00 ERA, 7 IP, 5 H, 0 R, 0 BB, 9 K)

Previous Winners:

6/12 to 6/18: Chris Gimenez (C - Akron)
6/5 to 6/11: Jim Deters (RHP - Kinston)
5/29 to 6/4: Steven Wright (RHP - Kinston)
5/22 to 5/28: Chris Archer (RHP - Lake County)
5/15 to 5/21: David Huff (LHP - Akron)
5/8 to 5/14: Steven Wright (RHP - Kinston)
5/1 to 5/7: Jeremy Sowers (LHP - Buffalo)
4/24 to 4/30: Jose Constanza (OF - Akron)
4/17 to 4/23: Hector Rondon (RHP - Kinston)
4/10 to 4/16: Wes Hodges (3B - Akron)
4/3 to 4/9: Kelvin De La Cruz (LHP - Lake County)

Director's Cuts

Indians Farm Director Ross Atkins has been in Winter Haven the last few days checking out the Gulf Coast league team playing there and offered up some comments on the team and some players there:


On the GCL Indians: "This is an exciting time for a lot of 18 and 19 year olds. It is their introduction to pro ball, and it is a lot of fun for us to come down here and see their first professional outing or at bats. There are some really exciting guys here that are relatively under the radar. It is really fun and exciting for us to see guys like Carlos Moncrief who was taken relatively late in the draft and is up to 95 MPH. He is a big strong athlete, and a power arm potentially pitching out of the bullpen one of these days. Another name that is fun for us to see play is Abner Abreu, who is a young Dominican third baseman. People are mentioning Vladimir Guerrero when they watch him play. Not comparing, just mentioning. He is a really talented, young 18 year old third baseman with a lot of power and athleticism. They are five and six years away, but you can really dream on them. There is a lot of upside, and they are a lot of fun to have for our development staff."

On assigning players to the GCL: "We just try to put guys at a level where we feel like they will have success and competing against guys with similar skill sets and skill levels. The Gulf Coast League is a lot of high school and Latin players, and very few college players. So these guys are predominantly 18 and 19 years old.

On extended spring training versus the GCL: "It is a lot better. Now the rainouts are treated professionally. Every inning is treated professionally as we just don't end games or innings. Every pitch count and pitch is tracked. These guys are playing in the major league ballparks. It is a lot better environment than extended spring training, although extended spring training is a great process for young minor league players as they start to learn what it means to play everyday, the discipline and toughness it takes to wake up and have that energy level on a daily basis. It is a much needed step in the process in extended spring training, but now they have reached the reward as the umpires are here and the lights are on."

Coaches Corner: Ruben Niebla

This week, I had a chance to sit down with Lake County pitching coach Ruben Niebla and talk about some of the relievers on the Captains roster:

On Dallas Cawiezell: "He is a guy that pounds the zone with his fastball, and with his fastball being as explosive as it is at 92 to 95 MPH at times, he is going to be able to have a good year in this league. I think right now what he needs to work on is tightening up his slider, and repeating his delivery. He really still has some delivery stuff he needs to adjust, but for his progress up to this year he is really having a great year. He has been in very tight situations, and that is a very valuable guy for your team. He has a major league body, and he also has a split finger that could develop into an out pitch at the higher levels."

On Garrison Campfield: "He is a lower three-quarter guy. He sinks the ball from that angle and has a slider that goes opposite of his sinker. There are certain things you look for in a low three-quarter guy. Just making sure they are staying through their pitch consistently. They still have to get the ball out and get into a good ready position to deliver the ball. We have resources within the organization as well. I have a video of five different major leaguers that throw from the same angle, so I review those videos in what makes those big leaguers special and try to simulate it to Campfield to try and help him and figure out a consistent delivery. He
averages 89 MPH and gets as high as 93 MPH. He has a good arm and throws the ball hard from that angle. He is a college guy that is really learning his role. He has not been pitching very long from that slot. Once he figures out a consistent release point for that pitch and is able to box it east to west he will start moving up in this organization."

On Vinnie Pestano: "He throws a low three quarter, a little bit lower than Campfield. He has a very good feel for it as he has been doing it for awhile. The one thing I can say about Pestano is he has the eyes for ninth inning leads because nothing rattles him. He is there to pound the zone and go after hitters, and if he is going to be beat it will have to be by hits. When you roll the dice like that and have the stuff he does, you are going to be successful most of the time. Closing is a mentality. When you find guys like that, you gotta make sure you put them in those situations and see what you are going to get."

On Kyle Landis: "He is one of those guys similar to David Riske where he has a deceptive live fastball. He is able to spot up that fastball to both sides of the plate. Right now our focus has been in him learning to be able to sink the ball with a two-seam fastball in under right-hander's hands. If he can do that with the slider he has going away from them he is going to be very successful as he is showing now. He is another guy who has an arm that bounces back well, he takes the ball and he pounds the zone, so there is a formula for success there."

On Josh Judy: "Judy is usually from 90 to 94 MPH and is another guy who has great life to his fastball. He is learning how to sink the ball, which is really going to help him in the future especially attacking left-handed hitters and getting easier outs. His slider at times is a swing and miss pitch, but also at times it is still a pitch that flattens out on him and they are able to hit it. So this is the reason he is here, to tighten those things up."

On former player Luis Perdomo: "Perdomo is having a great year in Kinston. Last year here for us he was our best guy out of the bullpen, and he was our closer as well. He takes the ball everyday. His velocity consistently sits around 92 to 95 MPH. He is very interesting, and he has put together two good years now for our organization."

Stevens Closing In On Call To Big Leagues

Buffalo right-hander reliever Jeff Stevens' season did not get off to as good as a start as he would have liked. While he is now in Buffalo, many people thought he would start the season there after his breakout campaign in Kinston and Akron last year when he went 6-3 with a 2.81 ERA in 49 combined appearances out of the bullpen. Instead, Stevens returned to Akron to start the season
and his first few outings he was not throwing the ball well as in his first seven appearances he had a 5.40 ERA (11.2 IP, 7 ER) and allowed 14 hits, 2 walks, and had 15 strikeouts. Since then, however, Stevens has been sensational as in his last 18 games he has a 1.24 ERA (29 IP, 4 ER) and has allowed only 10 hits, 14 walks, and has 42 strikeouts.

Upon his callup to Buffalo on May 31st, Stevens moved right into the closers role and has adapted well going 5-for-5 so far in save opportunities. In those five save appearances, he has absolutely blown away the competition seven innings and allowing no earned runs, two hits, four walks, and piled up 12 strikeouts. Two of those five saves have also been two inning saves. Overall, in 25 combined appearances at Akron and Buffalo this year Stevens is 5-1 with 6 saves and a 2.43 ERA and hitters are only hitting .169 off him. He also has 57 strikeouts in 40.2 innings pitched.

The most impressive thing with Stevens so far as his strikeout rate continues to be well above a strikeout an inning. Last year he seemingly came out of nowhere to post an 11.02 K/9, and it was apparent his transition to a bullpen role helped him immensely. He now can rare back and fire his fastball in the 92-93 MPH range and sometimes top out at 94-95 MPH, and mix in some nasty secondary stuff. His curveball is a very good pitch, one Ross Atkins claimed has the drop of a "wiffle ball".

Stevens is on the verge of a callup to the big league team. But, before the Indians make the move they want to be sure it is in a role where he would be a part of the regular bullpen rotation. He is a prized pitching prospect, so to call him up and pitch every five to ten days in the role that a Rick Bauer or Scott Elarton currently do would make no sense. He would be better off pitching every second or third day in Buffalo and getting regular work. What the Indians need to do is make sure he would be part of a regular five man rotation in the bullpen, and if that happens he will be in Cleveland.

Stevens New Pitch

Stevens might have started the season in Buffalo and already been called up to Cleveland by now, but he just added a new pitch to his repertoire that the Indians wanted to see him grasp and become comfortable with before moving him to Buffalo and throwing him out there in a big league environment.


"I am working on a slider," said Stevens in a recent interview. "I have not thrown it a ton in games, and it has been okay. I have kind of just been easing into throwing it along with my fastball and curveball. It is something to play off my fastball because if a guy sees it breaking a little bit he may back off or he might spin off it and miss it by a little bit because of that break."

Stevens has limited experience with the pitch, as it was something he toyed around with in the past but never really stuck with.

"In college I kind of threw it a little bit, although it was more like a cutter," said Stevens. "Then I kind of scratched that and did not really throw it until Instructional League last season. I threw it a couple times in the Arizona Fall League and then with Team USA I scratched it because we were trying to win. Then once this season started up I didn't really throw it in spring training, but once I got [to Akron] I began working on it with [pitching coach] Tony Arnold. It is going pretty well I think. I am throwing it every day at least with flat ground drills and also in games."

The addition of the new pitch came down from the higher ups in the organization who wanted Stevens to have a breaking ball with a different look that was thrown a little harder. It will provide yet another pitch in his arsenal to attack hitters and make his fastball and curveball more effective.

"I think it is organizational because they kept me at instructs trying to throw it," said Stevens. "At one point or another they probably decided it is something that is a lot harder. It is less likely to miss the strike zone. Like a curveball if you throw a bad one it is a lot easier to miss the strike zone where if you throw a bad slider you still kind of keep it in the zone. I messed around with it for three or four days and I was like 'alright I am going to throw it in a game, let's do it'. I remember it was at home against Harrisburg and I threw a couple good ones, also a couple bad ones, but I am starting to get a pretty good feel for it."

Aeros and Indians Extend Agreement

On Monday, the Indians and Akron Aeros extended their player development contract through the 2012 season. The agreement between the two clubs was set to expire after this season, so the Indians extended the agreement the maximum length allowed of four years.


"This is obviously an exciting announcement, and it's one that we are happy to release publicly today," Aeros General Manager Jeff Auman said on Monday. "The Indians player development staff is filled with quality personnel, and they are a pleasure to work with on every issue we are faced with on a daily basis. We are extremely proud to have been an Indians affiliate for 20 years and we look forward to continuing our relationship for many more seasons to come."

The extension keeps together a marriage between Akron and Cleveland that originally started in 1989 when the Akron team was located in Canton. Indians Director of Player Development Ross Atkins is a former Akron player (1998 and 1999) and is excited about the extension.

"We could not be more excited about continuing our relationship with the Akron Aeros," said Atkins. "The chance for us to have first-class resources in Double-A just 40 miles south of Cleveland is a separator for us. With the upgrade of the playing surface and the professionalism of Jeff Auman's staff, we know our Double-A staff and players are in very good hands."

This is the second player development contract extension announced by the Indians this season. Earlier this month, the Indians and Kinston extended their agreement through the 2010 season. Next on the docket could be Mahoning Valley where the player development contract expires at the end of this season, although it is but a formality that the Indians will sign an extension with them. They are expected to talk about an extension and officially announce it soon, perhaps sometime in early July. Lake County is currently signed on through 2010.

The most popular topic this year has been the expiring agreement between the Indians and Buffalo. To date, it is still expected that the Indians will not renew their affiliation Buffalo. Buffalo wants to keep their agreement with the Indians, but it is a foregone conclusion that the Indians will sign on with Columbus this September as their new Triple-A home. Nothing on this front will change until September when teams are allowed to sign on with other cities.

Sipp and McBride Return

Left-handed reliever Tony Sipp and catcher Matt McBride are finally back in action after sitting out the first half of the season recovering from major injuries. The two players are both near the top of the Indians prospect lists, and had been in extended spring training working their way back.


Sipp is the headline stealer, as he is a legit major league ready arm who would have debuted with the Indians sometime last season if his elbow had not come up lame near the end of spring training. He ended up sitting out the season, had Tommy John surgery last July, and underwent a rigorous rehab the past 11 months and is back to near 100%. He is pain free and his velocity is about back to where it was before his injury. Still, he will be monitored closely in his rehab and be restricted in his use and the amount of pitches and innings he throws the next month or two. He probably will not be 100% back and ready to go until spring training next year, but for now it is good to see him out there pitching in games that count. In two appearances in the Gulf Coast League, Sipp has thrown two innings, allowed no runs, no hits, one walk and struckout three.

McBride is recovering from offseason surgery to his right shoulder. McBride spent all of spring training and most of the last two months rehabbing, and recently started participating in games in extended spring training. Right now, McBride is only hitting and has yet to get behind the plate in a game, but that should be coming soon if he progresses well the next week or two. In three games McBride is hitting .143 (1-for-7).

Once Sipp and McBride get the all clear, they are expected to quickly move onto one of the full-season rosters. McBride will likely be assigned to Lake County or Kinston, while Sipp would likely go to Kinston or Akron and then eventually finish the season in Buffalo.

Exciting Montero Is One To Watch

Lake County outfielder Lucas Montero is quietly having a very good season. Montero has shown some thunder in his bat, pounding a grand slam home run deep into the grassy knoll in left center on Tuesday night. He has also flashed some lightning on the bases, racking up 31 stolen bases so far this season, which is second in the South Atlantic League (SAL). On the season, Montero is
hitting .269 with 5 HR, 26 RBI and a .779 OPS.

Montero, 23, originally signed with the Indians in January of 2004 as an undrafted free agent out of the Dominican Republic. Last year he had two separated stints on the disabled list for an injury to his hand that limited him to only 37 games at Lake County. Montero worked hard in the offseason to get stronger physically, and so far it has paid off. He has an aggressive approach at the plate, and is at his best once he gets on base where his speed is a nuisance to pitchers. Montero is very athletic, and actually did not start playing baseball until he was 15 years old. He is still very raw, but the skills and tools are there, especially on the bases.

One thing the Indians really wanted Montero to improve on this season was not only his health, but also his defense. His speed covers up a lot of mistakes, but he has to become better at his route running to balls and getting better jumps, and to date he has taken some good strides in this area. He has also shown a much stronger throwing arm than in previous seasons.

Cabrera Back In Form



Well, that did not take long. The Indians optioned out infielder Asdrubal Cabrera to Triple-A Buffalo on June 9th, and did so with the idea to get him everyday at bats, gain some confidence at the plate, and make some adjustments that the organization handed down for him to work on while in Buffalo. He has 10 multi-hit games out of the 15 games he has played there, and put up three consecutive three-hit games from Monday through Tuesday this week. Overall, in those 15 games games, Cabrera is hitting a ridiculous .426 with 1 HR, 5 RBI and a .994 OPS.

One interesting thing to note is he has primarily played shortstop, having played 14 of his 15 games there. It looks very obvious that the Indians may be getting Cabrera ready to assume full time shortstop duties in Cleveland, which could mean one of two things for incumbent starting shortstop Jhonny Peralta. That being he either will be traded, or that he could be moved to third base. Given his youth and friendly contract, it is very likely the latter happens where he moves to third base sometime this season. This would mean Casey Blake would be dealt before the July 31st deadline.
Pitching Honors



Kinston Indians right-hander starter Carlton Smith was named the Carolina League Pitcher of the Week for the week ending June 22nd. For the week, in two starts Smith went 1-0 with a 0.75 ERA going 11 innings while giving up eight hits, one run, one walk and striking out six hitters. In his start last Tuesday 6/17, Smith threw seven shutout innings and struck out four for the win. He followed that start up with a good outing on Sunday where he went five innings and allowed one run on xx. On the season, Smith is now 5-4 with a 3.87 ERA in 15 starts.

While he did not win any awards, Buffalo lefthander David Huff was awesome on Saturday night going seven shutout innings and allowed just five hits (all singles), did not walk a batter and struck out nine. It was easily his best outing so far in Buffalo, and he is now 6-2 with a 2.18 ERA in 15 combined starts in Akron and Buffalo.

Graffanino, Rincon Signed to Minor League Deals

The Buffalo Shuttle continued to stay very active this week as on Tuesday the Indians announced the signing of infielder Tony Graffanino and right-handed reliever Juan Rincon to minor league contracts. Both players will be assigned to Buffalo in the next few days, which means another two players will be given their release or assigned elsewhere.

Graffanino, 35, owns a career Major League batting average of .267 (743-2787) with 144 doubles, 21 triples, 58 home runs and 302 RBI over 12 seasons with six different teams. In 2007, Graffanino hit .238 (55-231) with nine home runs and 30 RBI in 86 games for the Brewers before suffering a season-ending right knee injury in August. He underwent surgery in August for a torn meniscus and later in December for a torn ACL on the knee.

Rincon, 29, was recently released by the Minnesota Twins on June 12th after appearing in 24 games this year out of the bullpen where he went 2-2 with a 6.11 ERA in 28.0 innings of work (33H, 19ER, 16BB, 20K). During each season from 2004 to 2006 Rincon appeared in at least 70 games and recorded an ERA under 2.91. His 81 holds from 2004-07 were the second most in the American League over that four-year span.

Affiliate Notebook


Buffalo Notes (36-44, 4th place, 13.5 GB): On Thursday, catcher Chris Gimenez got a well deserved callup to Buffalo, and catcher Wyatt Toregas was reassigned from Buffalo to Akron. This is a move that should help both players as Gimenez needed to be challenged at a higher level (.339 AVG, 1.024 OPS in Akron) and Toregas needed to take a step back and regain his confidence (.219 AVG, .610 OPS in Buffalo). ... On Friday first baseman Michael Aubrey was activated from the disabled list. Aubrey is hitting .321 with 1 HR, 7 RBI and a .793 OPS in 21 games at Buffalo. To make room for Aubrey, infielder Chris De La Cruz was reassigned to Kinston; however, was recalled two days later to fill the roster spot left vacant after the Indians traded infielder Aaron Herr to the Cincinnati Reds for cash considerations. ... Buffalo's four game winning streak from June 17th to June 21st was their longest of the season. ... For those interested in seeing the progress of the new Huntington Park complex in Columbus, OH which almost certainly will be the Indians new home for their Triple-A affiliate, click here. ... Catcher Yamid Haad has been outrighted to Buffalo, although no official transaction has taken place. When Haad is activated, Armando Camacaro likely will be reassigned to Akron. ... First baseman Jordan Brown is hitting .273 with 1 HR, 21 RBI, and a .701 OPS. ... First baseman Ryan Mulhern is hitting .254 with 7 HR, 26 RBI, and a .756 OPS. ... Outfielder Brad Snyder is hitting .236 with 5 HR, 28 RBI, and a .690 OPS.


Akron Notes (46-31, 1st place, 2.5 GU): Outfielder Stephen Head has been swinging a hot bat of late. In a double-header sweep on Saturday, Head reached base all eight times he came to the plate in the two games going 4-for-4 with a home run in game one, and then in game two he doubled twice and drew a pair of walks. On the year Head is hitting .306 with 3 HR, 20 RBI and a .773 OPS in 46 games. ... Third baseman Wes Hodges has been even hotter than normal over the last three weeks while reaching base in 23 straight games, the longest active streak in the Eastern League and the third-longest for Akron this season behind shortstop Josh Rodriguez (27) and catcher Chris Gimenez (26). His 59 RBI on the year lead the Eastern League, and overall he is hitting .316 with 9 HR, 59 RBI and an .860 OPS. ... On Saturday, left-hander Kelvin De La Cruz was called up from Single-A Lake County to Akron to make a spot start in a double-header that night (5 IP, 4 R). To make room for him on the roster, outfielder Nathan Panther was placed on the disabled list with a strained left calf. When De la Cruz was sent back to Lake County, Panther was reactivated. ... Last Thursday, right-hander Steven Wright went 5.2 innings in his Double-A debut and allowed just one run on four hits. ... Right-handed reliever Scott Roehl has worked 7.2 consecutive scoreless innings, lowering his ERA by more than a run to 3.23. ... Akron's loss in the finale of their road trip on Sunday snapped their franchise record 11-game road winning streak. The previous high water mark was eight consecutive road wins which was set in 1992 when the team was in Canton. ... Akron trailed 9-3 going into the bottom of the fourth inning on Monday and came back to win. It was the fourth win in the month of June where they came back from a deficit of five or more to win.


Kinston Notes (5-1, 1st place, 1.0 GU, 40-35 overall): In the Carolina League vs. California League Single-A All Star game in Myrtle Beach, SC on Tuesday, infielder Niuman Romero walked in his only plate appearance and scored a run. Right-hander Josh Tomlin worked a perfect shutout inning and had one strikeout, and right-handed closer Luis Perdomo worked a third of an inning recording the final out of the game on a strikeout and earning the save. ... Super utility player Jerad Head has been much better in June. The 25-year has rebounded from a rough May when he hit .130 and is hitting .290 in June with an .807 OPS. He homered on June 18th for the first time since May 25th, and his .222 average is the highest it has been since May 11th. ... On Thursday, Kinston put up 13 runs on 10 hits and sent 18 men to the plate in the second inning, with the first 11 men reaching before an out was recorded. The inning was highlighted by a Jerad Head three-run triple and Jared Goedert grand slam home run to the deepest part of the park in left-center. ... On Saturday, right-hander Hector Rondon picked up his fifth win of the season and struck out a season high nine batters. Rondon was magnificent in going seven innings without giving up an earned run, and only allowed three hits and did not walk a batter. Rondon is now in second place in the Carolina League in strikeouts with 83, two behind the leader. On the season Rondon is now 5-3 with a 3.45 ERA in 15 starts and has 83 strikeouts in 75.2 innings pitched. ... First baseman Beau Mills is hitting .268 with 9 HR, 47 RBI and an .821 OPS. ... Right-handed closer Luis Perdomo is 3-1 with 18 saves and a 0.92 ERA. He has a 0.92 WHIP and 43 strikeouts in 39 innings pitched.



Lake County Notes (2-5, 7th place, 3.0 GB, 43-34 overall): On Saturday, right-hander Joey Mahalic put forth his best outing of the season going six innings, and allowing two hits and no walks while striking out a season high seven batters. He retired the first 12 men he faced. On the season the 19-year old is 4-2 with a 4.50 ERA in eight starts. ... Adam Davis is still progressing in his transition to catcher. He has one error and nine passed balls in 13 combined games at catcher in Kinston and Lake County. He has done a good job shutting down the running game, and is 9-for-22 (40.9%) in cutting down would be base-stealers in those games. On the season Davis is hitting .195 with 5 HR, 19 RBI and a .594 OPS in 47 games. ... Right-hander Paolo Espino was added to the roster on Saturday. Espino has battled some shoulder issues this year, and looks like he is back to full strength. He is expected to stay in Lake County for awhile, and pitch out of the bullpen. ... On Wednesday, first baseman Dustin Realini was placed on the disabled list and will be out four to six weeks from injuries sustained an accident after the game on Tuesday night (no details yet), and left-hander Kelvin De La Cruz was added to the roster from Akron. ... All-Star outfielder Roman Pena currently is in the midst of a 14-game hitting streak which is the longest of any Lake County player this season. Outfielder Matt Brown, whose 12-game hitting streak just ended on Monday, and first baseman Dustin Realini shared the previous high of 12 games. Pena is hitting .312 with 6 HR, 49 RBI and an .820 OPS n 73 games. ... Outfielder Matt Brown has reached base in 21 straight games. On the season Brown is hitting .291 with 4 HR, 42 RBI, and a .736 OPS. ... Outfielder Adam White leads the league in runs (57). On the season White is hitting .239 with 3 HR, 24 RBI, 22 stolen bases, and a .676 OPS.


Mahoning Valley Notes (5-4, 3rd place, 1.0 GB): Left-hander Kaimi Mead made his professional debut on Thursday going two innings and giving up three runs on four hits, a walk and three strikeouts. In his second start on Tuesday night Mead was much better going five shutout innings and allowed five hits, no walks and piled up five strikeouts in obtaining his first professional win. The Honolulu native was an 18th round pick of the Indians in the recently completed June Draft, and was the Pac West Conference Player of the Year at Hawaii Pacific where he went 7-1 with a 2.25 ERA. ... Right-hander Michael McGuire, who turns 22 on Sunday, has impressed early. The University of Delaware product is an astounding 6'7 tall and weighs 240 pounds. In three appearances out of the bullpen McGuire is 0-1 with a 3.60 ERA. He has held batters to an .059 batting average and struck out seven in five innings of work. He struggled in his second outing with his command, walking three, which has been his only real blemish early on. ... Outfielder Brock Simpson is off to a hot start, hitting .367 with 0 HR, 4 RBI and an .844 OPS in eight games. ... Catcher Doug Pickens is hitting .438 with 0 HR, 1 RBI and a 1.071 OPS in five games. ... 2008 1st round pick shortstop Lonnie Chisenhall is hitting .129 (4-for-31) with 0 HR, 1 RBI and a .367 OPS in seven games.

GCL Indians and Draft Notes (2-4, 5th place, 2.0 GB): Right-hander Danny Salazar was awesome in his stateside debut on Tuesday, going five shutout innings allowing four hits, one walk and striking out six. He was a guy I really, really was impressed with in spring training. He is only 18, and shows great composure and gets it in there. ... Shortstop Walter Diaz is hitting well at .429 (6-for-14) in four games. With guys like Mark Thompson and Matt Willard struggling in Lake County, since Diaz is a college guy and older he could be someone who moves up real soon to replace one of those two in Lake County. ... Right-hander Steve Smith, a 25th round pick this June, has signed and been assigned to the GCL squad. ... The Indians signed 24th round pick shortstop Kevin Fontanez. Fontanez just turned 18, and the Indians have assigned him to the GCL team. ... On Wednesday the Indians signed 11th round pick right-handed pitcher Matt Langwell from Rice University and 19th round pick first baseman Nate Recknagel from the University of Michigan. As of this writing, their assignment had not been disclosed.
Photos courtesy of Ken Carr, Carl Kline, Lake County Captains, Kinston Indians, Akron Aeros, and Buffalo Bisons.
User Comments
No comments currently. Be the first to comment!