Minor Happenings: Top Catchers Now In Kinston
"Minor Happenings" covers the important developments and news in the Indians farm system. While most of the information in this report is from my own research and through interviews I have conducted with organizational personnel, some information in this report is collected and summarized from the various news outlets that cover each team.

Hello from Myrtle Beach. I'm on the final leg of a two week trip along the East and Gulf Coast that has taken me to Winter Haven, FL to Clearwater, FL and now to Myrtle Beach, SC. The trip is part business to see the non-local Indians minor league affiliates the GCL Indians and Kinston Indians, but mostly pleasure to spend a lot of time with my family and recharge the batteries for the final two months of the minor league season. I plan to attend a game here in Myrtle Beach either tonight (Monday) or on Tuesday night to see Kinston in action and get some updates on players.

Also, please note, this will be an abbreviated Minor Happenings to cover some of the highlights from the last week. A more "full version" will post this Friday or Saturday to get everything back up to speed. Two-week family vacations "in-season" can certainly throw a monkey wrench into things, so I appreciate the patience from everyone. After the full version of Happenings posts this weekend, it should post as usual on Thursday or Friday every week without any delays until the end of September when the piece wraps up with the third installment of the Tony Awards.

As I mentioned last week, I was in Winter Haven and was able to see the GCL Indians play a few games and talk to several of the players and coaches. I had a chance to talk to manager Rouglas Odor, pitching coach Steve Lyons, outfielder Kevin Rucker, outfielder Bo Greenwell, left-hander T.J. McFarland, and left-hander Chris Jones at length during my visit. I'll have more on the GCL trip later this week in the "full version" of Happenings.

Also, for those wondering, I will NOT be attending tonight's USA/Canada exhibition game in Durham, NC. I really pushed for it, but in the end it was too much to drag my family to yet another destination and three hours out of our way.

Finally, just another reminder, there is a Minor Happenings radio show coming. Once I get home on Wednesday night this should start to be ironed out and I can dive into it a lot more and firm up the details. Be on the lookout for an update on when it will be aired in coming editions of Happenings.

Indians Minor League Player Of The Week
(for games from July 24th through July 30th)

Matt Brown (Outfielder - Lake County)
.526 AVG (10-for-19), 4 R, 3 2B, 2 HR, 10 RBI, 4 BB, 3 K

Single-A Lake County Captains outfielder Matt Brown had a great week to help carry the Captains to a few victories and get the
offense out of a month-long funk. In Last Sunday's win, Brown had the decisive blow when he cranked a grand slam home run that proved to be the difference in the game. After hitting .326 with an .835 OPS in April, Brown struggled in May (.219/.541) mostly because he was had a wrist injury which affected him, but once he was 100% again he was back to his old self hitting .319/.807 in June and .292/.845 in July.

Brown was the Indians 13th round pick in 2007 out of Wichita State. Coming out of college his biggest challenge was developing better plate discipline, and this season he has made big strides in that department by posting 30 walks but only 52 strikeouts in 364 at bats. Brown is an intriguing outfielder who offers a great package of overall tools headlined by good bat speed, raw power, and an incredible arm in the outfield.

Also, Brown was recently named the South Atlantic League Player of the Week for the week of July 20th through the 27th. In winning the award, Brown hit .400 (8-for-20) with 4 2B, 1 HR and 10 RBI. On the season, Brown is hitting .292 with 7 HR, 64 RBI, and a .769 OPS in 97 games.

Honorable Mentions:

Scott Lewis (LHP - Akron): 1-0, 0.69 ERA, 13 IP, 10 H, 1 ER, 2 BB, 13 K
Brad Snyder (OF - Buffalo): .478 AVG, 2 R, 5 2B, 2 3B, 1 HR, 8 RBI
Brock Simpson (1B - Mahoning Valley): .345 AVG, 5 R, 2 2B, 1 3B, 2 HR, 8 RBI
Jeremie Tice (3B - Mahoning Valley): .370 AVG, 7 R, 3 2B, 2 HR, 7 RBI
Abner Abreu (3B - GCL Indians): .258 AVG, 5 R, 3 2B, 1 3B, 3 HR, 9 RBI

Previous Winners:

7/17 to 7/23: Michael Aubrey (1B - Buffalo)
7/10 to 7/16: Niuman Romero (3B - Kinston)
7/3 to 7/9: Nick Weglarz (OF - Kinston)
6/26 to 7/2: Stephen Head (1B/OF - Akron)
6/19 to 6/25: Trevor Crowe (OF - Akron)
6/12 to 6/18: Chris Gimenez (C - Akron)
6/5 to 6/11: Jim Deters (RHP - Kinston)
5/29 to 6/4: Steven Wright (RHP - Kinston)
5/22 to 5/28: Chris Archer (RHP - Lake County)
5/15 to 5/21: David Huff (LHP - Akron)
5/8 to 5/14: Steven Wright (RHP - Kinston)
5/1 to 5/7: Jeremy Sowers (LHP - Buffalo)
4/24 to 4/30: Jose Constanza (OF - Akron)
4/17 to 4/23: Hector Rondon (RHP - Kinston)
4/10 to 4/16: Wes Hodges (3B - Akron)
4/3 to 4/9: Kelvin De La Cruz (LHP - Lake County)

New Catching Duo At Kinston

Talk about a major infusion of talent in less than a week at the catching position for advanced Single-A Kinston. Their catching situation went from a position of weakness to one of extreme strength after catcher Matt McBride was activated from his rehab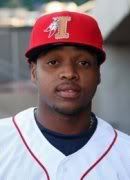 assignment in Winter Haven last Saturday, and then newly acquired Carlos Santana joined the team just a few days later.

Before being activated, McBride had spent most of the offseason and the entire first half of the season rehabbing in Winter Haven, FL from offseason labrum surgery. Prior to having the surgery McBride was slated to be Kinston's opening day catcher this year. To make room for McBride, catcher Alex Castillo was placed on the disabled list with a sprained knee. Santana is the big catching prospect the Indians were able to acquire from the Los Angeles Dodgers for veteran third baseman Casey Blake. When he was acquired by the Indians, he led all of minor league baseball with 96 RBI, and was hitting .324 with 14 home runs.

The most obvious question is how the playing time will be divided among these two high profile catching prospects who need to play everyday. The initial plan is to have Santana carry most of the catching workload since McBride is still being eased back into his regular catching duties. Santana will catch two to three games in a row before giving way to McBride to catch one game out of every three to four games. When Santana is catching, McBride will mostly serve as the designated hitter in games.

Crowe Soaring In Buffalo

Outfielder Trevor Crowe was moved up to Triple-A Buffalo on July 25th, and in the nine games since his callup he has reached base in every game and is hitting .286 with 4 HR, 7 RBI, 2 stolen bases, and a .967 OPS. The early highlight so far was Crowe's two home run game on Thursday when he homered from both sides of the plate in the same game. The last Buffalo player to hit a home

run both left and right-handed in the same game was Enrique Wilson on August 31, 1997. Crowe was also a double short of hitting for the cycle on Tuesday night when he went 3-for-5 at the plate with a single, triple, and home run. He had all three hits in his first three at bats and had two chances late in the game to accomplish the feat, but struck out in the seventh and ninth inning.

Crowe is very much a part of the Indians plans next year, and knowing that he could be on his way to Cleveland very soon. If Crowe continues to play well in Buffalo for another week or so, the Indians could very well deem him ready to come to Cleveland and "audition" for an outfield role on next year's team with the likes of Ben Francisco, Franklin Gutierrez and Shin-Soo Choo. Before such a move could take place, one of the outfielders in Cleveland would have to be traded or released as Choo and Gutierrez are out of options and David Dellucci is just wasting roster space at this point (just designate Dellucci already!).

The growing mass of fans picketing for outfielder Grady Sizemore to move down to the third spot in the order may finally get their wish once Crowe gets to Cleveland. If Crowe pans out, he is exactly the player they are looking for to supplant Sizemore from his leadoff perch into a run producing spot in the lineup. Crowe has excellent on-base skills, has some pop in his bat, good speed, and can play all three outfield positions. The Indians have often compared his abilities and playing style to Baltimore's Brian Roberts. Crowe will not leadoff initially when he breaks in with the Indians as they will ease him into that role, but he is someone they have high hopes for to fill that spot in the lineup as soon as the beginning of next season.

Bryson Goes Down

Lake County right-handed reliever Rob Bryson left the game last Sunday with discomfort in his elbow and shoulder. After an
examination on Monday and Tuesday, he was placed on the disabled list with inflammation in his throwing shoulder. Tests revealed that he has partial tears of both his labrum and rotator cuff that hopefully some downtime will heal. He is expected to be out for several weeks, but most likely his season is finished. Hopefully the injury was caught in time and the rest helps, because if surgery is needed Bryson will be out of action for a long time to where he would miss at least half of next season.

Bryson was one of four players the Indians received in the C.C. Sabathia trade four weeks ago. In six games at Lake County, Bryson was 0-1 with a 2.38 ERA. In 28 combined appearances between Lake County and West Virginia, Bryson is 3-3 with a 3.93 ERA and in 66.1 innings has allowed 49 hits, 26 walks and has 82 strikeouts. Left-hander Garrett Reick was called up from Mahoning Valley to take Bryson's spot on the Lake County roster.

Affiliate Notebook


Buffalo Notes (53-63, 5th place, 18.0 GB): Left-hander Zach Jackson was awesome last Sunday taking a no-hitter into the sixth inning and finishing the game by going six shutout innings and allowing two hits, no walks, and two strikeouts. As great as he was last Sunday, he was equally as awful on Friday as he lasted only 3.1 innings and was bombed for seven earned runs on ten hits, one walk and had four strikeouts. In seven appearances at Buffalo, Jackson is 2-1 with a 4.05 ERA. ... In three appearances since the Blake trade, right-hander John Meloan is 0-1 with a 1.93 ERA. In 4.2 innings he has allowed six hits, one walk, and punched out three. ... In two appearances since being acquired from the St. Louis Cardinals, right-hander Anthony Reyes is 2-0 with a 2.77 ERA. In 13 innings he has allowed ten hits, four walks and has eight strikeouts. ... Right-hander Jeff Stevens was placed on the temporary inactive list so he can take part in the Summer Olympics. In 34 combined appearances at Akron and Buffalo, Stevens was 5-3 with a 3.23 ERA and six saves. In 55.2 innings he has allowed just 36 hits, walked 25, and struck out 75 batters. ... First baseman Jordan Brown returned from the temporary inactive list on Saturday. Brown had been out so he could return home for the birth of his first child, Damon. Congratulations to the Brown family!


Akron Notes (68-47, 1st place, 1.5 GU): Outfielder Matt LaPorta was placed on the temporary inactive list so he can take part in the Summer Olympics, and filling his roster spot was outfielder Ryan Goleski who was recalled from a short stint in Kinston. LaPorta is not expected to return to the Indians until the last week of August, and when he does is almost certain to return to Akron where he will take part in their playoff run. ... Left-hander Scott Lewis has been sensational his last two outings (1-0, 0.69 ERA). On Wednesday he went six innings and allowed no earned runs on just five singles and a walk including a season-high eight strikeouts. Lewis has now gone six straight outings without allowing more than two earned runs, and he has worked at least six innings in his last five. On the season he is 5-2 with a 2.85 ERA in 11 starts. ... On Friday, Akron's all-time saves leader Randy Newsom returned from a short stay in Buffalo. The re-assignment had more to do with the Indians recent pitching acquisitions pushing Newsom back to Akron to ensure he gets regular work. To make room for Newsom on the active roster the Indians released right-hander Jim Deters.


Kinston Notes (25-17, 2nd place, 3.5 GB): There have been several noteworthy moves the past week in addition to McBride and Santana joining the roster. Of note, outfielder Nick Weglarz was put on the temporary inactive list so he can take part in the Summer Olympics, and outfielder Lucas Montero was called up from Lake County to fill his roster spot. Also, infielder Chris De La Cruz was traded to the Florida Marlins on Tuesday for cash considerations. ... Right-hander Carlton Smith left his last start on July 24th with triceps tenderness and his next scheduled start this past Tuesday was skipped. No word on his condition at the moment, but he has yet to be placed on the disabled list. ... Right-hander Hector Rondon is tied for the Carolina League lead with 10 wins. He is also 6th in ERA (3.60), 3rd in innings pitched (115.0), and 3rd in strikeouts (116).



Lake County Notes (19-24, 5th place, 10.0 GB): With outfielder Lucas Montero being called up to Kinston, first baseman Todd Martin was activated from his rehab assignment in Winter Haven from knee surgery. In five games at Lake County, Martin is hitting .294 with 3 HR, 6 RBI, and a 1.216 OPS. ... First baseman Dustin Realini has been cleared to return to action and is currently on a rehab assignment with Mahoning Valley. Realini is expected to be activated and called back to Lake County any day. Realini was hitting .285 with 4 HR and 32 RBI when he went on the disabled list on June 25th after suffering several broken bones around his right eye in a non-baseball accident. ... Left-hander Ryan Miller (7-6, 2.92 ERA) is still winless since May 18, a string of 12-straight winless starts after winning seven of his first eight starts. ... Left-hander Ryan Morris was sensational on Wednesday, throwing six shutout-hitless innings allowing one walk while striking out a season high eight batters. Morris is now 8-4 with a 3.66 ERA in 21 starts.


Mahoning Valley Notes (21-25, 5th place, 8.0 GB): Catcher Michael Valadez and infielder Cord Phelps made their Mahoning Valley debuts Sunday night. In his debut, Phelps was 2-for-4 at the plate with two RBI. ... Also on Sunday, infielder Walter Diaz was promoted to Triple-A Buffalo and catcher Doug Pickens was promoted to Single-A Lake County. ... Infielder Isaias Velasquez is 9th in the NY-Penn League in hitting (.317). ... Third baseman Jeremie Tice hit a home run to dead center estimated around 430 feet and one of the longest ever hit at Medlar Field at Lubrano Park. Tice is hitting .294 with 4 HR, 20 RBI and an .832 OPS.


GCL Indians (18-20, 4th place, 5.0 GB) and DSL Indians Notes (31-23, 5th place, 4.5 GB): Left-hander Chris Jones has looked very good on the mound his last two starts, going a total of 10.1 innings and allowing three runs on six hits, five walks, and ten strikeouts. I had a chance to talk to Jones and will have a feature piece on him sometime this month, and pitching coach Steve Lyons shared some thoughts on him which will be a part of an upcoming "Coaches Corner" this month. ... Third baseman Abner Abreu continues to tear it up and is hitting .296 with 7 HR, 27 RBI, and a .938 OPS in 34 games. Manager Rouglas Odor shared some thoughts on him, which should also appear in an upcoming installment of the "Coaches Corner". ... In the DSL, in our weekly "Kelvin Diaz Watch", the third baseman is hitting .317 with 5 HR, 42 RBI, and a .906 OPS in 48 games. Someday maybe his VISA issues will FINALLY be resolved so we can get this guy stateside and see what he is all about.

All photos courtesy of Carl Kline, Mahoning Valley Scrappers, Lake County Captains, Kinston Indians, Akron Aeros, Buffalo Bisons, and Cleveland Indians.
User Comments
No comments currently. Be the first to comment!