Minor Happenings: White In The Fold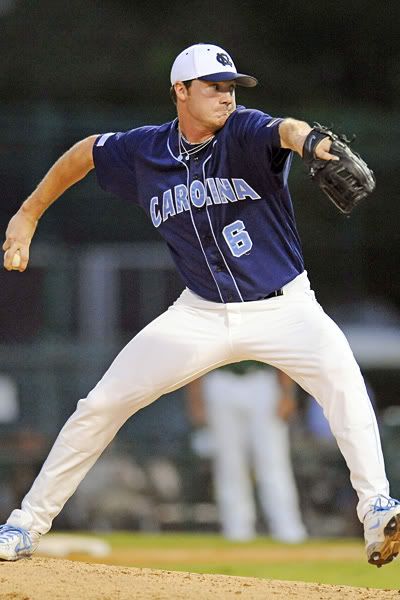 "Minor Happenings" covers the important developments and news in the Indians farm system. While most of the information in this report is from my own research and through interviews I have conducted with organizational personnel, some information in this report is collected and summarized from the various news outlets that cover each team.
I'm out in Wilmington, DE at the moment to see Indians High-A affiliate Kinston in action. Upon returning, I should have all sorts of nuggets to share on some of the Kinston players as the season wraps up. I have to say, having now been to almost every ballpark in the Carolina League that Wilmington's ballpark and surroundings is clearly the best. The field is top notch for a Single-A ballpark and the area around it has so much to see and do. I'll definitely be back here next year. The best part is Atlantic City is only a little over an hour away.;)
Anyway, I wrote a few player pieced this past week on Ryan Morris, Russell Young and Jason Knapp. Also, Paul Cousineau and I hosted our weekly radio program Smoke Signals this past Thursday and recapped all the July trades and how all those players are doing to date.
Onto the Happenings...
Indians Minor League Player Of The Week
(for games from August 13 through August 19)
Eric Berger (Left-handed Pitcher - Akron)
1-0, 2 games, 1.50 ERA, 12.0 IP, 3 H, 2 ER, 5 BB, 11 K
After a rough Double-A debut on August 7th where Berger went 5.2 innings but gave up 13 hits and five earned runs, he has since settled in has put forth two of his best outings in his professional career to date. On August 13th in 6.0 innings of work he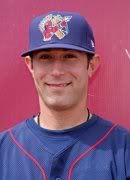 allowed two hits, two runs, three walks and four hits. But his last outing on Wednesday night was fantastic as he flirted with a no-hitter through 5.2 innings before eventually allowing a hit. The infield single he allowed in the sixth not only ended the no-hitter but also broke a string of 11.2 consecutive hitless innings. He has now allowed just one hit to the last 42 batters he has faced. In all he went six innings and finished by allowing just one hit, no runs, two walks and had seven strikeouts, and on the season in 24 combined starts with High-A Kinston and Akron is 8-9 with a 2.60 ERA.
The Indians also got a couple of other very notable performances in the system this past week from Low-A Lake County outfielder Donnie Webb and left-handed starter T.J. McFarland. Webb has proven to be streaky this year, but when he gets on a tear he has shown an ability to stuff a stat sheet. His recent surge this week has him now hitting .276 with 7 HR, 51 RBI, 34 stolen bases and a .747 OPS in 111 games for Lake County. McFarland has been steady all year and is now 7-4 with a 3.64 ERA in 22 games (20 starts).
Honorable Mentions:
Stephen Head (OF - Columbus): .345 AVG (10-29), 6 R, 2 2B, 0 3B, 3 HR, 5 RBI, 0 BB, 3 K
Lou Marson (C - Columbus): .412 AVG (7-17), 4 R, 2 2B, 0 3B, 1 HR, 5 RBI, 2 BB, 3 K
Tim Fedroff (OF - Kinston): .333 AVG (9-27), 5 R, 4 2B, 1 3B, 0 HR, 8 RBI, 5 BB, 7K
T.J. McFarland (LHP - Lake County): 1-0, 2 games, 0.77 ERA, 11.2 IP, 8 H, 1 ER, 2 BB, 6 K
Nate Recknagel (1B - Lake County): .471 AVG (8-17), 5 R, 4 2B, 0 3B, 0 HR, 6 RBI, 7 BB, 2 K
Donnie Webb (OF - Lake County): .571 AVG (12-21), 4 R, 1 2B, 0 3B, 2 HR, 8 RBI, 0 BB, 3 K
Brett Brach (RHP - Mahoning Valley): 1-0, 2 games, 0.87 ERA, 10.1 IP, 8 H, 1 ER, 4 BB, 5 K
Previous Winners:
08/06 to 08/12: Clayton Cook (RHP - Mahoning Valley)
07/30 to 08/05: Tim Fedroff (OF - Kinston)
07/23 to 07/29: Carlos Santana (C - Akron)
07/16 to 07/22: Nate Recknagel (1B - Lake County)
07/09 to 07/15: Matt McBride (OF - Akron)
07/02 to 07/08: Marty Popham (RHP - Mahoning Valley)
06/25 to 07/01: Andy Marte (3B - Columbus)
06/18 to 06/24: Nick Weglarz (OF - Akron)
06/11 to 06/17: Trey Haley (RHP - (Lake County)
06/04 to 06/10: Michael Brantley (OF - Columbus)
05/28 to 06/03: Donnie Webb (OF - Lake County)
05/21 to 05/27: Jordan Brown (1B/OF - Columbus)
05/14 to 05/20: Paolo Espino (RHP - Kinston)
05/07 to 05/13: Lonnie Chisenhall (3B - Kinston)
04/30 to 05/06: Nick Weglarz (OF - Akron)
04/23 to 04/29: Matt McBride (1B - Kinston)
04/16 to 04/22: Eric Berger (LHP - Kinston)
04/08 to 04/15: Kelvin De La Cruz (LHP - Kinston)
Director's Cuts
Indians Farm Director Ross Atkins chimes in this week on how they view this time of the year with the season wrapping up and playoff races in full gear. With playoff races keeping most his players occupied, he talks about how they value the playoff atmosphere at the minor league level:
On the importance of the playoffs: "There is no question that all year we focus on the individual and their development. I work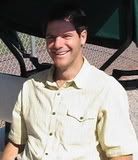 hard to keep our managers focused on that. It is their instinct to drive to win. It is their instinct to think about the team as we were all raised that way and to believe it is all about the team. So it is my job to keep them focused on individuals and what is best for them and their progress. And now at this point in the season we can start to let them focus a little bit more on the winning aspect of things and have some fun with it. The teams have worked hard and the managers worked hard to keep their guys focused, and now that they look up at the end of the year and because they have focused on the right things their team has played well and executed well and they are in the mix. That is very rewarding for the managers and the players there to create some excitement and energy around every game, which at this point in the year is very valuable."
On players maintaining their focus: "It is exceptionally valuable. It is amazing how much the focus of a player changes at this point of the season. He is thinking about his offseason, am I going to be a September callup, or the younger player is thinking 'my gosh I have never played this much in my life I have already played 125 games consecutively and I have another 20 or 30 to go'. So now they are thinking about what I am doing this offseason and what are my plans for the future and they are not as focused on that 94 MPH sinker or the 82 MPH slider. We have to work hard to keep our guys focused. And a playoff run has value when each game has significance and there is a little bit more energy in the clubhouse and a little bit more pep to their step when they are physically in the dog days of August, 125-130 games in, and it is 90 degrees outside. It's a challenge. Our managers do an incredible job of keeping guys focused."
On whether a view can be changed on a player these last few weeks: "Absolutely. It is not so much in how they would change our perception and instead would be where do we need to further help this individual. If they start to lose their focus, if they start to lose that drive, if that routine starts to change, and if we start to see them take small steps in the wrong direction. We factor that in, we address it immediately and remind them. Joel Skinner said it all the time in my minor league days that if you got one foot on the plane you my as well put both on them. He is referring to that plane ride home and in the minor leagues we don't have plane rides. So it is an important time for us to keep guys focused and yes absolutely we are watching to see how tough guys are."
White In The Fold
The Indians went down to the last possible second to ink a deal with 2009 1st round pick right-hander Alex White out of North Carolina. The signing deadline for White and every other player eligible to return to school was August 17th at midnight, and the

Indians like nine other teams with unsigned first round picks taken in the Top 15 literally took it down to the last possible minute. He was actually in Cleveland two weeks ago to have a physical, so it allowed the Indians and his agent to talk deal right down to the wire. In the end, Indians Assistant GM Chris Antonetti and White's agent Keith Grunewald agreed on a deal that would pay White a $2.25 million bonus with just a few minutes to spare.
White's signing bonus was above slot for what the Commissioner's Office recommended at the #15 spot in the first round ($1.55 million), though that was expected to happen all along. In fact, while the drama was unfolding as the minutes ticked off the clock to the signing deadline, there was never any doubt he would be an Indian. Both sides pretty much wanted to get a deal done, just all that was going on was typical agent-team drama where the agent tried to get more and the Indians tried to sign him for less. Eventually, as expected, when the midnight hour came calling the Indians bumped their offer and the two sides came to an agreement. It may have looked like the Indians got him in just the nick of time based on when he signed, but it wasn't as close a shave as it looks.
White should be on a noticeably fast development track with the Indians. He will not pitch this year because he signed so late, and part of the reason he signed so late is because the Indians had no interest in getting him in here sooner because he would not have pitched anyway with all the innings he logged at North Carolina this year. He has joined up with Double-A Akron and is on a return to throw program to build his arm strength back up so he can go to Instructional League to get acquainted with the organization and begin his first exposure to pro ball. There is even the possibility he could play some fall/winter ball somewhere this offseason. When next spring rolls around and the 2010 season gets underway, he will be in big league camp during spring training before going to minor league camp about halfway through, and is expected to be in the High-A Kinston starting rotation at the outset of the season.
At North Carolina this past season in 16 starts White went 8-4 with a 3.87 ERA piling up 121 strikeouts and walking 44 in 107 innings. He is very versatile as he has experience as a starter or reliever, and even though many in the Indians organization view him down the road as a late inning major league reliever, for the time being they will put him in the starting rotation in order to keep that option open for him. By starting him he would get regular work in games and in side sessions, and have more opportunities to be exposed to various game situations and to use all and develop all of his pitches regularly in an outing.
White has unbelievable makeup and composure, which to go along with his mid-90s fastball, devastating splitter, and wipeout slider is why the Indians feel he has a chance to be so successful as a reliever down the road. Still, with three pitches of that quality, you have to start him and that is what the Indians are going to do. A move to the bullpen at this point will only be as a fallback option.
The addition of White to the Indians farm system adds yet another high level power-armed pitching prospect that they did not have three months ago. With the infusion of so much talent via trades in July and now first-rounder White, the Indians upper level pitching landscape has changed dramatically in just a short amount of time. The Indians needed arms, be it starters or relievers, left-handers or right-handers. If he performs as expected, the 2010 season could be one where he flies through the system and finishes at Double-A Akron or even potentially Triple-A Columbus. There is no rush on White at this time and no reason to push him to the big leagues next year unless the Indians were somehow contending and White was progressing very well, so his ETA in Cleveland should be sometime in 2011 if all goes well.
Coaches Corner: Mike Sarbaugh
I recently had a chance to sit down and talk with Double-A Akron Manager Mike Sarbaugh about a few of his players, and this is what he had to say:
On Beau Mills: "I think at the start of the year Beau was putting a lot of pressure on himself with the year he had last year in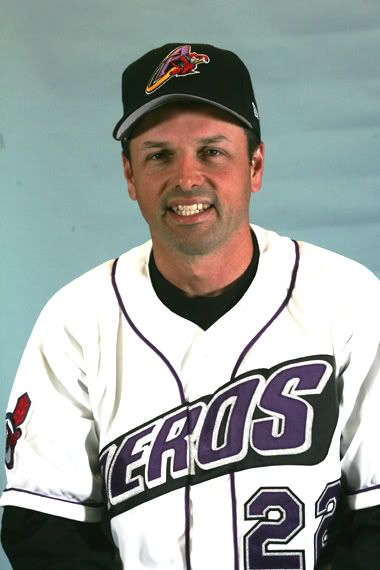 Kinston, getting to Double-A, and being closer to Cleveland. We had some other guys who did that too. I think for him he just tried to do a little bit too much and it took him a little while to settle in. He has been pretty consistent all year long. The one thing is he has been using the whole field of late and that is why his numbers are starting to pick up. He is looking to have more power numbers and got into a little bit of a pull mode. His strength is definitely using the whole field as he can leave the ballpark anywhere. So I think he has kind of settled in and is swinging the bat better for us."
On Carlos Santana: "I think he has really gotten better since the start of the season. I have been very happy with his defense behind the plate. You knew coming in he had the plus arm, but just the way his receiving has really improved and the way he is blocking balls. He has been real good handling a staff and calling a game, so I really like where he is defensively right now."
On Jeanmar Gomez: "His fastball command is real good. The one thing when he was going through his stretch when he had the perfect game and even the start before when he went eight innings in a shutout is his slider was really good. He had hard depth on it. The one thing about Jeanmar is some nights when he does not have his best stuff it is usually that one inning where he will give up three or four runs but he still gets you six innings. I told him sometimes when you don't have your best stuff and you can go out and compete and go late into the ballgame that means something. He has done a real good job with that."
On Vinnie Pestano: "The one thing is having him in the backend of the bullpen you always feel good when he comes into the game. He had a stretch at the beginning of the season where he was lights out. Then one night he came in after giving up a couple runs and was down, and I remember telling him 'hey Vinnie, you are human'. The one thing about Vinnie is he throws strikes and late in the ballgame that is important. It's just the command of his fastball and mixing in his breaking ball. Never having seen him before, I saw him in spring training but sometimes when you see guys in spring training it is tough to judge guys in that atmosphere and environment. He has done exactly what I saw in spring training, and he really impressed myself."
On Carlton Smith: "Yeah, he has [looked as good as his stats show]. Carlton has been very consistent. He has had it where he has gone out there for three innings for us. He is pretty durable. The one thing I like about him is he has such good life and movement on his fastball and has a good mentality and goes right after hitters. Especially coming being a guy who was starting and the first time in the bullpen, you are not real sure about the adjustment period but he has really taken to it. He has been very consistent. I thought it was great and very deserving getting that opportunity going to the All Star game with what he has done this year. I think he has a good future ahead of him."
On Steven Wright: "He is a consistent strike-thrower, has good command of his fastball, and just knows how to pitch. He has been a real important part of our bullpen."
On Matt Meyer: "I think he has more of an idea of what he wants to do on the mound and how to attack hitters. I remember back in Kinston [ in 2007] he would come in against a left-hander or whatever the situation was and I didn't think he really knew how he wanted to attack the guy. Now since he has been here I see a difference in his mentality and how he wants to attack hitters and I think that is the biggest difference from a couple years ago. He has done a good job since he has been here. He is still developing, and I think with him being a left-hander and an ability to attack left-handers, I definitely see more of a plan out there from him. The big thing for Matt is to just be sure he stays in the zone because he has good life on his fastball."
Carrasco Dominates
Triple-A Columbus right-handed starter Carlos Carrasco seems to have taken it to heart when people kind of overlooked him as the biggest prize in the Cliff Lee deal a few weeks back. At least that is how it is looking based on his performance since

joining the Indians organization.
In five starts, Carrasco is now 4-1 with a 3.57 ERA for Columbus. He has pitched into the seventh inning in each of his last four starts, and into the eighth inning in three of his starts. In his 35.1 innings with Columbus he has allowed 27 hits, six walks, and has 33 strikeouts. Prior to joining the Indians, in 20 starts for the Phillies affiliate Lehigh Valley he did not pitch into the eighth inning in a single outing, yet in three of his five starts with Columbus he has done so. He is seemingly getting stronger and better with each outing, and his confidence may be at an all time high. With his performance to date, the Indians and fans right now are seeing exactly what made him a Top 50 prospect in all of baseball coming into this year.
We also may have seen Carrasco evolve in the short amount of time he has been with the Indians. When the Indians acquired him, he came with a bad wrap as a pitcher who often had one inning meltdowns where he lost his focus and was "soft" and unable to battle and get himself out of jams. He lived up to this billing in his second start on August 6th when he had allowed just one run and two hits through seven innings, but proceeded to blow up in the eighth and allow four runs. However, in his two follow up starts after that he went into the eighth inning and cruised before having to be lifted due to pitch count and not because he ran into trouble.
Carrasco has had outstanding command of his fastball since joining the Indians and his secondary stuff has been very effective. He has shown no sign of wear in the late innings as his fastball has consistently been hitting 95 MPH in the eighth inning. With the announcement that the Indians will be backing off left-hander David Huff's innings and not letting him exceed 160-170 innings, it looks like it is not only a way to lessen Huff's exposure to a high inning workload this year but also a way to get a guy like Carrasco into the rotation for a start or two in September. Either way, he is expected to be a callup sometime in September and could make a handful of starts in Cleveland.
Infirmary Report
- Right-hander Adam Miller is recovering well from the recent second surgery on his right middle (long) finger. Assuming all goes well, the recovery process is expected to take about 8 to 12 weeks before he can start any kind of throwing program and throw a baseball for the first time since this past spring. At this point it is way too early to determine if he will ever pitch again, and more on that front won't really be known until he starts to throw for the first time this winter, likely sometime in late-November. Right now he is doing strengthening exercises on the finger to help with the buildup of scar tissue and also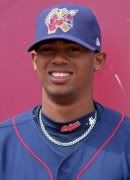 relearning the motor skills in the muscles in the finger, such as making a fist and holding it or picking up small delicate objects. The hope is he will be ready to go in the spring, but even if that is the case he likely won't factor into the big league equation and will probably start the year on the disabled list as he continues his rehab.
- Left-hander Kelvin De La Cruz is on the comeback trail from a left elbow strain. He is on a rehab assignment and made his first official appearance in a game earlier this week for the Arizona League Indians going one inning and allowing three hits, two runs, two walks, and had one strikeout. This is good to see as he had been expected to return for awhile since he has been throwing and rehabbing at the Indians new player development complex. He will continue to be ramped up, and if things go well he could join really any of Kinston, Lake County, or Mahoning Valley for a start or two before the end of the season. He will likely return to Goodyear to participate in Instructional League. If he is healthy and has no setbacks after Instructional League, he could possibly pitch somewhere in fall/winter ball.
- Right-hander Rob Bryson is another guy still on the comeback trail. He made a few outings in late July as expected for the AZL Indians, but has not pitched since. Just to make it clear, his shoulder is great and there was no setback with it, but he has a tender elbow from the throwing he has done after such a long shutdown. This is expected when not throwing for so long, and so he was backed off some from his throwing. He just recently started throwing again and he was actually supposed to make his full season debut this weekend in Wilmington with High-A Kinston, but he suffered another setback with his arm. He will participate in Instructional League this offseason and could be in line for fall/winter ball action to make up some innings.
- Triple-A Columbus infielder Jason Donald continues to be sidelined by a back strain and was officially placed on the disabled list on Thursday. He has been out of the lineup since August 13th, and there is no idea at this point in time how much longer he may be out because his back is still tight. In ten games with Columbus he is hitting .257 with 1 HR, 1 RBI and a .750 OPS.
- Triple-A Columbus first baseman and outfielder Jordan Brown should be activated soon. He has been on the disabled list since August 8th with a shoulder injury and it is feeling much better, and just took live batting practice on Friday. In 97 games with Columbus he is hitting .331 with 12 HR, 58 RBI and a .902 OPS.
- Triple-A Columbus outfielder Michael Brantley has not played since August 13th because of a right ankle sprain suffered from sliding into third base. He had an MRI a few days ago, though was only a precautionary measure to determine the true extent of the injury. The results showed no structural damage, and he is good to go and expected back in the lineup possibly today (Saturday). In 107 games for Columbus he is hitting .260 with 5 HR, 32 RBI and a .685 OPS.
- Double-A Akron outfielder Nick Weglarz was put on the disabled list earlier this week with shin splints. The shin splints came about a month back when he was dealing with a sore back. No question he has not been healthy the past month, and it showed in his performance hitting .217 in July and .100 in August. He is expected to be out for about two weeks and could return in time for the Eastern League playoffs which begin on Wednesday September 9th. In 105 games for Akron he is hitting .227 with 16 HR, 65 RBI and a .808 OPS.
- High-A Kinston right-handed pitcher Alexander Perez is set to return to the starting rotation tonight (Saturday) after a three week shutdown because of a sore shoulder. He is scheduled to throw only three innings and then right-hander Bryce Stowell will piggyback him. In 20 combined starts between Kinston and Low-A Lake County he is 6-6 with a 3.04 ERA (106.2 IP, 94 H, 30 BB, 96 K).
Wondrous Wagner
Power armed right-handed reliever Neil Wagner has had a very dominant stretch of baseball for Double-A Akron in the second

half of the season. At the All Star break, his numbers in 29 games were solid as he was 0-2 with a 4.30 ERA and in 37.2 innings had allowed 36 hits, 24 walks and had 35 strikeouts. Putting up a strikeout an inning was a good sign, but the 24 walks in just 37.2 innings (5.7 BB/9) was something to be concerned about.
Since the All Star break Wagner has been cruising and dominant where in 11 games he is 0-1 with a 0.61 ERA and gone 15.0 innings allowing seven hits, seven walks, and piling up 20 strikeouts. The numbers look awesome, but the walks are still there as he has seven in 15.0 innings (4.2 BB/9). Still it is a significant improvement in his walk percentage compared to the first half, and it also shows how dominant he could be if he were to ever improve his fastball command and throw more consistent strikes.
Wagner, 25, was a 21st round pick by the Indians in the 2005 Draft out of North Dakota State. It all boils down to confidence for him and being able to command his fastball. If he can throw strikes with his fastball, his slider and split-changeup play up and are much more effective. Even on their own his secondary stuff is solid as both pitches have seen some improvement in the past year. He has been groomed as a reliever from the get go, being developed to handle virtually any role in the bullpen, and has taken a good step to potentially starting next season in Triple-A Columbus or being picked up by another team this offseason in the Rule 5 Draft.
Lewis On The Mend...Again
It's been a long season for left-hander Scott Lewis. When the 2009 season began he had visions of earning a spot on the Indians opening day roster. As spring training carried on he was effective early, won a spot on the team, but as soon as that announcement was made his performance dropped considerably in his last few spring outings.

Lewis was the starting pitcher for the Indians home opener, but was ineffective in what to date has proved to be his lone start at the big league level this year. Shortly after that game he was placed on the disabled list and has missed almost the entire season with a sore left forearm. Since then it has been a season full of visits to the trainer's room for treatment and long days of rehab out in Goodyear, AZ. A few times this year he looked to be ready to come back, but when he went out to begin a throwing program or pitch in a rehab outing he had a setback.
With the season winding down and about six weeks from wrapping up, if Lewis has any visions of pitching this season or keeping his name in the hopper as a starting pitching option in 2010, he knows he is at the point he is more or less going to have to learn to pitch with pain. He reportedly is still not 100% as there is still pain in the forearm, but it is at the point with him that he may need to throw through it and see if it helps strengthen his arm, or if he ultimately needs to be shutdown.
The injury supposedly is not in the elbow - the same elbow he had Tommy John surgery performed in 2003 while at Ohio State - and is instead further up in his arm toward his bicep. It has been frustrating for Lewis since when he has been healthy he has proven to be a very productive pitcher the past few years, and this latest injury robbed him of a spot in the Indians starting rotation. If he can't pitch through the pain he will just have to shut it down and go into the offseason with a plan to come back 100% and ready to go in the spring.
A Forgettable Year For Rodriguez, Head
When it comes to injuries, several players in the Indians system have had a season to forget. Two players most affected by injuries in the higher levels of the Indians farm system are Triple-A Columbus outfielder Stephen Head and Double-A Akron infielder Josh Rodriguez.

Rodriguez recently rejoined Akron this past week after recovering from a severe right hamstring injury that robbed him of 101 games this year. Earlier in the season he was off to a good start through 18 games with Akron hitting .314 and was leading the Eastern League with a .478 on-base percentage. When he strained the hamstring on April 29th running the bases no one thought it would be almost four months until he returned, but that is exactly what happened. He was scheduled to come back a few times, but each time he tried to come back he had a setback, and instead ended up spending a good chunk of the season out in Goodyear rehabbing. Now back with Akron, he is being ramped back up for regular game duty playing a few innings a night, and should be cleared to play without restrictions after this weekend. He is hitless in eight at bats with five strikeouts since rejoining Akron.
For Head it has been a year where he has literally awoke every morning with a stiff and painful right knee that he has learned to cope with. The knee was originally hurt at the outset of Cactus League play in spring training when he banged it into the outfield wall. It initially led to him being sidelined for most of the rest of spring training and missing large chunks of the first half of the season. He has some strained tendons in the knee, but being so close to a potential major league opportunity he knows he needs to play in order to stay relevant with the Indians or another team who may be interested in him this offseason. By playing on the injured knee it has not allowed the inflammation to subside, but that is just something he is dealing with as we come down the home stretch and the final two weeks of the season. He's actually been hitting well of late despite the knee issue, and to date is hitting .244 with 7 HR, 27 RBI and a .667 OPS in 60 games this year.
Rebounding Rivero
Double-A Akron shortstop Carlos Rivero is having a solid finish to his 2009 season. After a largely forgettable first 64 games to the season where through June 25th he was hitting .196 with 1 HR and 22 RBI, he has since come on and is hitting .291 with 6

HR and 24 RBI in 50 games since that date. Overall on the season in 114 games he is hitting .236 with 7 HR, 47 RBI and a .654 OPS. His improved hitting in the last two months is mostly the result from a lot of work in the cages with Akron Hitting Coach Lee May Jr. The work has paid off as his bat path has been much more consistent and he is attacking pitches much better in not letting them go too deep in the zone.
His second half surge should be of no surprise, as this is exactly what he did last year at High-A Kinston when he hit .263 with 1 HR, 25 RBI and a .653 OPS in the first half, and then in the second half hit .300 with 7 HR, 39 RBI and a .845 OPS. Even though he has had a season of two distinct halves offensively, he still continues to play consistent, excellent defense at shortstop. His .970 fielding percentage leads the Eastern League at his position. He is still only 21 years old, so the projection is still there. Even still, he likely will repeat at Double-A to start the season next year, and even though he is a very valued prospect his stock has taken a little bit of a hit this year.
Affiliate Notebook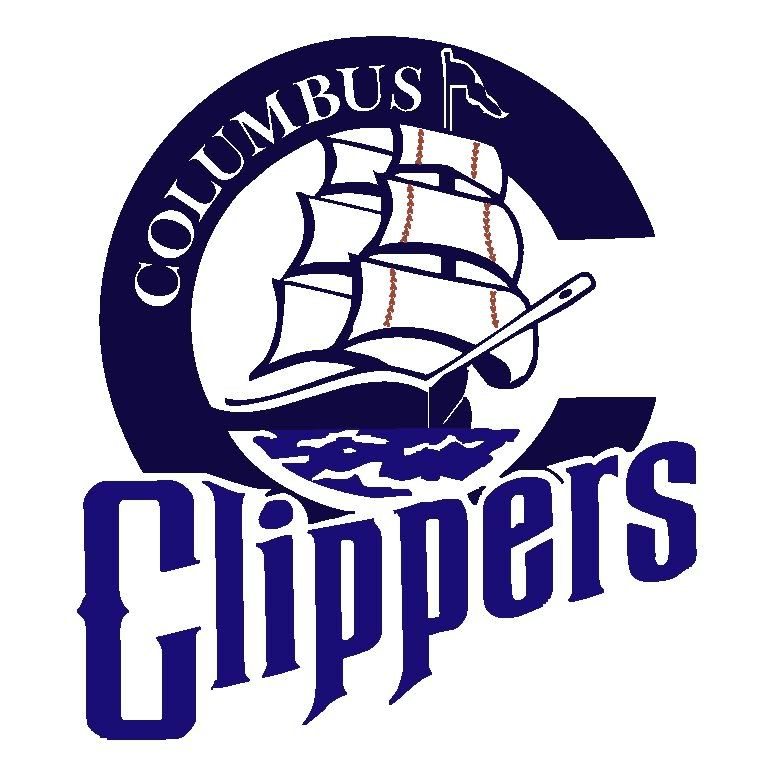 Columbus Notes (51-74, 4th place, 21.5 GB): Former Indians farmhand and Columbus first baseman Michael Aubrey was called up on Tuesday to Baltimore. In two games he is 2-for-6 with a double. ... Left-handed pitcher Bobby Livingston went home to Missouri this past week for the birth of his first child. He has since returned to Columbus, but will remain on the inactive list until a spot on roster opens up for a pitcher. ... When outfielder Matt LaPorta was called up on Wednesday to Cleveland, the Indians sent High-A Kinston outfielder Ryan Blair to replace his spot on the roster. ... On Monday catcher Lou Marson raised his average up over .300 for the first time since July 23rd with a 2-for-4 effort on Monday. He is hitting .340 (18-for-53) with five multi-hit games since joining Columbus. He has raised his average 101 points to .303 since June 4th, hitting .359 (61-for-170) with 18 multi-hit games over that stretch with Lehigh Valley and Columbus. ... The Clippers broke the franchise record for regular season attendance on Thursday night (584,010, 1990), as a crowd of 9,002 upped the season total to 588,559. Columbus currently leads all of minor league baseball with an average of 9,493 fans per game. Keeping up the current pace over the last eight games, Huntington Park will see over 664,000 fans in its first year as the home of the Clippers,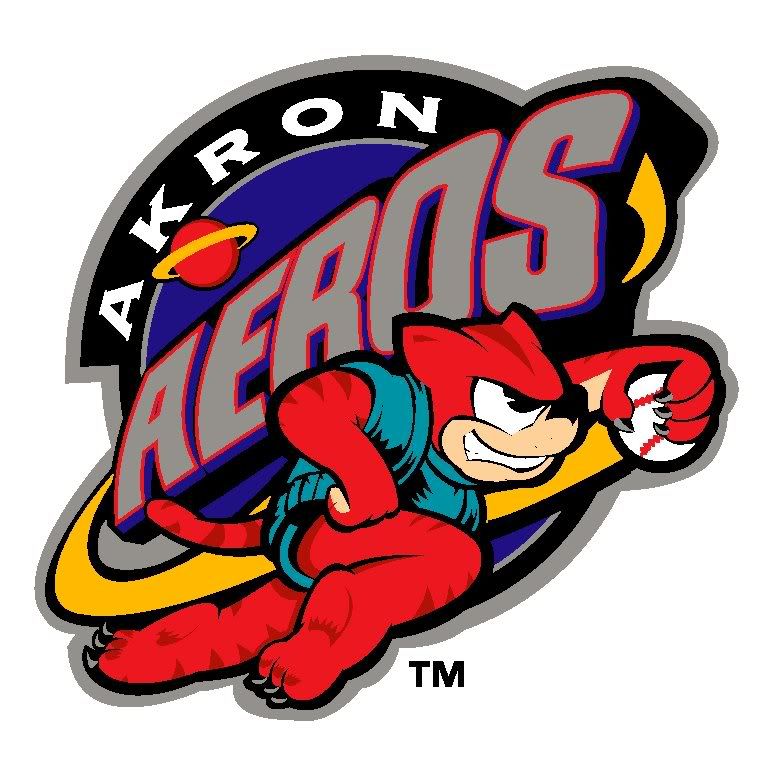 Akron Notes (77-47, 1st place, 9.5 GU): Akron is all but in the playoffs as their magic number to clinch the division is now down to ten. Their magic number to clinch a playoff spot is seven. ... Right-hander Josh Tomlin continues to put forth quality outing after quality outing. In 23 starts this year he is now 12-8 with a 4.10 ERA (129.2 IP, 137 H, 22 BB, 106 K). ... On Friday night right-hander Connor Graham had his best outing as an Indian going seven innings allowing just one run on five hits, no walks, and had six strikeouts. In fives outings with Akron so far he is 1-2 with a 4.07 ERA (24.1 IP, 20 H, 13 BB, 25 K). ... Left-handed starter Scott Barnes has been solid in his first two Double-A outings going 1-0 with a 4.35 ERA. ... Right-handed reliever Erik Stiller has had a very good year in the Akron pen, and in 36 appearances on the year he is 7-3 with a 3.19 ERA. Those overall include an awful outing as a starter which greatly inflate his numbers, as in 31 appearances as a reliever he is 7-0 with a 2.05 ERA (48.1 IP, 34 H, 20 BB, 50 K). ... Third baseman Lonnie Chisenhall is hitting .190 with 2 HR, 7 RBI and a .644 OPS in 11 games with Akron.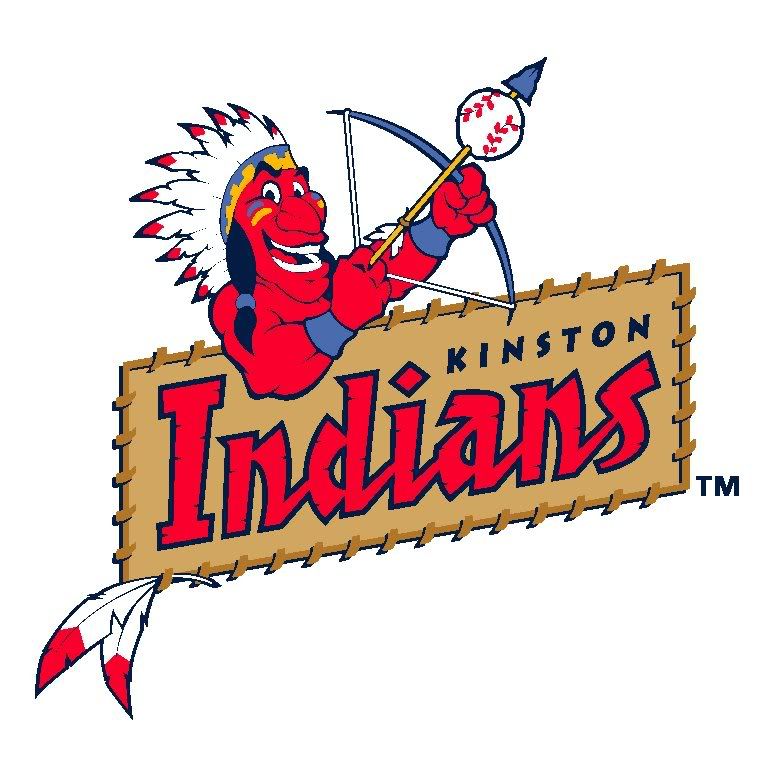 Kinston Notes (26-28, 2nd place, 1.0 GB): Kinston may be a game out of first place, but they lead the wildcard race by two games over both Salem and Myrtle Beach. With 16 games left in their season and no games left against the two playoff challengers below them this is a race that is bound to go down to the wire. ... On Tuesday outfielder Tim Fedroff went 0-for-4 in the first game of a double-header with Myrtle Beach to end his 35-game on-base streak and 16-game hitting streak. In 83 games he is hitting .286 with 4 HR, 37 RBI, and a .782 OPS. ... Tight-hander Paolo Espino was named the Carolina League Pitcher of the Week this past week as he was 2-0 with a 0.00 ERA in two starts the previous week. He gave up just eight hits and one unearned run in 12 innings of work, and struck out eleven and walked just two batters. He is now 3-0 in August with a 0.36 ERA in three starts and went 2-1 in the month of July with a 1.93 ERA, the third lowest in the Carolina League for the month. On the season he is now 6-6 with a 2.55 ERA in 19 starts for Kinston, the second lowest in the Carolina League. ... Right-handed reliever Chen Lee is 4-5 with a 3.54 ERA in 39 relief appearances. In 76.1 innings he has allowed 60 hits, 28 walks, and has 86 strikeouts. ... Catcher Doug Pickens has been hitting the ball well of late, and in 36 games with Kinston is now hitting .281 with 4 HR, 18 RBI and a .735 OPS.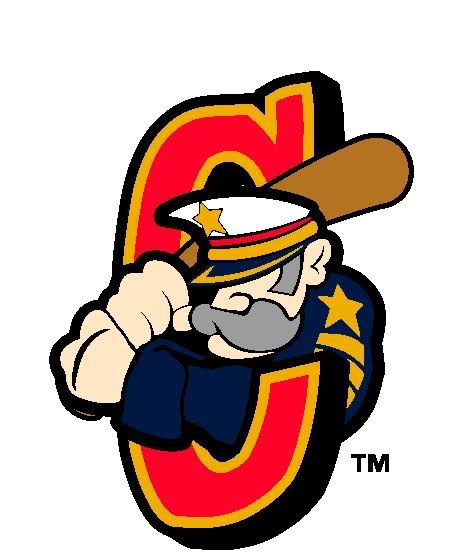 Lake County Notes (30-23, 3rd place, 5.0 GB): While Lake County has not been mathematically eliminated, their chances of getting into the playoffs are very slim. Since they do not play the two teams above them the rest of the season they need to rely on the help of other teams to knock the two teams above them off, and to date that has not happened. With only 17 games left, they would have to win an almost improbably 14 of those games to have any shot of catching 1st place Kannapolis. If Lake County were to go 14-3 over that stretch, they could catch Kannapolis if they went 9-8 or worse. ... First baseman Nate Recknagel is having a fine season in Lake County, and in 80 games is hitting .282 with 12 HR, 61 RBI and an .861 OPS. ... Outfielder John Allman has had a productive year even though he has bounced around between three different affiliates. In 91 combined games between Kinston, Lake County, and Mahoning Valley he is hitting .285 with 7 HR, 48 RBI and an .804 OPS. ... Left-hander T.J. House is now 5-9 with a 2.89 ERA in 23 starts this year. In 118.1 innings he has allowed 107 hits, 44 walks, and has 94 strikeouts. ... Right-handed closer Steve Smith is now 2-3 with 22 saves and a 2.55 ERA in 42 appearances. In 49.1 innings he has allowed 41 hits, 11 walks, and has 56 strikeouts.

Mahoning Valley Notes (38-22, 1st place, 5.0 GU): With 16 games to play and a five game lead, the Scrappers magic number to clinch the NY-Penn League Pinckney Division is down to 12. ... On Tuesday night in the NY-Penn League All Star Game, right-handed closer Cory Burns picked up the save. Right-hander Marty Popham threw a scoreless inning, right-hander Clayton Cook walks two and gave up an unearned run in his one inning, and outfielder Jordan Henry grounded out in his only plate appearance. ... Right-handed reliever Austin Adams has been on a little bit of a role late, helped mostly because of a boost in his confidence and velocity in some recent solid outings. In 13 appearances he is 0-1 with a 4.94 ERA going 27.1 innings and allowing 27 hits, 13 walks, and has 19 strikeouts. ... Infielder Jesus Brito has hit safely in eight of nine games since joining Mahoning Valley. He is hitting .419 (13-31) with 4 2B, 6 RBI, 9 BB and 7 runs scored. ... In his first 12 games outfielder Jason Kipnis is hitting .326 (15-46) with 4 2B, 2 3B, 1 HR, 7 RBI, 5 BB, and 9 runs scored. ... Right-hander Cory Burns has received a decision in eight straight outings going 1-1 with six saves going 14.0 innings and allowing six hits, two runs, and 15 strikeouts.

Arizona League Indians (8-13, 4th place, 6.5 GB) & Dominican Summer League Indians (32-39, 8th place, 15.5 GB): The Arizona Indians only have seven games remaining, though their playoff fate is still up in the air as they are only one game back in the wildcard hunt. ... Arizona infielder Giovanny Urshela has a nine-game hitting streak batting .344 (11-32) with 5 RBI. ... Arizona outfielder Kevin Rucker has hit safely in 10-of-12 games hitting .341 (15-44) with 3 2B, 1 3B, and 5 RBI. ... Infielder Chris Kersten is hitting .469 (15-32) vs. lefties and .303 (44-145) against righties, and his 20 2B are the most in the Arizona League and his 33 RBI are good for 8th in the league. ... Left-hander Mike Rayl has allowed one or no earned runs in seven of his last eight games (29.1 IP, 25 H, 8 ER, 37 K). ... Right-hander Gregorio Rosario has gone scoreless in six of his seven outings and allowing just one hit in his last six outings. ... The Dominican League Indians season ended on Friday night, and some of their top performers on the season were: outfielder Doris Robles (.310, 3 HR, 36 RBI, 21 SB, .862 OPS); first baseman Jesus Aguilar (.305, 5 HR, 46 RBI, .872 OPS); right-hander Rolando Cariel (2-3, 1.65 ERA, 43.2 IP, 31 H, 18 BB, 48 K); right-hander Oswell Munoz (6-1, 2.20 ERA, 61.1 IP, 48 H, 7 BB, 52 K).
User Comments
No comments currently. Be the first to comment!