Minor Happenings: Young Lefty Miller Impresses In April
"Minor Happenings" covers the important developments and news in the Indians farm system. While most of the information in this report is from my own research and through interviews I have conducted with organizational personnel, some information in this report is collected and summarized from the various news outlets that cover each team.

I was in Akron on Tuesday to see the Indians Double-A affiliate in action. I was able to talk to the coaches and some players, so the Happenings this week will be heavy with Akron material. Also, I will be doing player features over the coming week on Chuck Lofgren and Chris Gimenez as I had a chance to talk to them at length while I was there.

Indians Minor League Player Of The Month
(for April)

Ryan Miller (Left-handed Pitcher - Lake County)
4-0, 0.82 ERA, 4 starts, 22 IP, 14 H, 8 BB, 23 K, .196 BAA, 2.44 G/F

Lake County left-hander Ryan Miller is in his first full season, and like many others on the Lake County staff is having a breakout
season. Miller did not allow an earned run in his first three starts, and saw that streak come to an end in his fourth and final start of the month last Thursday where he allowed two runs in six innings. It was certainly a sensational month, and he was pushed by fellow lefty and Lake County teammate Ryan Morris for top billing this month.

The Indians selected Miller in the 36th round of the 2006 Draft out of Blinn College (TX), and was a draft-and-follow player who the Indians ended up signing in May of last year. He will not blow you away as his fastball only sits around 87-91 MPH, but he has a deep mix of pitches in that he also throws a curveball, slider, and changeup. His curveball is his best secondary pitch and shows good break and command.

Lake County manager Aaron Holbert likes what he has seen so far out of Miller, and feels as long as Miller can continue to throw strikes with his fastball it will help set up and make his curveball and changeup more effective. "We saw great things out of him in spring training and fortunately for us he has carried it over," said Holbert. "It is just a matter of him continuing to throw his fastball for strikes and then get to his secondary and third pitches his curveball and changeup. He is doing a tremendous job."

Honorable Mentions:

Ryan Morris (LHP - Lake County): 4-0, 5 starts, 1.67 ERA, 27 IP, 17 H, 5 BB, 14 K, .175 BAA
Mike Pontius (RHP - Lake County): 0-0, 8 games, 0.00 ERA, 19 IP, 7 H, 4 BB, 26 K, .111 BAA
Matt Brown (OF - Lake County): .326 AVG, 11 R, 7 2B, 2 HR, 21 RBI, 1 SB, 6 BB, .835 OPS
Wes Hodges (3B - Akron): .280 AVG, 16 R, 4 2B, 1 3B, 6 HR, 20 RBI, 2 SB, 7 BB, .865 OPS
Aaron Laffey (LHP - Buffalo): 3-1, 5 starts, 2.77 ERA, 26 IP, 24 H, 6 BB, 20 K, .238 BAA
Karexon Sanchez (IF - Lake County): .322 AVG, 4 2B, 2 3B, 2 HR, 16 RBI, 8 BB, 5 SB, .856 OPS
Steven Wright (RHP - Kinston): 0-2, 4 starts, 2.45 ERA, 22 IP, 14 H, 4 BB, 21 K, .177 BAA

Indians Minor League Player Of The Week
(for games from April 24th through April 30th)

Jose Constanza (Outfielder - Akron)
.444 (12-for-27), 3 R, 3 2B, 1 3B, 0 HR, 4 RBI, 1 BB, 2 K, 3 SB

Akron outfielder Jose Constanza had a rough start to the season, but he has heated up in a big way the last week. The scrappy little outfielder from the Dominican Republic began the season in an 0-for-19 slump and was hitting just .089 (4-for-45) at one point.
However, in his last ten games Constanza is hitting .439, and on the season has bumped the average to .258.

Constanza had a string of four consecutive multi-hit games that ended on Sunday, and he is currently riding a modest eight game hitting streak. Constanza may be one of the most exciting players in the Indians system to watch as he makes things happen on the bases, and he can do a variety of things with the bat where he can drop a bunt down or lash a base hit to any part of the field with some authority. While he does not really project as anything more than a fourth outfielder, he may be a perfect player in that role for the Indians down the road.

Honorable Mentions: Steven Wright (RHP - Kinston), Roman Pena (OF - Lake County), Mike Pontius (RHP - Lake County)

Previous Winners:

4/17 to 4/23: Hector Rondon (RHP - Kinston)
4/10 to 4/16: Wes Hodges (3B - Akron)
4/3 to 4/9: Kelvin De La Cruz (LHP - Lake County)

Director's Cuts

Indians Farm Director Ross Atkins chimed in on some of the players down at advanced Single-A Kinston this week:

On Beau Mills: "Beau is off to an okay start. He had a great spring training, and coming into the Carolina League was off to a hot start and settled down a little bit but just recently hit two home runs and a double a few nights ago. We are asking a lot of him and
asking him to play two positions in the event he can play two in the future. He is playing third and first, and he will probably start to play a little more at third base and work that more into an everyday position. Beau is an incredible talent with a ton of power. He plays the game at a great speed with a great intensity level. he reminds us a lot of Grady Sizemore, not his profile per se, but just how he plays the game, how tough he is mentally and physically, and how strong he is."

On Nick Weglarz: "Just to tell you how important I think batting average is, I basically don't even look at it. If a guy is getting on base it means he is putting himself in position to score. Especially when they compliment that on-base ability with power numbers. So a guy who gets on base and then has what they call isolated power - which is just doubles, triples and home runs and is the millennium's version of slugging percentage - when a guy does both of those things there is not a better compliment for a professional baseball player. A guy with discipline and power, and Weglarz shows both of those things. Yeah, that is a ridiculous on-base percentage when you are hitting .260 with a .454 on-base percentage. Basically what that means to us is they are not pitching to him, and he is staying patient and not leaving the zone and waiting for his pitch. He has already driven the ball and is showing the power is still there, and that is a very good sign for a young professional hitter.

On Steven Wright and Hector Rondon: "Steven Wright has been great. He was there in Kinston last year for the second half and had some hiccups and an initiation to the Carolina League. It is a good league as you see only eight teams and that's all, so guys start to pick up on tendencies and have a couple of years under their belt. The approaches are a little bit more professional. And Wright is off to a great start there. If you look at [both Rondon and Wright], if you look at just the stats they control like groundballs, home runs, strikes and walks they are tops in the organization and very high in baseball. If you look at just their ERA and win-loss record it is not impressive. But if you look at the things they control, they both are off to a great start."

Tough Huff

After a rough first few starts, Akron left-hander David Huff has found his grove. On the season he is 0-1 with a 2.84 ERA, and in 25.1 innings has allowed 17 hits and nine walks while striking out 25. "I feel great," said Huff in Akron this past week. "My elbow, shoulder and body feels good. My mechanics have been good."


Huff only made 11 starts at Single-A Kinston last year before being sidelined the rest of the season with a strained ligament in his throwing elbow. He went out to the Arizona Fall League to get work in and impressed, and now is learning to make the adjustment to Double-A.

"There are a lot better guys here, and a lot of these guys are a phone call away," said Huff. "I think the biggest adjustment is being more consistent around the strike zone. Throwing all my pitches for strikes, and not getting away with pitches over the middle as these guys crush it if you make a mistake. That was a big adjustment, so I just have to really focus on every pitch."

While he does not overpower hitters, he has unbelievable confidence in his fastball, and commands it well working it to both sides of the plate and to the corners on all four quadrants. He has the best fastball command in the entire system, and is a very polished pitcher. He is aggressive and attacks hitters, and he has a great, athletic delivery which deceives hitters and he repeats it well. He is a pitcher you like to watch pitch because he is smart and knows how to pitch by moving the ball around in and out, and he constantly makes adjustments to hitters in game.

"I just read swings," said Huff. "You see a guy take a swing and foul it off and I am like 'okay, he fouled it off this way so I am going to attack him this way.' It has really been helping me out reading swings. It is also nice being the second starter because Chuck throws before me and he is very similar to what I do and seeing how guys react to his ball and what he throws. I am always in constant contact with the catchers and asking them 'hey, what was that last pitch that Chuck threw' and I just go off of that. I make a little scouting report note and attack them the next day."

Manager's Minute

On Tuesday, I had the chance to attend the game at Akron and sit down and talk to Akron manager Mike Sarbaugh. He touched on being back at Akron for the first time in a few years since he was a coach there for four years and was a player back in the Canton-Akron days. He also talked about some of the players on the roster.


On his return to Akron: "It feels good. Walking in here the things seem the same, so knowing where everything is here was good. It was great to have the experience here as a coach and for me to be able to come here and have that background. Things have been good."

On Chuck Lofgren: "Early here in the season he is struggling a little bit with the fastball command. Against Bowie he threw two really good innings, we got rained out, and then the other night he threw three good innings and then left some balls up, walked some guys and just got into a little bit of trouble. He is throwing the ball well, and the velocity is about the same. He just has to get that confidence knowing he can go out there and attack hitters and know he can get them out."

On David Huff: "He has looked very good. He just has good command of all four of his pitches and can throw them any time. He has an ability to throw his pitches to both sides of the plate and displays a lot of confidence on the mound."

On Ryan Edell: "His fastball command has been outstanding, and he has showed good control and the ability to spot it to get ahead of hitters. He is working on his secondary stuff to get more consistent with it and throw it for strikes, and he has really been making some good adjustments with it and improvements in repeating his delivery. He just has a good ability to attack hitters and make them put balls in play early in counts. Tonight (Tuesday) he was a little bit up in the zone and left a couple balls out over the plate. Overall he was a little bit more up than in the past couple outings."

On the early season hitting woes: "You can't really put your finger on it. I just know between Whitney, Rodriguez, Hodges, and Constanza all being first year Double-A guys, now they are at a level where guys can throw a pitch in any count and when you get into a hitter's count it is not always going to be a fastball. Wes got off to a great start, and Josh got off to a little bit of a slow start but he has really been picking it up and swinging the bat well. So there is that early adjustment period and I think they are doing a great job."

On Scott Roehl: "I've had him for three or four years, and with what I have seen in the past I know he can do it. He threw the ball well [on Tuesday] and mixed up his pitches. He has good life on his fastball and mixes up his secondary stuff and that makes his fastball that much better."

May Jr. On Hitting

Akron hitting coach Lee May Jr. sat down and talked to me for awhile after batting practice on Tuesday. He talked at great length about the approach his hitters take to the plate as well as many other things. Some real good insight here into how he coaches his hitters and the game plan he has them take to the plate.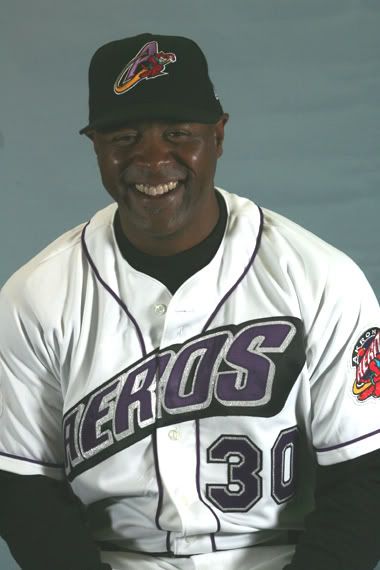 On the difference between advanced Single-A and Double-A: "In the Carolina League you make the adjustments at the half, where here you make them within the series. The pitchers are a little bit better at executing, the catchers are better, and the fielders too. The adjustments that you have to make are sometimes in game adjustments as far as how the pitchers are attacking you."

On Wes Hodges: "Pretty much the focus is on him not leaving his game plan. Sometimes he has been attacked a certain way, but you do not go out of what you do best to adjust to how they are attacking you until you are forced to. He has kind of gone away from what makes him good which is looking at certain areas of the plate and leaving the other parts alone. It is just an adjustment that is going to have to come with time and getting into the feel of the league and trusting those adjustments and how he goes about them."

On Chris Gimenez's walk rate: "That's the product of staying in your game plan and if they are pitching outside of your game plan and you don't expand the zone and don't chase certain pitches then you are going to lead to more walks. That's the difference between a guy who has been here at this level and a guy who is just getting here to this level. Sometimes some of the younger guys are leaving their strike zone to cover a certain part of the plate that they are being attacked from. And, it is not necessarily better pitches to drive, as they are putting balls in play that are not good balls to put in play especially early in the count and in advantage counts. Where Gimenez is, is he is taking those pitches and making them play back into his game plan. And that is ideally what you want to do as a hitter, which is for you to control your at bat and for you to dictate what pitch you get versus having to swing at the pitcher's pitch by having to chase a ball out of the zone or getting behind in the count where you are now behind the eight ball. If you stay off a pitch that might be a pitch on the black that you can't really put in play anyway, you might get one more pitch that is a mistake and left out over the plate a little better. That's just how it is with young hitters, especially when you come into a league where you see a different caliber of pitcher. They can be too concerned about putting something in play because they don't want to get behind in the count and really end up giving the pitcher too much credit, where instead they need to say to themselves that the pitch may be a strike but it is not a pitch they can drive so theu should wait for another pitch."

On Michael Aubrey: "He is bouncing around and moving better than I have ever seen him. He looks good, and it is just a matter of him getting comfortable. I think he is going to be on his way. It has just been a matter that his body has not held up the last couple years, but last year he was outstanding and this year he is even better so I think he has really turned the corner."

On Josh Rodriguez: "He has great elements of a really good hitter. He is doing a really good job with his routine work and preparing himself, and it is all going to start paying off. We are seeing bits and pieces of it and I think it is going to get a little more consistent just as he gets more proficient. He does a great job taking his preparation and early work into the game and being able to execute it. I think he is going to be okay, and he has some really good elements. He can use the whole field and he has some pop. He is doing a good job in the two-hole and doing some situational things and hitting the hole at first base. This is where you kind of polish it up and finite your skills and be able to move the ball around. It is not just about hitting the ball as hard as you can or squaring up balls. It is about getting the ball to the right side to move the runner or taking a pitch to let a Constanza steal. So I think he is going to be good."

On Matt Whitney: "Whit has a very high ceiling as far as what he is capable of doing. But he is still really developmentally not as far along as his years in the game have been because he had such a big part of it cut off with the injuries. He is healthy and moving around well, and he is able to get out here and put up consistent at bats and be in the lineup every day and not be on the injury list. I think this is a real good level for him to be at for him to get kind of get things back in gear. It was seen and the potential is there, as that is what the Nationals saw in him when they drafted him [in the Rule 5 Draft this year]. But now it is just a matter of him getting some at bats, as I think if he had the at bats and had not missed that time due to injuries he would be further along. He is doing a good job as far as how he goes about preparing. He just needs to be patient and have trust in his swing, which will come with at bats at this level."

Holbert's Maiden Voyage

Single-A Lake County manager Aaron Holbert is in his first season in the Indians organization, and first as a manager. Holbert played professionally for 17 seasons in the St. Louis Cardinals, Seattle Mariners, Tampa Bay Devil Rays, Boston Red Sox, Florida Marlins, Toronto Blue Jays, Pittsburgh Pirates, and Cincinnati Reds organizations. He holds nearly every hitting record for Reds Triple-A affiliate Louisville, and while he only played in 23 games at the big league level, in 1542 career minor league games he hit .271 with 77 HR with 559 RBI. He retired as a player with the Reds early in the 2006 season and stayed in the organization as a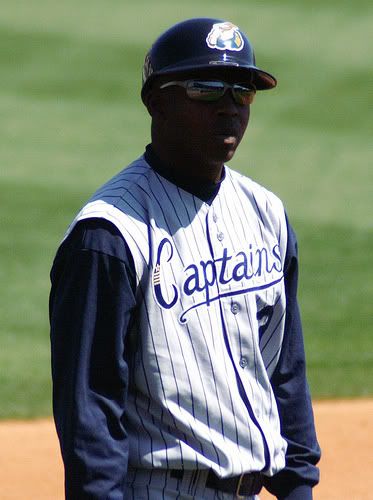 hitting instructor for the rookie-level GCL Reds team that same year, and then in 2007 he served as the hitting coach for the Reds other rookie level team in Billings.

Holbert came to the Indians this offseason after he was out in the Arizona Fall League watching some Reds hitters, and in doing so bumped into Kinston hitting coach Jon Nunnally who was coaching one of the teams. In conversations with Nunnally, he mentioned he wanted to get into managing, and Nunnally talked to the Indians brass and the rest is history.

"I was out in the Arizona Fall League, and my brother lives out in Surprise, AZ so I was out visiting my brother," recalled Holbert about how he hooked up with the Indians. "At the same time there were some young Red guys out there, so I told the Reds organization if you want me to I will go by and help out and they said that would be great. So I was going up to the stadium and helping out, and the hitting coach that was there was Jon Nunnally who coaches at Kinston. Although I was a hitting coach at the time, he knew I had aspirations of doing more than being a hitting coach and wanted to manage. He put a good word in with Ross [Atkins], and this is how it turned out. I am very thankful to Ross for the job, and even for the Reds for allowing me that opportunity to go there. If not for that who knows."

So far, it has been a learning experience for Holbert in his professional debut as a manager. But, you would never know it based on Lake County's current first place standing in the South Atlantic League's Northern Division at 16-10.

"Things are going well, although I am running into some snags and doing some things wrong, but hopefully I am doing some things right," joked Holbert. "But that is why my staff is here, to help me out and teach me as I go. It is good to have a staff that knows what it going on and that is out there to help better me and more importantly help better the team and better these young players. It is a blast. I am having a great time. I am just happy for the players, the staff and the organization for allowing me this opportunity. The way we are starting off is no testament on me, it is definitely on my hitting coach, pitching coach, and my players going out and performing."

Miller Not Sharp, But Effective

Right-hander Adam Miller has done well in his first two starts since being activated last week. He had to work hard to get through his last start on Monday, where he threw 88 pitches and only went four innings but did not allow a run on four hits, two walks and four strikeouts. In the first inning he gave up a single and walked two batters to load the bases but ended the threat with a
strikeout. In the second inning he allowed another two hits before striking out another batter to end the inning. In the third inning, after a single he allowed the runner to get to third base with one out after throwing two wild pitches, but he set down the next two batters on a short pop out to center field and a groundout to short.

In two starts, Miller has yet to allow a run in nine innings. He is still feeling his way though things with his pitches as they have lacked some of the sharpness they normally have, but it is to be expected in his first few outings. Once he finds his rhythm he should be ready to roll, and the fact he has escaped jams without his best stuff so far is a testament to his makeup and tenacity on the mound.

Miller is up to a pitch count of 85 to 95 pitches, and reports are that his fastball looks good and has a lot of life. Even with the positive reports, the Indians want him to stay in Buffalo and pitch for awhile, although they fully acknowledge he could be an option for them down the road.

The Wright Stuff

Most of the pitchers in the Kinston rotation have been very inconsistent so far this season, but so far right-hander Steven Wright has
been rock solid. On Sunday, Wright allowed one run on three hits (two infield singles) in six innings, but was a tough luck loser. He did not walk a batter and struck out seven, and on the season is now 0-2 with a 2.45 ERA in four starts.

Wright is a former 2nd round pick in the 2006 Draft out of the University of Hawaii. His good start to the season is light years better than the season he endured last year when he split time at Single-A Lake County and Kinston, going 7-9 with a 5.67 ERA in 27 combined starts between the two stops. Wright throws a low 90s fastball and compliments it with a curveball, slider and changeup. In the offseason and in spring training the Indians worked with Wright's delivery and made some minor adjustments that seem to be paying off. The biggest adjustment was his mental approach where they got him to focus less on his mechanics and more on just attacking hitters and getting his fastball located in the zone. Wright also looks a lot more confident on the mound, which is good to see.

Kinston Power Duo Recharged

It has been a strange season for Kinston so far, as they arguably have the Indians two best power hitters in the system in first baseman Beau Mills and outfielder Nick Weglarz as well as a few others who have good power potential. Yet ever since the season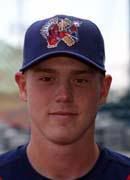 opener was blacked out in the third inning because of a power outage, it seems the outage has sapped the electricity out of the bats. In a span of two weeks from April 12th to April 26th (13 games), Kinston did not hit a home run in any game and the offense struggled the first month.

That all changed this past Saturday when Weglarz halted the team homerless streak with a majestic bomb that nearly cleared the scoreboard in right-center. Weglarz has been a walk machine this year, so his opportunities offensively have been limited and the blast was his first home run in the young season. In his first 12 games Weglarz had 20 walks and had multi-walk games in eight of them. Weglarz is starting to swing the bat a little more now, as he only has four walks in his last ten games and is hitting .351 during that timeframe.

Wegalrz's bomb seemed to jumpstart the Kinston attack, as on Monday first baseman Beau Mills connected for two home runs - one a grand slam - and had six RBI. Mills had busted out of the gates quickly by starting the season with a six game hitting streak and a batting average over .300 through the middle of the month. However, a 2-for-35 stretch dropped his average to .193 on April 24th. Currently, Mills is hitting .225 with 3 HR, 15 RBI and a .728 OPS.

Bye Bye Smitty


On Thursday, the Indians completed an offseason trade with the Colorado Rockies by sending Buffalo right-hander Sean Smith to them as the player to be named later in the Jamey Carroll trade originally made on December 8th. In four starts this year Smith had a 4.00 ERA and last season was 9-7 with a 4.25 ERA in 21 starts. Last year he led Buffalo with 90 strikeouts, was tied with Aaron Laffey for the team lead in wins, and his 133.1 innings of work were second behind only Jeff Harris (138.1).

Smith was a highly touted draft-and-follow player from the 2001 Draft. He does not have electric stuff, but over the years he has learned to attack hitters by getting ahead of them in the count and pitching to contact. His fastball consistently checks in at 88-91 MPH, and he also throws a 12-6 curveball, slider and changeup. He was starting pitching depth for the Indians, but his loss does not hurt much because he was so low on the depth chart with others ahead of him like Aaron Laffey, Jeremy Sowers, Adam Miller, and Brian Slocum. Plus, there are players in Double-A and below the Indians need to eventually move up. Smith had no shot to make the Indians roster this year, and would have been a six-year minor league free agent after the season to sign with any team he chooses.

Stanford Returns

Last Thursday, the Indians re-signed left-hander Jason Stanford to a minor league contract and assigned him to Buffalo. Stanford
takes the spot in the rotation vacated by the departure of Sean Smith who was traded to Colorado. Stanford was signed to a minor league contract by the Washington Nationals in the offseason, and after being assigned to Triple-A Columbus to start the season, after going 2-2 with a 10.05 ERA in five games there he was released on April 21st.

Stanford, 31, is now with Buffalo for a modern era record eighth consecutive season. In 73 career games with Buffalo, he is 25-12 with a 3.54ERA. Stanford ranks 1st in the modern era in strikeouts (293), 3rd in innings pitched (381.0), 4th in starts (63) and 5th in wins (25). Last year, Stanford was 5-1 with a 4.11 ERA in 18 games. In his first appearance with Buffalo on Friday, Stanford went six innings and gave up two runs on eight hits and two walks while striking out two.

Affiliate Notebook


Buffalo Notes (11-17, 5th place): Outfielder Brad Snyder got a treat this past week when he was called up for the first time to Cleveland on Sunday after Grady Sizemore was injured late in Saturday's game. Snyder was sent back to Buffalo the next day, but still the one day callup was an enjoyable one for Snyder and hopefully it sparks him. On the season, he is hitting .231 with 4 HR, 12 RBI, and a .786 OPS. ... Outfielder Jason Cooper continues to move up in several categories of the Buffalo record book. Cooper racked up a couple more doubles in the past week, and now he is one of only four Buffalo players to collect 70 doubles for their career in the modern era. Bill Selby leads the list with 90 doubles, then Brandon Phillips (79) and Greg LaRocca (73). Cooper is also 5th in games played (329), 5th in RBI (187), 6th in walks (133), and 7th in runs scored (174). ... First baseman Jordan Brown continues to rack up the doubles. He now has 11 doubles on the year, which ranks 1st in the International League. On the season, Brown is hitting .271 with 0 HR, 10 RBI and a .719 OPS. ... Since being optioned back to Buffalo over the weekend, outfielder Ben Francisco has been on a mini tear. In three games, he is 5-for-11 with a home run and two RBI and on the year is hitting .244 with 1 HR, 5 RBI, 3 stolen bases and a .667 OPS in 22 games. ... Buffalo's 17 losses in April set a team record for April, breaking the old mark of 13 set in 1999. The 17 losses in April also were the most in any month since they lost 19 in May 2004. ... Buffalo has stolen 14 bases in 14 attempts in the last eight games. Eight different Buffalo players have at least one stolen base, and outfielder Jason Tyner leads the team with five steals. ... Former Indians farmhand outfielder Jonathan Van Every is in the Boston Red Sox organization playing at Triple-A Pawtucket. On the season Van Every is hitting .287 with 5 HR, 16 RBI, and an .896 OPS.


Akron Notes (11-14, 5th place): Outfielder Trevor Crowe is in extended spring training for his ailing back (disc issue). He is going to be out for at least another few weeks. ... Right-hander Frank Herrmann put up his second consecutive quality start on Sunday by going six innings and allowing only one run on eight hits and two walks while striking out four. True to form, he battled out of many tough situations as he stranded seven runners, including four in scoring position in the first four innings. Herrmann may not have great stuff, but he battles and gets the job done. On the year he is 3-1 with a 3.77 ERA in five starts. ... First baseman Michael Aubrey has had a solid but not spectacular start to the season and is hitting .277 with 2 HR, 16 RBI, and a .773 OPS. He has three different hitting streaks of five or more games already this year and is currently in the midst of an eight game streak, but the average is so low because he is usually only getting one hit in each contest. ... Catcher Chris Gimenez has been an on-base machine this year, reaching base in all 15 games he played before seeing the streak come to a close on Tuesday night. He is 4th in the Eastern League in on-base percentage (.437), and on the season is hitting .259 with 2 HR, 5 RBI, and an .863 OPS in 17 games. ... In shortstop Josh Rodriguez's first 13 games he only hit .154, but in his last ten games he is hitting .333 with 0 HR and 6 RBI. On the season he is now hitting .242 with 2 HR, 11 RBI, 3 stolen bases, and a .671 OPS. ... On Sunday, right-hander Randy Newsom pitched for the third straight day and threw a perfect ninth inning for yet another save. He is not 6-for-6 in save situations, and on the season is 1-0 with a 1.69 ERA in 11 appearances.


Kinston Notes (8-16, 4th place): When outfielder Nick Weglarz hit a two-run bomb of a home run in the sixth inning this past Saturday, it was the first home run hit by a Kinston player in two weeks as the last one was hit by Jerad Head on April 12th. On the season, Weglarz is hitting .288 with 2 HR, 6 RBI, and a .902 OPS. Weglarz also has 24 walks, which is 1st in the Carolina League by four walks, and he is also 2nd in the league in on-base percentage (.464). ... On Sunday, right-hander Joanniel Montero was activated from extended spring training and joined the Kinston bullpen while lefty Dan Cevette was put on the disabled list with another shoulder issue. Cevette is sidelined with yet another shoulder ailment and getting treatment, and it looks like Cevette's season and career is in jeopardy. ... Outfielder John Drennen was put on the disabled list on Monday with a groin issue, and infielder Cristo Arnal was activated from extended spring training. ... Lefty Matt Meyer is ready to start throwing again, and likely will be activated off the disabled list soon. ... Shortstop Carlos Rivero started the year hot by banging our five multi-hit games in the first seven games and was hitting .429 as of April 15th. Since that date he has gone 3-for-45, and is now hitting .247 with 0 HR, 9 RBI, and a .614 OPS. ... Outfielder John Drennen is on an 18-game consecutive on-base streak, which is the second longest in the Carolina League this season. On the season, Drennen is hitting .291 with 0 HR, 3 RBI and a .752 OPS in 20 games. ... Kinston's April record of 8-15 was their first losing month since July of 2005. ... The Latin trio of right-handers in the starting rotation of Paolo Espino, Hector Rondon, and Jeanmar Gomez are happy to see the page flip to May. Espino (0-1, 7.30 ERA), Gomez (0-4, 5.40 ERA), and Rondon (0-2, 5.57 ERA) are all off to slow starts. ... Infielder Jared Goedert is hitting .290 with 0 HR, 13 RBI, and a .667 OPS.



Lake County Notes (16-10, 1st place): Left-handed John Gaub was added to the roster last Thursday and right-hander Chris Archer was placed on the disabled list. The move was a paper move to give Lake County another arm for a few days, as Archer was fine and he was re-activated to make his regular turn in the rotation yesterday on Wednesday. ... On Wednesday, right-hander Chris Archer continued to struggle with his command and took the loss even after going four innings and not allowing a hit because he walked five batters. On the year, Archer is now 1-3 with a 2.11 ERA in five starts, but while he has only surrendered five hits in 21.1 innings he also has 23 walks. ... On Friday, right-hander Santo Frias notched his first win of the year going a team high seven innings and giving up two earned runs on five hits while striking out three. On the season Frias is 1-0 with a 4.58 ERA. ... In his eight relief appearances so far this year, right-hander Mike Pontius has yet to be scored upon in 19 innings. In those 19 innings, Pontius has allowed only seven hits and four walks while striking out 26. ... The Lake County pitching staff currently ranks 1st out of 16 teams in the South Atlantic League in ERA (2.57), 1st in fewest hits allowed (155), and 1st in fewest runs against (83), but lead the league in walks (102). ... Right-handed closer Vinnie Pestano is 7-for-7 in closing opportunities, and on the year in 0-0 with a 0.77 ERA in 11 appearances. ... Infielder Karexon Sanchez is hitting .308 with 2 HR, 16 RBI, 5 stolen bases, and an .827 OPS in 26 games. ... In five starts, left-hander Kelvin De La Cruz is 1-1 with a 2.25 ERA.
Photos courtesy of Ken Carr, Carl Kline, Akron Aeros, Buffalo Bisons and Kinston Indians
User Comments
No comments currently. Be the first to comment!