Minor League Notebook: 3/27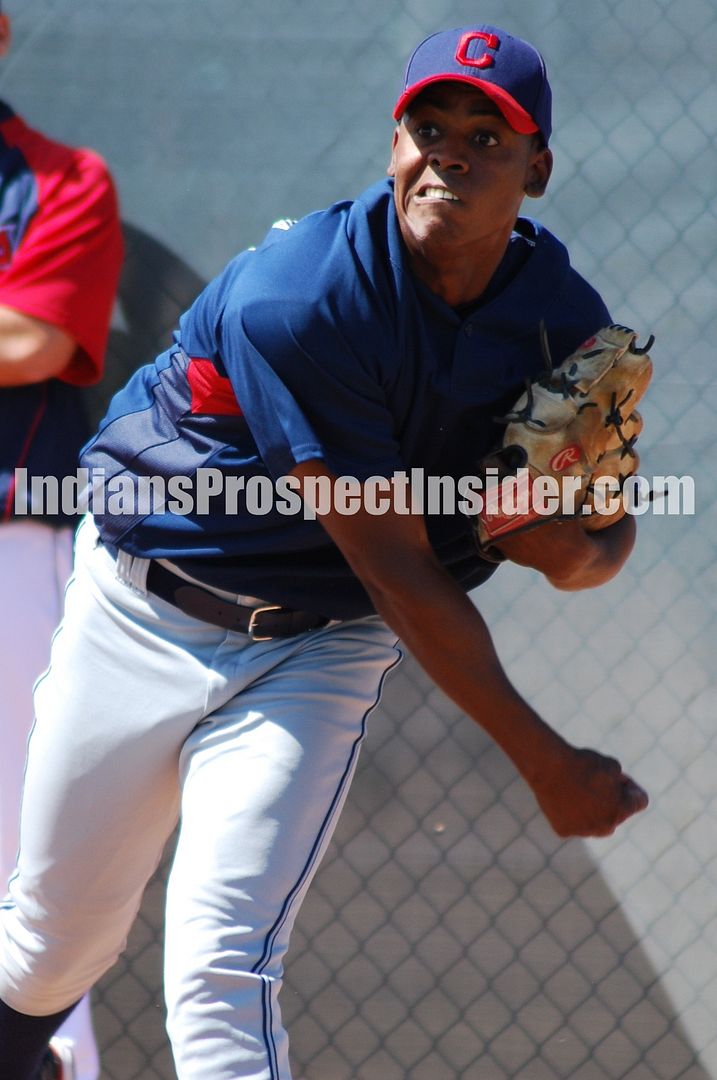 (Photo: Tony Lastoria)
Here are a few, quick notes from out of minor league camp...
DSL gets ready:
While the final week of spring training is in progress for the big league and minor league players, things will soon get underway in the Dominican Republic as players there will begin to get ready for their season which starts at the end of May. Spring training for players in the Dominican Summer League will start with a preseason camp on May 1st. A few players who came stateside for spring training this March will return to the Dominican Republic to participate in spring training and then play there. Regular camp will start up around the end of the first week of May and then exhibition games will kick in around the middle of May. When the regular season opens up for the Dominican Summer League at the end of May, the Indians will need to have their roster down to 35 players.
DSL catching trio:
The Indians have three catchers in the DSL that could get a lot of playing time this year: Jose Alamon, Juan De La Cruz, and Kevin Calderon. None of the three are considered to be on the prospect level of Alex Monsalve when he came into the system over two years ago, but they all have promise. Calderon (5'11" 170 pounds) turns 17 years old next month and is very athletic and a good runner for a catcher. He shows good agility and flexibility, can throw, and has good hands. He is much more of a defensive catcher right now, but has a good frame where he should see strength gains down the road. Alamon (6'1" 170 pounds) is from Venezuela and does not turn 17 years old until August. He throws the ball well and has some potential as a receiver. De La Cruz is a switch-hitter and the most physical of the bunch (6'1" 190 pounds).
Keep an eye on Boscan:
Infielder Manuel Boscan was suspended 50 games last year for performance enhancing drugs, but he is a young 17-year old switch-hitting shortstop prospect to keep tabs on. He is supposedly a lot like Asdrubal Cabrera where he will not wow anyone with any plus tools, but is a player who plays above his abilities. He has a plus arm and is an average runner, and more importantly is not as raw as a lot of young DSL players usually tend to be.
Releases:
The Indians released eleven players from their minor league system on Saturday: right-handed pitcher Omar Aguilar, right-handed pitcher Jeremy Johnson, right-handed pitcher Dave Roberts, right-handed pitcher Julio Ramirez, catcher Juan Aponte, outfielder Kevin Rucker, outfielder Joel Torres, outfielder Trent Baker, left-handed pitcher Vidal Nuno, right-handed pitcher Casey Gaynor, and right-handed pitcher Taka Nakamura.
Columbus recap:
Columbus beat Lousiville 10-7 on Sunday. At the plate they were led by outfielder John Drennen (1-for-4, 2 runs, HR, RBI, K), third baseman Lonnie Chisenhall (1-for-4, 2B, 3 RBI), and right-fielder Tim Fedroff (2-for-4, 2 RBI, 2 BB). On the mound left-hander Kelvin De La Cruz went 4.0 innings (2 H, 3 R, 2 ER, 3 BB, 6 K) and left-hander Nick Hagadone who went 3.2 innings (3 H, 3 R/ER, 0 BB, 7 K).
Akron recap:
Akron beat the Reds 7-2. At the plate third baseman Kyle Bellows continued his strong spring (2-for-3, R, HR, 3 RBI, BB). Outfielder Abner Abreu (1-for-3, R, HR, RBI) and DH Justin Toole (3-for-4, R, 2B, 2 3B) also chipped in. On the mound lefty Drew Pomeranz went 4.0 strong innings (2 H, 1 R/ER, 0 BB, 9 K). Righty Marty Popham went 3.0 innings (1 H, 0 R, 1 BB, 1 K) and righty Conor Graham went 1.0 inning (1 H, 1 R/ER, 0 BB, 2 K).
Kinston recap:
Kinston lost to the Reds 6-1. It was a quiet day offensively as young catcher Ryan Battaglia provided all the offense (1-for-1, R, HR, RBI). No one else had more than one hit (they had seven hits total) and the K-Tribe combined to strikeout 13 times. Right-hander Steven Wright went 3.0 innings (2 H, 2 R/ER, 1 BB, 1 K), right-hander Clayton Cook went 4.0 innings (6 H, 3 R/ER, 2 BB, 2 K), and right-handed sidearmer Toru Murata went 2.0 innings (1 H, 0 R, 1 BB, 3 K).
Lake County recap:
Lake County lose 7-4 to the Reds. DH Jesus Aguilar keeps showing the muscle this spring with another power display (2-for-4, R, 2B, HR, 2 RBI, 2 K). First baseman Preston Mattingly (2-for-4) was the only other player to do anything offensively as Lake County combined for an amazing 18 strikeouts on the day. Right-hander Kyler Blair went 4.0 innings (3 H, 3 R, 2 ER, 1 BB, 1 K), left-hander Mike Rayl went 3.0 innings (8 H, 4 R/ER, 0 BB, 1 K), and right-hander Alex Kaminsky went 2.0 innings (1 H, 0 R, 2 BB, 1 K).
Follow Tony and the Indians Prospect Insider on Twitter @TonyIPI. Also, his latest book the 2011 Cleveland Indians Top 100 Prospects & More is available for purchase for $20.95 to customers in the US (shipping and handling extra).
User Comments
No comments currently. Be the first to comment!