Minor League Notebook: 3/29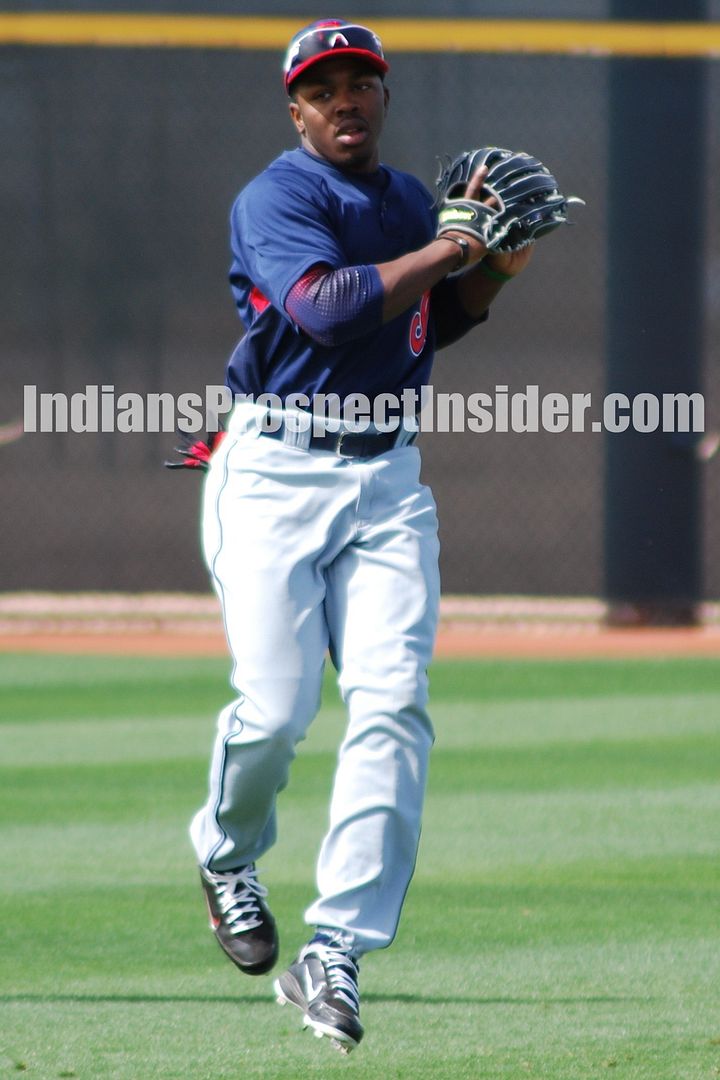 (Photo: Tony Lastoria)
Young Brown is gaining confidence
Indians minor league outfielder Mark Brown is still learning the ropes of professional ball.

Fresh out of high school as a 19th round pick last year out Martin Luther King High School in Detroit, Michigan, he is enjoying life in the Arizona sun during his first spring training and excited for the upcoming season.
"Spring training is going well," said Brown in a recent interview for IPI.

"There are a ton of dudes out here.

Of course everybody is good, but the main thing is just finding a way to separate yourself."
At 5'9" and 160 pounds, the smallish Brown separates himself from other players with his speed and athleticism.

He is very raw and needs some work, but the Indians believe he has the tools to be an impact defensive centerfielder down the road.
Brown, 19, was committed to attend the University of Kansas and play baseball for them, but he ended up signing shortly before the August 16th signing deadline last year.

Upon signing with the Indians he immediately went out to Goodyear, Arizona to play with the rookie level Arizona team and then participated in Instructional League in September and October.
"I felt like I did pretty well," said Brown about his performance in rookie ball and Instructs.

"I am getting adjusted to the hitting and the main thing for me is getting stronger and more comfortable.

For me it is just seeing more pitching and getting adjusted to the speed of the game."
Brown played against limited competition in high school, so it may take awhile for him to make some adjustments in his approach and really settle in and become comfortable.

Smoothing out his hitting mechanics will be one early area of focus as he has a little bit of a funky hitch with his front leg kick as he begins his swing.
"At the plate I just need to practice relaxing more and being smoother," said Brown.

"I guess that just comes with seeing more pitching and getting used to that velocity.

[The hitch] was a bad habit that I developed, and me and [Hitting Coordinator] Bruce [Fields] have been working on it in the offseason to try and fix it.

With fielding I can always work on going back on the ball as that is probably my weakest point."
We are in the final days of spring training where a lot of players are getting ready to break camp for full season destinations in Lake County, Kinston, Akron and Columbus.

Due to Brown's youth and inexperience he will likely remain in Arizona in extended spring training in order to continue to work on his game and get ready for short-season league action which kicks up in mid-June.

However, if things go well the next few months there is a chance he could see a call late in the season to short season Single-A Mahoning Valley or Low-A Lake County.
"My personal goal this year is to hit for average, be a gap to gap hitter, and stay up above .300 all year," said Brown.

"Hopefully I am up to Lake County by the end of the year.

That's my ultimate goal, to be up in Ohio by the end of the season."
Phelps ready for role change
Infielder Cord Phelps looks to be in store for an interesting season.
Interesting because even after a nice year last season where he hit .308 with 8 HR, 54 RBI and had a .825 OPS in 119 combined games between Double-A Akron and Triple-A Columbus, at the outset of the season Phelps looks to be a man without a position.
"I am not really sure," said Phelps in a recent interview for the IPI about his plan for this season.

"I would imagine I'll play some second base, but I don't know.

It will be interesting to see how it plays out."
Phelps, 24, has had to give way to highly regarded prospect Jason Kipnis as the every day second baseman in Columbus.

Since being drafted in the 3rd round of the 2008 out of Stanford University he has done nothing but play second base in his two and a half years as an Indian, but that will surely change this year because of the presence of Kipnis.
To add to his versatility and create some additional value, the Indians had Phelps play third base in the Arizona Fall League (AFL) last October and November.

The reports from the limited game action he had out in the AFL were enough for the Indians to decide to continue with the third base experiment this season.
"It was the first time I played third in three or four years," said Phelps.

"It is a very different position, but I felt like I improved over the course of the fall with getting better at reads and stuff like that.

I am just willing to do whatever they need me to do, and if third is the position they need me to play I will play there."
With another hot shot prospect in Lonnie Chisenhall also in Columbus as the everyday third baseman, Phelps would probably only play third once or twice a week to give Chisenhall a breather.

In fact, it looks like he will be moving all around the diamond where he will mostly play second base and third base, but potentially also see time in left field and shortstop.

Since being sent down to minor league camp on Saturday, he has done nothing else but work out at shortstop and has played there in games the past two days.
Beyond his role on the field, Phelps will also look to continue to apply his more aggressive approach at the plate this year, a change in his approach that he made going into last season.

In 2009 at High-A Kinston he was one of the league leaders in walks and on-base percentage, but last year he really honed in on being less selective and being more aggressive which helped him become a more productive hitter and have what some would call a breakout season.
"I tried to be more aggressive last year and not let hittable pitches go by and I think that showed," said Phelps.

"In Kinston I was maybe being too selective, so I tried to improve on that last year to be more aggressive and I think it worked out for me.

The main thing for me at the plate this spring has been to try and feel comfortable, see pitches, and just try to get my timing because a lot of times you feel like you are not seeing certain pitches well.

I think that is important for a hitter, so I have tried to focus on that."
The Columbus and Cleveland players broke camp on Tuesday and travelled to Columbus, Ohio for an exhibition game in Columbus today.

The start of the season is right around the corner, and Phelps is ready.
"I just want to try and build on the things I learned last year," said Phelps.

"Just try to have a good attitude everyday and try to be consistent mentally and hopefully that will lead to consistent results."
Goedert returns:
Infielder Jared Goedert is working his way back from his oblique injury which has sidelined him the past few weeks.

On Tuesday he played third base in an inter-squad game between Columbus and Akron and went 1-for-2 with an RBI.

It was his first game action since he suffered the injury back in early March.

If he does not have any setbacks the last few days before the start of the season it looks like he has a good chance to open the season on time with Columbus.
Lavisky is en fuego:
Ho hum, catcher Alex Lavisky hit another home run yesterday.

He is now unofficially up to about five or six homers this spring, which is very impressive for a player fresh out of high school and in his first spring training.

I think he is leaving very little doubt – at least in the early going – that so far he is worth everything the Indians have invested in him and that he deserves to open the season at Low-A Lake County.
Kluber back on the hill:
Right-hander Corey Kluber made his return to the mound on Tuesday and went 3.0 innings and allowed one hit, no runs, one walk and had three strikeouts.

It was his first game back since being hit in the head with a line drive last Monday.
More short for Phelps:
For the second straight day infielder Cord Phelps played shortstop for Columbus.

He went 1-for-3 at the plate and split the game between third base and designated hitter.
Columbus
vs. Akron recap:
Columbus and Akron played to a 2-2 tie in a seven inning inter-squad game on Tuesday.

Columbus right-handed pitcher Jeanmar Gomez went 5.0 innings (4 H, 2 R/ER, 1 BB, 2 K) and righty Cory Burns pitched the final 2.0 innings in relief (0 H, 0 R, 0 BB, 3 K).

Right-hander Bryan Price went 2.0 innings for Akron (1 H, 0 R, 0 BB, 0 K) and righty Joey Mahalic finished it off with 2.0 innings (2 H, 2 R/ER, 2 BB, 1 K).

The only player of note who did anything for both sides was outfielder Abner Abreu (1-for-3, 2 RBI).
Kinston
vs. Lake County recap:
Kinston beat Lake County 4-2 in a seven and a half inning inter-squad game.

For Kinston, right-hander Adam Miller continues to plug away and pitched 1.0 inning (1 H, 0 R, 0 BB, 0 K) and righty Tony Dischler went 4.0 innings (5 H, 2 R/ER, 2 BB, 1 K).

For Lake County, right-hander Felix Sterling went 3.0 strong innings (2 H, 0 R, 3 BB, 0 K) and righty Luis Encarnacion went 2.0 innings (0 H, 0 R, 3 BB, 2 K).

The only thing noteworthy for either team at the plate was Lavisky's homer for Kinston (1-for-2, R, HR, 2 RBI, K).
Follow Tony and the Indians Prospect Insider on Twitter @TonyIPI. Also, his latest book the 2011 Cleveland Indians Top 100 Prospects & More is available for purchase for $20.95 to customers in the US (shipping and handling extra).
User Comments
No comments currently. Be the first to comment!