Minor League Notebook: 4/1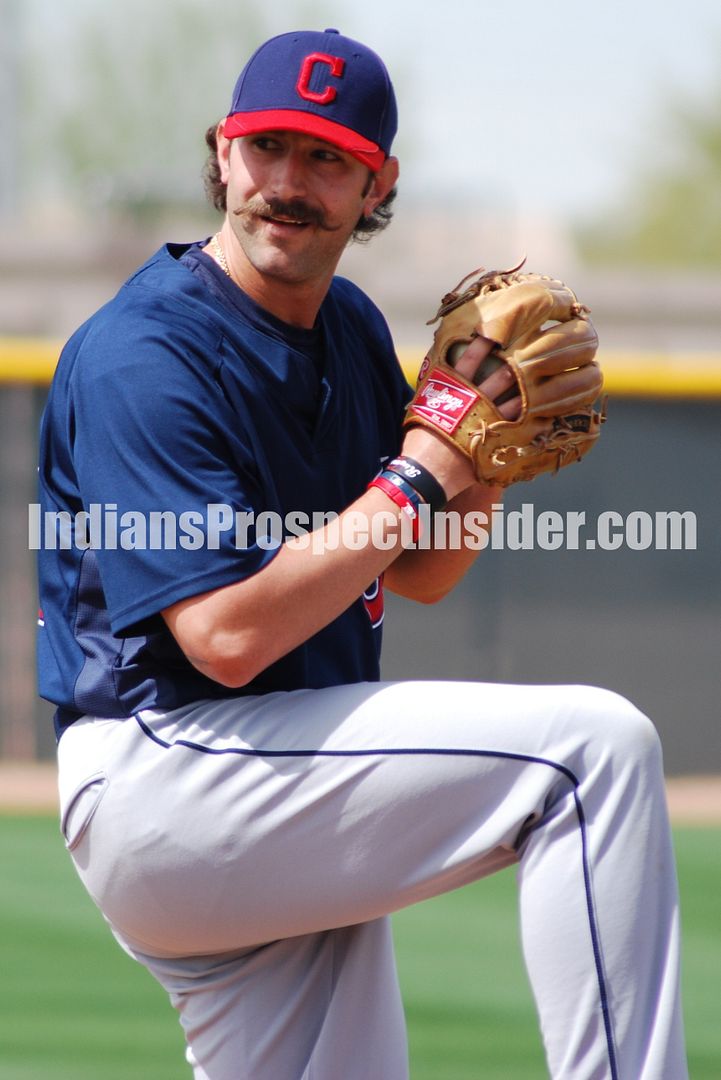 (Photo: Tony Lastoria)
New look, same old Berger
Left-handed pitcher Eric Berger looks a lot different these days.
If you saw Berger you would almost thing he was wearing a costume.

Gone is the short haircut and clean shave, and in is much longer and free flowing hair and a mustache that would make Rollie Fingers proud.
The image change is just Berger showing another side of his unique personality, but he says there really was no inspiration for the change and that it was just something that happened.
"There was no inspiration," said Berger about going with the big mustache.

"I just didn't shave in the offseason and when I cleaned up I just left it as I never had a moustache before.

I figured I would try something new and the guys seem to enjoy it.

It's just a different look and a different year, so I am having some fun with it."
New look or not, the soon to be 25-year old pitcher in three weeks knows he needs to have a much better season than the one he had last year.

In 23 combined starts at Double-A Akron and Triple-A Columbus last year Berger went 5-6 with a 4.90 ERA.

It wasn't a terrible year, but he really struggled in the early going because he was recovering from an oblique injury at the end of spring training and then he struggled at the end of the season when he got a call to Columbus (5 GS, 5.84 ERA).
Berger struggled with his command last year, mostly the result of an inconsistent release point in his delivery which he had trouble correcting when he was a little off in games.

Maintaining his delivery and learning how to make quicker adjustments to re-find his release point is something he has focused on in spring training.
"When you lose your release point its how quickly can you get it back," said Berger.

"I don't want it to be the next inning or batter, I want it to be the next two or three pitches.

I think that is the biggest thing is when you lose the release point to get it back as soon as possible."
Berger doesn't have dominating stuff as he throws a low 90s fastball and compliments it with a good curveball and developing changeup.

He added a new wrinkle to his arsenal late last year when he began incorporating a cutter into his pitch mix.

He really likes the pitch and plans to use it a lot more this season.
"I'm looking forward to throwing the cutter more this year," said Berger.

"At the end of last year I started mixing it in and now I am looking to use it a good amount as I like it a lot.

So far I have been getting some good double play balls from righties and getting it on their hands a little bit.

I'm looking forward to going fastball in to cutter in so it looks like I am doubling up the fastball and it sneaks in on them."
In addition to getting better with the cutter and maintaining his delivery, Berger wants to improve his strike throwing ability and more consistently pound the zone.

If he can get better with throwing more consistent, quality strikes, as a left-hander he has a chance to pitch in the big leagues.
"I just need to throw first pitch strikes, get ahead in the count, and double up when necessary," said Berger.

"I need to get the strike percentage up in all categories and [if I do that] I think I will be good."
Knapp slowed:
The Indians are being very cautious with right-handed pitcher Jason Knapp this spring.

He is not hurt, but the Indians have him on a very conservative throwing program and he will not be ready to open with an affiliate when camp breaks today.

He is expected to remain in Arizona for an undetermined amount of time to allow him time to get himself ramped up to pitch in games and at the same time improve the strength of his shoulder.

Since he threw just 28.1 innings last year he is going to be really restricted with his inning workload this season, so one way to do that is to delay the start of his season.

When he is ready to pitch, he is expected to be assigned to High-A Kinston.

The best guess as to when that might occur is sometime before the end of May.
Goedert smash:
Infielder Jared Goedert may be on the 60-day disabled list, but he is playing spring games out in Arizona and will continue to do so until the early part of May.

Playing with Akron on Friday, he played first base and went 1-for-3 at the plate with a solo home run.
Pictures please:
As noted a few weeks back, I was able to take a lot of pictures of players while I was at camp out in Arizona.

For those who I have made arrangements with already, I will be sending them to you soon.

I have a couple thousand pictures to sort through, edit, and file away, and I plan to have that all done by next weekend.
Akron recap I:
On Thursday, Akron lost to Kinston 5-1 in a 12 inning B-game to give right-handers Mitch Talbot (5.0 IP, 5 H, 0 R, 2 BB, 5 K) and Josh Tomlin (5.2 IP, 2 H, 1 R/ER, 1 BB, 4 K) each a lot of work.

Outfielder Jordan Henry (3-for-6, 3 2B, K) and catcher Doug Pickens (2-for-4, R, 2B, HR, RBI, BB) did all the damage offensively.
Akron
recap II:
On Friday, Akron lost to the Padres 8-4. Center fielder Jordan Henry (2-for-2, R, 2B), shortstop Juan Diaz (2-for-2, R, HR, 2 RBI, BB), and third baseman Kyle Bellows (2-for-4, 2B) paced the offense.

Lefty Kelvin De La Cruz went 4.0 innings (3 H, 3 R/ER, 2 BB, 3 K) and was followed with lefty Nick Hagadone who went 2.0 innings (2 H, 2 R/ER, 2 BB, 1 K) and lefty Eric Berger who went 2.0 innings (3 H, 3 R/ER, 2 BB, 2 K).
Kinston
recap I:
On Thursday, Kinston beat Akron 5-1. Outfielder Greg Folgia (1-for-6, R, HR, 2 RBI, K) and second baseman Ronald Rivas (2-for-4, R, BB) were the main contributors at the plate.

On the mound lefty Scott Barnes (3.0 IP, 3 H, 0 R, 3 BB, 3 K), righty Austin Adams (5.1 IP, 4 H, 2 R/ER, 2 BB, 5 K), and lefty Giovanni Soto (3.0 IP, 2 H, 2 R/ER, 1 BB, 3 K) all chipped in.
Kinston
recap II:
On Friday, Kinston beat the Padres 8-7.

Right fielder Bo Greenwell sizzled at the plate going 3-for-5 (3 R, 2B, HR, 2 RBI), and got some assistance from third baseman Adam Abraham (1-for-3, R, HR, 3 RBI) and second baseman Ronald Rivas (2-for-3, RBI, K).

Righty-hander Clayton Cook pitched a dandy of a game going 5.0 innings (2 H, 1 R, 0 ER, 0 BB, 6 K).

Lefty Chris Jones struggled and in 1.0 innings (4 H, 4 R, 3 ER, 0 BB, 0 K), and righty Adam Miller got some working going 1.0 inning (0 H, 0 R, 0 ER, 0 BB, 0 K).
Lake
County recap I:
On Thursday, Lake County beat the Reds 5-1. Second baseman Jorge Martinez (2-for-2, R) and DH/3B Tyler Cannon (2-for-2, 2 BB) were the offensive stars of the game.

Righty Michael Goodnight went 5.0 excellent innings (1 H, 0 R, 2 BB, 7 K), and lefty Kirk Wetmore went 2.0 good innings (2 H, 0 R, 0 BB, 2 K) and righty Trey Haley went 1.1 innings (2 H, 1 R/ER, 0 BB, 3 K).
Lake
County recap II:
On Friday, Lake County lost to the Padres 2-1.

The Captains managed just four hits, with third baseman Giovanni Ursehla doing all of the damage (1-for-3, R, HR, RBI).

Lefty Mike Rayl had a nice showing on the mound going 4.0 strong innings (0 H, 0 R, 1 BB, 2 K), and righty Kyle Blair followed him up by going 4.0 innings (4 H, 2 R/ER, 1 BB,

0K).
Follow Tony and the Indians Prospect Insider on Twitter @TonyIPI. Also, his latest book the 2011 Cleveland Indians Top 100 Prospects & More is available for purchase for $20.95 to customers in the US (shipping and handling extra).
User Comments
No comments currently. Be the first to comment!