More Pitching Changes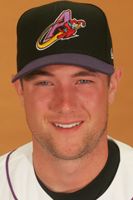 There have been a flurry of moves over the past week in the pitching department up and down the Indians' system. I had a chance to sit down and talk with Pitching Coordinator Dave Miller last night in Myrtle Beach and we talked about a lot of the guys in the system and all the movement and upcoming movement, which I will recap the conversation in
Minor Happenings
later in the week.
In any case, here are some of the recent pitching changes/moves:
- The Indians have released three pitchers in the past few days: left-hander Ryan Edell and right-hander Erik Stiller at Double-A Akron, and at High-A Kinston right-hander Steve Smith was released. Right-hander Neil Wagner (pictured) was initially thought to be released, but has been picked up by Oakland and it appears a last minute trade occurred.
- Right-hander Zach Putnam has been removed from the Akron starting rotation and will pitch in the bullpen, and right-hander Justin Germano is temporarily filling his spot in the rotation.
- Right-hander Josh Judy will be activated at Double-A Akron on Tuesday (hence the Stiller/Wagner release).
- Right-hander Rob Bryson has been promoted to High-A Kinston, and left-hander Chris Jones was promoted to Kinston just the other day (he pitched for Kinston on Monday night).
- Right-hander Brett Brach has been reassigned to Low-A Lake County. Also, right-handers Preston Guilmet and Tyler Sturdevant have been activated at Lake County from extended spring training.
As you can see there has been some reshuffling in the organization with the pitching, particularly in Akron, and many more moves are expected in the coming weeks as the organization looks to sift through a lot of pitching depth and align their top two levels with the best available talent by the end of the season.
User Comments
No comments currently. Be the first to comment!