New 'Glory Days' book a trip down Nostalgia Boulevard
Pluto and Hamilton team up to re-tell great moments from 1994-1997
Terry Pluto's and Tom Hamilton's new book, Glory Days in Tribe Town: The Cleveland Indians and Jacobs Field,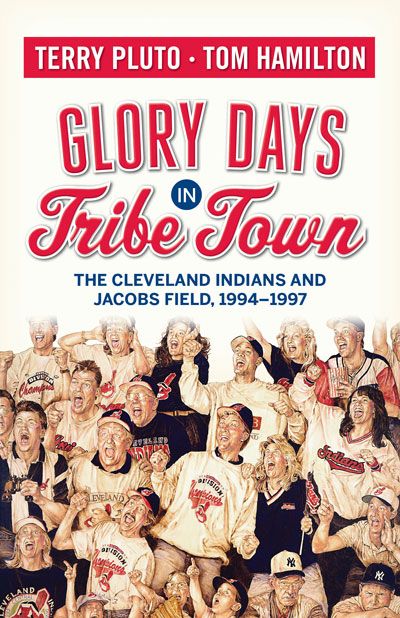 1994-1997 (Gray & Co., $15.95) is chock full of memories of the Cleveland Indians' most successful seasons since the late 40's and early 50's.
Pluto is a beat writer for the Northeast Ohio Media Group, and Hamilton, of course, is the voice of the Tribe on the
radio. Two nicer guys you're not likely to meet.
Pluto is an earnest reporter who's been honored twice by the Associated Press Sports Editors as the nation's top sports columnist for medium-sized newspapers. Hamilton has seen and heard it all since he took on the role of sideman to the legendary Herb Score in 1990 (talk about great timing!) and later on became a broadcasting legend himself, at least here in Tribetown.
If you're like me, and you grew up a Tribe fan in the 70's and 80's, the idea of waxing nostalgic about any "Glory Days" of the Indians was as far-fetched a fantasy as W.P. Kinsella's fictional baseball classic Field Of Dreams—that is to say a notion best saved for late night's wandering Ohio's cornfields after a serious bout with the Budweiser at the local watering hole, following, of course, another Tribe game spent watching the likes of Frank Duffy, Larry Brown, and Charlie Spikes swing and miss or Ken Schrom, Ernie Camacho, and Dan Spillner get whacked around more often than we might care to remember.
You had to be tough to be a Tribe fan in those days when the team played in the Old Stadium, the one built from the fossilized ribs of a brontosaurus that crawled out of Lake Erie and died sometime around the turn of the last century, where the wind whipped through that cavernous empty shell like something straight out of a Jack London novel, bone-chillingly cold and unstoppable, tearing right through your three layers of socks and shirts, and Browns winter hat and scarf you had to wear on opening day, right down into your very soul.
Despair had given way to frozen antipathy by the time the 80's had come to a close. It was a small miracle the team had not headed south to warmer climes in those lost decades for Cleveland fandom.
But then something truly glorious did happen on the corner of Carnegie and E. 9th in the 90's and Pluto and Hamilton do a fine job of recounting it.
From the trade that started it all—Joe Carter for Sandy Alomar, Jr., Carlos Baerga, and Chris James—to the thrilling six game series against the Atlanta Braves and their Hall of Fame rotation in 1995, to that gut-wrenching extra-innings World Series Game 7 loss to the Florida Marlins (the carpet bagging Marlins!?) in 1997, Glory Days is a breezy, fast paced recounting of what was the very best time to be an Indians fan, maybe ever.
My favorite part of the book is the first section, which recounts how the team was built by the shrewd decisions of first Dick Jacobs and Hank Peters, then Jacobs and Peters' protégés John Hart and Dan O'Dowd. Hart was the gambler, the big picture guy, and O'Dowd was moneyball even before Billy Beane garnered that title. Not every move they made worked, but they made so many good, shrewd, smart, baseball moves (Omar Vizquel for Félix Fermín, Reggie Jefferson, and a bag of shiny beads? Seriously?) that it felt almost inevitable the team would win a World Series in that decade. Almost...
Fate, being the cruel huckster that he/she is, has always looked askance at Cleveland sports fans, at least since 1964, and just one out away from a thrilling Game 7 win in 1997, the juggernaut of the 90's that featured some of the greatest hitters in the last half century (Albert Belle, Jim Thome, Manny Ramirez, Eddie Murray) faltered.
Now, almost 20 years later, those of us lucky enough to have been there (I took an unannounced week off from my bookstore job in LA and flew to Atlanta and then Cleveland to watch the first three games of the 1995 World Series) deserve, I suppose, to take a trip down memory lane to relive the glory days that were Tribe baseball in the 90's.
We had a brief glimpse of it in 2007 and an even briefer one in 2013, but if you're too young to remember the 90's, all I can say is I wish that sometime in your lifetime you get to experience another run like that. And if you're old enough to remember those halcyon days, go pick up a copy of Terry Pluto's and Tom Hamilton's new book, and stroll down Nostalgia Boulevard, reliving what was a truly exceptional time to be a Tribe fan.
Until the next re-awakening of the Sleeping Giant, it will have to do. Go Tribe!
User Comments
JM
January 4, 2015 - 10:10 PM EST
Fantastic book. I am about half way through it and it's hard to put down.