Offseason Spotlight: Bo Greenwell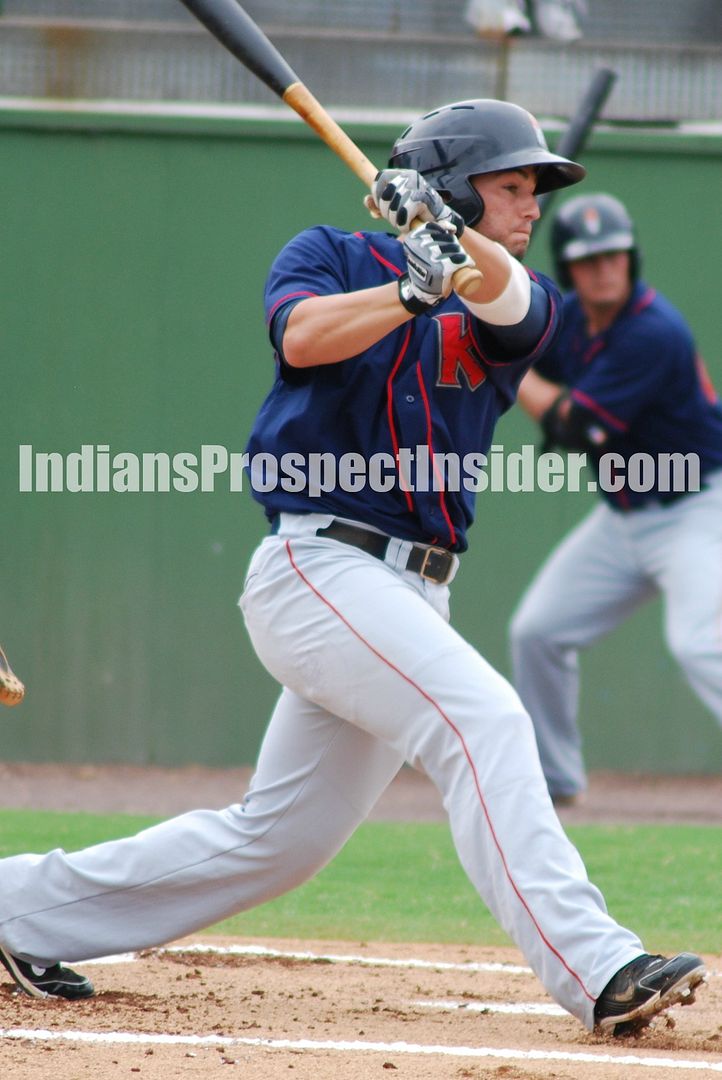 Bo Greenwell (Photo: IPI)
As a new year quickly approaches, one player in the Cleveland Indians minor league system is glad to see 2011 come to an end.

Outfielder Bo Greenwell had a season to forget with two major injuries, and is now ready to turn the page on the calendar in the hope that 2012 is much better both on the field with his performance and most importantly his health.
"Obviously it was disappointing to have an off year in an important year," Greenwell said in a recent interview for the IPI. "I hit the ball well but I just seemed to hit the ball at people, and then I got hurt on top of that. That's just baseball sometimes and something you have to accept."

Greenwell had a good spring training and came into camp much bigger and stronger. He looked to be on his way to a good season and opened with High-A Kinston and up until June 12th was hitting .261 with 3 HR, 19 RBI and .688 OPS in 57 games.

But Greenwell's whole season flipped upside down on June 12th when in his first at bat against Myrtle Beach a fastball came too far inside and clipped him on his left hand. The ball destroyed the bone in his left little (pinky) finger and required reconstructive surgery where he had to have a plate and screws inserted to keep it together.

"I broke my pinky finger in half, and the top part was mangled because it got caught between the handle and the ball," Greenwell said. "They tried to set it and it would not set right so I had to have surgery. I have a plate that runs along the top of the finger and four screws. It is strong, but it will never look straight."

Greenwell hits left-handed and the ball managed to come in and only hit him on his left little finger. Being that it was his top hand and the little finger is tucked on top of the right hand, how a ball made its way to that specific area without breaking or damaging anything else is amazing.

"It was a freak thing," Greenwell said. "The only thing I can think of is it was a cutter and I knew he was coming in and I got my hands sped up and all I could do was try to get out of the way. It happened so fast. It sounds funny because it is a broken pinky. I don't feel it when I throw and when it comes to hitting it has not given me any problems."

When the injury occurred the Indians sent Greenwell home to Fort Myers, Florida for about two weeks while he waited for the stitches to heal and could take them out. After flying him back to Cleveland to check him out they sent him out to Goodyear, Arizona to begin a long eight to nine week rehab.

It was a long, tedious process where Greenwell would rehab daily from 6am to noon. The first few weeks were spent getting the motion back in his hand and also getting his finger straightened out and able to bend again. After that he spent about another three weeks doing strengthening exercises before he could even resume baseball activities.

While doing all of this Greenwell was stuck in the lonely confines of Goodyear while the minor league baseball season raged on. As each day passed the end of the season grew even closer which meant less time for him to get back on the field.

"That was the hardest part is sitting around and thinking, 'hmmm, I wonder how the K-Tribe is doing' and checking up on the stats and everything," Greenwell said. "You just try to keep yourself as busy as possible and find something to do every day just to take your mind off of it. I did as much as I could do exercise-wise that they would let me do each day."

Indians' personnel had already planned to have Greenwell return to regular game action in the fall during Instructional League. But to Greenwell's credit he worked hard to get back before the end of the season and ended up shaving off about three weeks from his rehab.

Rehab Coordinator Dr. James Quinlan and the Indians front office saw Greenwell was much further along than expected so they activated him on August 24th. They had him start playing some games at rookie level Arizona to get him back into the swing of things and he responded well by hitting .692 with a 1.964 OPS in four games (9-for-13, 4 2B, 1 HR, 6 RBI). After such a good showing the Indians wasted no time in sending him off to rejoin his Kinston teammates for the last week of the season and playoffs.

"When it happened they told me I was done for the season, but I worked hard to get back before the season ended," Greenwell said. "James Quinlan and I were on the phone with [Director of Player Development] Ross [Atkins] constantly. In my opinion James is the best at what he does and it was his call. The good thing about me being in the organization as long as I have is he knows me and I know him. It was just a relationship thing and we were able to push it as quickly as possible without having any setbacks. I was fortunate enough to get back and get to play in the postseason."

Once the season ended Greenwell immediately went out to Instructional League in mid-September to play a lot of games in order to make up some lost at bats from the season.

"I had to make up innings, so I went to the Parallel League and Instructs to do double duty," Greenwell said. "They put me in both so that way on the days I was off in the Parallel League I would go to Instructs and get innings."

But in Greenwell's fourth game in the Parallel League during the last week of September he went down with another injury as he tore the ACL in his left knee while stealing second base. It was actually the second time he injured the ACL in his left knee as he originally tore it and had surgery to repair it five years ago during his senior year in high school.

"It's been a tough year all around," Greenwell said. "The surgery went well and rehab is going great. It's a long, tedious process, but the good news is that I did this when I did it so I'm not missing any playing time. I have started light jogging [by doing] limited weight-baring running using the pool. As long as everything is where the doctor wants it to be I begin baseball activity with throwing and light hitting in late January."

Greenwell is expected to be ready for the season when minor league camp opens this coming March, though the Indians will probably take it easy with him during spring training and not push him too much. There is a good chance he could open the season in extended spring training and then once he is cleared to play without restriction he could join High-A Carolina or even Double-A Akron a month or two into the season.

It was certainly a frustrating year for Greenwell having to deal with two very significant injuries. Injuries have such a big effect on a baseball career, but they are also part of the game. He knows this and just wants to move on so he can show that he can be the player he knows he can be.

"I was unable to put a full season under my belt this year with all the things I have learned," Greenwell said. "That is the frustrating part. I have always been a guy who has people that have doubts about me, and the next season I prove everybody wrong. I fell short with the at bats. All I can do is take every at bat one at a time and hopefully it will all pan out."

Follow Tony and the Indians Prospect Insider on Twitter @TonyIPI. Also, his latest book the 2011 Cleveland Indians Top 100 Prospects & More is available for purchase for $20.95 to customers in the US (shipping and handling extra).
Follow Tony and the Indians Baseball Insider on Twitter @TonyIBI. Also, his new book the 2014 Cleveland Indians Baseball Insider which profiles the Indians' Top 100 Prospects and more is available for sale.
User Comments
No comments currently. Be the first to comment!