Offseason Spotlight: Casey Frawley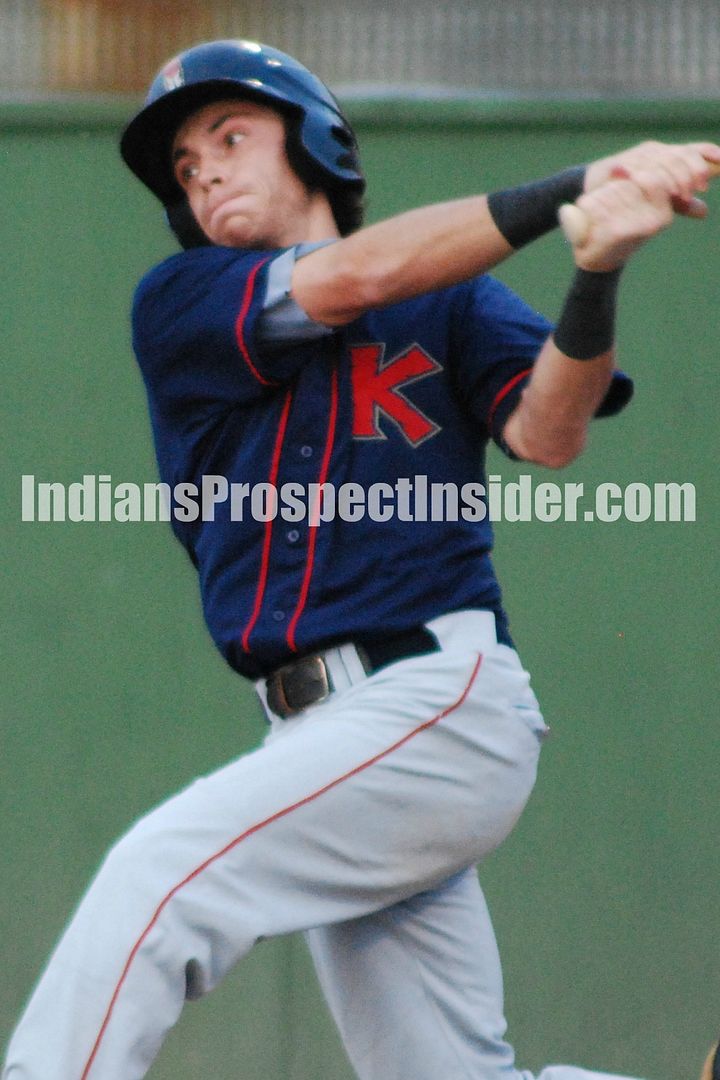 With a new baseball season upon us, it provides an opportunity for some players to wipe the slate clean. Last year's disappointment can turn into this season's success. That's the approach some players are taking that are looking to rebound from a rough 2011. One of those players is infielder Casey Frawley.

Frawley, 24, struggled through a disappointing 2011 campaign at High-A Kinston as he hit just .215 with 11 HR, 59 RBI, and .638 OPS in 127 games. The production numbers were up to par with seasons past, but the batting average and slugging percentage (.346) were all significantly lower than in previous seasons.

Frawley did not perform up to expectations, but he was also battling some eye issues that affected him all season.

"I went through some issues that not a lot of people know about as I had some vision issues," Frawley said in a recent interview for the IPI. "I had it [in 2010 too], but it sparked up again [last] year. My eyes keep changing so my prescription keeps changing, and over the course of about two and a half months [last season] I was unaware of it."

The higher level pitching in advanced Single-A was definitely a contributing factor to Frawley's dip in performance last season, but the eye issue surely did not help.

"I was swinging at pitches and missing them by a good two feet and did not know why, so I went to an eye doctor and got it squared away," Frawley said. "It was a lot tougher than I thought it would be to get out of the bad habits that I created. I thought I would get the right prescription and then, boom, I would be back. I created some bad habits over those few months. It was frustrating because you want to help your team win in any way you can, but when you can't see at the plate it is tough."

Because Frawley's eyes are still maturing, they keep changing. Until they stop changing he really cannot have corrective surgery because they could change again and he would then have to have the procedure again. In the meantime he is just making frequent eye appointments to try and keep up with his changing prescription as best as he can.

As a hitter the eyes are probably the most important tool. Without good vision it is hard to pick up the rotation of the ball. Frawley often saw the ball as a white mass coming at him, which made it difficult to read pitches.

"Everything is unclear and blurry," Frawley said. "I wasn't close to being able to recognize offspeed pitches. It was just a ball coming in so everything looked like a fastball and then it would break a foot and I would miss it by a lot."

The vision issues even affected Frawley in the field.

"Pop ups were tough at night because the lights made it hazy," Frawley said. "A ball would go up and I would catch the glare out of the eye. It was a mess. I was not able to see the hitters well so I was not able to get decent jumps out there. It was just an absolute mess on both sides of the ball; there is no other way to say it."

With a new season on the horizon Frawley just wants to get back to the player he was in 2009 at short season Single-A Mahoning Valley and in 2010 at Low-A Lake County.

"I just want to get out of the bad habits and get back into what I have done my first few years in pro ball with a short swing," Frawley said. "Just have a decent eye at the plate and try to get on base more. I am going to put a real emphasis this offseason on trying to build some endurance and strength so at the end of the season I can feel like I did toward the beginning of the season."

Frawley has enjoyed a lot of team success in his three year career. In 2009 at Mahoning Valley they fell a game short of winning the NY-Penn League championship. In 2010 at Lake County they went through a memorable run in the playoffs to win the Midwest League championship. Last season at Kinston they made the playoffs the last weekend of the season but were ousted in the first round of the Carolina League playoffs.

The everyday grind each season is tough, especially in the minor leagues. But even with the ups and downs that baseball brings, Frawley would not trade it for anything right now.

"It has been a lot of fun," Frawley said. "The experience over the last few years that we have had is unparalleled. [The season] is grueling, but I know I can speak for a lot of guys in that there is nothing else we would rather do. It is tough and it's a long, long season, but if you can get to that ultimate goal of playing in the big leagues there is nothing better. It has definitely been one of the best experiences I have had."

With last season now behind Frawley his focus this season is to be more consistent and show what he can really do. The eye issues may not be completely behind him, but he has a better handle on the issue so that it should no longer affect his play much in the future.

"[Last year] was definitely a long season, probably the longest of my life because it was so frustrating with all the problems I had," Frawley said. "It will be good to go out there and get some at bats and show everyone the real hitter I am and not the numbers I put up [last] season."

Follow Tony and the Indians Prospect Insider on Twitter @TonyIPI. Also, his latest book the 2011 Cleveland Indians Top 100 Prospects & More is available for purchase for $20.95 to customers in the US (shipping and handling extra).
Follow Tony and the Indians Baseball Insider on Twitter @TonyIBI. Also, his new book the 2014 Cleveland Indians Baseball Insider which profiles the Indians' Top 100 Prospects and more is available for sale.
User Comments
No comments currently. Be the first to comment!