Offseason Spotlight: Thomas Neal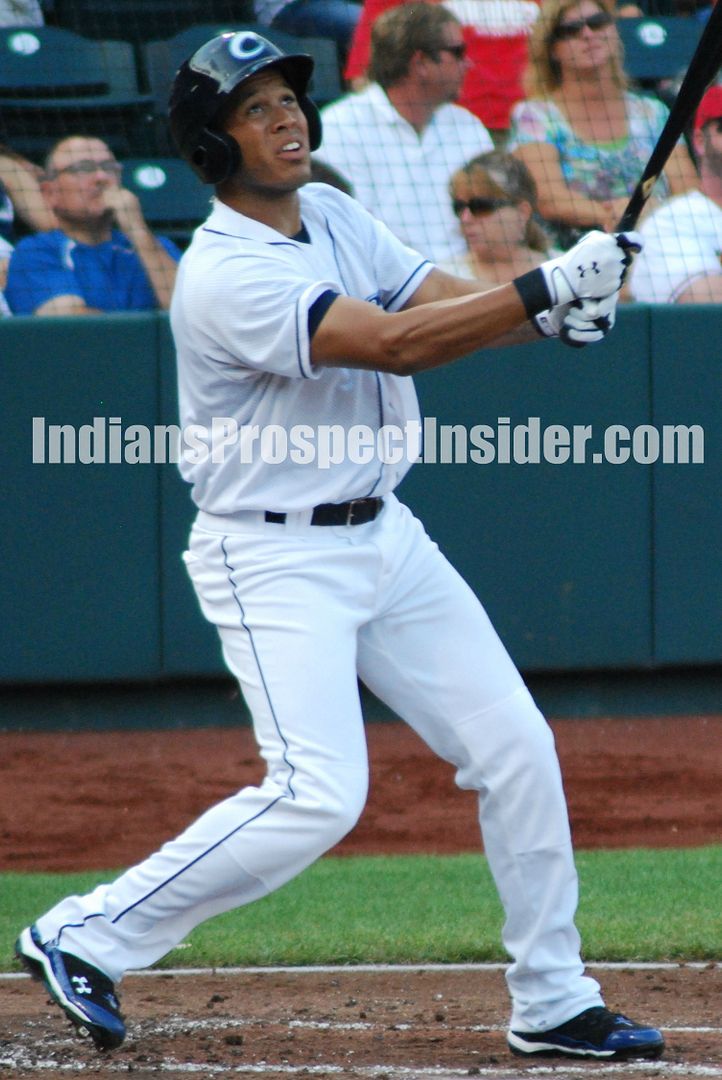 The offseason continues to roll along. By now most of the players in the Cleveland Indians' system from the minors to the majors are well into their preseason workouts in preparation for the new season.

Some of those preseason workouts have been interrupted this week as the Indians invited a select few players to come to Cleveland for their annual Winter Development Program. Eleven Indians players are currently in Cleveland this week getting to know the city and the facilities at Progressive Field, and then this weekend will ship off to Goodyear, Arizona for the second leg of the development program which finishes up at the end of next week.

One player participating in the program is newly acquired outfielder Thomas Neal.

Neal, 24, is the player the Indians acquired in their July 30th trade with the San Francisco Giants for infielder Orlando Cabrera. He played only 70 games last year between Triple-A Fresno and Columbus because he battled a few injuries, and hit .289 with 2 HR, 26 RBI, 8 stolen bases, and .734 OPS.

Like with any player the trade flipped Neal's world upside down as he was leaving the confines of the Giants' organization for an Indians organization he really knew nothing about. At first he was startled by the trade, but then quickly realized it is a new and maybe even better opportunity for him.

"I really look at it as a blessing," Neal said in a recent interview with the IPI. "It is one of those situations you have no control over. Obviously the Indians believe in my talents enough to make that trade. At the time I didn't even know who I was traded for as it was not officially out yet. It was exciting. I called my mom first and told her I can't really talk and don't have all the details – you know how moms want to ask all the questions. It was a hectic and crazy time."

Neal had no idea he was even being considered in a deal. Even up to the time he was told over the phone by Giants Vice President of Baseball Operations Bobby Evans that he had been traded.

"It was about the second inning of our game and I was sitting on the bench," Neal recalled. "Our athletic trainer came up to me and told me Bobby Evans wanted to speak to me. I wasn't even putting two and two together, and I went upstairs and made the call and he told me I had been traded to the Indians. It took me by surprise and then we said our good-byes and he wished me well. It was a unique experience."

At the time of the trade Neal was on the Triple-A disabled list with a left hand injury. He had last played on July 16th but the Indians were comfortable with the looks they had of him prior to the injury and with his medical information so made the trade. After the trade he continued his stay on the disabled list at Columbus for a week until he made his debut in the Indians organization, but was limited to just ten games before he was back on the disabled list and did not play the rest of the season.

The recurring hand injury Neal had to work through all last season made for a very frustrating season.

"For me, it was a frustrating season, but I wouldn't call it a down year," Neal said. "I don't like to make any excuses but before the hand injury I was hitting .320 and tried to play through it and my numbers suffered. I feel like everything happens for a reason, and the injury gave me time to clear my head and fix some things. Mentally and physically I am fresh and hopefully in the long run it will help me finish strong."

The hand injury mostly affected Neal's ability to drive the ball. He is a well-rounded player that can hit for average and power, and also plays sound defense and can steal some bases. But the power component is what was missing the most last year as he came into the season with a career .475 slugging percentage but only had a .391 slugging percentage last season.

"It was just one of those years where I went on the DL the second game into the season, I came back and was back for 15-20 games and got hurt again and missed a month, and then came back and went on the DL again," Neal said. "So it was hard to get into a rhythm. It was a palm injury that I hurt sliding into third. I kind of bruised it and tried to play on it for a week, but I slid again and it got little bit worse. It was one of those things where I was trying to swing and every time the knob hit my hand I couldn't stay through the ball or anything. At first [the Giants] thought I had broken my hamate bone, but after more tests we found out it was just a deep bruise and was something I just had to take my time to make sure it got well."

Now that Neal has had time to rest and recover from the hand injury last season, his right-handed bat and versatility in the outfield could really help the Indians at some point this season. As a right-handed hitter he brings something the Indians lack not only in Cleveland but through their minor league system. To break into the big leagues he is going to need to show he versatile in the outfield and fill a fourth outfield role.

"Me personally, I feel like I can play the corners and I played center [last] year," Neal said. "I am faster than people give me credit for in the outfield. I really work on getting good jumps and it is something that I really work on with my defense and I think helps reading the ball off the bat. I played shortstop my whole life, so I have some instincts on what to expect and how to read the swings which helps make up for not having blazing speed."

Even with his big 6'2" 225 pound frame, Neal moves well in the outfield. He was a shortstop in high school, but thanks to his former high school coach Tom Brunansky - the former Minnesota Twins outfielder in the 1980s and now currently the hitting coach for the Twins Triple-A Rochester affiliate – he moved Neal to the outfield near the end of his senior season and is something that has paid off for him ever since.

"In high school I played shortstop," Neal said. "We were playing a game and I went into the outfield in center field. People kept hitting balls out there and I kept running them down and Brunansky said I had a better shot of being an outfielder. So about three quarters of the way through the season I made the switch to the outfield and it is how I got drafted."

Neal also has some experience at first base as he spent his 2008 season at Low-A Augusta splitting time between first base and designated hitter. That season he was coming off of labrum surgery on his right shoulder and the Giants did not feel he was quite ready to go back out to the outfield, so had him play some first base that season.

That experience at first base along with Neal's experience as a shortstop in high school could be something the Indians or another team experiments with down the road to add some versatility if he does not work out as a full time outfielder. But right now the focus is making him an option to use in the outfield this season.

Neal is one of several outfielders that will go to big league spring training in a dogfight for the fourth outfielder role on the team. Unless a few of the other candidates get hurt he is expected to open the 2012 season in Columbus, but will be one of the first options the Indians call upon this season when a need presents itself.

Health is always the biggest key, but if Neal is healthy and performing he has a great chance to make his Major League debut some time this season.

"Hopefully the opportunity presents itself," Neal said. "Obviously everyone's goal is to become a big leaguer. But I know the one thing I have always felt strongly about is that when I go up there I don't want to come back. I want to go up there and be a productive Major Leaguer. I don't want to be someone that is not helping the team. I want to be someone that can be a force. That's my goal and what I am always going to strive to be."



Follow Tony and the Indians Prospect Insider on Twitter @TonyIPI. Also, his latest book the 2011 Cleveland Indians Top 100 Prospects & More is available for purchase for $20.95 to customers in the US (shipping and handling extra).
Follow Tony and the Indians Baseball Insider on Twitter @TonyIBI. Also, his new book the 2014 Cleveland Indians Baseball Insider which profiles the Indians' Top 100 Prospects and more is available for sale.
User Comments
No comments currently. Be the first to comment!