Offseason Targets: Carlos Lee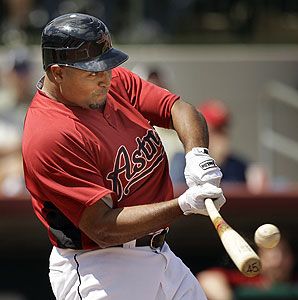 Carlos Lee (Photo: AP)
After reading a few comments about people wondering about Houston Astros outfielder/first baseman Carlos Lee, I thought it might be worth it to do a quick rundown on him as a particular biggish name that could actually be a trade target of the Indians.

Why the Indians should be interested in Lee: He plays outfield and first base, is a right handed hitter, he kills lefties, Houston is in full sell mode, he is durable, and he has a low career strikeout rate.

Why the Indians should not be interested in Lee: He is a horrible defender, he is owed $18.5 million this season, he will be 36 early next season, and he has conditioning issues.

Houston is in a weird place where their minor league system is so bad and the big league team is so bad that GM candidates are turning the job down at a rate worse than the Orioles position. The new owner is willing to spend money, yet Lee is not a guy that would be considered the face of the franchise which means a perfect situation where the Astros might be willing to eat salary. If they are willing to eat 70% of his salary the Indians would be risking $5.55 million on him next season.

For those who are not familiar with Lee, he is a rather rotund player. His weight is such an issue that it was actually written into his contract.

As for what Lee would project to do, the outlook is actually very good. His production last year was basically equal at home (.796 OPS) and on the road (.779 OPS). For his career he has really even splits, but as he has gotten older he is a little above league average versus righties but against lefties he hits like an All Star.

I think he could be reasonably expected to put up 30-35 doubles, 15-20 HR, a .270 average, a .340 OBP, a .430 SLG, and .770 OPS while also leading the league in grounding into double plays. As a bonus he has a near 1:1 strikeout rate, and rarely strikes out more than 70 times a year which would be another skill that the Indians lineup could use. He won't be an All Star, heck he might not be more than a five or six hitter, but he brings in an exact set of skills that the Indians need and at the positions they need filled.

The Indians don't have a ton left in the upper levels of their system of high value to trade, but they could offer pieces to help the Astros now which would make the trade a solid PR move. Plus not a lot of teams out there are willing to trade for a player who is near 36 and owed that much money and is known for his bad conditioning.

I wonder if Zach McAllister and Zach Putnam get the deal done. Houston gets an arm they could close if Melancon does not keep it together, while McAllister is about the 8th arm in line for a call up to start for the Tribe. Houston is actively trying to move two starters, so I think it's safe to say McAllister would slot in as a starter from day one. So the upside for Houston is they save almost $6 million and get two ready players who help from day one and they will control for the next five years.

When it comes to the Tribe, they have to take risks. Carlos Lee has a lot of issues, but as an offensive player he is an ideal fit for the Tribe. He would be a right handed bat who can play two positions and kill left-handed pitching. Basically the trick to any deal getting done is trying to figure out what it takes to get Houston to pay for the majority of his contract. Lee also has a full no trade clause in his contract, so like Carlos Beltran last year he may choose to not waive it to come to Cleveland.
Follow Jeff on Twitter @jeffmlbdraft, or email him at jellis121@yahoo.com
User Comments
No comments currently. Be the first to comment!