Orbiting Cleveland: The book on Zach McAllister
McAllister has much to prove this season
Ace. Has there ever been a more ambiguous term in the baseball realm?
For a game as grounded in statistics as baseball, it's amazing how there has never been a concrete answer as to how we define an ace. Some define an ace as the best starting pitcher on each team while others see an ace as a pitcher who will be among the league leaders in several statistical categories.
For me, the definition of an ace has always been simple: 3.50 ERA, 200 innings pitched and 200 strikeouts. If a pitcher's stats are near those levels, it seems fair to say that he's among the best in the game.
With that in mind, I want to take a trip back in time to the conclusion of the Cleveland Indians' 2011 season. I remember watching as Director of Player Development Ross Atkins was interviewed on SportsTime Ohio as part of the network's weekly show, "Minor League Magazine."
The topic of Zach McAllister came up during the broadcast. While I cannot recall the exact words, Atkins was asked to touch on how he sees McAllister profile as a Major League starter. Atkins responded with something along the lines of, "Zach has all the makings of a good back-of-the-rotation starter, but I think if you asked Zach, he would say he'll be a front-of-the-rotation guy."
Laughable. Unrealistic. Impossible.
Those are just some of the thoughts that entered my head as I sat on the couch and listened to Atkins' words. McAllister had started four games for the Indians the previous season, and the results looked like anything but what you would expect from a front-of-the-rotation guy.
In four starts, McAllister posted a 6.11 ERA in 17 2/3 innings of work. He looked unprepared at times — almost completely unaware of his surroundings. To me, he seemed poised to be a guy who would get a few cups of coffee in the big leagues before ultimately being relegated to Triple-A fodder.
But let's now fast forward to the present time. Look up and down the Tribe's roster of starting pitchers? Who do you trust most now? My guess is that a sizeable percentage said McAllister.
A handful of national pundits seem to be high on McAllister heading into the 2013 season. In fact, Grantland.com's Jonah Keri even included McAllister in his list of 16 players that have a chance to breakout in 2013.
While many seem to be high on McAllister, they're high on McAllister as a back-end starter. But could there be something more?
McAllister had a strong 2012 campaign and posted a 3.83 ERA in 188 2/3 total innings and 22 starts with the Indians and 11 starts with the Columbus Clippers. He also recorded 162 strikeouts over that same span.
Hmmm… those numbers don't look too far off from my proposed definition of an ace, do they?
Now, this piece is not meant to suggest that McAllister is an ace or even close to becoming one. Rather, it's designed to probe the question of whether McAllister could become an ace?
At first glance, this seems like a preposterous question, but let's take a closer look.
McAllister was acquired by the Indians from the New York Yankees in July of 2010 in exchange for outfielder Austin Kearns. Give his current statistics, it seemed as if the Indians were buying low in regard to McAllister. The right-hander had a 5.09 ERA in 24 starts with Triple-A Scranton/Wilkes-Barre, and he certainly did not display the skills normally associated with a potential Major League starting pitching option.
However, McAllister was also a pitcher in transition. The right-hander was working to add a cutter to his arsenal, and that could have been a justifiable excuse for his struggles.
McAllister seemed to grasp control of all of his offerings about a year later, and the acquisition started to bear fruit. He posted a 12-3 record with Triple-A Columbus and dominated the minor league pitching scene. Things only got better the next season when McAllister started 22 games for the Indians, and proved that he could be an immediate Major League contributor. His ERA of 4.24 was the best among the Indians' starting pitchers, and he seemed to be a promising option for the team in the future.
So, what exactly is it about McAllister that makes him such a viable Major League option moving forward? For starters, the right-hander stands 6-feet, 6-inches tall and weighs 240 pounds.
Size is always nice with starting pitchers, but McAllister is simply a horse; he possesses the type of body that can hold up for long stretches at a time. The Chillicothe, IL native pitched a total of 188 2/3 innings last season, and his size certainly suggests that he could take on an even bigger workload in future seasons.
The ability to log innings is just one aspect of what it takes to be successful pitcher. Sure, innings eaters are nice, but there's a distinct difference between an innings eater and a good innings eater. Judging by peripherals, McAllister seems as if he could be an example of the latter.
Many fans have been quick to label McAllister as a back-of-the-rotation innings eater type, but they seem to forget how McAllister is more than capable of bringing the heat. For reference, take a look: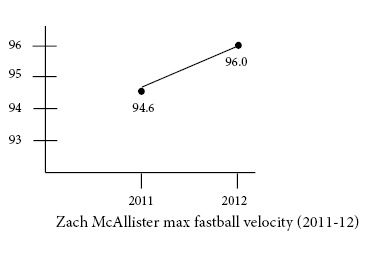 During the past two seasons, McAllister has seen sizeable gains in his fastball velocity. In 2011, he averaged 91.2 miles per hour with his fastball with a high of 94.6. In 2012, those numbers increased to an average of 91.8 miles per hour with a high 96.
Please, tell me what kind of back-of-the-rotation starter can hit 96 miles per hour on the gun? Waiting. Oh, that's right: No one.
Increases in velocity seem to go hand-in-hand with increased strikeouts, and that's exactly been the case with McAllister. His K/9 rate has seen a sizeable increase in each of the past two seasons, and fans can only hope that that's a trend that will carry over into 2013.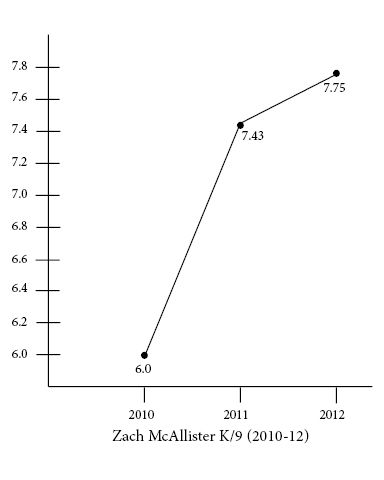 The K/9 rate of 7.75 is actually deceiving as McAllister's strikeout rate actually improved at the Major League level as he managed to strikeout 7.9 batters per nine innings in his 22 starts as an Indian. Remember that number: 7.9.
In comparison, the Indians' so-called No. 1 and No. 2 starters Justin Masterson and Ubaldo Jimenez managed to strike out 6.9 and 7.3 batters per nine innings in 2012, respectively, yet they're still the top two starters in the rotation. Hmmm…
So, let's make sure we have this clear. McAllister had a lower ERA and struck out more batters than the top pitchers in the rotation, yet he's considered a back-of-the-rotation starter? Seems kind of puzzling, right?
Now, with all that being said, let's be sure to point out that McAllister is far from a perfect pitcher. He allowed 19 home runs in 22 starts with the Indians last season, and his home run to fly ball ratio of 12.1 percent simply is not going to cut it.
McAllister allows his fair share of fly balls, but one has to suspect that the additions of Michael Bourn and Drew Stubbs will help alleviate this woe. Between Bourn, Stubbs and Michael Brantley, the Indians will have three center fielders patrolling the outfield. You have to imagine that they'll be able to track down a lot of those fly balls.
However, perhaps the most encouraging aspect with McAllister is the fact that his FIP, both in the minors and Majors, always seems to be lower or on par with his ERA. For example, one might think his 2012 ERA of 4.24 was simply luck, but take look at his FIP last season: 4.24. It appears as if McAllister pitched exactly as he should have been expected to.
So, after taking a look at all these numbers, what exactly can be concluded? Well, for one, McAllister is a workhorse. He's a big, strong man, and it's certainly conceivable that he could regularly log 200 innings each season.
Also, McAllister is a pitcher that continues to improve each year. Remember that he just turned 25 on December 8. This is a pitcher who is still very young and continues to learn all the technicalities of the pitching game.
So far, he seems to be doing a pretty swell job. He's already added a cutter in 2010, and when you combine that with his fastball, slider and changeup, he seems to have all the necessary tools to be a successful Major League pitcher. His fastball velocity and strikeout totals certainly could continue to improve in the years to come.
McAllister may still profile as a back-of-the-rotation type, but if that's the case, he profiles as a great one. In 22 starts with the Indians last season, McAllister hit 96 miles per hour with his fastball, struck out 110 batters, pitched 125 1/3 innings and recorded an ERA of 4.24. If given a full Major League season of work, how close do you think McAllister could have gotten to the barometer of a 3.50 ERA, 200 innings pitched and 200 strikeouts?
Also, what if McAllister continues to add arm strength as he progresses? Can you imagine if he happens to hit 97 miles per hour this year? Combine that velocity with his size, control and four-pitch mix, and you're suddenly looking at a very intriguing pitcher.
So, in closing, let's revisit some of the original questions identified at the beginning of this piece. Is Zach McAllister an ace? No. But could he one day become one? You're damn right he could.
Steve can be reached via email at orbaneks@gmail.com.
User Comments
Jwahoo
March 30, 2013 - 6:56 PM EDT
Correction, Ben Broussard helped bring us Bauer and Stubbs in 2013.
Jwahoo
March 30, 2013 - 5:39 PM EDT
Bric, I don't think they trade Ascab this year. But, I do think they move him and Perez for a starter like Bauer next off season. Lets pretend they get Zach Lee from LA.

So, the rotation could be Carrasco-Bauer-Masterson-McCalister-Lee.

I think Ronnie Rodriguez will play 3B if he makes it to the bigs and Chiz will move to first.

I don't understand why some people seem to be under the impression Juan Diaz is a legit prospect at SS though. I think he could be a solid back up but I don't see him as a starter. At least not a long term one.

There is no question the trade of Kearns for McCalister was great but I would rate Eduardo Perez for Ascab, Broussard for Choo and Blake for Santana ahead. Really all of those trades are crown jewels. Can you believe that Eduardo Perez brought us Trevor Bauer and Drew Stubbs in 2013?
rick
March 30, 2013 - 12:16 PM EDT
McAllister is the crown jewel of the Tribes many mid-year trades which they excelled at during our fallow years. Another promising addition - G. Soto for J. Peralta - showed he still needs time in AA this spring.

Still. Once could argue no matter how McAllister pans out - if he is a 3 or a 5, the fact he is trending up is amazing given where the Yankees are right now.

They gave up on Zach right around the same time they gave up on Ian Kennedy when they shipped him to Arizona.

Tell me they wouldn't love to have them both - instead of trying to sell Andy Petit and Nova as some semblance of a future going forward.

The Zach attack has all the same hallmarks of Jake Westbrook - no ace but could be a very solid starter for years to come.

And it's great to hear he isn't convinced HE COULDN'T be a #1 - the same kind of gritty determination you see in Ian Kennedy and he almost surprised everyone with a Cy Young season in '11.

A total steal of a deal that is only sweatened because it was via the Evil Empire.
Bric
March 30, 2013 - 12:30 AM EDT
Excellent article; excellent responses.
McCallister, Carrasco, Bauer, Salazar, + either Masterson or Kazmir and you have fine rotation in 2014.
I don't know about this year.
Will they trade Asdrubal for a SP if the rotation falters?
Lindor may be closer than everyone thought, and Diaz and Ronny Rodriguez may be ready sooner yet.
shy
March 29, 2013 - 7:50 PM EDT
Good piece Steve. I was skeptical of McCallister when the Indians picked him up. He didn't have good numbers in the Yankees minor league system, and although he was a big guy, he didn't throw hard. The Yankee scouts said he lived around 90, to me he was what they call in pro-wrestling a ham and egger- somebody to fill out the line-up card that could take a beating. I was quite surprised to see how well he did in Columbus last year. The thing I noticed the most- just from reading the game summaries, is how well he pitched out of trouble, especially in close games. He seemed to be able to dial up his concentration and reach back for something extra. That is a trait that transfers from level to level pretty well and he displayed it at the higher level when he was called up. The velocity increase was not unnoticed either. Of course, cynic and ex-druggie that I am, I had to wonder if Zach had a little help in becoming a power pitcher. I don't know for sure, but I am going to give him the benefit of the doubt. He was drafted young by the Yankees, no college, and he very well could be a late bloomer, both mentally and physically. He's very tenacious. When he may makes mistakes, and every good pitcher makes plenty of them there are so many good hitters out there he doesn't give in. I think Zach will have a good year and be a stabilizing force in what appears to be at this time a rotation with more questions than answers. I'm going to say he stays up all year and ends with 14 or so wins.
Tony
March 29, 2013 - 7:38 PM EDT
I'm a big McAllister fan, and I think Steve hits it right on the head here. I don't expect him to be a James Shields type of starter, but I think he could very well become a new version of Jake Westbrook. For as good as CC Sabathia and CLiff Lee were when they were here together, I always viewed Westrbook at the lynch pin to that rotation. Just consistent and solid every year, and I see McAllister turning out the same way. Here is hoping to a breakout campaign from him this year.
Alvaro Donaire
March 29, 2013 - 5:58 PM EDT
Last year fangraphs had an article analizing that mcallister, had the highest precentage of strikes from his curveball in all majors, so the guy has a nice arsenal of pitches. I think he is the real deal, i just hope he builds some character from the team errors, given all the unearned runs he had last year. I can see him wining 12 games this year.