Orel Hershiser: From Pitching to Poker
Ex-Cleveland Indian Pitcher Falls in Love with Poker
Many Indians fans will remember Orel Hershiser, a pitcher who made a name for himself with the Dodgers and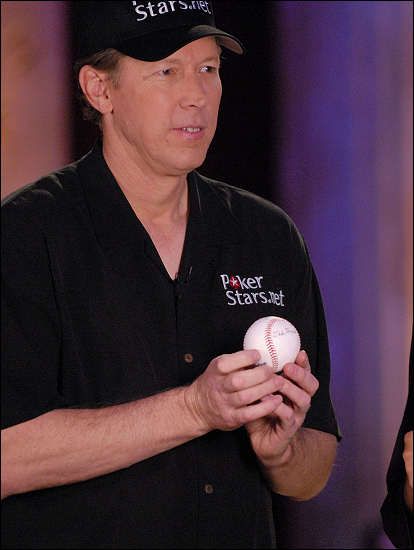 moved on to signing with the Cleveland Indians on April 8, 1995. Indians General Manager John Hart had said that he was looking for someone who had the "character and competitiveness" to show younger players how to play the right way, and Hershiser proved to be the right choice. With his superior pitching ability, the Indians made their first post-season appearance in 41 years in 1995.

Hershiser continued to enjoy a rather illustrious career in baseball, pitching two more seasons with the Indians, but becoming something of a folk hero in Cleveland. He spent the next few years of his career playing for the Giants, the Indians, and the New York Mets before returning to the Dodgers in December 1999. He soon moved on to doing broadcast and analysis work for various networks, before, surprisingly, becoming a professional poker player.

Hershiser's venture into poker came a few years after Chris Moneymaker's signature win, which put online poker players on the map. Beginning with the launching of Intercasino in 1996, online gambling has been making great strides, attracting many different celebrities and athletes to begin playing the game more religiously. Today, we have competitions like the World Series of Poker, which accept players who qualify through online matches and games. Although Orel Hershiser began his career when he met a poker instructor, he played and placed in tournaments like the 2008 World Series of Poker and the World Championship of Online Poker.

Having already been featured on Bluff Magazine, Hershiser has made a name for himself in the world of poker. He said that poker has served to give him the adrenaline rush he used to get from playing baseball in his younger years. "It is something you can be competitive at while sitting down. As your body starts to fail you as an athlete, you find it hard to find places that can get your adrenaline flowing."

He's also noted that, surprisingly, pitching and playing poker are remarkably alike.
"Pitching is all about position and so is poker," he tells Bluff Magazine. "Pitching is about what's your best stuff and it is the same when you play your cards. The same kind of thinking applies. I use the same mental outline for poker that I would come up with for pitching. There are times when you can be creative as a card player or you can be basic, just the way a pitcher does. You can go strength against strength and say, 'I'm stronger than you,' which is basic, and then there are other days where you are card or pitch dead and you have to get creative."

Even as he played poker, however, Hershiser's love for baseball continued to shine through. Throughout the many competitions he has played in, Hershiser has established a sort of tradition by giving whoever eliminates him from the tournament an autographed baseball.
User Comments
Vic Venom
October 3, 2014 - 10:15 PM EDT
Chris Antonetti should play professional poker. His cold, dweeby looking face usually remains expressionless.
C L Who
October 2, 2014 - 1:18 PM EDT
Shy is right on......Orel was one of the better commentators. I hope he returns to the booth.

Ripken's presence was wasted......he should have done more talking, though when he did comment he was very good.
Moishe
October 1, 2014 - 1:05 PM EDT
As a die hard Indians fan, I miss the day when Orel played for my beloved Indians!!

I wish Orel, his family, and friends, only the very best in life.
shy
October 1, 2014 - 11:55 AM EDT
Wow, I just realized I have missed hearing Orel's color commentaries on games. He was good, an inside baseball guy for sure. I guess you don't miss it til it's gone. Speaking of which, I was a bit disappointed in the TBS crew last night for the Royals/A's game. Darling was pretty good, but Cal Ripken and Ernie Johnson were pretty much plain vanilla... I guess ok for the masses of casual watchers but not for the hard core corps. Orel's a smart guy, and a bulldog- I can totally see him taking poker players apart.