Playoff Recaps 9/10: Kinston advances to Mills Cup Finals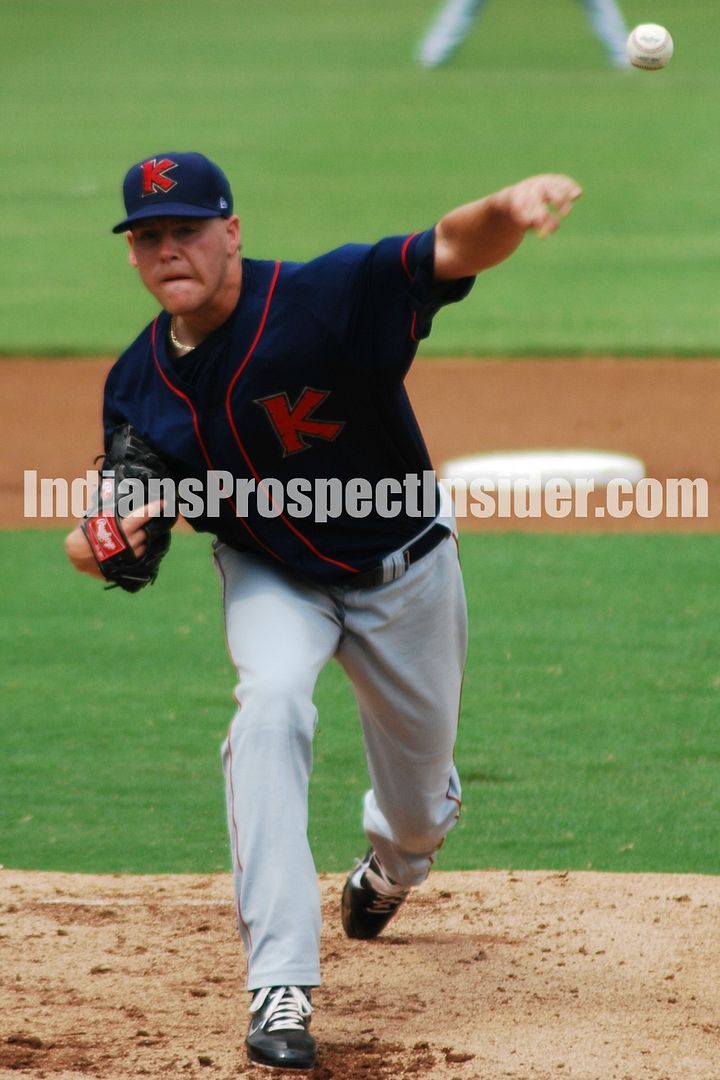 Mike Rayl (Photo: IPI)
The Kinston Indians are 2011 Southern Division Champions. The feat was secured by beating Myrtle Beach 9-2 in game four of the Southern Division Championship Series Saturday night at Kinston's historic Grainger Stadium.
After losing game one, the K-Tribe clinched by winning three straight contests, especially impressive given a 5-0 deficit in the second inning in game number two. The Indians outscored Myrtle Beach 24-3 over the final 28 innings of the series.
Trailing by two runs in the fourth, Jesus Aguilar mashed a three run home run to put the K-Tribe on top for good.
The Indians gathered insurance in the sixth on a two out fielding error. Pelicans short stop Leury Garcia gloved a grounder up the middle and flipped the ball errantly to second base in an ill fated attempt to get the force out. Jeremie Tice, running on contact from second base, scored without a throw. Officially, the play was scored as a single for Casey Frawley and an error, allowing the run.
The K-Tribe put it out of reach with five runs in the eighth inning, all unearned. Jordan Casas, Tyler Holt, Bo Greenwell and Adam Abraham strung together four straight RBI hits to make the Pelicans pay for a two out fielding error committed by third baseman Mike Olt.
The winning pitcher was Mike Rayl(1-0, 3.60). The losing pitcher was Kennil Gomez (0-1,4.50). Kyle Landis earned a hold in the ballgame by pitching three innings of one hit baseball while striking out four. Toru Murata came in to finish the ball game by pitching a 1-2-3 ninth inning.
Now Kinston waits to see which team will oppose them in the Mills Cup Championship Series. Frederick leads Potomac in the best of five series two games to one. The start of the Championship series is unknown due to a game two rain out.
Aguilar has hit four of his five home runs at the "Advanced-A" level against Myrtle Beach.
2011 marks the first time Kinston has earned a berth in the Mills Cup Championship Series since 2006, which resulted in a series win for the K-Tribe.
Kinston will host game three of the Mills Cup Championship Series Thursday September 15th at 6:30pm. If necessary, games four and five will also be at Historic Grainger Stadium.
Follow Tony and the Indians Prospect Insider on Twitter @TonyIPI. Also, his latest book the 2011 Cleveland Indians Top 100 Prospects & More is available for purchase for $20.95 to customers in the US (shipping and handling extra). Use discount code 2Z6F362B to receive 40% off the book through the site store!
User Comments
No comments currently. Be the first to comment!