Playoff Recaps 9/16: Columbus repeats, Kinston falls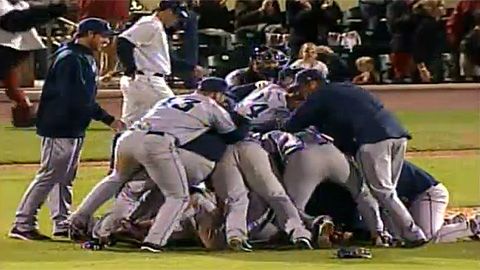 Clippers win the International League title (Photo: MiLB)
Clippers repeat as champions
Columbus knocked off Lehigh Valley in Game 4 on Friday night by a score of 4-1 to win the best-of-five series three games to one. Right-handed pitcher Chen-Chang Lee struck out Lehigh Valley's Brandon Moss for the final out in the ninth and then pandemonium ensued as the Clippers rushed to the field for an on-field pile up and celebration.
Lee pitched two shutout innings of relief and did not allow a baserunner while striking out four. He pitched in relief of right-handed starter Paolo Espino who was brilliant with seven strong innings where he allowed just one run on four hits, a walk, and had five strikeouts. He threw 59 of his 89 pitches for strikes and plowed through the Lehigh lineup and ended up facing just four batters over the minimum before he departed after the seventh inning.
Columbus got on the board quickly with two runs in the top of the second inning thanks to two out RBI hits by Juan Diaz and Paul Phillips. Jared Goedert hit a solo homer with one out in the third inning and the Clippers pushed across a run in the ninth inning after a wild pitch to close out their scoring.
It is the Clippers ninth championship as member of the International League, which is the most in the league since they joined the league in 1977. It is the third time they have repeated as champions as they previously did it with a three-peat from 1979-1981 and were repeat champions in 1991-1992.
Columbus is not done yet. They still have one more game to play as they will square off against the Pacific Coast League champion in the Triple-A National Championship game on Tuesday September 20th. The game will be played in Albuquerque, NM and will air on national TV at 8:00 p.m. ET on Versus.
Kinston's season ends in 11-3 loss
A disastrous third inning was too much for the K-Tribe to overcome Friday night in an 11-3 loss to Frederick in game four of the Mills Cup Championship Series. Frederick captured the Carolina League title, the franchises fourth, after beating Potomac and Kinston in the playoffs.
The K-Tribe clung to a 2-0 advantage entering the third. Kinston
User Comments
No comments currently. Be the first to comment!