Possible Trade Targets: The Offseason Edition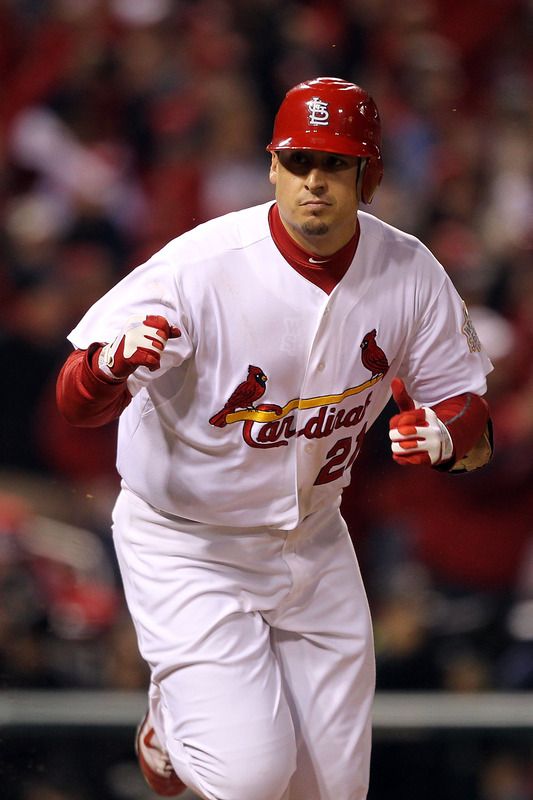 Allen Craig (Photo: AP)
IPI Columnist Jeff Ellis takes a look at some undervalued players he thinks the Indians should target this offseason in a trade.
At the trade deadline I wrote a piece about some possible targets for the Indians at the deadline. At that point I stuck to the rumor mill and posted what players had been talked about. Since we are currently in the middle of the World Series there are not many rumors, so instead this article will focus on some lesser targets that might make sense for the Indians to acquire.
These are players who fill a need and are more than just a rental. This is not a rumor mill. It is merely a group of players I think would fit, who I have liked for some time now, and who I think would help the Tribe going forward.
Allen Craig - OF/1B, Cardinals
Pros:
Right handed power bat, showing post season heroics.
Cons:
Cost has never been higher, injury plagued.
Summary:
I have been on Craig since the middle of the year. His injury concerns have stopped him from turning into a starter, and this year he lost a projected starting spot to John Jay. He has showed up huge this post season but could still very much be a trade target. The only way this happens is if the Cardinals invest heavily in Pujols as the outfield would be set with Jay, Matt Holliday, and Lance Berkman. If they don't sign Pujols then Berkman goes to first base and Craig stays in the outfield. The Cardinals had the worst bullpen in baseball this year and it has already cost them a World Series game. If the Cardinals invest in Pujols, they will need to trade for pen help.
Possible Trade:
Craig and Matt Carpenter for Cord Phelps, Rafael Perez, and Josh Judy. Craig would be the ideal right handed power bat who could be in the outfield or at first base. Carpenter is older at 26 and blocked, not toolsy but has always had great on base percentages. Phelps is a player that struggled in the majors, but a lot of players do. He had his best season to date in AAA this year, and is still very much a legit prospect. The Cardinals could use an upgrade at 2B, and Phelps is better than Schumacher. It is hard to believe how quickly a bad month in the majors makes the fans forget you. Raffie Perez is two years away from free agency and the Tribe has a ton of pen options. He would be the number two arm in the pen for the Cardinals, and if they do sign Pujols they will need to find a new way to fix the pen. Judy is a nice power arm who would also help their pen. In the end they would get three upgrades for a bench bat and a buried hitter. It is in our best interest that Pujols stays in St. Louis.
Yonder Alonso - 1B, Reds
Pros:
Major League ready bat, will control for six years, good prospect pedigree, decreasing strikeout rate.
Cons:
Left-handed hitters, can only play first base.
Summary:
Alonso would have made the majors for most teams this season, but the problem is he is stuck behind an MVP in Joey Votto. The Reds have talked about shopping Votto and calling up Alonso, yet until this happens Alonso has to be a trade candidate. He can play outfield but it is not recommended as he is pretty much purely a first baseman. In terms of a hitter he hasn't shown big home run power in the minors, but the doubles power he has shown makes you think it has to be there. Cincinnati has done an excellent job drafting over the past decade, and they spent a high pick on Alonso. It's time for him to see the majors.
Possible Trade:
Michael Brantley for Alonso. I know most fans won't like this, but the Reds will be looking for an outfielder for Alonso. They have enough power with Bruce and Stubbs that Brantley would be fine in left field.
Chris Heisey - OF, Reds
Pros:
Right handed bat, can play all three outfield spots, good power in the majors.
Cons:
Will be 27 years old before next year, Cincy does not like him.
Summary:
I don't understand why Cincy does not seem to not like Heisey as in 280 at bats he has hit 18 home runs and has a .796 OPS. Even with the solid performance it does not seem Cincy sees him as a starter, and as a result he has been linked to a lot of players trying to find a third outfielder. He has hit better at home, but still has a .747 OPS on the road which is a respectable number for a guy who can play all three outfield spots. I guess I am missing something, but he seems like a starter to me.
Possible Trade:
Ezequiel Carrera and Zach Putnam for Heisey. Even if he is not a favorite he won't come cheap because he has shown some power. Cincy does this deal because it gives them a legit back of the arm pen in Putnam. Chapman has had control issues and Cordero will be 37 years old, so they could use some youth back there. Carrera would at worst replace Heisey as the fourth outfielder who can play everywhere, and he has the type of speed that Dusty Baker would love. Heisey could come in and play every day at any spot in the outfield for this team starting from day one.
Logan Morrison - OF/1B, Marlins
Pros:
Power bat, MLB proven, big upside.
Cons:
Left-handed hitter, can be too candid, free swinger.
Summary:
Morrison might have the highest upside of any player on this list as he hit 23 home runs and had a .797 OPS this year. He did that in only 120 games because the Marlins sent him down this year claiming it was for batting average reasons, but the word coming out of Florida is they were upset with him skipping a season ticket holder event and have asked him repeatedly to tone down his Twitter account. I will admit I follow on Twitter and he amuses me, but I can see how some might see it as unprofessional instead of amusing. Even still his 23 home runs would have been third on this team and the Indians value advance metrics and would realize his true value. His OPS would have been third on the team ahead of Asdrubal Cabrera, so the guy can play. He has filed a suit against the Marlins for demoting him and that is why they might be tempted to move him.
Possible trade:
See below.
Ricky Nolasco - SP, Marlins
Pros:
Power pitcher.
Cons:
Owed $21 million the next two years, inconsistent.
Summary:
I should come clean. I feel like I draft this guy every year in fantasy waiting for him to replicate his one great season. When you look at advanced stats they show he has been a little unlucky. This makes sense when you consider for most of his career the up the middle combo was Dan Uggla and Hanley Ramirez, which was the worst in baseball in terms of defense and range. This strikes me as a guy who should see an improvement in his numbers just by getting to play for a solid defensive team.
Possible Trade:
Fausto Carmona and Matt LaPorta for Ricky Nolasco and Logan Morrison. Okay, so this would be an unfair deal and one that the Marlins would want a kicker to even consider. I could not resist this deal though. Each team trades its disappointing high upside pitcher with the Indians getting the more expensive one in the deal. Florida is always looking to cut funds after all. Then each team trades its tarnished power bat. As a bonus, LaPorta is even a Florida boy. The idea is each team trades potential for potential. It could be a deal where no one wins, or where one team really wins. It's just an interesting lateral move for each team, as they try to compete next year.
Follow Tony and the Indians Prospect Insider on Twitter @TonyIPI. Also, his latest book the 2011 Cleveland Indians Top 100 Prospects & More is available for purchase for $20.95 to customers in the US (shipping and handling extra).
User Comments
No comments currently. Be the first to comment!