Prospects in the wind and free agent first basemen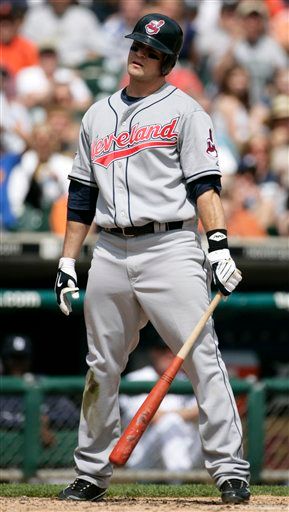 Many voices have shouted from their teepee's about what the Indians should do at the not-so-hot corner.

Carlos Pena and Casey Kotchman are available and potential fits, but are both eft-handed and would exacerbate an already heavily tilted Tribe lineup. Matt LaPorta is the struggling, not-so-green prospect, but riat least he hits from the right side of the dish. It is very easy to say that Kotchman or Pena are more guaranteed performers and metrics indicate that they are certainly better defenders. So, why not make the relatively low-risk investment? (I'm a Kotchman fan if we do, FYI).

There are many factors beyond player selection that are going to go into this decision:

Long-term team performance – Basically, does the organization want to completely abandon the biggest piece from the CC Sabathia trade? LaPorta seems to have officially "died" as a prospect, but he just turned 27, and has roughly two seasons worth of plate appearances. Some of those have come while injured. While unlikely, LaPorta could still figure things out and become the everyday slugger that the Indians hoped he would be.

Short Term team performance – The Indians have a window this year, with the Victor Martinez injury and a lineup loaded with bounce-back potential (Choo, Sizemore, Carmona + prospects galore). This is also intimately tied to financial success and the ability to pursue locking up the younger core players and signing on the needed complementary pieces.

Economics – The Indians do not want to spend money that isn't delivering the very best bang for their buck. This is where my issue with signing on Pena and Kotchman begins and ends: if we sign them, what are the chances that one of them is the difference between playoff contention for the entire season to the extent that it drives attendance? In my mind, those chances are extremely small. Granted, so too, is the financial commitment the Indians will have to make. Strategically, if first base actually is a sore spot, and the Indians feel they are close to contention; then why not just pursue other comparable first basemen at the trade deadline with more information at-hand?

Win Probability – Let's say the Indians pick Pena, and lets further say that he turns into a three-win player (fair, he had six Wins Above Replacement in 2007, but has settled in around/below this level). So the Indians get him for the entire season and get their three wins above LaPorta, who we will further assume is a 0 win player. Do these 3 wins guarantee a playoff spot? What is the probability that Pena is a 3-win player and that LaPorta is replacement?

Flexibility - Around the half-way point of the season, teams make the decision to go for it or throw in the towel. At this point, Pena might have accumulated 1.5 more wins than LaPorta. These wins would be very unlikely to sway Indians management to go for it as opposed to conceding defeat…too many other parts are too important in determining this component. The Indians could just give LaPorta more time to establish himself, while sometimes spelling him with Santana and then make the evaluation with a half season of LaPorta's prime and theoretically only missing out on 1.5 wins. This route will simultaneously give themselves the chance to complete their evaluation of LaPorta and not make a year-long financial commitment to a rental player that isn't going to help all that much

In conclusion, the Indians need to ask themselves a few questions: Is Matt LaPorta completely a bust and ready to be written off? Will Pena or Kotchman be THE difference between contention and another Indians' summer? IWill there be zero acceptable first base candidates available at the mid-point of the season? Will the resulting wins, possible playoff contention, coupled with the front-office admission of a failed prospect that headlined the trade that sent a huge part of the franchise away (whew, breathe), drive financial success capable of securing core players?

If you can definitively answer "yes" to all of these questions, you have a compelling argument to sign a first-basemen. If you are unsure, or can answer "no" to any of these, you might just want to advocate keeping what we have and waiting things out. After all, you are only giving up a little more than one win and you might just be surprised with what you had in the cupboard in the first place.

User Comments
No comments currently. Be the first to comment!