Prospects That Can Help in 2008
As the Indians embark on their 60th attempt to win a World Series since their last title in 1948, they enter the 2008 season as strong as ever to make a run at a that elusive championship. While the Indians are involved in another pennant chase this year there will be times when the Indians will need to turn to their farm system. Just about every major league team's depth is tested over the course of a grueling 162-game schedule, and the praised depth the Indians supposedly have will certainly come into play during the season.

Last year, the Indians had some bouts with the injury bug. Pitchers like Cliff Lee, Jake Westbrook, and Aaron Fultz all missed considerable time early in the year due to injury. Position players Trot Nixon and David Dellucci missed a lot of time due to injury as well. On top of all that, others like Roberto Hernandez, Josh Barfield, Andy Marte and Jason Davis did not perform up to expectations.

The Indians filled the holes that these injuries and performance issues created by calling from their rich talent pool in the farm system with the likes of Fausto Carmona, Rafael Perez, Jensen Lewis, Asdrubal Cabrera, Franklin Gutierrez, Ben Francisco, and Aaron Laffey. All of those players made a considerable impact on the Indians' season last year, and it is safe to say without their contributions the Indians would not have made the playoffs last year and had another disappointing season much like 2006.

The likelihood of the Indians getting such a lift from the farm system for a second year in a row is an arduous task and a tough act to follow for the prospects in the Indians system. The system has been thinned out some with the graduation of so many prospects the last few years, and most of the prospects that will help this year will be ones who helped last year. That said, there still are some new players in the system who could help make an impact in 2008 like those in 2007 did. A few of the players we saw last year, while others may be seen for the first time.

The hope is that the Indians will not need to turn to their farm system for help, but injuries and performance issues always crop up during a season for every team. Knowing that, the Indians need depth alternatives to turn to in Buffalo and Akron for short-term help when a regular is nicked up, or for long-term help in the unfortunate case where a regular is lost for a majority of the season.

This is not a list of the Top 10 Prospects in the system, as we covered that with the recent Top 50 Prospects+ series a month back. This list is more focused on the prospects that are likely to see action in Cleveland sometime this year AND make some type of impact. Seeing that the Indians two biggest holes are in left field and the bullpen, most of the opportunities afforded to young players will likely be in these two areas. Here they are from most likely (#1) to least likely (#10):

(For a more in depth scouting report on each player, click on their linked name)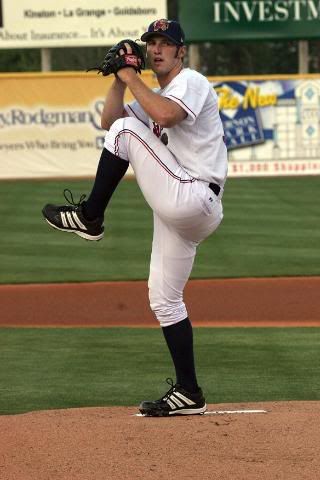 1. Jensen Lewis, RHP - Lewis is an aggressive reliever who consistently gets his fastball up there around 93-94 MPH, and he compliments it with a devastating changeup. He is an intelligent pitcher, has excellent command, and great composure on the mound. This is really a no-brainer having Lewis at #1. While he spent two months plus the entire postseason with the Indians last year, he still qualifies as a rookie and as a prospect because he has not passed the 50 innings pitched threshold. He was dominant in his short stint with the Indians last year, posting a 2.15 ERA, 1.23 WHIP, 3.40 BB/9 and 10.35 K/9 in 29.1 regular season innings. He was the final piece of the puzzle needed to round out the backend of the bullpen, and if he can avoid a sophomore slump like Fernando Cabrera had after a breakthrough late-season performance in 2005, having Lewis around in the bullpen for all of 2008 will mean big things for the Indians this year. Lewis is the one sure prospect - barring injury - that will open with the Indians this year.

2. Aaron Laffey, LHP - Laffey is one of the most confident pitchers in the system, as he trusts his stuff and goes right after hitters. His 87-88 MPH fastball is not overpowering, but it he has excellent command of it and it has excellent movement with good sink, and he throws a good slurvy breaking ball and changeup. Laffey is another no-brainer, as he looks to be in line for considerable time this season in the starting rotation. Like Lewis, Laffey is still considered a rookie and prospect because he has not pitched 50 innings (just missed the cut at 49.1 IP). Laffey is in the mix to be the Indians fifth starter when the season starts, and even if he does not break camp as the fifth starter he figures to get plenty of action throughout the season. Laffey pitched well in his Indians debut last year going 4-2 with a 4.56 ERA in nine starts, and was very impressive in his one appearance in the postseason (4.2 IP, 0.00 ERA, 1 H, 1 BB, 3 K) when he shut down a Boston Red Sox offense that no one else on the pitching staff seemed capable of shutting down.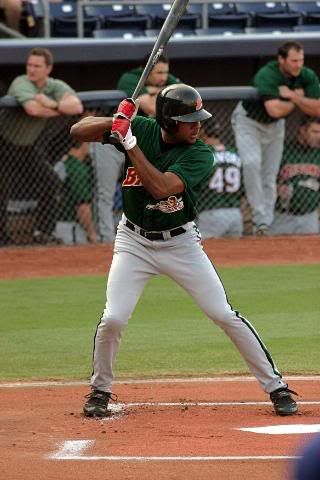 3. Ben Francisco, OF - Francisco will be in a holding pattern in Buffalo, going there for the fourth straight season, and will await an opportunity with the major league club. He hits for average (two minor league batting titles) and he has very good extra base hit ability. He is a versatile defender who can play all three outfield positions, and he has good speed that is helped by his very good instincts in the field and on the basepaths. Like Lewis and Laffey, Francisco is another big contributor in 2007 that the Indians will turn to again in the minors when a need arises this year. Francisco will likely be the first outfielder called upon in the event an injury befalls any of the four outfielders in Cleveland, and he has proven he can more than hold his own when called upon (.274 AVG, 3 HR, 12 RBI, .803 OPS in 62 AB in Cleveland last year). A good case could be made that he should be on the team already as the fourth outfielder, but the presence of Jason Michaels denies him of this role at least to start the season.
4. Adam Miller, RHP - Miller has been the Indians top prospect in what seems like forever. He is extremely confident, attacks hitters, and throws a blazing four-seam fastball that consistently clocks around 97 MPH and tops out at 100 MPH. He compliments his four-seamer with a good two-seam fastball, a nasty wipeout slider, and a changeup which has come a long way. Miller is the first-timer who is likely to debut and impact this team the most this season. While Miller will not break camp with the Indians in the bullpen or as a starter, if he maintains his health he could be in line for a callup by June. If the Indians continue to have issues with the fifth starter spot he could be called to fill that role, but it is more likely he will break in as a reliever sometime this season. The Indians are open to the idea of using him in the short-team out of the bullpen as a meaningful reliever (i.e. not collecting dust as the long man) this season to get him to the big leagues, and his blazing fastball, command and toughness could dominate in such a role.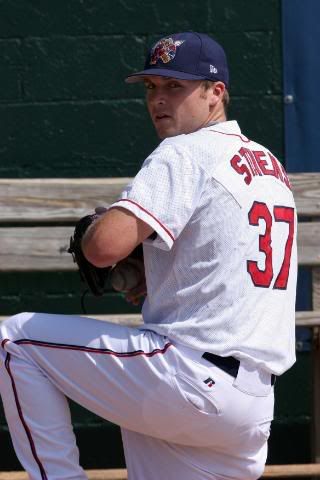 5. Jeff Stevens, RHP - Stevens had a breakthrough year last season in the minors, and in 61 combined games between High-A Kinston, Double-A Akron, the Arizona Fall League and Team USA, Stevens went 6-3 with 5 saves and a 2.45 ERA, and in 95.1 innings allowed only 63 hits and walked 26 while striking out 113. Formerly known as "the nobody that the Indians got for Brandon Phillips", Stevens moved to the bullpen last year and has carved his way through the Indians system where he is now on the verge of a major league opportunity sometime this season. He throws four quality pitches and commands them well, fronted by a Rafael Betancourt-like fastball that sits around 93 MPH and tops out at 95, and shows life and gets in on batters. Stevens is the pure reliever in the minors who looks to have the best shot at making the club at some point this year, and could be another Jensen Lewis who moves through the system quickly after moving to the bullpen.

6. Trevor Crowe, OF - Crowe has the ability to hit for average with some occasional pop, and he can play any outfield position and runs well. His biggest strength is his excellent plate discipline and pitch recognition skills. Even after a disappointing season last year where he hit .259 with 5 HR, 50 RBI, 28 SB and a .694 OPS in 133 at Double-A Akron, he still is in line for a potential spot in the Indians outfield sometime this year. His outstanding second half of the season last year (.310 AVG, .838 OPS) along with a very good showing in the Arizona Fall League (.286 AVG, .864 OPS) have many believing he is over the problems that plagued him mentally the first half of last season when he hit .212 up until July 1st. He is still earmarked for the left field job in 2009, and it is likely that the Indians will want to get an extended look at him in Cleveland sometime late this year, especially if his second half showing last year carries over into the start of this season. Crowe would bring some much needed speed and athleticism to the Indians lineup, and he also handles the bat well which is the perfect medicine for a strikeout prone lineup.


7. Jordan Brown, 1B/OF - Brown might be the most consistent offensive performer in the Indians system. He will not wow you with eye-popping numbers from game to game, but he fills a stat sheet and is very productive at the plate. He is arguably the best player in the system as far as bat-to-ball ability goes and he makes consistent, hard contact. He doesn't strikeout (56 K in 483 AB last year), and he has good power, especially to the gaps where he piles up doubles. Like Crowe, Brown is a prospect who is currently not on the 40-man roster but because of his hitting ability is someone who can be an impact player for the Indians this season. Brown is a professional hitter who can play left field or first base, and can help balance the Indians lineup which is full of hackers. He won't hit a ton of home runs, but he could be a valuable addition to the team if Ryan Garko or Travis Hafner are hurt for an extended period of time, or if the Indians platoon in left field of David Dellucci and Jason Michaels fails again. Brown is arguably ready to hit at the major league level right now, he just needs an opportunity.

8. Reid Santos, LHP - Santos is a good left-handed relief prospect who does not overpower anyone with his low 90s fastball, but he commands it well and compliments it with a good assortment of secondary pitches with a slider, curveball and changeup. He is extremely durable, and is a strike-thrower who displays very good mound presence. Out of all the prospects on this list looking to make their major league debut this season, Santos probably has the chance to debut first because of his experience pitching as a long man and his durability. He is also not a big time prospect the Indians will handle with kid gloves, which means if the Indians have a need for a long reliever at some point this season, Santos may get the first call since (barring injury) the other six spots in the bullpen are virtually locked up. Santos is an excellent swing option as he can start or pitch in relief at a moments notice, and he can handle almost any role in the bullpen. The bonus is he is left-handed, and he looks to be an option to replace Aaron Fultz's role as the second left-hander in the bullpen by the start of 2009.


9. Wyatt Toregas, C - Toregas can be an adequate hitter in the major leagues, and has shown potential to have some good occasional pop in his bat. But, what really makes him exciting is his abilities behind the plate. He is a prototype backup catcher in that he is excellent defensively, is a leader, gives maximum effort, and holds his own offensively. He shuts down a running game, moves well behind the plate, handles a pitching staff well, and calls a good game. With Victor Martinez and Kelly Shoppach firmly planted as the catching duo in Cleveland, the only way Toregas will make his debut this year is if an injury to Martinez or Shoppach crops up, or when he is called up in September when rosters expand. Either way, he will be in Cleveland at some point this season. There have been rumors this offseason that Shoppach could be dealt, so if Shoppach is dealt at some point this season it would possibly open the door for Toregas to be the backup to Martinez.

10. Randy Newsom, RHP - Newsom is a side-arm/submarine-style pitcher who is a command-control guy. Newsom does not throw very hard as his fastball sits in the 81-83 MPH range, but this is required so he gets more sink on his pitches. He is a groundball pitcher (3.05 G/F in 2007), very intelligent, a hard-worker, and has a lot of confidence in his secondary pitches (slider and changeup). Add Newsom to the list of potential relievers to make an impact with the Indians this year, and if he continues to pitch like he has since joining the Indians in 2006, he has a good shot to make the club at some point this season. It remains to be seen if Newsom's involvement with his Real Sports Investments (RSI) project becomes a distraction or not this year. For a pitcher who can ill afford to lose any focus, it will be interesting to see how he handles it. Still, his unique arm slot where he throws submarine could give the Indians bullpen a much different look compared to the power arms of the other relievers in the backend of the pen.

Honorable mention: Scott Lewis (LHP), Brian Slocum (RHP), Eddie Mujica (RHP), Sean Smith (RHP)

Photos courtesy of Carl Kline
User Comments
No comments currently. Be the first to comment!