Q&A With Baseball America's Chris Kline - Part I (2006)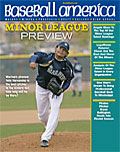 Note: This Q&A was originally conducted in April 2006. As mentioned yesterday, over the next few days I will be posting two more Q&A's with Kline I conducted over the course of the 2006 season. The addition of these old articles is for reference only on the site, as well as a trip down memory lane. With the addition of these Q&A's with Kline, it will complete the addition of the relevant "back catalogue" I have been adding to this site for a few months now, and the 2009 Prospect Rankings will start next Sunday!
For those unfamiliar with who Chris Kline is, Chris is a former beat writer for the Cleveland Indians Class A farm team the Kinston Indians, and is now currently working for

Baseball America

in a full-time capacity as a national writer.
Baseball America is often considered the premier baseball magazine as it covers everything that is baseball from high school to the major leagues and everything else inbetween. The publication was started up over 20 years ago, and over the years has widely become the quintessential guide for the major league draft and information relating to the minor leagues. For the baseball fan that wants to keep track of their favorite team and their farm system to see what the future holds, no other publication comes close to what Baseball America offers.
Chris is very familiar with the Indians front office and farm system not just because he used to cover it for the Kinston Free Press, but also because the past two years he has worked diligently on compiling the Indians Top 30 Prospect list for Baseball America
User Comments
No comments currently. Be the first to comment!