Quick Thoughts On The Deadline Deals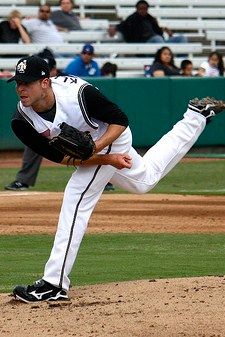 The Indians ended up being a lot busier than many expected them to be at the trade deadline yesterday as they finished off the veteran purge of 2010 by trading right-handed pitcher Jake Westbrook to the St. Louis Cardinals and right-handed reliever Kerry Wood to the New York Yankees.
With the trade of Westbrook and Wood yesterday, along with outfielder Austin Kearns being shipped out on Friday, infielder Jhonny Peralta on Tuesday, and first baseman Russell Branyan about five weeks ago, it is now full speed ahead with the youth movement as after designated hitter Travis Hafner the next oldest player on the Indians roster as far as service time goes is right-handed starting pitcher Fausto Carmona, and only three players on the 40-man roster have guaranteed contracts: Hafner, Carmona and Sizemore.
Here are some quick thoughts on the two trades from yesterday as well as the
Kearns
trade from Friday:
- First off, it should be no surprise that any of these guys were dealt. All three were free agents at the end of the year, and all three were not coming back. The only real player here that will be missed is Westbrook as he obviously has much deeper ties to the organization and fans and is also still a pretty good starting pitcher when healthy. The Indians are happy to move on from Wood, and
Kearns
was just a stop gap anyway and replaceable. While it is unfortunate that the Indians have to keep clearing the decks like this, this hardly compares to the fire sales of recent seasons.
- Speaking of clearing the decks, the Indians have pretty much gutted the roster to where we should no longer see anymore veteran-for-prospect deals for awhile. The youth movement is now officially in effect, and the roster will not start to stabilize over the next year or so. There is still a lot of uncertainty with many of the positions on this team in the near and long term future, but names will start to become more familiar going forward as this team gets a chance to gel and sort itself out with who the core guys are for the next half decade or so.
- In the case of Westbrook, the Indians did not need to trade him to save money. They wanted to keep him and would have loved to bring him back next year if they could make it work. Even though he has been traded he could still come back next year as it doesn't affect in any way his potential re-signing with the Indians in the offseason. But let
User Comments
No comments currently. Be the first to comment!