Roster D-Day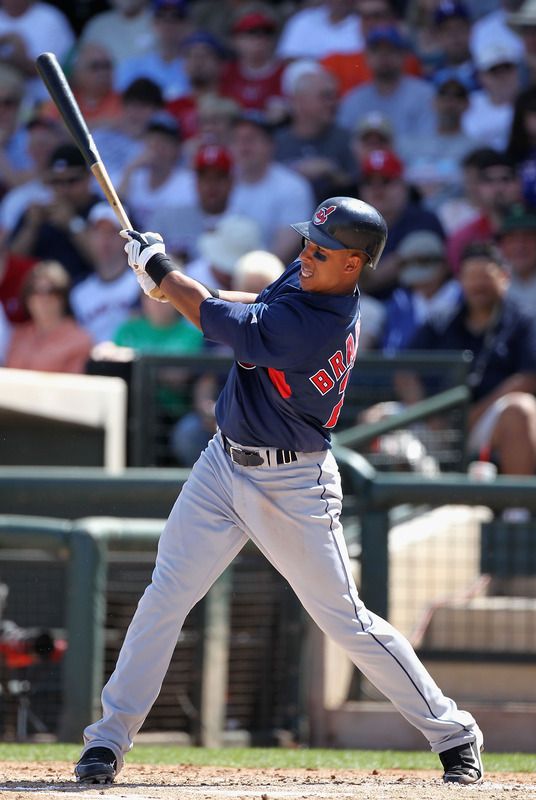 The Indians have made some roster decisions today, as they have named outfielder
Michael Brantley
as the starter in left field. Brantley was expected to be the everyday left fielder for most of the offseason, but the Indians always wanted to find a veteran option at first base or left field if possible in order to send him to Triple-A Columbus to start the season for more seasoning and to manage his service clock. The signing of first baseman Russell Branyan allowed this to happen, but with Branyan out all spring with a lingering back issue, it opened the door for Brantley to once again be the starter in left field.
With Brantley on the team and the starter in left field, the Indians only needed to make a decision on the fourth outfielder. As expected, they decided on
Austin Kearns
, and have optioned
Trevor Crowe
to Columbus.
While
Jamey Wright
has yet to be officially announced as a member of the opening day bullpen, it is all but a certainty. With him in the pen it left one spot between
Jensen Lewis
,
Saul Rivera
and
Hector Ambriz
. As expected, Lewis won the spot and Rivera will open the season in Columbus. He has an opt out in his contract where if he is not on a big league roster by May 15th he can leave the Indians. Ambriz will open the season on the disabled list with right elbow tendonitis.
In addition to Wright and Kearns,
Mark Grudzielanek
is expected to make the 25-man roster. We will probably not get an "official" addition to the roster of Wright, Grudz, and Kearns until this weekend, which we will find out then which two additional players were cleared from the 40-man (likely Henderson and Toregas....Ambriz was DLed, so seems he is out of the woods). You don't roster NRI guys like Wright, Grudzielanek, and Kearns until the last day of camp. That way if they somehow get hurt these final few days they haven't DFAed someone who otherwise may have been an option.
Speaking of creating roster room, the Indians designated left-hander
Jeremy Sowers
for assignment a few days ago. His removal from the 40-man roster will allow them to add one of as many as three non-roster invitees they plan to add to the 40-man (Grudzielanek, Wright, Kearns). Sowers has already cleared waivers and will be sent to Columbus where he likely opens the season on the disabled list there.
Lou Marson
is officially the starting catcher as
Wyatt Toregas
was optioned out to Columbus. Toregas could also soon be a 40-man casualty in order to add one of the non-roster players.
Andy Marte
has made the team as the backup at third base and first base.
Last, there were no releases in minor league camp today, though another round (possibly final) of cuts are expected on Thursday or Friday.
I'll update this posting later today once the last rotation spot between
David Huff
and
Carlos Carrasco
is announced.
Follow Tony Lastoria on Twitter @tlastoria
User Comments
No comments currently. Be the first to comment!