Sailing with the Clippers - August 15th through August 21st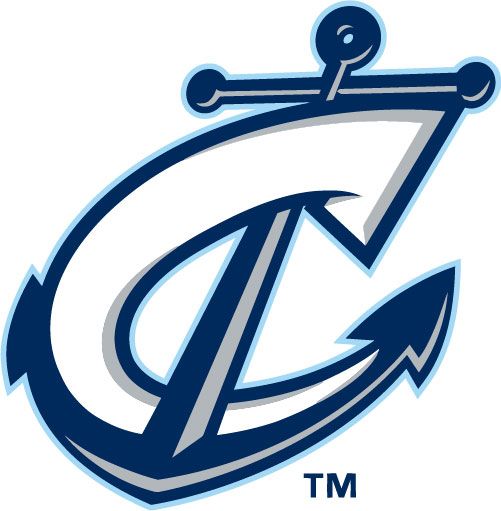 This week featured eight games in seven days for the Clippers, and perhaps the traveling and lack of time off got to them. For the most part, it was a team-wide lack of execution, offensively, defensively and pitching-wise. Overall, the staff allowed 48 runs, but only 30 of them were earned, because of 11 errors. On the other side, the offense went 10-56 on the week with runners in scoring position. They were outscored, 55-18, in the eight games. As rough as all that may sound, the team that struggles together is also a team that has won together. A lot. They picked up their 80th win on Thursday, and despite a down week, stand 30 games over .500 and control a 13.0 game lead in the International League West.
Game-by-game results
Monday
(won, 2-0): Sunday's postponement called for a Monday double dip between the Clippers and Red Wings. Joe Martinez took the hill in game one, and turned in his best start of the season. A couple of first inning runs provided by Luis Valbuena and Chad Huffman gave him a lead that he never relinquished. He had multiple runners on in three different innings, but not one Rochester player crossed home plate. He went six innings (of seven, because of the doubleheader), allowed seven hits, walked zero and struck out six. Josh Judy pitched a clean seventh inning to earn his 19th save. The win moved Martinez to 8-6 on the year.
(lost, 4-3): Just as they did in the first act, the Clippers got off to a 2-0 lead in the first inning of the second game. This time, it was courtesy of a Jerad Head two-run home run. Paolo Espino, making his first start since being recently recalled from Akron (and second, overall), was not quite as good as Martinez, but got off to a similar start. After surrendering one run in the second, he cruised through the next three innings. An Argenis Reyes run-scoring hit put Columbus ahead, 3-1, going into the sixth. It was then that Espino ran into trouble. Following a one-out walk, he gave up a game-tying souvenir. The Clips went in order in the seventh, and Mike Sarbaugh turned to Nick Hagadone in the bottom half. Hagadone recorded two quick outs before the Clippers suffered a fate that they have doled out many times this season: the walkoff loss. A single, a walk and a another single did the job. Both teams collected just five hits each, yet scored seven combined runs. In the first game, there were 15 hits, but only two runs.
Tuesday
(won, 5-2): In one of the most interesting games of the season, Corey Kluber put on his best performance. Perhaps part of it had to do with the comfortable lead he was armed with early. After putting one run on the board in the first inning, the Clippers collected four hits in the second: three consecutive one-out singles, followed by a Luis Valbuena grand slam. As exciting as that is, the intrigue was still yet to come. After putting together five runs on six hits in the first two innings, Columbus' lineup came through with exactly zero hits the rest of the way. Speaking of zero hits, back to Kluber. For the 6.2 innings that he was in the middle of the diamond, Pawtucket did not reach base, via a hit. Why Kluber, pitching a no-hitter, only got through 6.2 innings, was because he had thrown 113 pitches. 11 strikeouts, five walks. While five walks is never something to overlook, an exception can be made, with the kind of season Kluber has had and with what he accomplished in this game. Chen Lee spelled Kluber, finishing off the seventh and getting through the eighth. Zach Putnam came on in the ninth, his team possessing a 5-0 lead. Like Nick Hagadone the night before, he also took care of two batters before things got dicey. Putnam allowed four straight to reach with two outs, making it a 5-2 game, and forcing Josh Judy into the game with two runners still on. Judy promptly collected out number 27 for a one-out save (his 20th) and a Clips victory.
Wednesday
(lost, 5-2): For a fourth straight game, the Clippers scored at least one run in the top of the first inning. This time, it was Nick Johnson's doing. He came through with a two-out single to give Columbus a quick advantage. Pawtucket, with a little bit of help from Columbus' defense, answered right back with two runs of their own (one unearned) in the bottom half. They came back for more in the third. Three hits, two Clippers errors and a walk led to three more unearned runs, making it a 5-1 game. The Clips had a chance to get right back in it in the next inning, but were only able to squeeze one run out of a bases loaded, one out situation. There would be no more scoring by either team after that. Gomez went seven innings, allowing just one hit in the four innings preceding that disastrous third. Four Columbus batters had at least two hits, but the team was 1-12 with runners in scoring position.
Thursday
(won, 7-5): There would be no first-inning scoring for the Clippers in this game, but they did get on the board in the second with a Paul Phillips sacrifice fly. The lead was short-lived, however, as four straight Red Sox reached against Zach McAllister to start the bottom half, resulting in four runs. Despite that, he cruised the rest of the way. Jared Goedert cut Pawtucket's lead to one with a two-run homer in the fourth inning. The score remained 4-3 into the eighth, until Columbus filled the bases and Beau Mills delivered a two-out grand slam, the team's second of the week. Nick Hagadone let one run in in the eighth, making it a 7-5 Clips lead. Josh Judy let the leadoff runner reach in the bottom of the ninth, but no further damage was done. This win was number 80 on the season for the Clippers.
Friday
(lost, 7-1): Unfortunately for the Clippers, Friday's finale against Pawtucket played a lot like Wednesday's game. Mitch Talbot was on the hill, making his second start for Columbus. In the second inning, he gave up a quick run after two straight doubles. Things got worse, when, with two outs, he balked two runners into scoring position. The Red Sox took advantage, knocked both of them in and gained an early 3-0 lead. He found himself in more trouble in the fourth, and did not make it out of the inning. But again, it was errors that cost the Clips. Two of them led to three more runs, all unearned. Paolo Espino, back in the bullpen, finished the inning and went on to pitch two more, surrendering just one hit. Columbus finally scored in the seventh, when Argenis Reyes delivered a two-out knock. That would be all from the offense, though. Pawtucket scored a seventh run in the ninth off of Matt Langwell, also unearned. In all, they made four errors. Jared Goedert and Beau Mills each contributed two hits apiece, but the team was 1-7 with runners in scoring position.
Saturday
(lost, 15-3): Saturday's return home for the Clippers was fairly quiet early on, but it would not stay that way. Both teams put a number in the run column in the fourth. Buffalo scratched for one against Joe Martinez, who was coming off a great performance earlier in the week. Beau Mills and Argenis Reyes combined to hang three on the Bisons in their half of the inning. Buffalo responded in a big way in the sixth, scoring five. The book closed on Martinez during the inning, who went 5.2 innings and allowed four on seven hits. Chen Lee followed by allowing two runs of his own in that sixth, and two more in the seventh. It was, by far, his worst outing in Triple-A. Trailing 8-3, Columbus would get nothing more out of their lineup. That didn't stop their opposition from rudely welcoming Eric Berger back to the International League. After getting the final two outs in the seventh, Berger pitched a clean eighth. He came on for the ninth, as well, but probably wished his night was over. The Bisons added seven runs to their lead against him, every one of them unearned. Matt Langwell came on to record the final out, but not before letting in the final two runs that were Berger's responsibility (though unearned). Chad Huffman, Jerad Head and Argenis Reyes each had three-hit days, but it would have been hard to guess, judging by the 15-3 score.
Sunday
(lost, 10-2): How would Corey Kluber follow up on his wildly effective gem of a last start? That question was answered pretty quickly by the Bisons. After a 1-2-3 first inning, they went on to score one, three, one and two against him in the next four innings, respectively. His day came to an end there, final line reading: seven runs (six earned) on eight hits, and seven strikeouts. Jared Goedert hit a solo home run in the bottom half of the fifth inning, making it a 7-1 game. Zach Putnam pitched a perfect sixth inning, but got touched up for three runs (two earned) in the seventh. A Cord Phelps base hit in the eighth gave Columbus run number two, but that was it. Nick Hagadone pitched two perfect innings, but more than enough damage had already been done to the Clips' staff. The team committed three more errors in this game.
Individual statistics
Argenis Reyes
: 7-22, 2 doubles, 4 runs batted in
Cord Phelps
: 8-28, 3 runs scored, 4 doubles, 1 triple, 2 runs batted in, 2 walks
Jerad Head
: 7-27, 2 runs scored, 1 double, 1 home run, 3 runs batted in
Tim Fedroff
: 7-22, 3 runs scored, 3 walks
Josh Judy
: 3 appearances, 3 saves, 2.1 innings, 1 hit, 0 walks, 1 strikeout
Matt Langwell
: 3 appearances, 3.1 innings, 2 hits, 0 runs, 0 walks, 2 strikeouts
Transactions
August 16
: Tim Fedroff optioned to Akron
August 17
: Tim Fedroff promoted from Akron; Thomas Neal placed on 7-day disabled list
August 19
: Ezequiel Carrera optioned from Cleveland; Shelley Duncan promoted to Cleveland; Luis Valbuena promoted to Cleveland
August 20
: Eric Berger promoted from Akron; Ezequiel Carrera promoted to Cleveland
User Comments
No comments currently. Be the first to comment!