Sanchez Needs More Consistency in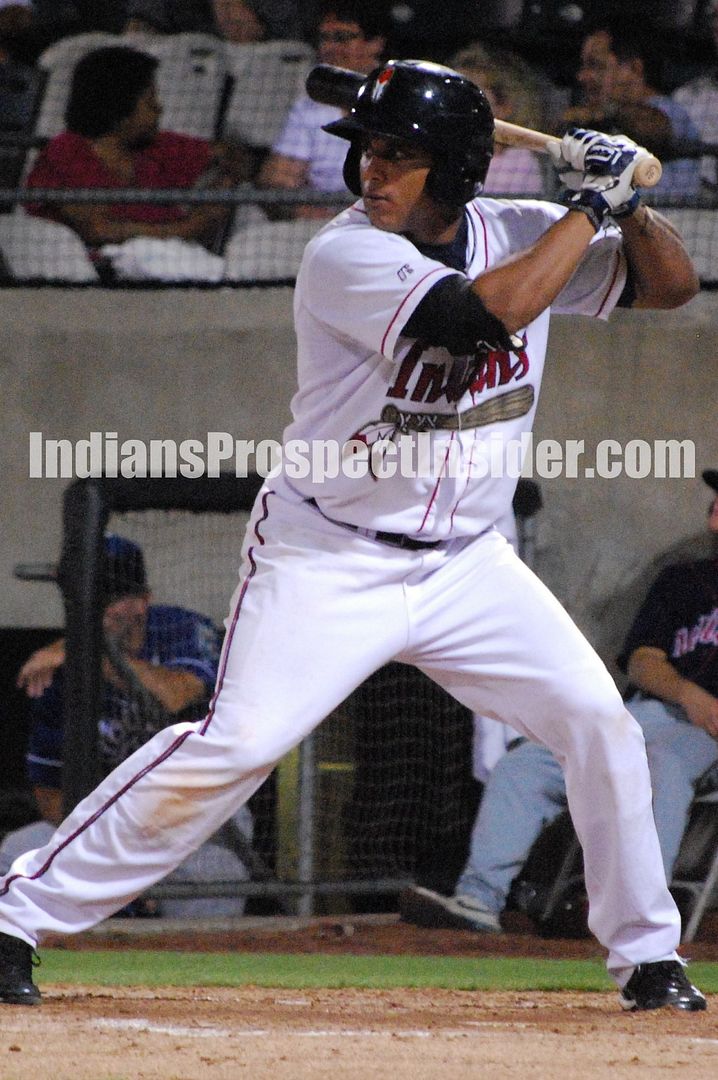 Sanchez aims for a more consistent season
in 2011. (Photo: Tony Lastoria)
A lot of players struggle with maintaining consistency throughout a pro baseball season.
Some players will go through stretches in a season where they seemingly can't buy a hit and their approach at the plate is awful. Some are streaky where they will immediately follow a hot streak with a severe cold streak and continue that up and down performance the entire season. Others will have a good or bad first half of the season only to follow it up with a performance in the second half that is the exact opposite of how they performed in the first half.
For infielder Karexon Sanchez, 23, he has shown over the years to be a solid performer who often has one long stretch of poor performance which takes away from his season and makes it just a solid year rather than a really good one.
In 2008 at Low-A Lake County, Sanchez hit .322/.374/.483 in April (87 at bats) only to follow that up with a poor May where he hit .159/.237/.224 (107 at bats). The poor May wrecked what otherwise was a very solid season for him as he did not hit below .250, an on-base percentage below .333, or a slugging percentage below .405 in any other month. He finished the season hitting .246/.323/.411 with 12 HR, 60 RBI, and a 38-118 walk to strikeout ratio.
Sanchez repeated at Low-A Lake County in 2009, and one again he got off to a great start hitting .280/.383/.458 in April and May (168 at bats), but struggled in June (.182/.311/.261) and July (.190/.313/.310) which saw his batting line plummet to .232/.347/.371 by the end of July. He finished the season hitting .234/.350/.375 with 11 HR, 57 RBI and a 70-136 walk to strikeout ratio.
Last season Sanchez moved up to High-A Kinston, and again his penchant for long cold spells hurt what otherwise was a good season for him. This time he had a good first half of the season hitting .280/.418/.427 at the All Star break in mid-June, but then he followed that up by hitting just .237/.341/.361 after the All Star break. He finished the season hitting .257/.378/.392 with 10 HR, 51 RBI and a 75-114 walk to strikeout ratio.
Sanchez's struggles with maintaining a more consistent level of performance is something he and the Indians are both aware of and have continued to work on.
"I feel like I was more consistent [last year] than the two previous seasons," Sanchez said in a recent interview with the IPI through interpreter Kinston hitting coach Rouglas Odor. "I have been working on that part of my game, to be more consistent with hitting. Offensively I feel like the difference is I go out there to look for one pitch, and if I get it I am going to put a good swing on it. I am trying to do damage not just early in the count but the entire at bat and have a good at bat."
While the progress has been slow, Sanchez has shown more consistency with his approach and confidence which have helped him maintain better overall numbers by the end of the season. The big key for him last season was that he did not change his approach at the plate even when things got bad in the second half of the season, which was different than the previous two seasons when he would often change his approach and try different things to try and get himself out of a prolonged slump.
Sanchez's continued development at the plate of being a more patient hitter and working counts every at bat helped last season as even though the hits were not falling at times he was still getting on base at a very good clip. In the end, he has shown big strides with his plate discipline since the 2008 season as he doubled his walk output last season. His 75 walks at Kinston last year ranked 2nd in the Carolina League and his .378 on-base percentage ranked 5th in the league.
As a defender, Sanchez continues to show a lot of versatility. He has experience playing every position on the field except catcher. In his career he has logged 270 games at second base, 84 games at third base, 53 games at shortstop, 33 games in the outfield, and 19 games at first base. That versatility makes him valuable to the organization, and it could lead to him maybe one day being a utility option in the upper levels of the farm system, possibly even in the big leagues.
"The organization has been preaching to me that the more positions I play the more value I am going to have, so I understand that," Sanchez said. "I feel very comfortable playing anywhere. I feel like I need to improve playing shortstop because I need the most work there, especially on angles to the left and right."
Sanchez played a little winter ball this offseason for his home country in Venezuela, playing about a week back in November where in five games he went hitless in six at bats. He is currently working out and getting ready for spring training where it appears he will start the 2011 season at Double-A Akron.
"My development is not where it needs to be yet, but I feel like I still have a lot of room to improve," Sanchez said.
User Comments
No comments currently. Be the first to comment!