Santana, Hafner To DL; Huff, Marson Recalled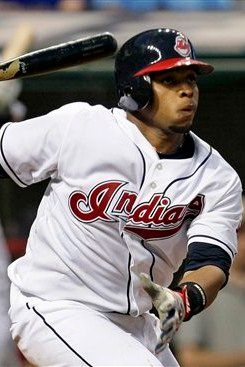 Today the Cleveland Indians announced they have placed DH Travis Hafner (right shoulder inflammation) and catcher Carlos Santana (left knee sprain) on the 15-day disabled list. Replacing them on the roster are left-handed pitcher David Huff and catcher Lou Marson from Triple-A Columbus.
Huff begins his 2nd stint with the Indians this year after going 2-9 with a 6.04 ERA (70.0IP, 88H, 53R/47ER, 30BB, 34K, .310 avg) in 13 starts thru mid-June. He began the season in the Indians starting rotation before being optioned to AAA Columbus on June 21st. At AAA Columbus he has compiled a record of 6-0 with a 3.80 ERA (42.2IP, 51H, 10R/18ER, 10BB, 32K, .295 avg) in 7 starts. He is one of just 3 Triple A pitchers with at least 6 wins since June 21st. Huff has tossed 7.0 innings in each of his last 3 starts as he has gone 3-0 with a 3.42 ERA (21.0IP, 23H, 8R/ER, 5BB, 14K) over the span. He wears #28 and will start for the Indians tonight against the Boston Red Sox at 7:05PM ET in Fenway Park.
Marson also begins his 2nd stint with the Indians this year as he has hit .191 (27-141) with 15 runs scored, 7 doubles, a HR and 12RBI in 45 games thus far in Cleveland. He began the season as the Indians every day catcher before being optioned to AAA Columbus on June 11th. Prior to being optioned, Marson threw out 14 of 40 (35.0%) of the potential base stealers, which led the American League at the time. At AAA Columbus he has hit .202 (25-124) with 19 runs scored, 7 doubles, a triple, 4HR and 14RBI in 37 games. Marson hit safely in 11 of his last 13 games for the Clippers, batting .295 (13-44) with 6 runs scored, 3 doubles, 2HR and 10RBI. He wears #30.
Hafner has not played since July 28th after suffering from right shoulder inflammation (DL transaction is retro-active to July 29). So far this year he is batting .267 (72-270) with 32 runs scored, 17 doubles, 9HR and 33RBI in 82 games with Cleveland. Over his last 8 games he has hit .449 (13-29) with 3 doubles, a HR and 4RBI. This marks Hafner's first trip to the disabled list this year and the 5th career trip to the Major League disabled list.
Santana was injured in a 7th inning collision at home plate last night in Boston's Fenway Park. So far this season with Cleveland he has hit .260 (39-150) with 13 doubles, 6 HR & 22 RBI in 46 games. He also drew 37 walks against just 29 strikeouts for an on-base % of .401 (.868OPS). Carlos started the year at AAA Columbus where he batted .316 (62-196) with 13HR and 51RBI in 57 games before being recalled on June 11. Today marks his first career stint on the Major League DL.
The Indians now have six players on the Major League DL (Santana, Hafner, Laffey, Reyes, Sizemore, Talbot).
User Comments
No comments currently. Be the first to comment!