"Scouting" The Aflac Game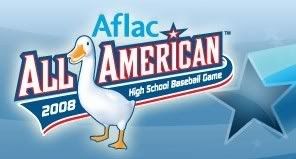 A nice little treat today as site reader Norman Banks forwarded me his thoughts on what he saw in Aflac All-American High School game this past Saturday in Los Angeles, California at Dodger Stadium.

Banks has some background in scouting and was with a friend who is involved with scouting, and he gives us a firsthand report on some high school kids to lookout for that the Indians may select in next year's draft. Many thanks to Norman for this nice report!

Scouting The Aflac Game

First of all, the top two prospects are 3B Matt Davidson and LHP Tyler Matzec. Davidson is clearly the top bat and he should stay comfortably at 3B. He has a fast bat and loads up on every pitch. To me he is a dead pull hitter, but my friend thinks he will learn to go right. If healthy, I think he is top five. Matzec is awesome. Low 90s fastball with an excellent three or four pitch mix and may have two plus pitches. Good enough for Low-A right now. His command is spectacular.

Just behind Matzek is Matthew Purdy. Not so far behind that he will not be a likely top ten pick. His stuff is real close to Matzek. His command is good and has three pitches with a fastball that is low 90s.

A lot of the right-handers were hanging breaking pitches and there were no real big arms like past years. Several people have talked about Givens reaching 95-96 MPH on his two pitches which were both hit solidly. Neither of us saw that and I was not impressed with his arm at shortstop, but he is excellent glovewise. Zack Wheeler was who I expected to be the ace but he looked like he was overthrowing. He has a decent breaking ball but hung a few. He is probably a first rounder but did not look nearly as sharp as the lefties. Austin Maddox was in the 93 MPH range for an inning+. His breaking ball needs work and Davidson got around easily on his best fastball.

Players to watch include Donovan Tate and Richie Shaffer. Tate can play center field in the bigs, expecially when his judgment improves. His swing is long at the plate but he has some natural power. Shaffer looks to be even better with the glove than Givens and made the most spectacular play of the day. Nice second round choice for the Tribe if he falls that far.

The highest pitching upside may belong to Jacob Turner who hits mid 90s. We were told he had excellent off-speed and breaking stuff but that wasn't apparent. What was apparent was striking out 5 of 6 batters. My friend was higher than me on Turner and he might be right. Position-wise, the West team had two fine catchers. Stassi looks more advanced than Susac and may crack the top ten. Not Skipworth, but pretty close.

Chad Thompson, who is 6'8 and has lots of projection could be a find. His delivery is all arms and legs and he gets away with hanging breaking balls, but he could be a steal if his mechanics get cleaned up. The same can be said for the fastest bat on the East, Scooter Gennet. I saw a serviceable major league second baseman which isn't bad. My friend thinks he is enough of an athlete to be more. His size will hold him back as he looks to smallish at 5'10". Also Slade Heathcott might be a quality pitcher who just lost his composure although that wasn't entirely unjustified. Brian Goodwin, the MVP, was the beneficiary of circumstances although he had the only real sharp hit for the East.

Make no mistake, there were a lot of solid ballplayers out there. None had the obvious skills of Beckham or the arms of Main or Stock, but there was a surprising amount of polish. I don't think that anyone will challenge Strasburg for #1. I don't even think any will be as good a prospect as Robert Stock who will be draft eligible at 20 next year. I hope that Davidson and Matzec are around when the Tribe picks, but either Turner or Purdy might be better.
User Comments
No comments currently. Be the first to comment!