Seastrunk Thrilled To Be An Indian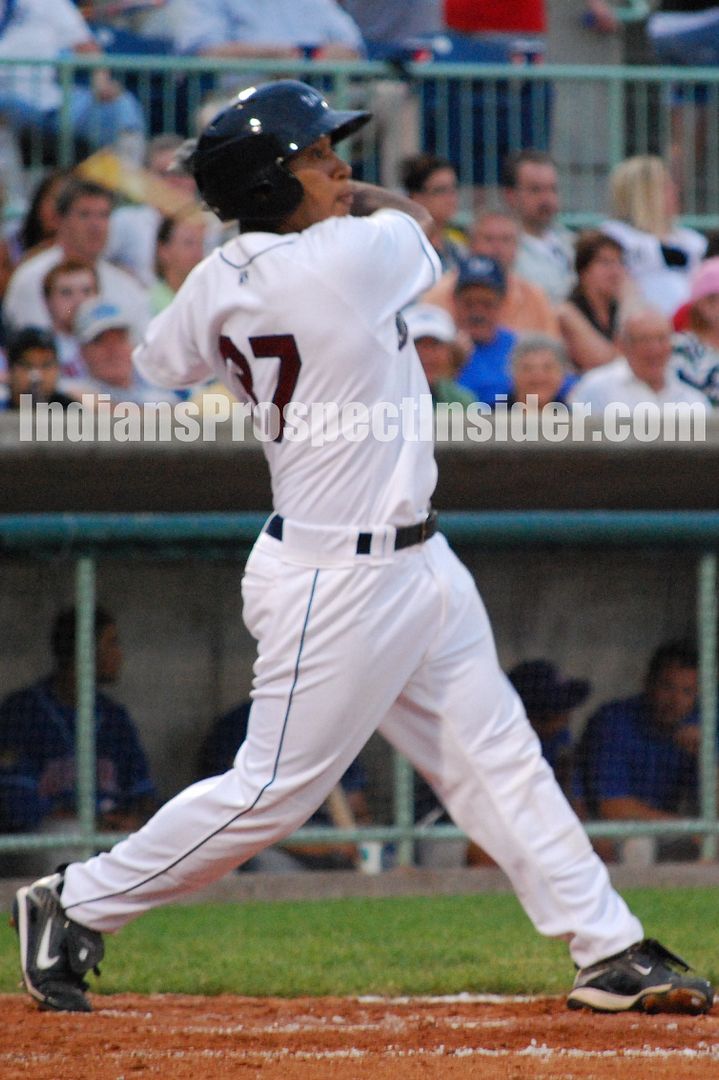 Going back to college for your senior season is a risky proposition for a Major League Baseball draft pick. Not only do you lose almost any signing leverage you have, but you also risk injury as well as a drop in performance which could affect your draft standing the next year.
But for catcher Diego Seastrunk, while he went back to school to hopefully improve his draft stock, he also did so in order to have another chance to be drafted by the Cleveland Indians.
Seastrunk, 22, hit .288 with 7 HR, 45 RBI and an .857 OPS in 61 games in his junior season at Rice in 2009. He and Indians area scout Les Pajari had fostered a good relationship, and on the day of the 2009 Draft the Indians had called him around the end of the 30
th
round to inform him that they were going to select him in the next round. Minutes late the Giants selected him near the top of the 31
st
round, a few picks in front of the Indians.
"[Last year] I had talked to the Indians before [I was picked], and the Giants kind of jumped ahead of them," said Seastrunk in a recent interview for the IPI. "So that's why I went back [to school] so I could get a chance to talk to the Indians again."
Rarely will you see a player go back to school just so he can get a chance to go to a specific team, but since he was taken in the 31
st
round Seastrunk felt there was certainly room for growth where he could improve his draft stock and potentially be selected by the Indians again at the same time. It ended up working out as he returned for his senior season at Rice this past season and in 51 games hit .369 with 9 HR, 52 RBI, and a 1.098 OPS, which made him a 14
th
round selection this year by the Indians.
"I talked to [Indians' area scout] Les Pajari multiple times," said Seastrunk. "The way he handled the whole process he made me feel like the Indians really wanted me, and that meant a lot to me. Just the way he handled the situation and he was straight forward the whole time. I didn't feel like he was beating around the bush or trying to blow smoke at me as he was honest. I hold honestly as a high priority, so just the way he handled it was impressive to me so I was glad to get another shot to sign with the Indians."
Seastrunk signed quickly with the Indians, and once the dust settled from all the craziness of the first week or so, he has finally started to settle in as a professional baseball player.
"They have made it easy for me around here as they have a good staff here [in
Mahoning
Valley
]," said Seastrunk. "So it has been pretty easy for me. Once I got settled in it was a lot easier just to focus on baseball once I got through those first few days with the physical and the back and forth. It's been pretty exciting."
Coming out of the draft, Seastrunk's bat was viewed as his best asset where as a switch-hitter he shows some power from both sides of the plate. He is small and compact at 5'9" 210 pounds, and has a good eye at the plate and has shown an ability to draw walks and get on base.
Currently, Seastrunk is off to a very slow start with the bat at short season Single-A Mahoning Valley where in 27 games he is hitting just .160 with 2 HR, 7 RBI, and a .565 OPS. Still, it is very early in his professional campaign as he has only had 81 at bats, and even with the poor numbers he has shown a good approach at the plate with 14 walks and 18 strikeouts.
Seastrunk can often be over-aggressive at the plate, which leads to him getting himself out at times. It is something he is trying to work on, to be more patient in order to help tone down that over-aggressiveness.
"In the past I have been very aggressive," said Seastrunk. "I don't strike out that much as I am a contact guy, so I can get myself out a lot. So I am working on my patience and being selective. Travis [Fryman] said most of it is pitch selection, so I am still trying to get a good zone and trying to work on my strengths in the zone hitting. You think you can hit everything, but you can't. Especially with the wood bat, you don't have that tin can anymore so you are not getting as many "oops" hits so you have to focus on squaring the ball up."
Adjusting to the wood bat is something a lot of college players are making right now since many have never used wood before, or if they did their exposure was limited. Seastrunk had some experience with wood bats coming into professional ball.
"Yeah, I have played up in the
Cape
[Cod League] a couple of summers," said Seastrunk. "[Hitting with wood bats] is a lot different as the sweet spot is a lot smaller, but I feel like I have good hand-eye coordination which I think is going to help me a lot at this level. It is going to take some work coming in before and staying after games. I don't have anything else to do but worry about showing up to the field and working on perfecting my craft."
The area that needs the most work for Seastrunk is his defense. As a converted catcher and this being only his second year catching, he still has a lot to learn with picking up all the nuances at the position.
"I definitely [need to improve] my defense and just working with the staff and trying to make it better as essentially that is my job," said Seastrunk. "My focus is on receiving well, working on calling games, working in tight spots and just trying to make the pitchers better. In the end that's all I have as if the staff is going bad that is a bad reflection on me, so if I can make the staff better that is me doing my job. I am just focusing on getting behind the plate and doing my job back there. I really want my defense to get better at this level and I have to keep learning and evolving as a catcher."
And as far as Seastrunk's hitting goes?
"The hitting will come," said Seastrunk. "It is a bonus as I am at a defensive premium position."
For breaking news and other information follow Tony and the Indians Prospect Insider on Twitter @tlastoria. His new book the 2010 Cleveland Indians Top 100 Prospects & More is also available for purchase on Amazon.com or his site.
User Comments
No comments currently. Be the first to comment!