Second Thoughts: Game #16 - Royals 8, Indians 2
1
2
3
4
5
6
7
8
9
R
H
E
KC
2
0
0
0
2
0
0
0
4
8
11
0
CLE
0
0
0
0
0
1
1
0
0
2
5
0
W: Hochevar (2-1) L: Jimenez (2-1)
The Starting Pitching
The Line: Loss, 6 IP, 6 H, 4/4 R/ER, 3 BB, 2 K, 1 WP
The Results: 113 pitches, 57% strikes, 5 GB, 5 FB, 4 PO, 1 LO
The Write-up: Ubaldo Jimenez had little command the entire night and he was working in the 91-92 range with his inconsistent fastball. Though Ubaldo gave up the exact same # of base runners (9) in the exact same # of innings (6) as Derek Lowe did last night, these were hardly comparable outings. The Royals did Ubaldo some favors by chasing questionable pitches in hitter's counts. The umpires also helped out by awarding the Indians a very questionable appeal when Mike Moustakas "left early" as he was tagging to move over to 3rd in the 6th inning.
Unlike Lowe, Ubaldo left the ball up most of the night and two of them left the park with runners on. By leaving pitches up in the zone and issuing free passes, you are asking for bad results. In my opinion, he was lucky to only give up 4 runs; the Royals got themselves out on several occasions. The pop-outs induced were all with men on base and easily could have been squared up to lead to a lot more runs.
I am a little concerned about Ubaldo at this point, not from an injury standpoint or even an effectiveness standpoint; he has too many moving parts to generate the consistency needed to be a top-line starter. A small anecdote, but look at the PItchFX release point scatter plot of Ubaldo against Lowe's: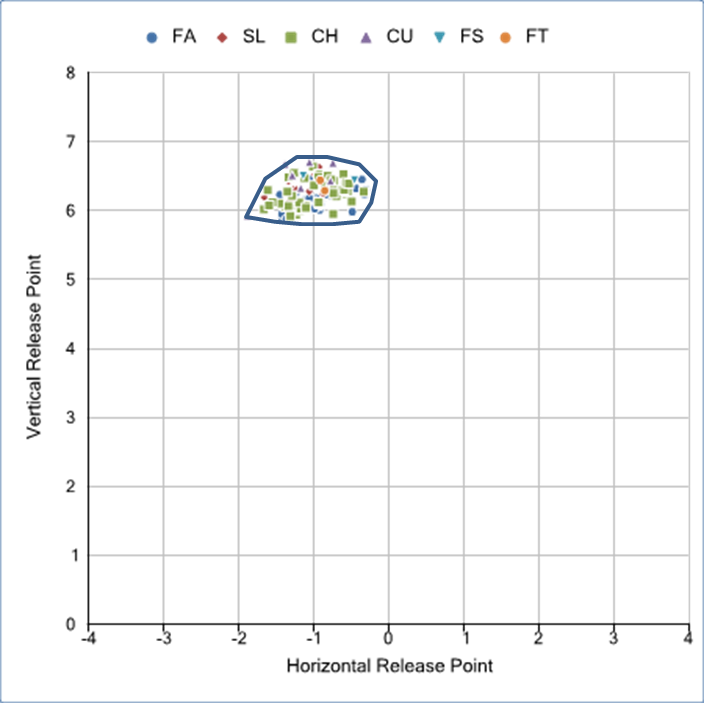 You can easily notice how much bigger Ubaldo's release area is than Lowe's. (I circled Ubaldo's release area and laid it over Lowe's to show you the difference in size). Erratic release points are a proxy for erratic mechanics and these typically lead to inconsistent outings. Ubaldo has so many moving parts; it isn't hard to see why he struggles sometimes.
The Bullpen
The Line: 3 IP, 5 H, 4/4 R/ER, 2 BB, 0 K, 1 GIDP
The Results: 55 pitches, 54% strikes, 4 GB, 1 FB, 2 LO
The Write-up: Wheeler and Perez had the clean lines, but they pitched very differently. Wheeler's unimpressive stuff got lucky tonight as a lineout with runners on and a slick play be Jack Hannahan prevented any real damage. He threw 13 pitches, 9 of them for strikes.
Rafael Perez was all over the place, walking two batters, but clearing them with a ground ball double play. He threw 16pitches, and only managed to get 4 over the plate. It is better to be lucky than good.
Jairo Asencio received all the downside from Wheeler and Raffy's bad karma. He threw 27 pitches, 16 for strikes, but a lot of those strikes were hammered and he gave up back to back homeruns on pitches that were either belt high or right down the heart of the plate.
Overall, you would have liked the Indians offense to force Acta to not go to Asencio in the 9th, but no signs of life and a two-run lead are a tough spot for a manager: if you always go with your set-up man, you don't have him for some games when you have the lead. If you go with the back of your pen, you save your arms, but occasionally give up runs that put the game out of reach. This was one of those games.
The Starting Lineup
The Line: 5/31, 1 2B, 3 BB, 8 SO, 1 SB
The Results: 2 R, 6 Total Bases, 10 LOB, AVG/OBP/SLG 161/235/194
The Write-up: The Cleveland Indians have these games where the entire offense looks lethargic for some reason. Though a base-running gaffe by Santana snuffed out a possible rally in the 1st and the Indians hit the ball hard a couple of times with men on, there weren't too many threats to put up crooked numbers. Nights like last night are going to happen, but it is odd watching a game and knowing in the third inning that runs are going to be tough to come by and it isn't because the opposing starting pitcher just shredded your lineup.
Travis Hafner continues to hit the ball hard and put up great at bats. The double he shot down the left field line likely would have gotten through, shift or no, and the groundball he knocked in the run with was extremely hard hit and took a diving play by Hosmer to get a glove on.
Brantley, on the other hand, is clearly not the player that the Indians want to amass the most plate appearances this season by hitting leadoff each night. He is not selective enough at the plate and doesn't get on base nearly enough to be considered a viable table-setter. Though some have called for Kipnis, I am actually a proponent of Choo leading off. He has one of the best OBP's on the team (historically), he has a fair bit of speed and he typically works the count. Santana, Kipnis, Hafner, and Duncan can be your "producers". But lineup complaining is really re-arranging the chairs on the Titanic on some nights.
The Defense:
Hannahan made a terrific play in the 7th on a slow roller. Bare-handing the ball and throwing a strike while on the move is tough and Hannahan is one of the best with or without the glove. The guy that I really want to give credit to last night is Carlos Santana. He must have blocked a dozen breaking balls that Ubaldo snapped off into the dirt and Carlos was doing everything he could to keep them in front; the only one that got by barely made it to the plate and took a tough hop to squeak past for a wild pitch. Some pitches are tough calls as to whether they are passed balls or wild pitches, not this one: WP.
The Other Stuff:
Last night actually presented a very good example of when Johnny Damon might effectively be employed. Whether Acta wanted to start Damon in place of Cunningham (who just can't hit Major League pitching), or he wanted Damon to pinch-hit for Duncan in the 8th against the tough-righty Aaron Crow. There was a chance to deploy Damon effectively. This does give me some silver lining to the acquisition and hopefully he will be used frequently in these short-lived, but high-leverage roles.
The Takeaways:
You can't beat the Royals every time and this game is one that was bound to happen, for Ubaldo and for the Royals. The concern is that the Indians seem to have traded away some top-talent for a guy that isn't a shut-down pitcher. I still believe that Jimenez will turn things around and become a 15 game winner with a high 3-something ERA…but is that really enough?
Going into today's game, you hope that Tomlin can toss a gem, to win the series, to save the pen and get some good mojo going into a series that will see Jered Weaver, Dan Haren and Ervin Santana come to town with a struggling lineup led by some guy name Pujols.
User Comments
Tony
April 26, 2012 - 3:35 PM EDT
Interesting comparison with Lowe and Jimenez. Not only is Jimenez's velocity significantly down, but he is a mechanical mess. The difference is that he was a mechanical mess back in 2009/2010 but had success because of his explosive fastball. You combine that big drop in fastball velocity with those continued mechanical issues....and you get a very ordinary pitcher. If he were a 4/5 starter and not acquired in a high profile trade, we'd be elated. Problem is, he's supposed to be a front of the rotation guy, and nowhere close to that.