Second Thoughts Game #29: White Sox 5, Indians 12
In the Cleveland Indians' years of yore, there existed a legend of the soft-tossing southpaw. This southpaw would ride into town with rather poor run prevention abilities, a laughably low strikeout rate, a mediocre walk rate, and very few objectively positive traits. Legend has it that, despite his status as a below-average pitcher, this brave hero would shut down the Indians' bats for a game.
The Cleveland Indians of 2014, however, do not seem to believe in legends. The Indians' decisive 12-5 victory on Friday evening overJohn Danks and the White Sox echoed not those dark, dark nights over which Mark Buehrle presided, but rather the bright, bright day when the Indians scored five against Bruce Chen in a win over the Royals.
That same win over the Royals had been, before Friday, the most recent win that the Indians had enjoyed, before embarking upon a most trying six-game road trip, during which games the Indians scored a total of 13 runs - only one more than Friday's game against John Danks alone. It's not true that anyone should have ever read too much into any six-game stretch; even for the most detached of fans, however, a twelve-run outing is still extremely cathartic.
Lord of the Dingers: The Return of the Gopher
Going into Friday's game, the Indians were tied for 24th in the majors in home runs with 19. Going into Friday's game, moreover, noted singular player Jose Abreu was first in the majors with 10 home runs. On Friday, the Indians helped widen that gap - if only by a net of one. Carlos Santana's home run to left field was just the most recent in a four-game stretch with three home runs - frequently an effective strategy for improving upon a .151 batting average, all the way up to a .165 batting average - despite which, his On-Base Percentage remains above league average. Carlos Santana, to confirm, has an incredibly strange offensive profile.
Michael Brantley's home run to right-center, however, was a good deal more interesting. With this, his fifth home run on the season, Brantley is now the team's sole home run leader. Going into the season, Brantley was at the top of no one's home run list - Santana was the overwhelming favorite, certain optimists supported Kipnis, the author personally had Chisenhall with an outside shot - but Brantley had an interesting batted ball profile in 2013.
The received wisdom - that doubles turn into home runs at a certain point in a career - frequently appears to be just a way to project optimism onto power-depressed offensive profiles like Brantley's. Yet in the case of Brantley, enough of his 2013 doubles were deep enough to merit a second look.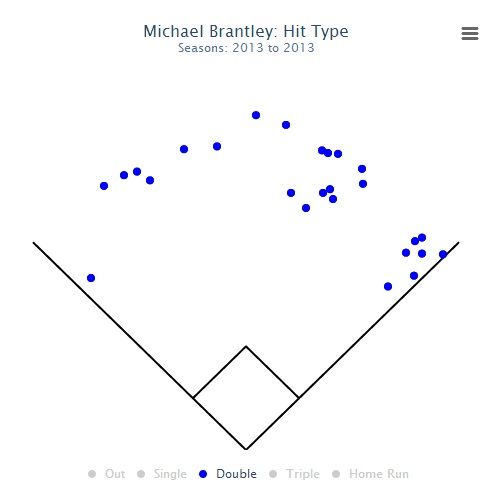 Source: FanGraphs
The author does not personally subscribe to the notion that doubles turn into home runs. However, if one didbelieve that such a phenomenon occurred, and if one did believe that this notion applied to players with a substantial number of deeply-hit doubles, one would look at Brantley's 2013 doubles profile and undoubtedly conclude that he is the prime candidate for a breakout year in home runs.
While numerous reasons for skepticism exist, the fact remains that Brantley's arcing power has, in the early stages of this 2014 campaign, been one of the primary sources of the long-ball in an offense that has been defined by its surprising lack of displayed power. Regardless of whether this pace keeps up, the narrative is compelling and mellifluous - or, in other words, smooth.
Mr. Salazarium's Worry Emporium
The author's guiding star in all pitching-related affairs - the statistical Doug Stamper to the author's Frank Underwood - are fielding-independent metrics, particularly when it comes to Cleveland's most intriguing pitcher,Danny Salazar. The author's favored metric, Expected Fielding-Independent Pitching (xFIP), operates under the assumption that only Strikeouts, Walks, Ground Ball and Fly Ball rates are truly within a pitcher's control; strikeouts and high GB rates are net positives for the pitcher, whereas walks and high fly ball rates are slightly net negatives for the pitcher. xFIP ignores those luck-based or defense-based factors, like strand rate and Batting Average of Balls put in Play (BABIP), that have caused Salazar's ERA to balloon to unsustainable levels. It is on these assumptions that a predictive model is built.
These assumptions, it should be noted, are true, and consequently, xFIP is a far better predictor of ERA than is ERA itself - a better predictor, moreover, than Fielding Independent Pitching, equivalent to xFIP but for the fact that it includes actual home run rates, as opposed to xFIP's regressed, league average home run rates. For this reason, FIP vastly underrates pitchers like Salazar with elevated home-run-per-fly-ball ratio - that he is underrated, however, does not imply that he is anywhere near an elite pitcher in terms of skill.
A premise of xFIP is that, unlike Ks, BBs, and GB/FB, Home Runs are volatile and only tangentially within a pitcher's own control. Home runs, according to xFIP, are merely a wildly fluctuating function of fly balls - on average, approximately 10% of fly balls are home runs, and any pitcher who deviates substantially from this should expect to regress to league average. Pitchers with higher fly ball rates, certainly, will surrender more home runs on average, but this is only because they surrender more fly balls and typically work higher in the zone. In sum, beyond Fly Ball rate, there's very little evidence to suggest that certain pitchers are any more or less homer-prone than others. This premise is fundamental to xFIP's validity.
This premise would also appear to hold true on Friday. It had been oft-proclaimed by those attempting to explain Salazar's difficulties that he was simply leaving too many pitches - off-speed pitches, particularly - high. As has become something of a recurring event in 2014, Danny Salazar surrendered a home run to newly dominant White Sox 1B Jose Abreu on Friday.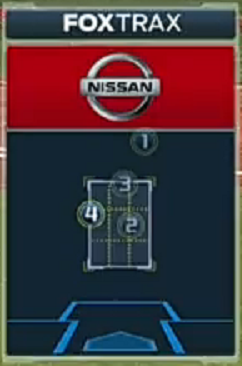 The good people of Nissan have shown us that in one at-bat against Abreu, Salazar left the last pitch of his plate appearance - a split change - in the upper third of the zone. Clearly, Salazar should have expected this pitch to get crushed, should he not?
Yet this pitch sequence between Salazar and Abreu did not result in a home run - this was the pitch sequence from Abreu's first at-bat, and it resulted in a swinging strikeout. Not all pitches high in the zone result in Home Runs - most result in Fly Balls/Foul Balls, fewer result in Whiffs, and yet fewer result in Home Runs. When one looks to the tape after a home run is hit, the 'obviously a pitch like that would lead to a home run' rationale that inevitably follows is nothing more than post facto justification for events that should, according to the received wisdom, be as a result of a pitcher's skill - but is frequently little more than statistical noise.
The pitch that Jose Abreu did send to the Home Run Porch was, in fact, in the lower part of the zone. Dingers are unpredictable, frequently occurring independent of a pitcher's control; xFIP, for this reason, expects anomalous HR/FB ratios to regress to league average, but FIP, which considers only raw home run totals, underrates Salazar as a result.
Despite his receipt of poor HR/FB luck, however, his purely skill-based statistics might most charitably be described as 'middling.' On Friday, Salazar posted a line of 6 K, 3 BB, 1 HR, 7 H, 3 ER over 5 IP. Even in those statistics within his control, Salazar undoubtedly struggled. Salazar's strikeout rate remains among the best in the majors - his walk rate, however, has ballooned in 2014 from its previously dominant 2013 form, from an above-average 2.6 BB/9 to a well-below-average 4.15 BB/9.
To state the obvious: if Salazar's walk rate doesn't decrease, his prodigious K rate will be necessary to remain merely average. To state the less-obvious: there are legitimate causes for concern about his walk rate. Earlier on Friday, Doug Thorburn of Baseball Prospectus reviewed Salazar's 2014 mechanics. As the article is pay-walled, this author will not go into substantial detail other than to say: it looks bad. His bat-missing abilities have moderately regressed, which when coupled with an Ubaldo-esque walk rate, bodes quite ill for the Dominican right-hander. It's very much possible that Salazar, as is, is a passable major league pitcher, yet Salazar, in terms of FIP, is hardly distinguishable from Ubaldo Jimenez.
On the other hand, Ubaldo Jimenez had the good fortune of run support in 2013. If being Ubaldo means the offense scores 12 runs per game, it's likely that all Indians fans would accept that frequently cathartic, if occasionally frustrating, fate.
John can be reached on Twitter at @JHGrimm. He can also be reached by e-mail at john.h.grimm@hotmail.com.
User Comments
No comments currently. Be the first to comment!