Second Thoughts Game #33: Twins 2, Indians 4
The Cleveland Indians notched a much-needed 4-2 win over the Minnesota Twins Tuesday night at Progressive Field. Let's walk through the game, but give the quick summary up front:
The Indians' offense delivered enough to get the win, but hardly showed signs of breaking out of its recent funk by mustering only 8 base-runners (6 hits, 2 walks).
Michael Brantley and Lonnie Chisenhall are, surprisingly, the most consistent performers in the lineup. They accounted for half of the base-runners and runs for the evening.
Josh Tomlin pitched extremely well in his return to the Majors from 2012 Tommy John surgery yielding only 1 run over 6 2/3 innings.
His hair and mustache looked like this:
Tomlin's performance was a huge boost to a team looking for something to go right following a horrendous stretch of West Cost blowouts and blown-games at Progressive. For reference, the last time he pitched in the Majors: Nick Swisher was in Yankee pinstripes, Michael Bourn was patrolling center for Atlanta and Terry Francona was a talking head for ESPN. While his hair has clearly grown out since last we saw him, so too has his repertoire.
He worked mostly off his fastball which accounted for 56 of his 95 pitches. His fastball averaged 90.6mph and maxed out at 93mph. This is at the absolute upper-end of his historical ranges and is somewhat indicative of Tommy John returnees seeing increased velocity with a shiny new arm ligament installed. However, it became clear that Tomlin was running out of gas as the game wore on. From Brooksbaseball.net, I present to you his velocity chart through the evening.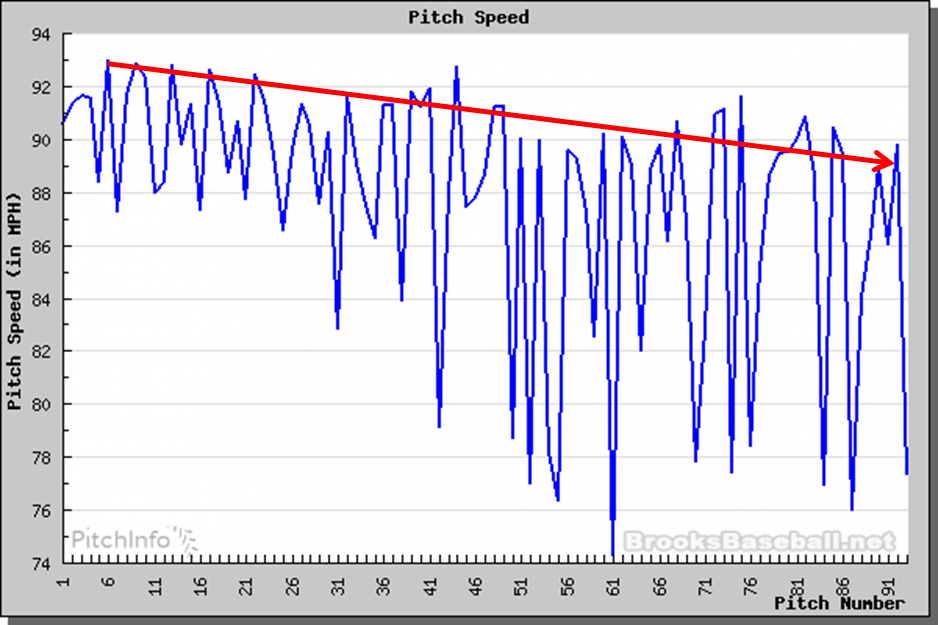 I have drawn a trend line through the peaks of his pitch speeds (which are his fastballs) and it's pretty clear that he was getting tired and didn't quite have the zip on his heater starting around the fifth inning (~50 pitch count). As we have come to expect from Tomlin, he continued to mix his pitches and work away from the center of the plate to induce outs for the remaining innings of work.
Tomlin's return, and performance, presents an interesting development as to what the Indians starting rotation should look like:
Terry Francona and Mickey Calloway know their guys, but it seems like giving Salazar extra days off is a plausible way to protect his arm while getting other worthy performers on the mound.
Up Next: The Indians hope their recent run of success on the mound continues tonight as Danny Salazar will face-off against Ricky Nolasco as the Indians and Twins play game three of a four-game set in Cleveland.
Graph courtesy of brooksbaseball.net
User Comments
Tony
May 7, 2014 - 12:05 PM EDT
Yep, that curveball looked really good at times last night. Between his fastball, cutter and curveball, he has three pretty solid pitches to attack guys. He has to be elite with his command and locate down in the zone, and if he does that he's going to very well for the Indians.
C L Who
May 7, 2014 - 12:01 PM EDT
Tomlin has a solid curve ball too which he used rather effectively last night. Some of the 12 to 6 pitches looked like they dropped 8 to 10 inches.
shy
May 7, 2014 - 10:26 AM EDT
Great to see number 43 out there pitching strong and chalking up W's again. The Brooksbaseball chart graphing his pitch speed last night to me is a somber reminder that everything on this dang planet now can be linear quantified. Personally I like to believe that the magic still happens between the lines. That said, the graph only depicts what we all know from watching Tomlin 2010-2012. He's the one of the best 1 thru 5 inning pitchers in the game, and then he tends to tire. It's great to have him back. I think he makes a difference for everybody going forward
east texas
May 7, 2014 - 10:13 AM EDT
Already Josh Tomlin from Angelina College!!!!