Second Thoughts Game #39: Indians 4, Blue Jays 5
The Cleveland Indians lost to the Toronto Blue Jays last night by a score of 5-4. Justin Masterson couldn't figure out a couple batters and exited having given up 5 runs. The Indians fell behind 5-1 and in the midst of scratching back to a one-run deficit, they lost many chances to complete the comeback, but didn't get it done.
Masterson didn't pitch all that bad, but rather the Blue Jays offense performed quite well, and in particular, they performed well in the sixth inning which would eventually lead to runs three, four and five and Masterson's departure:
Walked Melky Cabrera on five pitches, the only strike being a get-me-over fastball on a 3-0 count.
Jose Bautista scorched a single to Carlos Santana that he was able to glove, but unable to make the play. The pitch was at the absolute bottom of the zone and still sinking. Masterson got the groundball he wanted, it was just too far away from Santana to induce the double-play.
With men on first and second, Adam Lind stroked a double to left center on a pitch that was about two inches outside, tailing away and at the bottom of the zone: this doesn't typically happen. Typically, a guy rolls over that pitch and grounds out weakly, or misses entirely. Here is a screen capture from the game showing Masterson looking surprised and bewildered as to how things went so wrong on such a good pitch: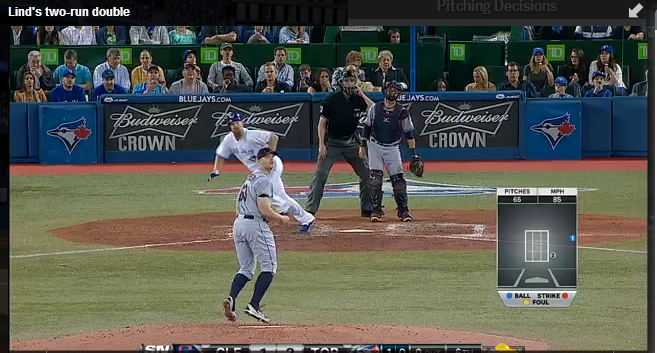 Screenshot courtesy of MLBAM Gameday.
Though the pitching ended up producing mediocre results, and concerns about Masterson's capabilities as a #1 starter were not exactly laid to rest, the really interesting part of the game came in the Indians quest to tie things back up.
After the sixth inning was over, the Indians were down 5-1 and had to go back to work against R.A. Dickey. They came back strong and produced three runs of their own to get within one. To lead off the eighth inning, Carlos Santana ripped a single to center and advanced to second on a passed ball. After Asdrubal Cabrera struck out (failing to advance the runner), David Murphy came to bat and also struck out on this pitch: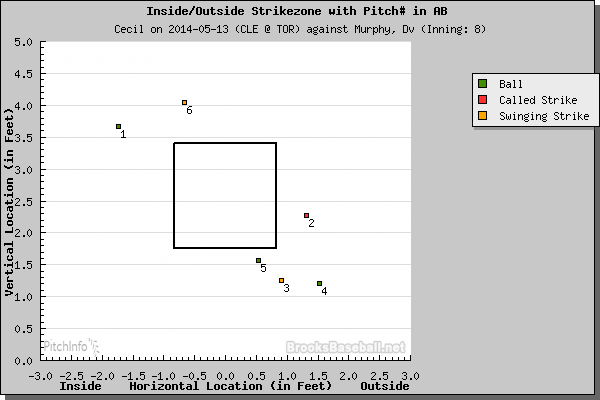 Image courtesy of www.brooksbaseball.net
So, it came to pass that Carlos Santana was on second with two outs in the eighth inning with his team down by a run. He was going to be running no matter what and he absolutely had to score on any single that got out of the infield. He has below-average speed, but he would get to take off on contact and should be able to beat even the best of throws.
Yan Gomes roped a single to left and Melky Cabrera gunned down Santana by about a quarter of a step, maybe less. It effectively ended the game as the Indians had the bottom third of their order coming up and Casey Janssenis a quality closer.
You have to give credit to Cabrera for such a strong throw, but when you look closely at the play, you can't help but think about what could have been. Let's break down Santana's, ultimately, failed attempt to tie the game:
This is the first frame of the cutaway following Gomes ripping the ball to left: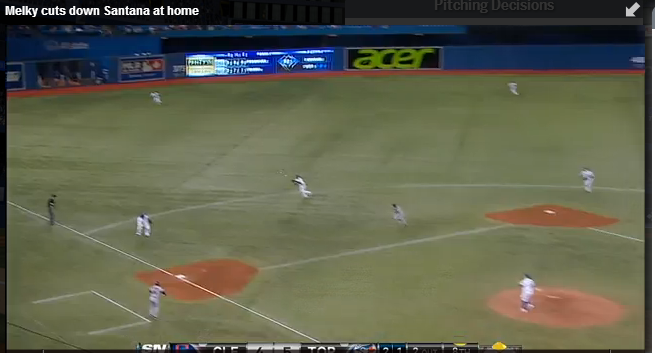 You can see Santana is about 2/5's of the way down the line and already at full-sprint. Things are looking good so far.
Santana is one-step away from third as Cabrera fields the ball. He is at the 'cut' of the turf and bearing down on third, and he should be able to make a hard-turn and take a pretty straight path to home:
This is where he ends up in just a few short steps: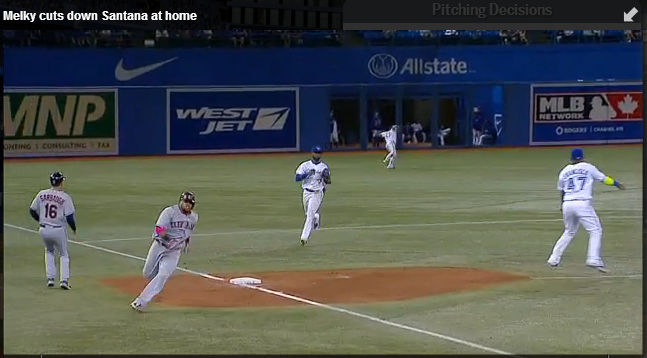 Uh-oh. He is very far away from the line and his momentum is still carrying him away from home plate. As you can see, Cabrera is still in his wind-up and hasn't even released the ball yet.
A few steps later and things haven't corrected themselves, Santana is taking an extremely wide turn and giving the Blue Jays a few extra fractions of a second to get the ball to the catcher: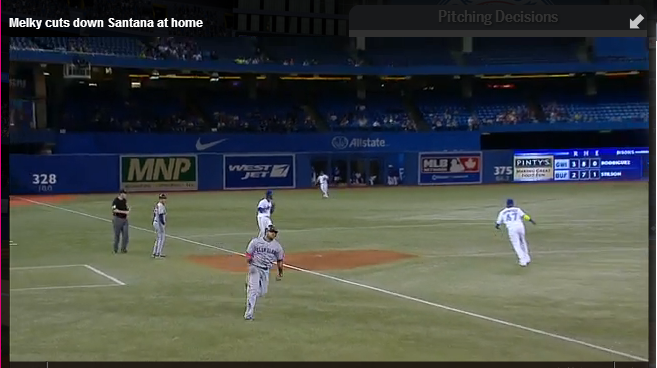 In this next frame, Santana and the ball have arrived at equal distances from the catcher. Santana is still very far away from the plate and will have to cut-across the catcher to even reach home plate. Also, he has placed himself closer to the catcher, which obviously makes applying the tag that much easier.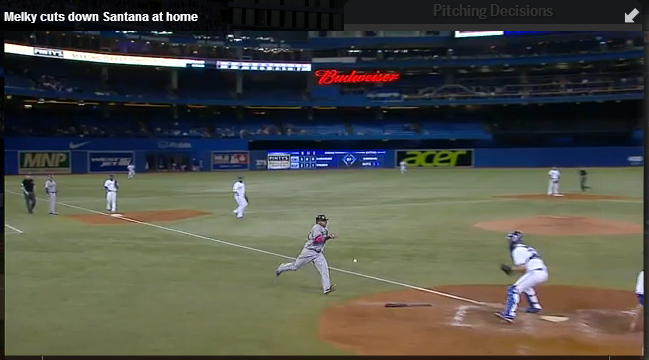 As Santana is getting tagged, he is finally getting back to the basepath and is correctly called out as he is just inches from the plate: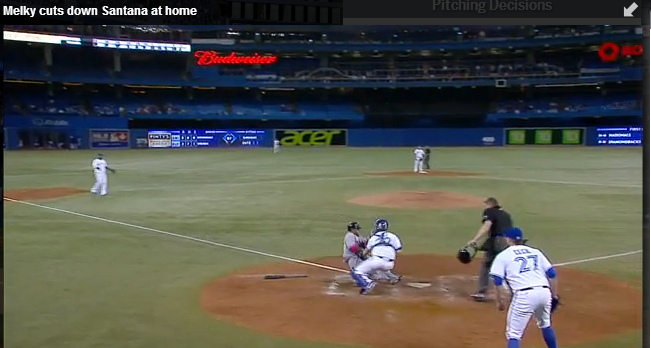 Sure, Cabrera made a great throw; but with the jump that Santana got, there really shouldn't have been any chance to get him at home. Poor base-running, not from a mental standpoint, but from a technical one, led to the out and eventually the loss.
Had he ran down the base path, the throw would have A) been too late or B) hit him. Either way, he is safe and the Indians would have had new life. It isn't a mistake commonly noticed, and nearly impossible to quantify, but it mattered last night and one can only hope that it won't be made again.
The Indians continue their series against the Blue Jays tonight with Corey Kluber going against Dustin McGowan. Let's hope that Kluber stays hot and the Indians can piece together runs easier than last night.
All screen capture courtesy of MLBAM Gameday highlights and can be found at MLB.com
User Comments
Walter
May 14, 2014 - 10:51 PM EDT
It is time for the Indians to DFA Carlos Carrasco. Can't even close out a 15-2 game without problems.

tim
May 14, 2014 - 10:45 PM EDT
My Boston friends tell me Francona is known for head scratching moves. They say his strength is in the clubhouse and keeping it good, not strategizing. They say his pitching changes or non - changes always left them bewildered.
GSon
May 14, 2014 - 7:13 PM EDT
@Joe.. Agree with your conclusions.. posted same on the game thread board. Also.. why isn't the Catcher being turned into road pizza if he's blocking the path to the plate without the ball.. RUN him over.. make the homeplate umpire make another bad call..It wouldn't be his first of that night...
Charlie
May 14, 2014 - 5:13 PM EDT
Shy: I guess the point I really wanted to make was that even a perfect throw wouldn't have gotten Santana had he taken a proper turn.
shy
May 14, 2014 - 2:36 PM EDT
Santana is overweight- like the Panda in S.F. he is a step slower in the field and unable to cut sharp corners running the bases. He shouldn't have been in there as the tying run w Jose Ramirez sitting on the bench. Melky has a very accurate arm. lots of assists- he needed a perfect throw to cut down Santana and he made one. That said, even the perfect throw would not have cut down JRam. You have to know the opposing teams strengths and weaknesses and adjust your lineup accordingly, Francona didn't do it. There seems to be a consensus here that Francona is the ultimate player's manager- that he sticks w his guys. Maybe so but you have to play to win and you have to encourage the younger guys to get involved and contribute. There are a couple of moves he's made that have really caused me to question his wisdom as well as "player's manager" ethos. One was sending Nyjer Morgan down when he was leading the team in hitting and baserunning and the Indians were above .500. The other was DFA'ing George Kottaras the day after he came up and hit 2 homeruns in his call-up game. Who does that? Bruce Bochy has an unwritten rule out here that as far asI know he has never violated. You hit a home run today, you're penciled in the lineup tomorrow. Lefty, righty, bad sabremtetrics be darned, you're in there. Maybe Antonetti made the call on Kottaras, I don't know. Whoever did it, it was lame
Joe Chengery
May 14, 2014 - 2:06 PM EDT
Never = neither
Joe Chengery
May 14, 2014 - 2:06 PM EDT
I should make one caveat to the Swisher at-bats: I think he did put Chisenhall 2, Swisher 3 (even did it last night, but only because Kipnis is out- I don't think that was even considered when Swisher and Kipnis were healthy, even though never have had a bonafide hot streak or consistency yet).
Joe Chengery
May 14, 2014 - 2:03 PM EDT
I couldn't believe it when I seen Santana still in there- certainly obvious. I agree that Santana didn't run the bases well (all the more reason to put Ramirez in- better base runner in addition to better speed), and probably would have scored if he had.

I agree with Hermie that this isn't the first time a dubious decision by Francona has cost us; it would seem to indicate the weakest part of Francona's managing: Being too loyal to his guys at times. While it can be a good thing to an extent, it can also be a bad thing when taken to extremes. That's the main reason why he kept Swisher, Kipnis and Santana batting 2-3-4 well into April even when none of those three were producing anything and weren't even producing quality at-bats 75-90% of the time, yet kept running them back out there night after night, while the guys in the lower part of the order were putting up quality at-bats and producing - Brantley, Gomes, and eventually Murphy, Chisenhall, and Aviles. He did finally put Chisenhall in the 2-hole (but only when Swisher was out, never when Swisher was in).

I just think this bares watching- Francona is not quick to make adjustments. Being that it is May and we are at that 40-game mark, guys should be hitting their stride. If they are not, adjustments need to be made more quickly- it's no longer early in the season anymore, which magnifies last night's "braincramp" even more. Too many games have been given away already- we need to start making up for those early-season mistakes and making up some of those games, or those postseason aspirations may be just dreams come October.
Hermie13
May 14, 2014 - 12:47 PM EDT
Can we really can it a brain fart on Francona's part? Not like this is the first time this year he's failed to make a very obvious move like this...
Tony
May 14, 2014 - 12:19 PM EDT
I agree completely Joe. A brain fart there from Francona is you ask me as there was no reason to keep Santana in the game and not pinch run for him. That is the precious tying run in the eighth inning, you pull out all the stops to try and ensure you get that guy home.

That said, if Santana runs the bases right, he goes into home standing.
Joe Chengery
May 14, 2014 - 12:12 PM EDT
Here's my question as I saw the replay and heard Santana got thrown out at home (I didn't see the game live): Why was Santana still in the game at that point? Why wasn't he out of the game and Jose Ramirez pinch-running for him?

If Ramirez is in there, he scores easily, and he's the tying run. First, there's no guarantee Santana's next time at the plate occurring, since it's already the eighth inning. Second, Santana hasn't hit or had the offensive performance in terms of walks and OBP as we are used to seeing, so taking his bat out of the line-up should have been an even easier decision than if Santana had been playing well offensively to this point.

Ramirez goes in to play 2B, upgrading the defense there, while Aviles shifts over to 3B. Even if Aviles is a downgrade from Santana, it's likely not much. To me, it would seem a no-brainer as soon as Santana was aboard, you pinch-run for him with Ramirez. If he's in there, it's no contest, as Cabrera has NO chance of throwing him out. If I remember correctly, that hit was of the bloop variety; it's quite possible Cabrera doesn't even throw through to home plate if Ramirez is running, but rather throws to 2B to keep Aviles from getting into scoring position with the go-ahead run.

If Francona has one weakness as a manager, it's that he sticks too much to his guys sometimes. While that's usually a good quality, in this case (and in a few other cases, including extending Masterson, just as he did in this game), it's cost the Indians. If Ramirez pinch-runs, this game is tied, and with the recent late surge the offense has been showing of late, quite possibly a win. Instead, they lose ground to DET, KC, and MIN because of not utilizing the bench in what I think is an automatic situation, especially with Santana's underwhelming offense to this point this season.

Losing his offense isn't as much of a concern until he starts producing as he has in the past, and that hasn't happened, especially when he plays 3B ( I've noticed some of his better offensive performances have come when he is playing 1B or DHing).