Second Thoughts Game #4: Twins 2, Indians 7
The season opening series in Oakland saw the Cleveland Indians take the series 2-1, both of their wins having been taken in dramatic fashion. The absolutely compelling ninth innings suggested, to an excessively romantic onlooker, that the Indians were aware of their position as entertainers, wringing each game for all the emotion it possibly contained.
For the sake of the sellout crowd whose emotions had already been sufficiently drained by a two-hour rain delay in their home opener on Friday, however, the suspense was discarded, with the Indians jumping ahead in the sixth inning on the back of a Yan Gomes opposite field home run, followed shortly thereafter by a Lonnie Chisenhall base hit and a Nick Swisher no-doubt two-run home run to put the Indians ahead 3-2. Coupled with a four run seventh inning, the Indians' offense put the game away well enough in advance to ensure that the win, for the first time since the start of the season, would be comfortably sealed before the ninth.
So, eliding the obvious (Swisher: he made a donation of both money and baseballs to the city of Cleveland), three storylines stood out during Friday's game.
Starting Slow
As Danny Salazar himself confessed on Twitter, he was not at his most effective on Friday. It doesn't require undue belaboring, but as evidenced by his entirely depressing 4K/3BB over 5.2 IP, he was worse than his normal, transcendental self, both in his pitches' ability to command the zone and his ability to induce whiffs.
Salazar operated mostly outside the zone in 2013, throwing only 42% of his pitches inside the zone; however, in this start, only 36% of his pitches landed inside the strike zone. This is a statistic with little in the way of predictive ability, but nevertheless instructive: Salazar had trouble finding the zone. Instead, the following series of images in Salazar's first-inning at-bat against Joe Mauer is likely more instructive, showing the difficulty Salazar had in commanding, as opposed to merely controlling, the ball.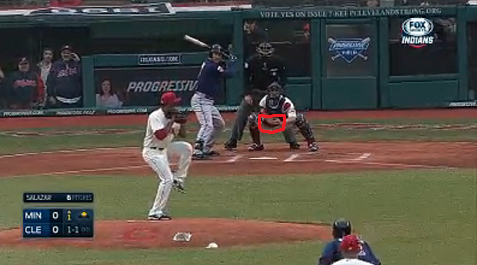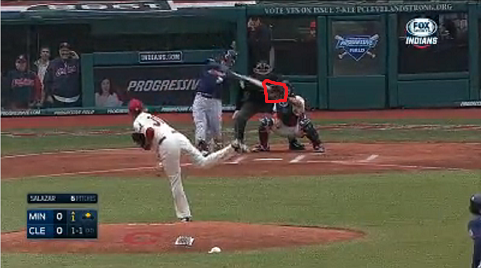 Suffice it to say he missed. (Interestingly, his home run allowed actually missed its target substantially less than this mostly-harmless flyout to left field.) Nevertheless, the above exchange, coupled with the three walks and with the author's opinion, unsupported by Microsoft Paint technology graphics, that Salazar frequently missed his target, shows that Salazar's control was entirely lacking.
His pitches also were less effective than previous. The reason for this, possibly, is contained with the action-adventure chart taken from Brooks Baseball, showing Salazar's 2013 velocity, followed by his velocity in Friday's start.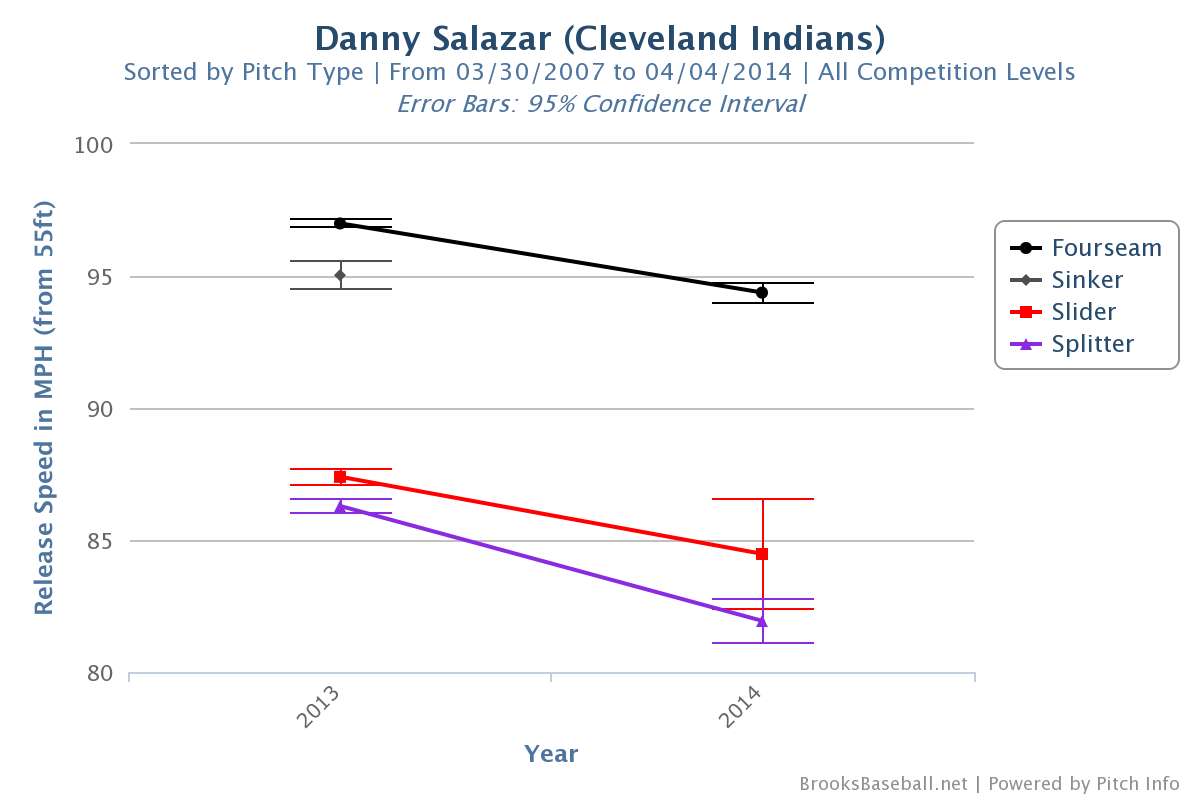 | | |
| --- | --- |
| Year | Fastball Velocity |
| 2013 | 96.99 |
| 2014 | 94.37 |
Source: BrooksBaseball
The purpose of the above chart is not to incite panic; it's entirely normal and within precedent for a pitcher to start a year with a two mile-per-hour velocity decline. This is particularly true in Salazar's case - given the strategy of starting spring training slow so as to maximize his regular season innings, it is to be expected that his velocity would not match his 2013 July-September numbers.
Ideally, one would like to compare his 2013 April numbers to his 2014 April numbers, but given that he was in Double-A to begin 2013 (which should be considered remarkable in itself), 2013 April velocity numbers are not readily available.
Ultimately, Salazar did have a poor outing - the shakiness of which was entirely forseeable based on his spring build-up regiment and a cause of concern only for those most skittish of Cleveland Indians fans.
The Bullpen Mafia Makes an Offer One Can't Refuse
The author would be speaking too boldly to say that the removal of -.9 WAR Chris Perez from the bullpen was in some way addition by subtraction. The author would not, however, be overstepping his bounds to note that subtracting a negative number is equivalent to adding a number to a positive number with the same absolute value. This brief mathematical housekeeping has absolutely nothing to do with Chris Perez, of course.
In addition to having fewer large negative numbers, however, the bullpen may find itself in possession of several large positives, as well. Bryan Shaw, Cody Allen, and Blake Wood combined for an astonishing 2.2 IP stint, with 7 strikeouts and 0 walks between the three of them. Those aren't numbers one should expect to be replicated - 23 K/9 isn't particularly precedented, or human - but given the promise that each of them have at one point shown (Shaw and Allen in 2013, Wood in 2014 Spring Training with a crippling Fastball/Offspeed combination), it leads one to believe that the team's actual closer, John Axford, is possibly the fourth or fifth best reliever on the team through no fault of his own.
Hard to believe Francona would have a problem with that.
Yan Gomes: Silliness in Sample Sizes
It's better to begin with the ways that Yan Gomes was exceptional than not on Friday. Yan Gomes, for his career, has hit a grand total of two opposite field home runs. Against the Twins, Gomes's sixth-inning home run made it three opposite field home runs.
Gomes's most redeeming offensive trait is his ability to hit baseballs hard - he doesn't put backspin on it or take a particularly sophisticated approach to the plate, but if the power plays, all his contact problems are forgiven - Gomes's power has almost exclusively been to the pull side. One instance does not indicate a trend, but it's entirely surprising that Gomes's first home run of the year would be to the opposite field.
Of course, unless the reader believes Gomes has become some opposite-hitting savant, recall that two of his outs were groundouts to the third baseman.
Yan Gomes: Because you can't shift righties.
Lon Potato
The quietest story of the first four games - from the player likely to be one of the first two players sent to Columbus - is the quiet production of Lonnie Chisenhall. On Friday, Chisenhall hit a single, a double, and drew a walk in four plate appearances. Displaced from his position by Carlos Santana, it was assumed that Chisenhall would be the recipient of the bulk of the DH at-bats - however, through four games, Chisenhall has only played in two of the games and been granted only six plate appearances - within which he has acquired three hits and a walk.
Previously, the author discussed Chisenhall's likelihood to produce offensively at something resembling a league-average or better rate; in the first several games (in Spring Training, as well), Chisenhall has done precisely that, making solid contact all the while.
He's also likely to be in Columbus within a few weeks due to circumstances entirely outside his control, barring further injury. This is in no way a guarantee, but when Chisenhall receives only six plate appearances over the first four games, all of them in the 9th spot in the order - if roster choices had hands, they would be pointing Chisenhall to Columbus; it's a disappointing set of circumstances, at the very least.
John can be reached on Twitter at @JHGrimm. He can also be reached by e-mail at john.h.grimm@hotmail.com.
User Comments
Ron Vollmar
April 5, 2014 - 1:08 PM EDT
I hate to say Carrasco and Bauer are key players for this season, but,....

If the Indians are to make the playoffs and do something meaningful in the playoffs, they need three to four solid starting pitchers. Masterson, Kluber, Carrasco and Bauer, would be needed to go past the one and done in the playoffs.
Walter
April 5, 2014 - 11:35 AM EDT
Chisenhall in lineup today at 3b. Santana at DH. Time for Carrasco to start proving his critics wrong by having a strong start to his season. Need another SP other than Masterson to go at least 6-7 innings.