Second Thoughts Game #53: Indians 1, White Sox 2
The Cleveland Indians lost to the Chicago White Sox on Tuesday night by a score of 2-1. The game was started late due to a rain delay and paused for two-hours after the third inning thanks to another rain delay. The starters were White Sox ace Chris Sale and Tribe 'ace' Justin Masterson. Neither returned after the second rain delay and neither offense could really get it going in a rain soaked affair in Chicago.
The Indians had a real chance to steal a win here after Chris Sale exited.
Sale was dominant in his three innings as the Indians were fighting just to make contact, but only down by one run by the time the tarp came off and the bullpens were put to work.
Justin Masterson continues to have command and control problems as he was walking batters and missing his spots regularly.
Were it not for his escape act in the first inning, following back-to-back walks, the Indians could have been out of it from the beginning.
The Indians offense was anemic pulling together eight hits, but none of them going for extra bases and only accumulating one walk on the night.
Nothing too fascinating about this game, just a water-logged snoozer of a night. You would like to see the offense be able to create a little productivity, especially given the lucky break of only having to face Sale for three innings. However, the Indians seem to have these team-wide slumps every once in a while.
You have to think that the injuries are taking their toll: Kipnis, Santana and Swisher are three of your four or five best hitters when they are going right and not having them in the lineup has to hurt eventually. Michael Brantley, David Murphy and Lonnie Chisenhall have been able to cover up these gaps for a while, but not enough. Even before Swisher and Santana went down, the team was having trouble bringing the offense on a nightly basis.
See below for a game-by-game depiction of the runs scored for the Indians and their opponents: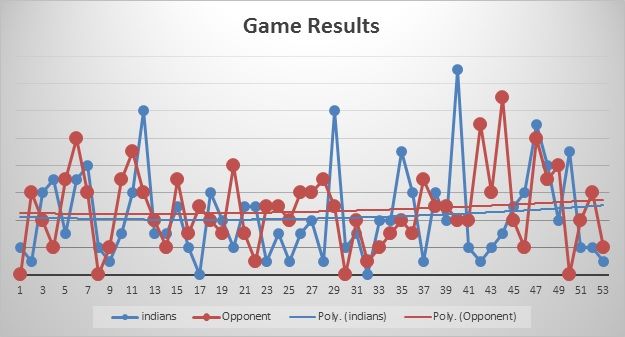 You can see the Indians (blue) have higher-highs than their opponents and represent those games where everything clicked. However, the number of games with very low amounts of runs is unsettling.
Typically, teams have a fairly normal distribution of runs; i.e. they score very few runs some of the time and very many runs some of the time, but score an average number of runs most of the time. The Indians have had trouble getting those "average" games to score more than just a couple runs.
Below is a graph showing the Indians distribution of runs each game against their opponents: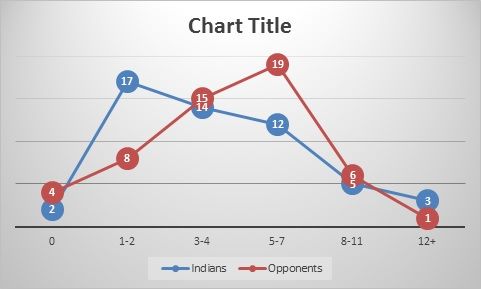 You can see that the Indians distribution is heavily concentrated in the 1-2 range, whereas their opponents are most heavily concentrated in the 5-7 range. This is not a good sign and incredibly indicative of a season that is not going as planned.
Inconsistent hitting and pitching has led to some lop-sided games and some frustrating losses. Injuries and ineffectiveness have put the season in question. When Kipnis, Santana and Swisher all return to the lineup in the next couple weeks, things will have to click very quickly for the season to get back on track.
The Indians will look to start the consistent offensive production against Hector Noesi and the White Sox tonight at 8:10 pm. The Indians will have T.J. House going in his second major league start as the Tribe looks to avoid the sweep.
User Comments
Joe Chengery
May 28, 2014 - 8:51 PM EDT
I don't think that works for either side:

1. For Baltimore, they already committed to Jimenez, and until the Indians put up the five against him Sat, he was actually OUTPITCHING Masterson in terms of ERA, WHIP, and I believe K/BB ratio. Even now, they are about dead-even in every category, and Jimenez is OUTDOING him in H/IP and K/IP, with Masterson walking 4.4/9 IP vs Jimenez's 4.5/9 IP. In other words, very similar, and I know there are some who are not happy with the Jimenez signing, so getting another similar pitcher in Masterson would be unlikely, especially since Jimenez put those numbers up largely against the stronger AL East lineups, versus Masterson who has put up very similar numbers largely against the weaker AL Central lineups. With Angelos in the picture, it's possible, but still unlikely.

For the Indians, while Cruz is hitting better because of a propensity to stay on the ball better and use the whole field (instead of pulling off the ball like he was doing the past few seasons in Texas), Murphy hasn't been a slouch offensively, having 5 HRs himself, is a better defender and is signed for two years. Add in the fact that Cruz is unlikely to resign here if he has a big year, you give up Masterson in the deal as well, and the fact the Indians could theoretically add Kendry Morales soon without losing a draft pick (though probably a long shot because it would be hard to make the financials work, especially without a trade to free up salary), and I'd find it very unlikely that the Indians would look into making that deal.

Plus, Baltimore is not out of that division by a long shot- they were leading that division only days ago- why would they consider trading their best, or at least hottest, hitter for an inconsistent starter, one who has arguably done WORSE than Jimenez? Even with Angelos and his past history, I don't see that trade happening any time soon.
C L Who
May 28, 2014 - 3:59 PM EDT
Masterson seems to be good in alternate years. Could it be that he's not really an "ace" but just a sometimes above average starter? I wonder if Baltimore would trade Nelson Cruz for Masterson, and hope that the front office is trying to find out. If Murphy has to be in the deal too, I'm OK with that, though he has been playing well for the Tribe.