Second Thoughts Game #65: Indians 5, Royals 9
The Cleveland Indians lost to the Kansas City Royals on Tuesday night by a score of 9-5. The game was largely out of hand, though the Indians tried to creep back in by scoring five runs in the final two innings.
Corey Kluber was uncharacteristically shaky as he yielded six runs (three earned) on six hits (including a HR) and two walks. He was taken out in the fifth at just 78 pitches with Francona deciding to save some bullets in Kluber's arm when he might have a little better day on the mound.
Some quick thoughts on the game:
At five innings, it was his shortest outing in his past nine starts since an April 29th

start against the Angels.

Kluber was victimized by the Indians defense yet again, yielding three more unearned runs.

Lonnie Chisenhall only had two hits, of which only one of them went for extra bases.
The big blow came in the fifth when Eric Hosmer hit a two-run homer to put the Royals up 6-0 and effectively end the Indians' chances. The pitch that Eric Hosmer hit out was pretty good. It was a 93 MPH fastball at the absolute bottom of the zone and on the outer-third of the plate: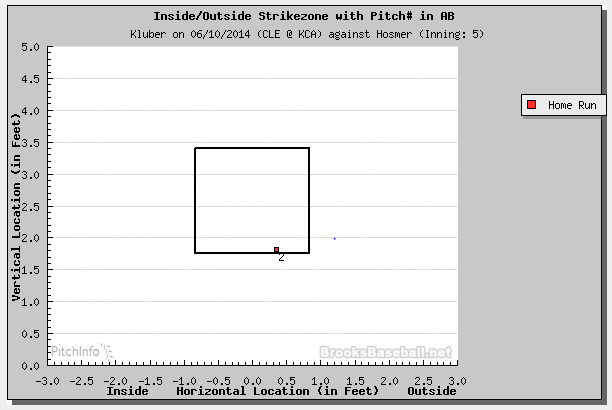 Most batters fail to do anything with pitches this low in the zone: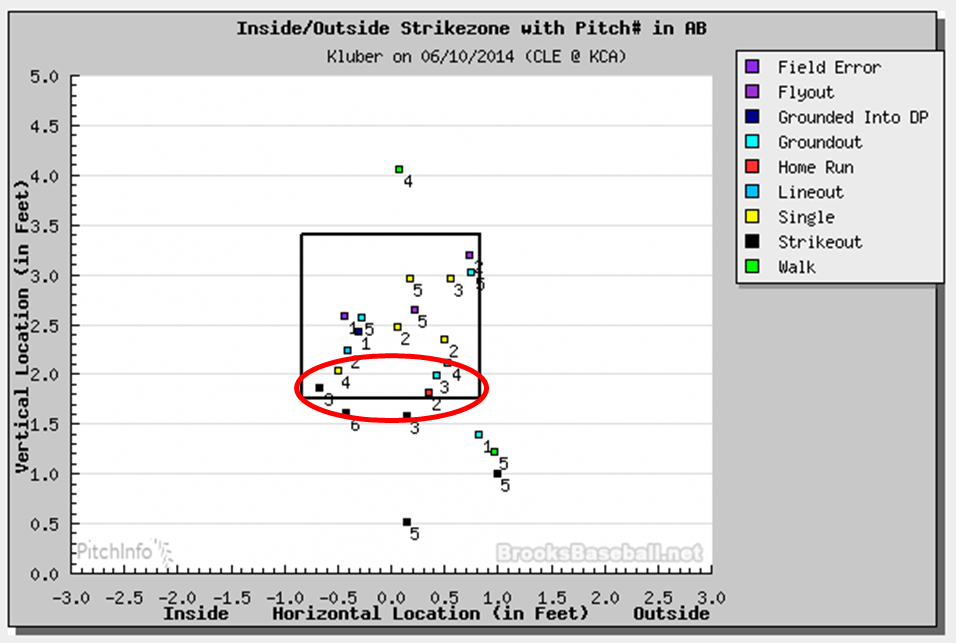 That's a pair of groundouts, three strikeouts and a single down there for the other batters. Then again, most other batters don't have Eric Hosmer's batting profile. Here is his 2014 heat map (reflecting batting average/pitch):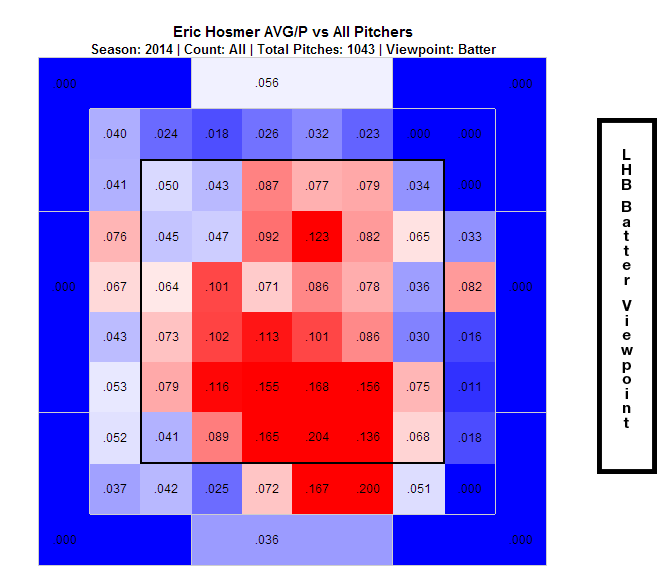 *Note that the averages are all low because many pitches are taken in these spots. The colors are most important.
Here is the pitch he hit for a home-run imposed over Eric Hosmer's heat map: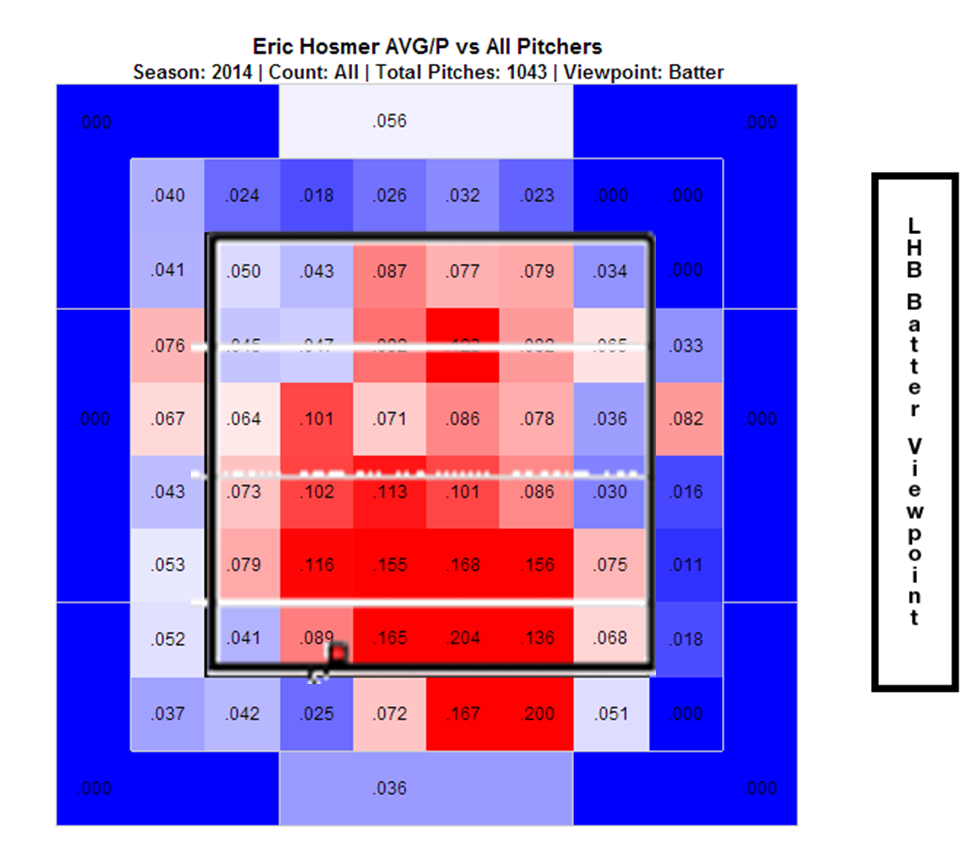 All above images courtesy of www.Brooksbaseball.net and www.fangraphs.com
That's a long way of saying it, but as you can see: this was basically in Hosmer's go-zone. Kluber either made a mistake or didn't follow the scouting report, because Hosmer loves the low-stuff and even though it tried to creep outside: throwing in the top-half is clearly the way to go.
One mistake wasn't the death knell for the Tribe. Errors and a lack of any meaningful offense ultimately contributed as well. But, learning how to pitch to the batter you are facing, as opposed to just pitching, is the final step for Kluber's ascendency to becoming truly elite.
The Indians will go for a short-series split this afternoon at 2:10pm as Trevor Bauer goes against Yordano Ventura in a game featuring two young pitchers looking to establish some type of consistency.
User Comments
yourtribe
June 11, 2014 - 3:03 PM EDT
And the cruel joke that is our D continues.
yourtribe
June 11, 2014 - 1:03 PM EDT
These errors are little league type. Just easy plays being booted. And on a regular basis. Inexcusable. I am at a loss anymore on this.
shy
June 11, 2014 - 12:13 PM EDT
Kluber threw 4 straight sinkers to Hosmer. You can't do that. Hosmer kills us to begin with. So does Moustakis. Jeff Francouer used to as well. Certain guys that kill you you gotta get em off balance. Throwing 4 in a row same pitch you're askin' to get hammered. Kluber a coupla ticks down on velo last 2 starts and not sharp. Fatigue? Santana at first- ludicrous. I've said it before this guy is not going to get better- he does things his way and is not coachable- it's like talkin' to a wall. Cabrera definitely has focus/energy issues. Is he diabetic or something ? The right side of the infield looked comatose last night.
Adam
June 11, 2014 - 11:22 AM EDT
I know the defense was the main culprit here, and you can't expect to win many games when you give up 9 runs...but was there a reason to not play Aviles against a lefty last night? Put Raburn in RF and Aviles at DH to at least give you one more right-handed hitter. We already have one wasted spot on the bench in Giambi, and Raburn has been a disappointment--why not use the one bench player who's been solid all year, especially when there's a lefty on the mound?
Tondo
June 11, 2014 - 11:08 AM EDT
Trotting out 5 left handed batters vs a lefty pitcher didn't help either.

This team needs better defense and some RHB that can hit. Raburn not hitting really hurts this team.
Can't wait for an infield D of Urshela, Lindor, JRam/Kipnis and Chiz/Aguilar from left to right. Make Kipnis a 2B/OF/DH. The Latin kids all hit LHP better, so they're perfect fits for this roster as soon as now. Add Holt to that list, good defender and owns LHP. He could spell one of Murphy/Brantley/Bourn vs any LHP starter.

Of course, for any of that to happen, they would have to release Giambi and eat the remaining 3.5-3.7mil on Raburn. I don't think any of that will happen and it could cost the Indians a postseason spot
Connor
June 11, 2014 - 10:54 AM EDT
It's sad when you realize Kipnis, one of the, if not the, worst defensive second baseman in baseball according to advanced metrics like UZR/150, may be one of our better defensive infielders...at least he has range. The one thing about Lonnie is that from what I've seen, he actually plays a solid first base, unlike Santana who can hardly field a chopper.
Tony
June 11, 2014 - 10:19 AM EDT
Yep, the defense hurt them in this one. The night before Chisenhall missed to plays at third base which cost House as well. They were not errors and the balls were struck well but they were essentially right at him and he was unable to field the ball. Something an average or above average defender does on a routine basis. The defense is something that they are stuck with based on the construction of this roster.
Canadian Joe
June 11, 2014 - 10:16 AM EDT
Defense again contributes to a loss. It's nice to have a roster of players that play more than one position, but if they don't play them well, it defeats the purpose.This has been a critical issue all year long. And many of these errors are basic in nature. Cabrera is a major culprit here. This is making it extremely difficult on pitching and the hitters when the other team is given 30+ outs a game.