Second Thoughts Game #72: Angels 9, Indians 3
The Cleveland Indians lost to the Los Angeles Angels of Anaheim on Tuesday night by a score of 9-3. The game was close until a big fifth inning was capped by a three-run homer to right field by Mike Trout. Josh Tomlin didn't quite have the required command to effectively hold the talented Angels' lineup in check.
On the other side of the game, Mike Shoemaker was lights out as he likely would have pitched a complete game two-run gem had it not been for a brief rain delay in between the top and bottom halves of the ninth inning. Trout got the Angels comfortably ahead with the three-run homer in the fifth, but that was hardly the end of his night:
He had already doubled in the first that wasn't a home run solely because he hit it too low: it was a laser off the left-center field wall.
He came up again in the seventh and hit another home-run, this time to left-center.
All three of these hits could have been home runs.
All three of these hits came on pitches very low in the zone.
This article was written just last week: http://www.fangraphs.com/blogs/why-is-mike-trout-still-getting-pitched-down-and-in/.
The main takeaway is that Mike Trout absolutely destroys pitches down and in and isn't so hot on pitches in the upper-third of the zone.
Here are the three pitches that ended up hurting the Tribe thrown to Trout: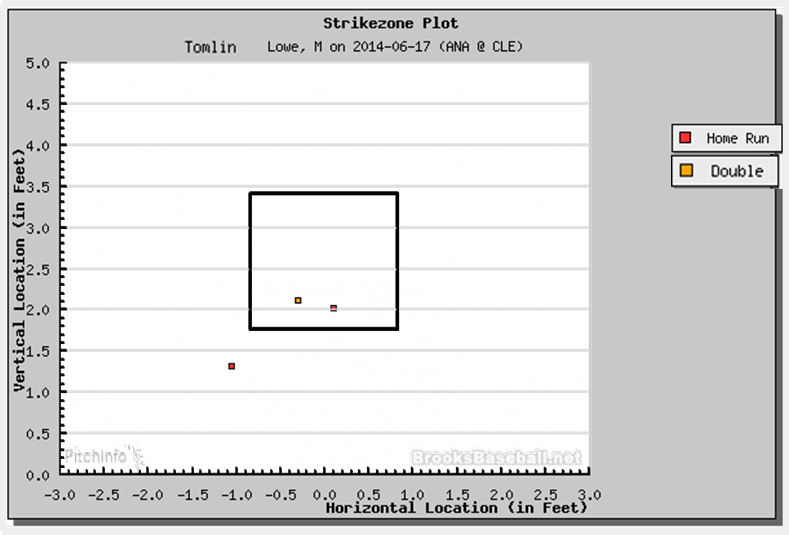 Courtesy of www.BrooksBaseball.net
As you can see, all three are low and either inside or right down the middle. You would think, given the well-known facts of his hitting profile, that these were just mistake pitches that were pulled down and ended up being taken advantage of by one of the game's premier hitters.
However, looking at the pitching charts of last night's game, it is easy to see that there was a gameplan in place: pitch him low. As evidence, here is the zone chart of all twenty-three pitches: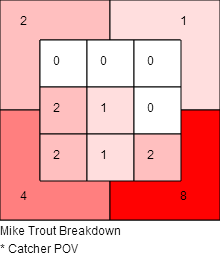 Courtesy of www.baseballsavant.com
Twenty of the twenty-three pitches are in the bottom-half of the zone. Eight of them are in his well-known and recently publicized go-zone.
If just a few pitches were in this area and they happened to be the ones that Trout hit, it would be understandable. But it is very clear that the Indians were intentionally keeping the ball down. This signals to me that a poor gameplan was in place. The benefit of baseball is that you can (and must) change your approach from batter to batter. Pounding Josh Hamilton down and in with off-speed stuff is a wonderful strategy as he will (and did) swing over the top of them consistently. Mike Trout is tough to pitch to, no matter what, but the plan at least needs to be in place to work him up in the zone where he has had trouble.
The lone bright spot of the game was Lonnie Chisenhall continuing his incredible season with a single and a home-run. He is slashing .368/.420/.589 and, from a rate standpoint, is the second best hitter in all of baseball (behindTroy Tulowitzki and ahead of Mike Trout). He has yet to accumulate the required plate appearances to qualify for any of the leaderboards, but is getting very close. In fact, if he plays each game and averages 4.5 PA's per game he will become qualified on June 30th against the Los Angeles Dodgers. He would need to drop more than 30 points off his average by then to lose his grip on the batting title lead over Victor Martinez. Lonnie Baseball is doing just fine, folks: reports of his demise were premature.
The Indians will look to right the ship tonight against the Angels as C.J. Wilson toes the rubber against the enigma that is Justin Masterson. The Tribe are right at .500 and will be looking to keep things positive in the very competitive AL Central that just saw the streaking Kansas City Royals overtake the stumbling Detroit Tigers. All five teams in the AL Central are within 5.5 games of one another.
User Comments
Bill
June 18, 2014 - 9:42 PM EDT
We'll if it takes a book to validate your point , by all means write it and I think the tribe considering options is the best thing for Tomlin. Get to a team where errors don't kill ya every time you pitch and from the same player and as long as you keeping stats if you look the only two hrs that were more than solo were because the inning was still going because of a error. Tomlin at least gives all he has every game , that's more than 90% of the tribe can say .. Most just looking for a check and winning or losing isn't a factor! ! Most people don't realize that these are the best pitchers in the world but they pitching to the best hitters in the world. They can miss by a 1/4 " and it's the difference in a W or L or a ERA of 3 or 4 . So next time you make managerial suggestions you oughta think about that.
C L Who
June 18, 2014 - 8:02 PM EDT
Well, I didn't want to write a book......could have added that Salazar lacks control and basically has one main pitch, with a sometimes serviceable curve ball.

The main point is: Tomlin gives up lots of HR and they are not also solo jacks. I don't think he has the ability to sustain an ERA less than around 4.4 over a full season. The Tribe should be considering options.
Bill
June 18, 2014 - 6:20 PM EDT
C l who you are just a plain fool if you think a 1.8 hr/9 is what got Salazar sent to triple A . If that's how your mind works then nothing you put on here is worth reading!
C L Who
June 18, 2014 - 3:54 PM EDT
I would rather see Tomlin as a spot starter or long reliever. He gives up 1.6 HR/9.....Salazar went to AAA for giving up 1.8.

I had the sense that the terrible defense is causing his problems, but no, his FIP is actually higher than his ERA....suggesting that the the defense is bailing him out to some extent. He has never had a full year ERA of less than 4.25....not bad, but basically a #5 starter at most.

I do give Tomlin points for control, so he, especially, needs to read the hot zone charts before the games.

Personally, I would like to see House slot in at the #5 when Zach comes back and Tomlin serve as spot starter. House is going to improve; Tomlin IMO is as good as he is ever going to be.
Rich
June 18, 2014 - 3:18 PM EDT
Inexcusable to keep pitching low to Trout. Yan Gomes is the same way - he's a dead low ball hitter. They get two strikes on him and punch him out with the high heat or a high breaking ball.

No excuse for being stupid. It will be very interesting to see how they pitch him tonight. My guess is Masterson keeps everything at the knees or below. His stuff plays much better when it's low, so it will be strength against strength when he faces Trout.

Never throw Trout a fastball at the knees with two men on base. Especially when it's the 8th or 9th pitch of the at-bat.

Tomlin's ERA was 3.04 in May and 4.74 so far in June. The league is adjusting to him. Opposing #3 and #4 hitters have an OPS of .923 and 1.295. He is no match for the best hitters on any team, it seems.

Great to see Lonnie raking again, but I still think he needs to be a little more patient, especially on the first pitch.
C L Who
June 18, 2014 - 1:20 PM EDT
Shy makes a good point about ACab's error that prevented an inning ending double play.

With data like the stuff in this report readily availalbe, and only a dozen position players on each team, there is no excuse for a pitching plan that calls for pitching into a batter's hot zones. Our pitcher and pitching coach and catcher should have it all down cold before the game begins.
shy
June 18, 2014 - 11:45 AM EDT
I don't think the Indians do anything more than an average job of scouting opposing hitters- or pitchers for that matter. I'm out here w Bruce Bochy and Bob Melvin and either one of these guys can give you the book on strengths and weaknesses on any player the club is facing that day even the subs. They study hard and communicate well and that's why they get good results no matter what players they plug into their system. As for Tomlin, he's pitch to contact and he's much better 1-5 than later. You need good D to be successful and you can't give teams xtra outs, esp w thumpers like the Angels. Cabrera opened the floodgates in each of Tomlin's last two starts w errors on plays a major league shortstop has to make. The Royals are off and running. Very talented well balanced team whose only weakness was confidence and now they have it. I think they run away with it and face the A's for the pennant in the A.L Old Kansas City v New Kansas City!