Second Thoughts: Game #90 - Indians 2, Rays 4
1
2
3
4
5
6
7
8
9
R
H
E
CLE
0
0
0
1
1
0
0
0
0
2
4
1
TB
3
0
0
0
0
1
0
0
X
4
7
0
W: Moore (6-6) L: Tomlin (5-6) S: Rodney (27)
Starting Pitching
The Line: 5.2 IP, 7H, 4/4 R/ER. 1BB, 1K. 1GIDP
The Results: pitches, 62% strikes, 10GB, 7FB, 1PO, 5LD
The Write-up: Josh Tomlin pitched like a guy that possesses Josh Tomlin's arsenal of pitches. A bad break cost him a chance of registering a quality start (6IP and 3ER or less) and a lackluster offense cost him the chance of notching his 6th win. It was clear from the get-go that the Rays were going to be swinging, because both BJ Upton and Carlos Pena (Tribe trade or FA targets at some point in the last year) jumped on the third pitch of their respective AB's to put Tomlin in a quick 2-0 hole. This was followed by a walk and a triple that should have been a double and the Indians never recovered.
Tomlin continued to induce high amounts of contact and he continued to work away. By my count, 62 of his 89 pitches were on the outer half of the plate. This 70% rate of outside pitches seems fairly typical of a Tomlin start as his last five starts have been: 61%, 69%, 55%, 60% and 77%. If you look at the charts below, you can just eyeball it and see that most pitches are away (orange box represents the "away" area):
*remember this is from the catcher's/umpire's) point of view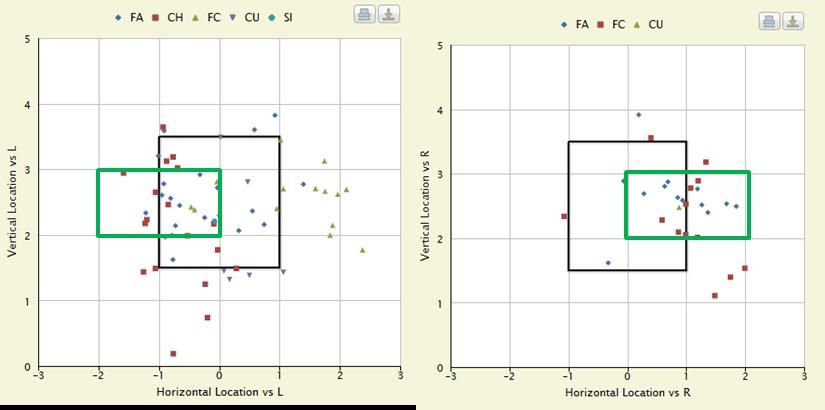 *Courtesy of FanGraphs
Tomlin was hit hard last night as he gave up some extra base hits and 7 hits in less than 6 innings, but he still battled and should have come away with only giving up 3 ER if it weren't for a blown call at 2nd base in the 6th inning. He battled despite not having his top rate command and that is really all you can ask from your starting pitcher on a nightly basis.
The Bullpen
The Line: 2.1IP, 0H, 0BB, 2K
The Results: 26pitches, 62% strikes, 5GB, 0FB, 0PO, 0LD
The Write-up: Had the Indians' offense showed any signs of life, the stellar bullpen performance by guys not named Smith, Pestano and Perez would have been the story of the night. Tony Sipp and Jeremy Accardo combined to induce five groundballs and nothing in the air and they each struck a guy out. Sipp did so after coming on in relief of Tomlin and with runners on base, and they each averaged four pitches or less per batter. If Manny Acta can get performances like this on a consistent basis from the middle of his bullpen then he will have a great weapon on his hands in close games.
The Starting Lineup
The Line: 4/28, 0 2B, 0 HR, 5BB, 0 SB, 0 CS
The Results: 2R, 4TB, 14LOB, AVG/OBP/SLG 143/314/143
The Write-up: The only nice thing I have to say about the Indians offense last night is that they were patient. The only reason they scored at all was because they drew some walks and took two bean balls. Other than that, they didn't hit for power, they didn't hit for average and other than a Jason Kipnis single up the middle, didn't hit in the clutch. Like so many nights in recent weeks, the Indians have had more than their fair share of opportunities; but they just haven't capitalized on them for the big innings.
One guy that is the embodiment of the Indians right now is Carlos Santana: he still gets on base but has no power and can't make good contact. He is totally lost at the plate and has been in a free fall in all three major categories since the first month of the season.
| | | | |
| --- | --- | --- | --- |
| | AVG | OBP | SLG |
| Mar/Apr | .262 | .417 | .446 |
| May | .233 | .314 | .344 |
| June | .162 | .284 | .221 |
| July | .229 | .413 | .286 |
If Santana doesn't turn it around, the Indians playoff hopes will be snuffed out quickly due to many nights like this one: good enough pitching and not enough hitting.
The Defense
Some good and some bad defensively: Kotchman looked like a beer-league softball player trying to field that grounder down the line following it up with a dive and a meaningless toss in the direction of first base. This is not like him and like most things, he just looks bad doing them, he isn't actually bad at them.
Another botched attempt at making a tough play was Choo's slide in RF where he attempted to cut-off Luke Scott's "triple" that ended up scoring the third run in the 1st inning. I understand why he tried to slide, cutting the ball off would have held the runner's to first and third; however, the ball was not on his glove side and the play was extremely difficult for a left-handed fielder to make. Also, if he had just played it off the wall he would have held the runner's to second and third (I say this because Zobrist looked surprised when he was sent home and clearly was not expecting a ball off the wall to score him).
Things weren't all bad as both Asdrubal Cabrera and Jason Kipnis made sparkling plays on grounders up the middle. Cabrera to his left stopped a Molina grounder that would have scored Scott and Kipnis made a nice back-handed stop that turned into an inning-ending double play. The real beauty of that double play was the two throws required by Kipnis and Cabrera: Kipnis' throw was across his body while moving away from Cabrera. Cabrera had to catch the ball, avoid the runner and pivot the other direction to make a strong enough throw to get Pena. At the time, I thought this was the spark needed to wake the team up.
The Takeaways
The Indians look a lot like last year's team that folded during the second half. The team lacks the offensive fire power to outhit teams when their pitchers aren't lights out and the pitchers aren't a staff of aces that can win a bunch of games 2-1. I am a firm believer that if competent run producers were at 1B, 3B and LF, then this team would be playoff contenders and capable of making a run. Few teams have the strength up the middle that the Indians have right now: C, 2B, SS, CF and RF are all positions of strength. The corner players are just so bad that it doesn't matter right now. Masterson will try to take the series and the Indians offense will try to find its power stroke tonight.
User Comments
shy
July 19, 2012 - 4:30 PM EDT
People from the Mets and Yankees are scouting Indians pitchers that's all I know. I have a friend who is connected to the Mets scouting and he says both Mets and Yankees were in Ohio last week, I presume that means Akron, Columbus. BTW I just checked the WHIP and ERA of all AL pitchers with more than 100 innings pitched in 2012. Ubaldo is dead last- 44th out of 44 in both WHIP and ERA as of today.
Nathan
July 18, 2012 - 9:00 PM EDT
I really doubt the supposed Jeanmar Gomez/David Huff to New York for a outfield prospect rumor. It doesn't make sense to trade two of the top replacement arms in the system for an unknown. Besides, the unnamed outfielder can't be that good if he's available for a couple iffy end of the rotation starters.
Tony
July 18, 2012 - 8:36 PM EDT
Where did you hear that about Gomez/Huff to New York?
Tony
July 18, 2012 - 8:36 PM EDT
The Indians kind of missed out on Francoeur last year.....they were on him hard as a free agent going into last season and could have really used him. Now that he is struggling they may get him. At this point he'd just be a bench upgrade over Lopez/Duncan...but I'd take him. Nice arm and some right-handed power.
shy
July 18, 2012 - 8:11 PM EDT
Well I used to think the stupidest thing Antonetti has done is trading Pomeranz for Jiminez. After watching Santana's pathetic attempt at hitting w Brantley and third and no out today, I now believe giving a multi-year multi-million contract is even more stupid. I have watched a lot of baseball this year, I have not seen anyone as pathetic looking at the plate as Santana. Send him down until he figures it out. He's killing the Indians chances. Or Send him, Ubaldo, JeanMar and Huff for Justin Upton and give Marson a chance to play everyday until you get someone better. Of course, no one wants his contract. Nice move Antonetti.
shy
July 18, 2012 - 5:47 PM EDT
When Santana is in the batter's box, he looks like he's tuned into some radio station from outer space. Fun, but you get a lot strike outs and walks, nibs and squibs and stranded runners. Pablo Sandoval is tuned into some radio station as well, but he DRIVES the ball pretty much every game. Maybe his station plays different music. What's this I here about Jeff Francouer coming to Cleveland. I like it. And I hear Jeanmar Gomez and or David Huff may be going to New York for a right-handed outfield prospect. But who?