Should the Indians extend Asdrubal Cabrera?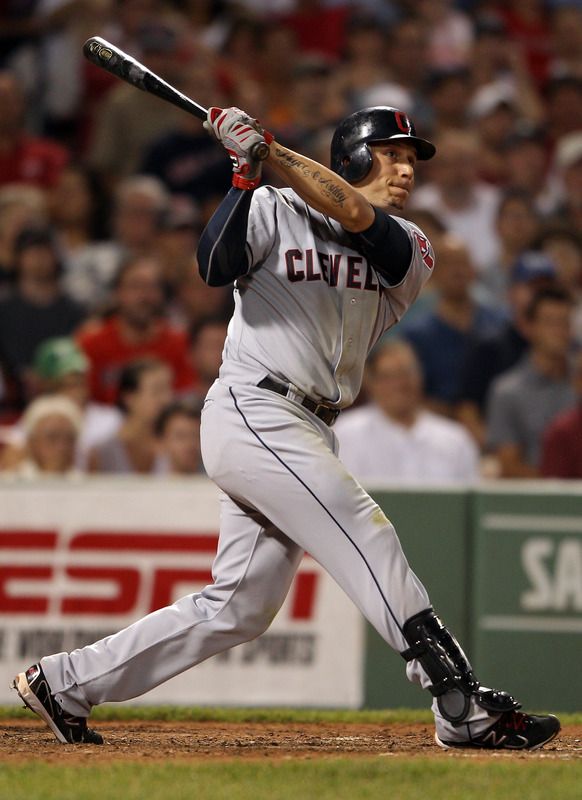 Asdrubal Cabrera's agent, Jose Mijares of Octagon, reportedly told a Venezuelan journalist that he will begin contract negotiations with the Indians next week. Mijares made no mention of a long-term deal, saying only that the two sides would exchange arbitration figures and that, "my experience with Cleveland tells me there won't be any need to go to arbitration."
Even though Cabrera's agent is not mentioning a long-term deal it does not mean there is no discussion of one between his client and the Indians front office. Tim Dierkes of MLB Trade Rumors dug into Asdrubal Cabrera as an extension candidate a few days ago so let's compare Dierkes contract projection to what Cabrera has provided for the Tribe.
Cabrera is coming off his most admired season in 2011. He hit 25 home runs, won the Silver Slugger Award and emerged as a star player for an Indians team bereft of recognizable faces for most casual fans. However, Cabrera also slumped to a .244/.310/.419 triple-slash line in the second half of 2011. A shortstop with those numbers is useful, but is far from a star (or an extension candidate).
To make matters worse, Cabrera rates poorly in most defensive metrics. UZR consistently ranks him below average and if you watched enough games you know Cabrera has a knack for making highlight reel plays, but botching the easy ones. Disgustingly, former Indians whipping boy Jhonny Peralta rates better defensively at shortstop than Cabrera does in many metrics.

On the other hand, maybe Cabrera just started to wear down as they season wore on. After all, he did play in 151 games last year and over the first four months of the season he posted a .289/.344/.486 slash line.

Cabrera's career numbers are up and down due to injuries and inconsistency. He was called up in 2007 to take over second base in August and his late-inning heroics helped push the Tribe all the way to the ALCS that year (Baseball Reference reports that Cabrera batted .371 in the seventh inning or later that year).

He began 2008 as the everyday second basemen, but lost the job in June after hitting just .184 with 14 RBI in the season's first 52 games. He raked in Triple-A and was called back up in July and finished the season with a passable .259/.346/.366.

In 2009 he had arguably his most comparable season to 2011 when he played in 131 games and posted the following line:

81 R/ 42 2B/ 6 HR/ 68 RBI/ 17 SB/ .308 AVG/ .360 OBP/ .438 SLG / 114 OPS+

In 2010 he ran into the immovable object Jhonny Peralta and suffered a forearm fracture that cost him almost half of the season.

Of course in 2011 he had his breakout year posting the following line in 151 games:

87 R/ 36 2B/ 25 HR/ 92 RBI/ 17 SB/ .273 AVG/ .332 OBP/ .460 SLG/ 119 OPS+

On close examination his 2009 and 2011 seasons are almost exactly the same except for the surge in power in 2011. Some of those 42 doubles he hit in 2009 finally jumped the fence in 2011 and the 19 extra home runs almost fully account for the difference in RBI totals. Other than power the only difference between the two seasons is a 30 point drop in batting average. In fact Cabrera's WAR was slightly better in 2009 at 3.8 compared to 3.7 in 2011.

Looking at his career to date Cabrera has had a solid debut in 2007, a rough 2008, a very good 2009, an injury-shortened 2010, and a very good 2011.

So, first and foremost, do the Indians want to extend Asdrubal Cabrera?

Well, the Indians have publicly said numerous times that they like the payroll flexibility that they currently have with no player above league minimum guaranteed any money beyond this coming season. However, Jason Donald is hardly nipping on Cabrera's heels and it will be years before Francisco Lindor emerges from the farm system. In addition the Indians should probably start using some of that payroll flexibility to build good will with a largely disgruntled fan base by extending the likes of Cabrera, Justin Masterson and others.

Dierkes analyzes the comparable players and contracts thoroughly before eventually settling on $27 million over four years as a comparable offer sheet with the following breakdown: $4.25 million in 2012, $6.5 million in 2013, and $8 million for the first two free agent years. He rightly concludes that the Indians would probably prefer team options for the last year or two, but may struggle to achieve that goal and that a reasonable four-year contract would probably help Cabrera's trade value.

A four year contract would keep Cabrera under Tribe control through his age 29 season, which would follow the Indians extension model, signing young players early enough to keep the cost down but late enough and short enough that you benefit from what should be their statistically strongest seasons. Keep in mind that through arbitration this year Cabrera will probably make close to $5 million and with another strong season could easily reach $8 million the next and free agency after that.

While the Indians (and many of their fans) are probably leery of signing such an up-and-down player to an extension here are three good reasons why a reasonable Cabrera extension would benefit the Indians:

Clint Barmes 2 yrs at $10.5 MM
Alex Gonzalez 1 yr at $4.25 MM with a $4 MM option
Jimmy Rollins 3 years at $38 MM

All of these contracts were given out this year and while Barmes' contract is particularly alarming it is Rollins whose recent numbers have been the most similar to Cabrera's. Factor in the idea that Rollins is on the wrong side of 30 and widely considered to be a player in decline and it is not hard to see a 28 year old Cabrera hitting free agency in his prime and breaking the bank in a way the Indians can't afford and leaving a big hole at shortstop for the Tribe.

Even though the Indians have gotten burned the last few times they bought out free agency years they can't be shy about locking down their core players. Right now, this window of contention is set to expire after the 2013 season when Shin-Soo Choo, Caberera, Masterson, Travis Hafner, Raffy Perez and Joe Smith are set to become free agents. Some of those players will have worn out their welcome by then (or possibly before), but if the front office can extend Cabrera and Masterson (a Choo extension may not be realistic or intelligent) into at least 2014 that gives the core group three chances to put the pieces together for an extended playoff run.

The front office and the ownership has proven they know when to tear down and rebuild, now they need to show us they know when to lock down a core of talented players and make a playoff run.
User Comments
No comments currently. Be the first to comment!