Spring Training: A look back through the years
You might wonder who came up with the idea of getting baseball teams to travel to warm climates in February, so their players can practice for six weeks to prepare for the real games that count. It's like your employer paying you to take an extended vacation to a sunny locale. Brilliant!
The Cactus League – How it all started
Spring Training began in Arizona through the efforts of the Cleveland Indians. Bill Veeck purchased the team in 1947. At the time, the Indians held their Spring Training in Florida, but Veeck wanted to move their pre-season venue closer to his home in Tucson, Arizona, where he owned a ranch. But he needed a partner in order to establish camp in Arizona and the Tribe's brilliant and insightful owner found one in the New York Giants, who settled on Phoenix Municipal Stadium as their spring home. The Indians set up spring operations 110 miles away in Tucson at a stadium that would later be called Hi-Corbett Field. This would remain the Indians' Spring Training home for 46 seasons.
Gradually, as more teams moved spring operations to the Arizona desert, the spring baseball schedule evolved into what is now known as the Cactus League. Today, fifteen major league teams (including the Indians) play in the Cactus League at ten different stadiums, all reachable within a 30 minute drive (in good traffic). Many of these stadiums were constructed in the last ten years and are state-of-the-art facilities with major league-style amenities.
A Haven from Cleveland Winters
In 1992, the Indians announced plans to leave Tucson and move their Spring Training home to Homestead, Florida, where a new complex was being built. Unfortunately, Hurricane Andrew's 165 MPH winds demolished most of the town, including the baseball complex.
The Indians then relocated their Spring Training home to Winter Haven, Florida, making their home at Chain of Lakes Park, a rickety, old facility located in central Florida. which had just been deserted by the Red Sox. For 16 springs, the Tribe competed in Florida's Grapefruit League.
Getting Ready for the Season
My fascination with Spring Training began many years ago, thanks to my cousin, Mike Roncone.
Starting in the 1990's, Mike and his wife became "snowbirds" escaping the harsh Ohio winters to spend time with family who lived in central Florida.
Mike is a lifelong Cleveland Indians fan who rarely missed watching or listening to a ballgame. It was not lost on Mike that his winter abode was fairly close to Winter Haven. For a dozen years, he followed the Tribe in the Grapefruit League. And not just as a casual observer.
This dedicated Tribe fan sat through every inning of every Indians Spring Training game. He watched the team's practices every day. He became a season ticket holder. His seat in Chain of Lakes Park was in the second row above the visitor's dugout. This, of course, made it easier to peer into the Indians' dugout during games.
For every spring game, Mike kept score. This can be difficult to do for exhibition games. Imagine keeping track of late inning substitutions that go something like this: #78 comes into the game to play LF and will bat 6th, #84 moves from LF to 1B, #76, who pinch ran for #64, remains in the game batting 8th, etc. He still has the scorebooks which logged the results of each Spring Training game. It is likely that Mike knew more about the players than many of the sportswriters who covered the team full time.
Even watching batting practice was a treat. Imagine seeing the powerful swings of Jim Thome, Albert Belle, Manny Ramirez, Victor Martinez, and Paul Sorrento on display. Each one continuously pounding baseballs far into the Florida sky. Surely a treat, and a great way to start the day.
The baseball complex at Chain of Lakes Park did not have many conveniences or modern amenities, but it did feature an extremely fan friendly environment. Tribe fans were able to walk right up and interact with the players.
One exception was an area that was designed to keep fans out by displaying a big sign that declared "NO PUBLIC ACCESS." Except that one day, "someone" decided that denying access in that area was wrong, and took a pair of wire-cutters, then removed the sign. This enabled fans to walk freely right into the formerly restricted area. You can guess who still has that sign proudly displayed in his basement.
Sharing the Experience
Once the regular season began, Mike returned to Ohio with memorable accounts of the Grapefruit League games, along with hilarious stories of the shenanigans he witnessed from the various personalities on the team. But what cemented those memories in time, were a collection of professional-grade photos of Tribe players that Mike brought back every year. You see, Mike is a very talented photographer, with a friendly and engaging personality that often drew the players to him for conversation, a few laughs, and a pose that lasted long enough to click the camera's shutter.
Mike felt fortunate to be able to bask in the sunshine while watching the team he followed since he was a young boy. Little did he know at the time that he would have a unique up-close-and-personal view of some of the greatest players on some of the greatest teams in Cleveland history - the Indians of the mid-late 1990's and early 2000's. Truly a magnificent era for a Cleveland fan.
Here are a few favorites from Mike's collection of Spring Training stories.
Casey Blake was a versatile player during his time with the Tribe. He was also a real comedian, leading the team in
practical jokes. One day, an elderly lady stood near the line of fans seeking autographs. She admitted that she knew nothing about baseball. But she was there to get autographs for her grandsons, who loved the Indians.
As Blake was walking by, dressed in full Indians uniform, Grandma called out: "Are you an Indians player?" Casey said: "Why, yes I am."
Grandma then asked "What's your name?"
Casey replied: "Ellis Burks."
So Grandma handed the ball to Blake, which he returned to her after signing the name "Ellis Burks", a Tribe outfielder, who as every Tribe fan knows, looks absolutely nothing like Casey Blake.
---
Jhonny Peralta was an easy-going, good-natured guy. His calm demeanor paid off in pressure situations, and he regularly delivered clutch hits during his time with the Indians. Mike and Jhonny became good friends. On many occasions, Mike joined Jhonny and his wife Molly for dinner after games. Jhonny knew of Mike's penchant for photography, and Jhonny posed in various baseball-card-like batting stances, while Mike snapped the camera shutter. One day, Peralta asked, "Can you take a 'peech' of me bunting?"
Mike shot back, "What are you talking about? You want a piece of fruit?"
Jhonny repeated the request, "I want you to take a 'peech' of my great bunting style".
Mike teased, "But Jhonny, you can't bunt!"
Both laughed, making it difficult to complete the photo shoot.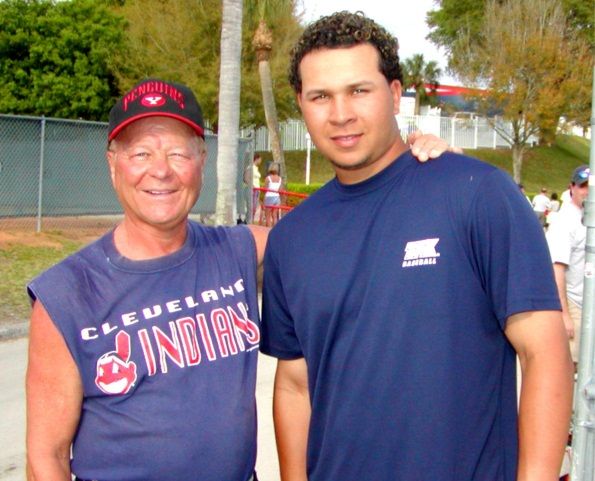 ---
A young Manny Ramirez would sign lots of autographs, especially if ladies were around. One day, an attractive young Latino woman called out for "Emmanuel", and Manny came running over to talk to her. The other fans caught on and soon they were all calling out for "Emmanuel".
Manny saw Mike every day during the spring and shortened his name to "My". Manny figured that "My" knew the area. One day, during pre-game warmups, Manny motioned for "My" to join him on the field. Ushers tried to stop him, but Manny said "It's OK, he is my buddy".
As he approached Ramirez, Mike wondered what was so important.
Manny asked, "Hey 'My', where can I go salsa dancing?"
Mike replied, "Geez, Manny, you're in central Florida. There's no salsa dancing here. You gotta go to South Beach in Miami, almost 200 miles away. Plus, don't you have to worry more about getting ready for the regular season?"
Apparently, even in the early years, it was Emmanuel being Emmanuel.
---
Prior to a game on one of the minor league fields, a small crowd gathered to watch a burly young Indians pitcher warming up. The kid was a fireballer. This was easily noted by hearing the catcher's mitt pop upon receiving the kid's heater, which could on occasion reach 100 MPH. Mike was positioned behind the plate with his camera, snapping a picture during each delivery. He was attempting to capture that classic shot showing the baseball frozen in mid-air just as it is released from the pitcher's hand. This turned out to be a rather difficult task, as for each shutter, the ball was either already in the catcher's mitt, or showed the streak of a white blur, due to the high velocity. Finally, Mike captured the picture he wanted: a perfect scene with the pitcher's body hurling toward the target, his powerful arm fully extended, and the baseball frozen in mid-air, with stitches clearly showing, amid a green bullpen background.
A few days later, Mike was sitting in the stands watching another minor league game, while admiring the glossy print of the classic pitched-ball-in-the-air photo he just had developed. Sitting behind him was a young man who pointed to the photo and said to Mike, "I like that 'peech'."
Mike smiled, thanked him, and soon the young man left. Mike then asked one of the minor league player's wives, "Who was that kid?"
She replied, "His name is Bartolo Colon".
Mike then realized why the kid liked that "peech". Bartolo was not yet a household name, but was definitely that burly fireballer in the photo. So Mike made another copy and later presented the "peech" to Bartolo, who graciously accepted the gift and then treated Mike to dinner.
---
Everyone loved Grady Sizemore. He played the game the right way: all-out hustle, all the time. In those days, Grady played every day for the entire season, and nearly every inning. Even in the Grapefruit League, Grady remained in the dugout for the entire game, long after he was pulled from the lineup.
One day, Mike noticed a photographer from a major sports publication talking to Grady and watched as they headed off to an isolated minor league field for a photo shoot. Grady had already changed from his uniform into civilian clothes, a yellow shirt, denim jeans, and carried a black baseball bat. Mike quietly followed a few yards behind, avoiding any signs that might block public access.
Soon Grady and the sports photographer arrived at a remote dugout that would serve as the backdrop of the photo shoot. No other fans or members of the Indians organization were nearby. It was only Grady, the sports photographer, and Mike. The sports photographer instructed Grady to strike certain poses, and then snapped picture after picture. When the sports photographer finished and placed his camera back in his bag, Mike stepped in and began his own personal photo shoot. Grady continued to remain in poses with his bat on his shoulder as Mike snapped pictures. Later, Mike printed the resulting pictures, and Grady graciously signed them all, giving Mike a unique gift that he shared with family and friends.

Winter Haven Favorites
When asked who were his favorite Tribe players of the Winter Haven era, Mike gave the following list:
Sandy Alomar, Jr. - the best guy in the whole place; Sandy would always take time to sign autographs for everyone. No ego, at all.
Carlos Baerga - good natured, fun-loving, always smiling; Mike created a personalized plaque with Baerga's portrait inserted and presented it to Carlos, who genuinely appreciated the thoughtful gesture with a beaming smile.
Victor Martinez - a phenomenal guy; great personality, very friendly, always had a smile on his face. Victor truly loved being at the baseball fields.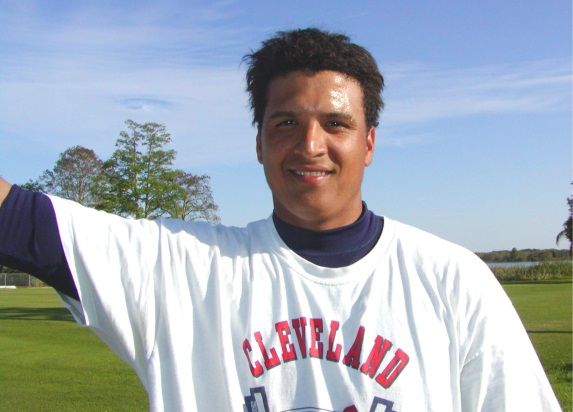 Charles Nagy - classy guy, movie-star good looks, tremendous competitor, never let an injury slow him down.
Omar Vizquel – Omar liked to watch ballgames even when he wasn't in uniform. His "incognito" look would include color-coordinated civilian clothes, with shoes matching the color of his shirt.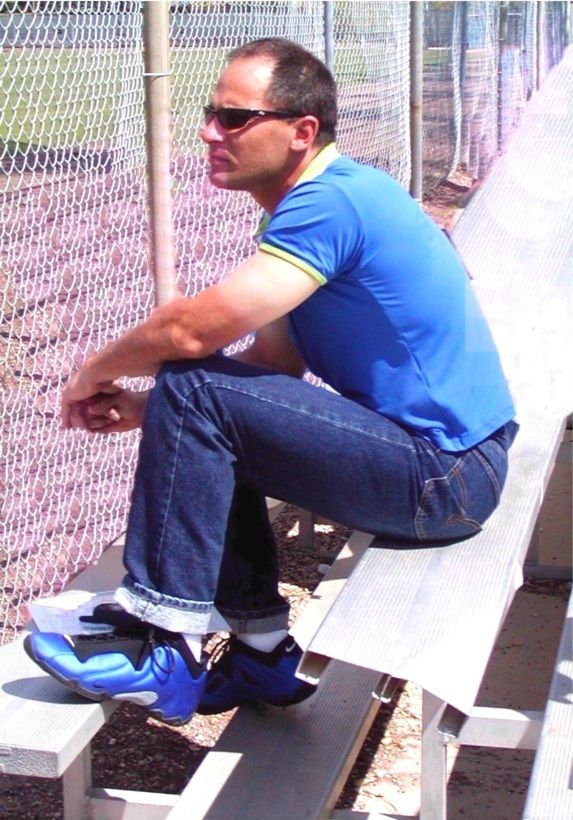 Jim Thome – With a total commitment to being great, Thome was one of the hardest workers, and was a very business-like, no-nonsense guy.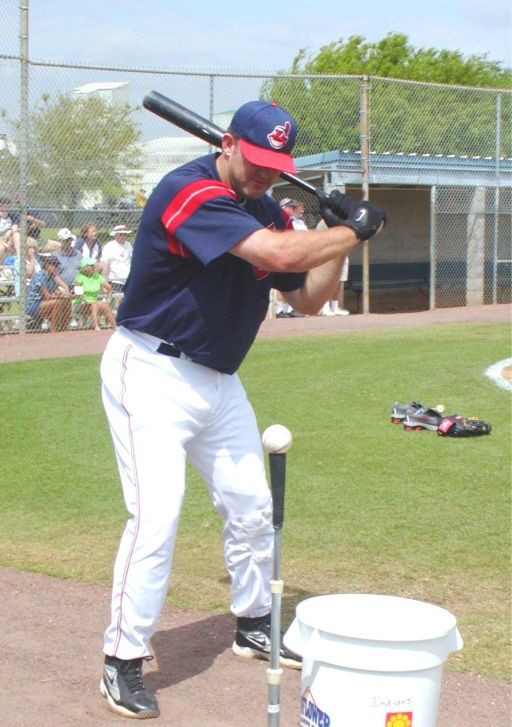 Work Hard, Play Hard
Mike watched many great Tribe players who were assembled into some great teams. He believed that you could tell which teams were going to be great. Sure, it required talent. But the difference was that the great ones had tremendous work ethic.
Like many who grew up in the blue-collar steel town of Struthers, Ohio, Mike had instilled within him a strong work ethic. He worked many years as a successful businessman. In his spare time, he was a musician and songwriter, as he led one of the best bands in Northeast Ohio, appropriately named The Mike Roncone Band, or if performing in a really snazzy venue, The Mike Roncone Orchestra.
Those Indians teams of that era surely had a lot of talent… they also had a lot of fun. Maybe that's why they seemed to be their best in the clutch. They exhibited a confidence and a belief that no matter how difficult the challenge, they would emerge victorious.
For the Love of the Tribe
Family members and friends were amazed at Mike's dedication to Spring Training games and practices. They were often puzzled that he could spend all day at the ballpark… but he knows, and now, after several visits to Goodyear, Arizona, I know. Being part of the preparation of your favorite team's baseball season, bonding with diehard fans who feel the same way… The general optimism and excitement for the upcoming season… Getting to meet the players and even developing a connection with some.
Finally, the best part is sharing these wonderful experiences with everyone you know… exactly what baseball is all about.
User Comments
anonymous
March 27, 2014 - 3:08 PM EDT
I remember the great pics you showed us down at the Central Branch YMCA. You always shared your talents with us especially when you played your guitar for us at Christmas in the Metro office upstairs. Those were great memories. Glad to see that you're receiving some accolades. Hi to you and Rita.
Judy
Gino Roncone
March 26, 2014 - 9:20 PM EDT
Great artical Don / Mike
Cis hope all is well with you and family
Cecelia LeClair
March 26, 2014 - 5:46 PM EDT
Mike.Mike,Mike, I've known you for at least 50 years and never knew this wonderful part of your life. I did not become interested in baseball until my boys started play from Little League to high school. Now, I'm retired and live in beautiful St Petersburg, Florida and about 16 blocks from Tropicana Field, home of the Tampa Bay Rays. Hopefully, you and Rita will come visit me during the season and we'll hop the free trolley that delivers us to the main gate. Thanks for a great read. God bless you and family. Cecelia (Cis) LeClair
Gene Fedorchak
March 26, 2014 - 4:05 PM EDT
Recommended read for all Tribe fans. (Geno)
The Man
March 20, 2014 - 8:22 PM EDT
Great read! Thanks