Star-Crossed Batters: Yan Gomes and Lonnie Chisenhall
Eduardo Perez for Asdrubal Cabrera. Ben Broussard for Shin-Soo Choo. Jake Westbrook for Corey Kluber.
Since the turn of the century, an outsized part of the Indians' success has been the trade of role players for franchise centerpieces – and the trade of Esmil Rogers to the Blue Jays in exchange for Yan Gomes and Mike Aviles has continued trend. In perhaps the most stunning storyline of 2013, it may be the case that Esmil Rogers gave the Indians not only a starting catcher, but also a starting third baseman.
Gomes's defense in 2013 was entirely astonishing – in 710 Innings behind the plate in 2013, he was 8th among all catchers in total defensive runs saved (per FanGraphs' Defense metric), and he did this in 130 innings less than any other catcher in the top 10. Gomes showcased truly elite defensive ability, and, in doing so, displaced Carlos Santana from behind the dish. Santana, not content to merely be resigned to the life of a DH, is attempting a shift to third base and, given the positive signs hitherto, may well displace former third baseman Lonnie Chisenhall.
By virtue of the positional turmoil which Gomes's elite defense has introduced, the fates of Gomes and Chisenhall are intertwined. Their prospect backgrounds are wildly different; Gomes was the fringe prospect with the questionable tools, Chisenhall the prospect with the prettiest swing in his farm system. Gomes the overachiever (.294 BA, 131 wRC+, .826 OPS), Chisenhall the underperformer (.225 BA, 86 wRC+, .668 OPS).
Yet despite their differences, Chisenhall and Gomes were much more similar at the plate than their outcome stats would suggest, with the primary driver for the difference being their Batting Average on Balls in Play (BABIP), which are hits (excluding home runs) divided by all balls put in play (also excluding home runs). BABIP is a stat that is frequently very volatile, and is frequently the cause of fluky good (or bad) years.
The strongest arguments suggest that both Gomes and Chisenhall will probably have average-to-below-average BABIPs in 2014, but there exist arguments that both Gomes and Chisenhall might be above average based on track record. Whereas an entirely speculative postulation of strength of contact might suggest that Gomes will be above average and Chisenhall below average.
The Concrete Differences
Not to say, of course, that there are not real differences between the two. In stable, predictive categories, Gomes holds the advantage in power, whereas Chisenhall holds an advantage in both contact rates and line drive percent.
Gomes, for however fringy he was as a prospect, holds a distinct advantage in one very important predictive category: Batted Ball Distance, both on fly balls and home runs. Batted Ball Distance is an excellent and (frequently) stable descriptor and predictor of pure power, and in that respect, Yan Gomes was extremely impressive. Chisenhall, in contrast, was less so.
2013 Power Numbers
| | | | | |
| --- | --- | --- | --- | --- |
| | Average HR Distance | Avg. Speed - HR | Average FB Distance | FB Rank |
| Yan Gomes | 394.1 | 102.3 | 284.72 | 118 |
| Lonnie Chisenhall | 375.3 | 100.6 | 267.99 | 247 |
Source: ESPN Stats and Information; Baseball Heat Maps
This should not be entirely surprising. Gomes's primary carrying trait, beyond his positional versatility (or, more recently, defensive excellence), has been his solid power. But in contrast Chisenhall's power, while entirely passable, was never his carrying skill. Still, when viewing overall offensive profiles, power matters, and looking at Gomes's HR distance – entirely comparable to the league average HR distance of 395.3 – the power is real and repeatable.
In contrast, Chisenhall has an advantage in many contact-based metrics. Contact, of course, has always been Chisenhall's calling card, the basis of scouts' high appraisal of his offensive profile. And, in many ways, he has delivered on the promise of that trait at the major league level.
Career Contact Numbers
| | | | |
| --- | --- | --- | --- |
| | Z-Contact% | K% | Line Drive% |
| Yan Gomes | 0.837 | 0.229 | 0.179 |
| Lonnie Chisenhall | 0.922 | 0.194 | 0.209 |
| 2013 League Average | 0.872 | 0.193 | 0.213 |
Source: FanGraphs
Lonnie Chisenhall's in-zone contact rate is distinctly a positive trait. Given his slightly above-average strikeout rate and below-average batting average, however, it's not prima facie obvious that this helps him. In fact, counter-intuitively, high Z-Contact rates, since the advent of batted ball data, has almost no correlation with any holistic offensive stat – when combined with certain power stats, however, it can be quite revealing. Suffice it to say, his high Z-Contact rates are a positive omen, on the whole. A future article will address the question of Z-Contact in greater detail.
BABIP and Batted Balls
BABIP is excellent at describing what has occurred, but it very ineffectively predicts offensive performance – nor, with any reliability, does it effectively predict itself from year one to year two. Moreover, the public data available on BABIP is less-than-complete, making analyses of BABIP artificially difficult. But there are three primary drivers with publicly available data that are not merely luck-based components: high Line Drive percentage, speed (both of which makes a high BABIP sustainable, though the former is more important), and high pull tendency (which can sustainably depress BABIP).
| | | | | | |
| --- | --- | --- | --- | --- | --- |
| | Batting Average | K% | BABIP | LD% | Speed |
| Yan Gomes | 0.294 | 0.208 | 0.342 | 0.178 | 4.6 |
| Lonnie Chisenhall | 0.225 | 0.182 | 0.243 | 0.197 | 2.3 |
Source: FanGraphs
Between Line Drive Percentage and Speed (scaled from 0 to 9, average 4.5), there is no reason to believe that Yan Gomes's peripheral statistics should have prompted an astonishing 99-point gap in BABIP. At the most charitable, they should have had similar BABIP numbers; the LD rate, in fact, suggest that Chisenhall's numbers should have been better than Gomes's.
Yet, when one takes into account the individual batted-ball data, the gap becomes even more inexplicable. If Chisenhall in 2013 had had a dead pull tendency, and if Gomes had exhibited an all-field spray approach, the BABIP numbers might make more sense; however, this hypothetical is diametrically opposed to the reality of the situation. In fact, it was Chisenhall who exhibited a spray approach, whereas Gomes's tendencies were heavily pull-oriented.
As discussed in a previous article, extreme pull tendencies on ground balls can substantially depress BABIP. Below are the ground ball tendencies for both Gomes and Chisenhall.
2013 Grounders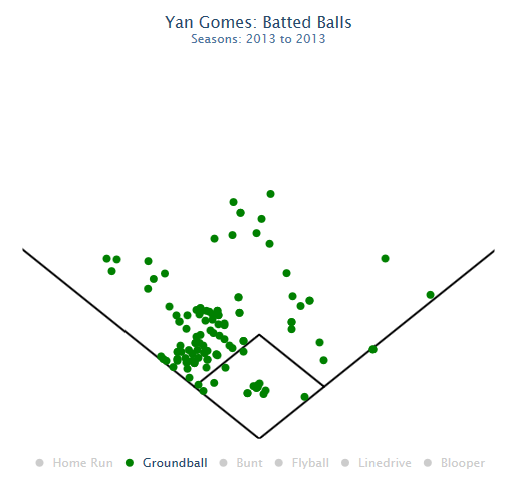 Source: FanGraphs
Noting that Chisenhall is left-handed and Gomes right, one can see that Chisenhall does have a pull tendency on ground balls; however, Chisenhall's ground ball pull tendency is much less extreme even than the league average pull tendency.
In contrast, Gomes's pull tendency is indeed quite extreme, with the overwhelming majority of his grounders heading to left side of the infield. It's critical to note that this trait, while not helpful, is not inherently harmful to Gomes. Whereas in the Santana article it was noted that his pull tendency from the left side of the plate greatly restricted his BABIP, this restriction is only as pronounced as it was because defenses could exploit it by shifting. Because Yan Gomes is a right-handed hitter, a traditional, extreme shift cannot be employed – if an extreme shift were employed against a right-handed hitter, there would be no fielders to man first base, and while it's true that modern managers are increasingly saber-oriented, it's also true that most managers understand how force outs work.
Yet while one can shut down a left-handed hitter's pulled grounders more than one can against a right-handed hitter, the gap between the two was much larger than one might expect.
2013 Pulled Balls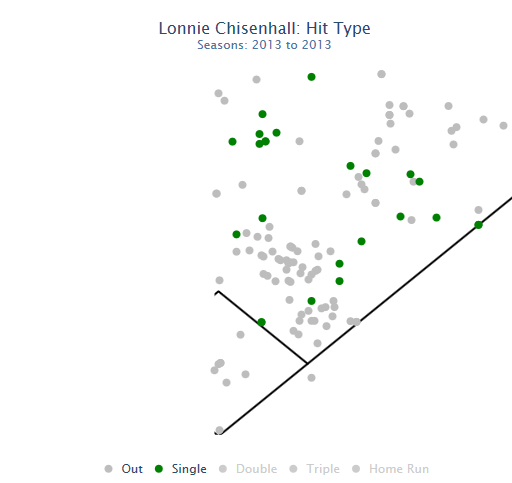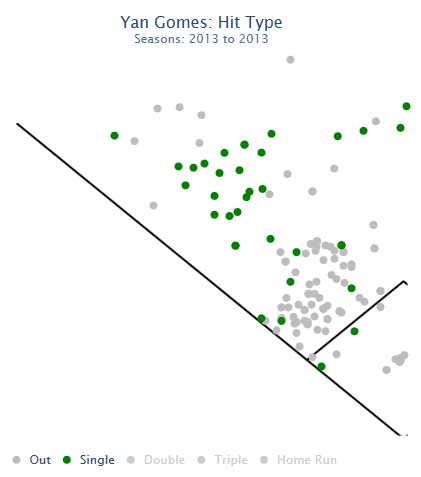 Source: FanGraphs
In the above charts, one sees that Gomes' pulled pitches went for hits at a far higher rate than did Chisenhall's. Not all of this can be attributed to luck; Gomes's LD% on pulled balls was 18.6% - higher than his overall rate, but still below the league average of 21.1%, and certainly not high enough to justify his extraordinarily high .352 BABIP to left field. It's quite likely, therefore, that Gomes's pull BABIP, 46th among 308 players with 70+ ABs in which a ball was pulled, will normalize – in other words, decrease to league average or below.
For Chisenhall, however, there's no guarantee that his BABIP to right field improves substantially. It's true that his pull BABIP of .192 is phenomenally low. Even given his very poor line drive rate of 13.6% to right field, we should nevertheless expect a BABIP up around .260 for his Line Drive rate. A BABIP of .192 is stunningly low, and very likely has a large element of negative luck involved.
However, if one believed that a BABIP this low is unlikely to be the result of luck, one might speculate that his extremely poor line drive rate indicates that overall strength of contact on pulled balls is lower – that is, his pulled ground balls might be hit more weakly, meaning that he's performing even worse than the numbers indicate. This, in turn, would suggest that Chisenhall needs to take a genuine step forward in order to substantially improve his pulled ball BABIP.
Yet for however much sense this explanation might make intuitive sense, it remains entirely speculative, since 'strength of contact' data is not publicly available. Until we see Chisenhall play, it's impossible to prove whether the .192 pull BABIP was truly what we should expect going forward, or whether we might expect it to normalize to .260.
2013 BABIP, LD% by field
Pull BABIP
Pull LD%
Center BABIP
Center LD%
Opposite BABIP
Opp LD%
Yan Gomes
0.352
18.6
0.347
16.4
0.322
18.3
Lonnie Chisenhall
0.192
13.6
0.23
22.7
0.333
24.6
Source: FanGraphs
Gomes, to all fields, outperformed his Line Drive rate, and the most reasonable assumption is to believe that he simply got extraordinarily lucky and will return to league average. Given only batted ball data, this is the only conclusion one can draw; however, other possible explanations, given different data will be addressed later.
In contrast, while Chisenhall's pull BABIP might be genuinely poor, his opposite field BABIP is both very high and entirely supported by his high line drive rate. Unless one assumes that his line drive rate to left field was a fluke (which, given the stability of batted ball data, is a controversial assumption), his high opposite-field BABIP is almost certainly sustainable.
Yet while right field and left field have BABIP numbers roughly in line with his batted ball profile, his Center Field Line Drive rate was 22.7% - above league average. Despite this, however, his BABIP on balls hit to center field was .230. A normalization of luck suggests that he should see his BABIP return to league average or above, at least on balls hit to center field.
2013 Lineouts
| | | | |
| --- | --- | --- | --- |
| | Line Drives | Lineouts | LD BABIP |
| Yan Gomes | 41 | 8 | 0.805 |
| Lonnie Chisenhall | 46 | 17 | 0.603 |
Source: FanGraphs*
Lineouts, essentially, indicate those times when a player makes solid contact but does not get a hit. With the exception of extremely pull-oriented left-handed hitters – and 'pull-oriented' in no way describe Chisenhall – lineouts are frequently little more than a manifestation of bad luck.
Given all the batted ball data – the particular and the general – the only conclusion available is that Gomes got extraordinarily lucky, and that Chisenhall was just as unlucky. One should nevertheless expect both of them to be closer to league average in 2014, barring either a collapse or breakout in true talent in 2014. The two are so similar, in fact, that their 2014 BABIPs should be quite close.
Track Record and BABIP
Yet 2013 does not exist in a vacuum: each of these two players have minor league track records to go off of, and in the case of Chisenhall, a reasonably robust Major League Track record.
Given only line drive rates, one would assume that Gomes should hit for a below-average BABIP – he has a below-average line drive rate and is not magnificently faster than average. Yet Gomes, despite his deficient line drive rate, has a genuinely impressive BABIP track record.
It's also entirely true that Yan Gomes's track record in the minor leagues has been one of incredibly high BABIP - .348 overall, with a .387 Triple-A BABIP. How clearly minor-league BABIP translates to major-league BABIP is not entirely clear, but Gomes's is high enough that it suggests that 2013 may not be entirely a fluke.
Moreover, whereas one might speculate that Chisenhall's pulled balls are hit more weakly than average, one might – given Gomes's impressive power – believe the precise opposite about Yan Gomes. It's entirely possible that Gomes simply hits the ball harder than his Line Drive rate indicates – for example, it's possible that the average Yanimal Grounder™ is harder-hit than the league average grounder. If that were the case, then his grounder rate would have a higher BABIP – which, given his remarkably high .280 BABIP on ground balls in 2013, is not entirely out of the question. However, like the Chisenhall speculation, this speculation too is unprovable without a larger data size, and we cannot merely assume that this is the case.
Yet Lonnie Chisenhall's background, like Gomes, also gives reason to believe that the Indians' third baseman can sustain an above-average BABIP. Through the end of 2012, Chisenhall's major-league BABIP was .299 – just above league average. At the same time, Chisenhall had a very solid 25.2% Line Drive Rate in 2012. Chisenhall can hit the ball at the major league level, and he can do so in a way that leads to a high, or at least average, BABIP.
Moreover, given the withering cynicism with which Chisenhall destroyed Triple-A pitching in 2013 (batting .389/.456/.676, .443 BABIP in 125 PAs in Columbus), it's clear that Chisenhall's skill isn't the primary thing holding him back from a high BABIP. It's necessarily true that Quad-A guys look good in Triple-A; however, Quad-A players do not frequently look like Cthulhu devouring cultists, as was the case with elder god Chisenhall in Columbus in 2013.
All of these arguments toward their own personal track record, with their component optimism, must be taken in view of the larger rule: Line Drive rate is still the most important component of a high BABIP. Neither of these two players, in 2013, exhibited a particularly high BABIP. It's possible that one or both, by virtue of strength of contact not measured by basic batted ball stats, might have a BABIP that outperforms their batted ball profiles, but for either of the two of them to get into the .330-.340 range again would require a genuine improvement in Line Drive rate, an extremely lucky season, or a revelation that one of these two players is breaking the mold in a way not seen since Matt Holliday.
Ultimately, in the case of Gomes, his offense is gravy; if he can keep up his defensive performance, he could be a completely average batter and still be one of the most valuable players on the 2014 Indians – he was, in 2013, an elite defensive backstop.
For Chisenhall, however, we've always known the story: his fate as a major leaguer lives or dies on his bat. Whether he becomes a Quad-A player or an above-average major leaguer falls almost entirely on his hitting. With Santana's potential move to third base becoming an increasing reality, Chisenhall's reckoning is approaching that much more quickly.
John can be reached on Twitter at @JHGrimm. He can also be reached by e-mail at john.h.grimm@hotmail.com.
User Comments
Jwahoo
February 23, 2014 - 11:44 PM EST
Rogers also brought us a pretty damn good utility player in Mike Aviles. If only they could have made such quality trades with their stars Lee and CC.

I think Chisenhall still has a good shot at playing time. For one thing the FO has to want him to be the guy. Another thing is even if Santana could play 3B everyday unless someone else stands up you don't gain much at DH. Sure, you could rotate guys in and out but that still just gives more at bats to Aviles. So, really it just makes the team much more versatile. Which of course is still a really good thing. Unless someone like Cooper, Lahair or Aguilar justifies playing time. Anyway, I really hope Chiz can take the job at least vs righties.
Hermie13
February 20, 2014 - 1:08 PM EST
" I'm praying for him to give 100%

Pretty sure you'll get that wish as he always has ;)
shy
February 20, 2014 - 12:10 PM EST
You can say Gomes was a fringe prospect w questionable tools, but from the first day of spring camp last year I marked him as a can't miss. A lot of guys have the size, the speed, the soft hands, the arm, the hand-eye coordination at the plate. What separated Yan was the fire- the relentless pursuit of turning himself into a grade A player. Physically many comparisons can be drawn w Chisenhall. At the end of the day, Lonnie has to find the fire within that Yan has. When Lonnie came up he had a reputation- I can't rememeber exactly what it was, but it had something to do w character and motivation. Sometimes guys are late bloomers in that respect- an event or series of events will evoke a lightbultb moment and crystallize their will and focus. Sometimes not. We'll see- this is the year Lonnie has to decide if being an All Star third baseman is what he wants- I'm praying for him to give 100%
Jake D.
February 20, 2014 - 11:42 AM EST
Great piece, John!

One forgotten element in Lonnie's spike in production in September was Jason Giambi sitting him down at the beginning of the month and telling him not to worry so much about his stats and focus on one at-bat at a time, something that Lonnie himself talked about during his hot streak. That mindset may also help him this season if he keeps it in tact.
Hermie13
February 20, 2014 - 10:28 AM EST
"What 3B power bat was available on the FA market, and how many years and dollars would you have signed him for?"


As scary as it sounds....Mark Reynolds was one of the best 3B bats on the free agent market...
Hermie13
February 20, 2014 - 10:27 AM EST
"But we don't need much scientific data to know Chisenhall cannot hit major league pitching. Sticking with him for another year is a waste of time. On the other hand, we still don't know about Gomes. His body of work is too brief for us to make a fair assessment."

Chisenhall has 682 career plate appearances; Gomes has 433. Sure it's an extra 250 PAs but that's less than half a year's worth of plate appearances. Also, I think people forget how young Chiz still is. He's a year younger than Gomes and two years younger than Kipnis. Chisenhall will be the same age for all of the 2014 season as Kipnis was for all of the 2012 season.

This is definitely a big/key year for Chiz but anyone that is writing him off already is being way to quick to judge.
Walter
February 20, 2014 - 9:54 AM EST
I believe the next step for Chisenhall is to have better plate discipline. He does chase many 1st pitch pitches and pitches out of the strike zone. When he is in a slump it leads to bad defense on the field that is the reason his playing time has been cut or sent down to Columbus.

I hope what we saw in the playoff game going 3 for 4 might be the beginning of him maturing at the plate. But again its only a small sample size.



Rich
February 20, 2014 - 9:23 AM EST
Just to add on, after a miserable August in which he hit .145/.459, Chiz hit .270/.920 in September and went 3-for-4 in the Wild Card game. Maybe hitting .145 in August was a wake up call. I'm hoping he finally realized he needs to be patient and stop chasing bad pitches early in the count. It was frustrating to me to watch him do that all season, but I noticed a change in September.

Maybe it was nothing and he just had a good month. His at-bats dropped from 62 in August to 37 in September, so maybe Francona just began to spot him better. It's a small sample size, but it really looked like he was determined to lay off bad pitches early in the count.

I'll be watching him closely in April to see if his "chase factor" continues to improve.
Rich
February 20, 2014 - 9:13 AM EST
The key for me is the third graft, last column, which shows the speed of batted balls. Gomes is 4.6, slightly above the league average of 4.5, whereas Chiz is only 2.3, well below average. This indicates, if I understand correctly, that Chiz hits a lot of weak line drives.

This would explain why his BABIP is 99 points lower than Gomes, despite the fact that Gomes is a right-handed hitter and Chis hits lefty, allowing him to get to first base quicker.

Gomes just hits the ball harder, as evidenced by his home runs and fly balls traveling farther, So even though he hits fewer line drives, he hits them harder so they're more likely to fall in.

There may be some luck involved, but Gomes' BABIP is about the same as it was in the minors, so maybe not.

Chisenhall's problem, from what I've seen, is he chases too many bad and marginal pitches. I'd like to see his numbers on how many pitches he sees per at-bat. As a result, he makes weak contact and gets himself out much of the time, resulting in a low BA.

Late in the season I noticed Lonnie seemed to be taking more pitches and working deeper into counts. He got some better pitches to hit and finished the season on an up note. I'm cautiously optimistic the light has come on and he can continue to be patient and get better pitches to hit. When he gets a pitch in his zone he can definitley drive it.
Matthew
February 20, 2014 - 9:01 AM EST
Joseph Devito--

What 3B power bat was available on the FA market, and how many years and dollars would you have signed him for?
Walter
February 20, 2014 - 8:58 AM EST
Joseph

The money is already spent. The problem is the fans do not want support this team the way it should be supported. That is what happens in one track sport town when the clowns I mean the browns are king.


Joseph Devito
February 20, 2014 - 3:00 AM EST
Anyone who thinks Chisenahll will hit 20-25 homers and bat.270; must be watching a different movie. Chisenhall has proven for three seasons now; that he cannot hit major league pitching. Waiting for him to have a so-called breakout season is foolish. They desperately needed to bring in a power bat and if it was in the form of a third baseman it would have been nice. Because they didn't, the front office is now relegated to experimenting with Santans and foolishly hoping Chisenhall may still hit. My message to management...SPEND SOME MONEY AND BRING IN A MIDDLE OF THE ORDER HITTER PLEASE.
Joseph Devito
February 20, 2014 - 2:49 AM EST
All this science is fine. But we don't need much scientific data to know Chisenhall cannot hit major league pitching. Sticking with him for another year is a waste of time. On the other hand, we still don't know about Gomes. His body of work is too brief for us to make a fair assessment.
pathofkindness
February 20, 2014 - 12:27 AM EST
I've got no problem with letting Santana have a tryout at 3B. Maybe he's the next Brooks Robinson and we just don't know it? I kinda doubt that however.

I think that Chisenhall is poised to have a breakout season, and that he will do just that. He's ready to step forward and start having success and hit with power as well. I think it's entirely possible that Santana platoons w Chisenhall, but can't really see him beating him out. My prediction is that even w a Santana platoon, Chiz gets 500 AB at 3B and hits 20-25 homers while hitting .270.

Gomes may struggle a bit at bat this year, but that's not a big deal IMO. He should be even better behind the plate and that's where his true value lies.
Tony
February 19, 2014 - 11:17 PM EST
Very impressive analysis.

I know the advanced stat stuff is not everyone's cup of tea, and I myself can get overwhelmed with the data. But it is important to note how valuable such information can be. I think this makes me feel a little better about Chisenhall.....though of course maybe he doesn't get a shot if Santana really becomes the regular third baseman.

And interesting point how the Esmil Rogers may have filled two starting positions for the Indians.....Gomes at catcher and Santana at 3B!