Taking a Look Back at the Cliff Lee Deals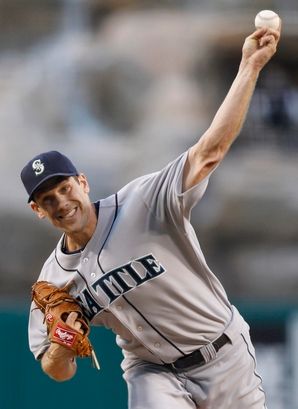 Back in January,
I broke down the prospects
that changed hands in the respective Cliff Lee deals as well as the prospects that the
Phillies
gave up for Roy
Halladay
. If you don't feel like clicking on the link, here's how I ranked the prospects this past winter:
Kyle

Drabek

Jason Knapp
Michael Taylor
Phillipe

Aumont

Carlos

Carrasco

Travis

D'Arnaud

Jason Donald
Juan Ramirez
Lou

Marson

Tyson Gilles
Lets take a look at how the 10 prospects are faring so far this year, and see if we need to adjust the rankings.
Kyle

Drabek

has spent all of 2010 with the New Hampshire Fisher Cats, Toronto's AA affiliate in the Eastern League.

Drabek

is 7-4 on the season with a solid 3.06 ERA. He is leading the Eastern League in strikeouts with 55 in his 67 2/3 innings pitched. He has pitched at least 5 innings in all 11 of his starts this season.
Jason Knapp has yet to pitch for an Indians affiliate in 2010. He's still recovering from

offseason

surgery. He should be back on the mound soon.
Michael Taylor has been in the OF for the Sacramento River Cats, Oakland's AAA affiliate. Taylor was flipped to Oakland for 1B Brett Wallace shortly after he was

acquired

in the

Halladay

deal. Taylor is struggling for Sacramento, hitting .224 on the season with just 2 home runs. Part of Taylor's appeal is his potentially prodigious power, but he's slugging just .388 and his OPS is .672 so far this season. Through the first two months of the season, Oakland has to be

disappointed

with Taylor's performance.
Speaking of

disappointing

, Phillipe

Aumont

currently sports a 6.85 ERA for the AA Reading

Phillies

.

Aumont

was moved back into the starting rotation when he was dealt to Philly, and the move has yet to pay off.

Aumont's

stuff was clearly playing up as a reliever, as he put up a 10.15 K/9 rate last year out of the bullpen compared to a rate of just 6.91 this year as a starter. If

Aumont

has to be moved back to the bullpen (and I think he will), his value decreases quite a bit.
Columbus starter Carlos

Carrasco

has been good, but not great so far this year. In 53 2/3

innings

for the Clippers,

Carrasco

has a 4.36 ERA, 41 strikeouts and 22 walks.

Carrasco

has a record of 3-2 in his 9 starts. He's been the Clippers second best starter behind Josh Tomlin, and will likely be in Cleveland at some point this year.
Catcher Travis

D'Arnaud

has been putting together a solid season for the A+ Dunedin Blue Jays.

D'Arnaud

is hitting an even .300 with 5

HR's

and 23

RBI's

, and was named to the Florida State League's All Star Team this past week. He's slugging .520, and has an OPS of .871.
After an injury-plagued 2009, Jason Donald fell off many prospect lists. But the young infielder is bouncing back in 2010, first in Columbus and now in Cleveland after

Asdrubal

Cabrerra

went down with an injury. Donald posted a .277/2/17 line in Columbus, where he also stole 10 bases and put up an OPS of .820 before getting the call to Cleveland. In 10 games with the Tribe so far, Donald is holding his own, drilling his 1st big league home run and sitting at .256 after taking an 0-3 on Memorial Day. His 3 walks to just 4 strikeouts indicate that the 25-year old is not

overmatched

with his 1st taste of big league ball.
After getting out of the hitter-friendly environment at High Desert, big things were expected out of

fireballer

Juan Ramirez. Ramirez is repeating a level with the A+

Clearwater

Threshers, and has posted a 4.34 ERA and 3-2 record in 8 starts. Ramirez has struck out 41 in 47 2/3 innings, but he's having trouble getting lefties out as they have posted a .304 AVG against. Ramirez is just a year

yonger

than Carlos

Carrasco

, and well behind him in his developmental curve.
Lou

Marson

has spent all of 2010 with the Indians, and he has struggled at the plate. Lou has been just above the Mendoza Line in 2010, and his

OBP

is just .270. He's had his share of troubles blocking pitches in the dirt as well, but has been much better lately. He's caught 33% of would-be basestealers.
Speedy outfielder Tyson Gillies is struggling for the AA Reading

Phillies

. Gillies is hitting .247 with 23 strikeouts against just four walks. Making matters worse, Gillies has only one stolen base, and has been caught twice. Speed is Tyson's calling card, so if he isn't getting on base and stealing bases, he's not going to be a major league outfielder. Gillies does have 2

HR's

this year, but that really isn't his game.
With all that being said, if I were to re-rank the players in the Lee deal right now, I'd go with the following:
Kyle

Drabek

-Still the best shot of being a #1/2 starter in the majors
Jason Knapp-Incomplete...lets see him get healthy before we ask anything else
Jason Donald-

Bounceback

year and could be in Cleveland to stay
Michael Taylor-Disappointing start for the big fella, but he should still come around.
Carlos Carrasco-Good, not great, but showing he can be a back-end starter at the very least
Travis

D'Arnaud

-Solid start for the catcher, could move up to AA soon
Phillipe

Aumont

-Struggles in the rotation point to a future in the bullpen; could still be a back of the bullpen arm
Lou

Marson

-Is what he is, and will likely be relegated to backing up Carlos Santana in the next few weeks. But he's got a future in the big leagues, which is more than I can say for the next two guys on the list.
Juan Ramirez-Not that young, not that impressive. For a guy repeating A+, I expected more.
Tyson Gillies-Speedy OF with one stolen base this year. Proving the old adage that you can't steal 1st.

Fringy

defensive CF as well. Homeless man's Michael Brantley, if that.
Looking back on the Lee deal right now, it
certainly
looks like the Indians got the better of the two packages in return for the Cy Young Award winning southpaw. Cleveland got the only three players in the deal who have ML experience, and a high-upside youngster as well. Time will tell, but as of Memorial Day 2010, the Lee trades look much better for Cleveland than they do for Philadelphia. We might even get another trade to compare these to, as the Mariners are struggling and with Lee in the last year of his contract, they will likely look to trade him before the July 31 deadline.
User Comments
No comments currently. Be the first to comment!