That's why they play the games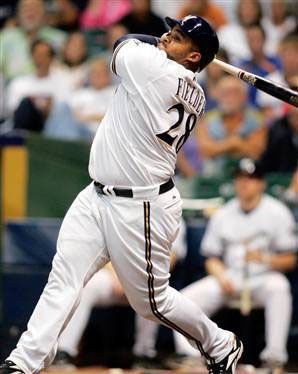 Superstar first baseman Prince Fielder is a Detroit Tiger. No matter how many times people hear that it still sends a chill down the spine of Cleveland Indians fans.

When the news broke last Tuesday fans of every team in the AL Central teams closed their eyes and hoped it was some sort of sick joke. But it is real as Fielder has since already been introduced to the Detroit public. He is a Detroit Tiger now and for the foreseeable future.

Many Cleveland fans have already bid farewell to any hopes of the Indians winning the AL Central this year after this signing. I'll admit, I was one of those fans. But after the dust settled I realized that Major League Baseball is not going to just cancel the 2012 season and hand the Tigers the World Series trophy. They still have to play the games.

The only guarantee Detroit is getting is a large bulls-eye on their backs.

Yes, on paper, Detroit looks like the hands down favorites to win the AL Central. And on paper, Detroit looks like a trendy World Series pick. However, no games have ever been played on paper, and that's not about to start this season.

There is no doubt that Detroit has a solid collection of great baseball players. Justin Verlander, the reigning AL Cy Young and MVP winner, shows no signs of stopping his dominance. Miguel Cabrera will continue to put up MVP caliber numbers, and the surrounding pieces will continue to put up average to well above average statistics.

However, Detroit did suffer one big blow this offseason. Designated hitter and catcher Victor Martinez will likely be lost for the year due to a torn ACL. Don't automatically think that Fielder will make Detroit fans forget that they lost Martinez. Last season, he finished sixth in all of MLB with a .330 batting average. The switch-hitter also added 40 doubles, 12 homers, and drove in 103 runs, while adding immeasurable leadership to the Detroit clubhouse.

Another value that Martinez brings that is often overlooked is his vast knowledge of the AL Central. Martinez spent seven and a half years with Cleveland, and then spent last year with the Tigers. During that time Martinez has developed a familiarity with the different ballparks in the AL Central, the pitchers in the division, and the managing styles of the different managers in the division. That knowledge and leadership is something that should not be overlooked, and something that Fielder may not be able to duplicate.

During his seven year career, Fielder has hit a combined .269 with 20 homers and 61 RBI in 350 at bats against American League opponents. These numbers are by no means below average; however, they are not the type of numbers that Detroit will need in order to replace Martinez and capture their first World Series title since 1984.

An important aspect of baseball is defense. A bad defense can cost pitchers runs and cost the team victories. The defense that Detroit is expected to trot out onto the field on Opening Day is not exactly full of Gold Glovers.

Fielder is expected to be the everyday first baseman for the Tigers. Last season, he led National League first baseman in errors with 15 and also finished last in the league among first basemen in fielding percentage.

With Fielder's arrival, incumbent first baseman Miguel Cabrera will slide over to third base, a position he used to play in Florida. Cabrera has put on a lot of weight since his Florida days, and his body is much more suited for first base or designated hitter and he has not played any third base since playing 14 games at the position in 2008. In those 14 games he had five errors.

Detroit's shortstop Jhonny Peralta brings a solid fielding percentage to the Tigers infield; however, as Cleveland fans remember from his days as an Indian he has very limited range. With the lack of range of all three of those players a lot of groundballs could find their way through the infield for base hits. More base hits mean that Detroit's pitchers will have to throw more pitches. More pitches mean more fatigue. More fatigue leads to balls catching more of the strike zone, which could lead to a lot of big innings for Tigers' opponents.

Another disadvantage for the Tigers is their lack of team speed. Leadoff man and centerfielder Austin Jackson led the team in stolen bases in 2011 with 22. Finishing in a distance second with five stolen bases were outfielders Brennan Boesch and Andy Dirks. Detroit finished last in the entire American League with 49 stolen bases as a team. To put that into perspective, Tampa Bay led the American League with 155 steals.

That severe lack of team speed will make it difficult for Detroit to manufacture runs. Yes, Cabrera and Fielder are capable of manufacturing several runs with one swing of the bat, but Detroit's Comerica Park, known for being a pitcher's park, is not a ballpark where a team can sit back and wait for a home run.

Cleveland fans and players will not deny the immense talent in the Detroit clubhouse. On paper, it looks as though Detroit would beat Cleveland nearly every time the two squads meet. During this upcoming 2012 season Cleveland will face Detroit 18 times, but all 18 of those games will be played on the field and not on paper.

The intangibles and unpredictability of the game of baseball will certainly come into play throughout next season. That's why they play the games.
User Comments
No comments currently. Be the first to comment!