The 411 On The Branyan Trade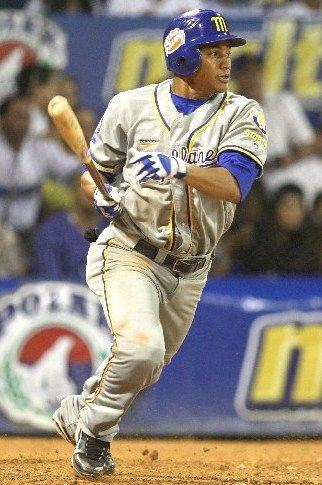 It's been a little over 24 hours since the Indians traded first baseman Russell Branyan to the Seattle Mariners for two prospects in outfielder Ezequiel Carrera and infielder Juan Diaz. Here are some quick thoughts on the trade and info on the two players obtained, and I may have a follow up piece on this soon once I talk to more people today and tomorrow about the deal.
- I have not yet talked to the Indians about the deal itself (hope to later today), but I have to say from what I have heard from several industry sources around the league I have talked to in the past 24 hours that Seattle surprised everyone with this deal. The general feeling among team executives was that "Seattle would be sellers and not buyers", and the other surprise was that the Indians were actually able to trade off Branyan and "receive anything of value in return".
- The last time Seattle did something like this in picking up an Indians first baseman in a move to compete in the playoff race was in 2006 when the Indians traded their "Benuardo" platoon of Ben Broussard and Eddie Perez to them a few weeks apart. The two deals netted them outfielder Shin-Soo Choo and shortstop Asdrubal Cabrera, so the Indians and their fans can only hope things work out that well again.
- The Branyan signing in February was odd at the time, but I have to say in hindsight the Indians made the right move by signing him. First baseman/outfielder Matt LaPorta struggled the first two months and first baseman/outfielder Jordan Brown suffered a knee injury in spring training, so Branyan ended up a solid stop gap. We also know how his addition helped manipulate some service clock issues, but really, it ended up a solid move and decision, one several people questioned at the time, and I have to give credit where it is due in this case. On top of that, we received two players in the deal that are interesting. They are not huge prospects by any means, but could be solid complimentary pieces to the big league team soon. We often use hindsight to show how the Indians were wrong on moves, well it is only fair to use hindsight to say when they were right.
- Jason Churchill and I have talked a little since the trade. Those that don't know Jason, he runs the
ProspectInsider.com
site on the Mariners and is also a contributor on ESPN Insider. He too felt the trade was a little odd, though noted that he thinks it was a small price to pay to see if they can get back in the race and that if they can't then they will likely deal Branyan again before the deadline. Here is
his take on the deal
(read the comments as well).
- My quick thoughts on the deal without any explanation from the Indians yet is this is a good move. I like the Diaz pickup as we need some promising upside position players in the lower levels of the system. I am not as high on the Carrera pickup, not because I dislike him (I like him), but because he seems redundant with the likes of Michael Brantley and Jose Constanza in Triple-A Columbus already. My rash first impression is Carerra is a prospect who fits in somewhere between Brantley and Constanza, one where they think his ceiling is Brantley (Major League starter in center field) and that his floor is Constanza (4th outfielder). It will be interesting to see how he fits into things, but I have to wonder if his pickup actually affects that of Trevor Crowe who has not impressed at all with his play defensively in center field and been inconsistent offensively.
The Prospects
Here are two detailed reports that Churchill provided to me on the two players received in the deal, outfielder Ezequiel Carrera and infielder Juan Diaz. He gave permission to re-port these in full, though I would welcome you to follow his stuff at ESPN Insider and also on his site at
ProspectInsider.com
:
Ezequiel Carrera, CF -- No. 20 in M's farm system pre-season

Carrera, a left-handed hitter, runs well, employs above-average strike zone judgment and makes consistent contact, even versus to-end pitching. He does need to improve his pitch recognition like many minor leaguers, but he covers the plate and gets hits to all fields.
The speed, maybe as high as a 70 on the 20-80 scouting scale, helps him cover ground in center, and has enough arm strength to profile there. His instincts and routes grade out OK, but he relies on the foot speed to correct mistakes on reads, or he
User Comments
No comments currently. Be the first to comment!